USC Football: Grading All 22 Starters from the Cal Game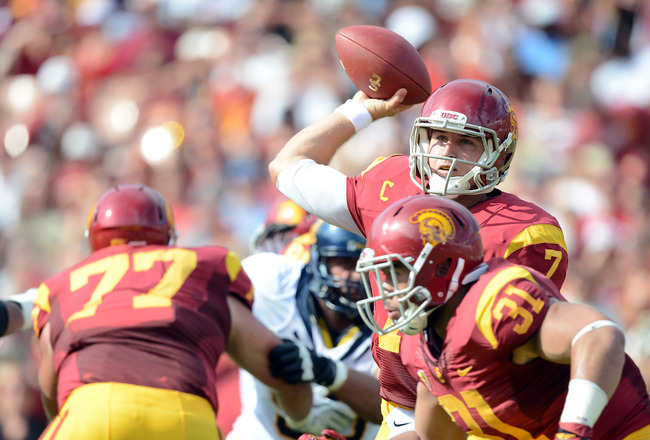 Harry How/Getty Images
Coming off of a very disappointing loss at Stanford, USC was desperate for a win over Cal Saturday at the Coliseum, and while much of it wasn't pretty, consider that mission accomplished.
With a bye week looming on the immediate horizon, the Trojans took care of business by beating Jeff Tedford's Bears 27-9.
Despite the "uneven" nature of this victory, it was nonetheless a "W," and one that the Trojans can build on with a week to hone their overall game plan, and to get healthy.
This slide show will look at the starters on both sides of the ball and grade their performance for this game.
While some players offered better performances than others, it still individually represented a collective win, and for that the Trojans must be grateful.
Note: All statistics provided by USC Trojans.com
Aundrey Walker (Left Tackle)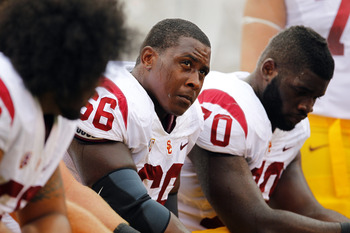 Aundrey Walker (#70)
Rich Schultz/Getty Images
Aundrey Walker had a horrible game last week against Stanford, and for his trouble, was rewarded(?) by having to share his spot with true freshman, Max Tuerk.
Walker and Tuerk combined to help keep quarterback Matt Barkley's uniform clean all game long and created enough holes for the running backs to have a banner day.
Grade: A-
Abe Markowitz (Left Guard and Center)
Abe Markowitz (#50)
Harry How/Getty Images
Abe Markowitz was a surprise starter against Cal, replacing Marcus Martin for this game.
If he had just played left guard, he still would have received a very high grade for his contributions at that position, but he also slid inside to takeover for center Khaled Holmes after Holmes re-injured his ankle and had to leave the game.
After filling in admirably for Holmes as well, Markowitz gets the best grade I can give.
Grade: A+
Khaled Holmes (Center)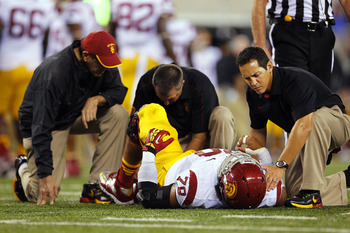 Rich Schultz/Getty Images
The offensive line's heart and soul, center Khaled Holmes made a courageous return for the Cal game after hurting his ankle against Syracuse two weeks ago, which forced him to miss the Stanford game.
Showing just how important he is to the o-line, Holmes impact was immediately felt as the "big uglies" dominated the line of scrimmage against the Bears.
Unfortunately, Holmes re-injured his ankle and USC must now hope that the upcoming bye week will give him time to heal.
Grade: A-
John Martinez (Right Guard)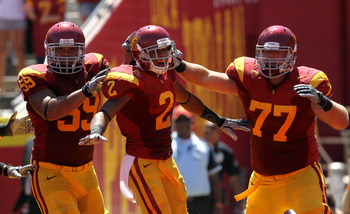 Stephen Dunn/Getty Images
Martinez, like everyone else who contributed to the debacle that was the Stanford game, had a lot to prove against the Bears.
And like everyone else in his unit, he delivered against Cal, helping to open holes for the running game and keeping his quarterback upright all game long.
Grade: A-
Kevin Graf (Right Tackle)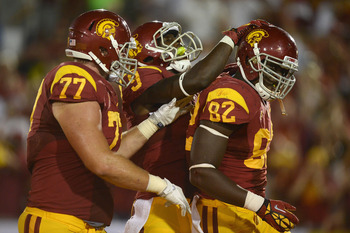 Harry How/Getty Images
In what is beginning to sound like a broken record, right tackle Kevin Graf acquitted himself nicely against Cal after a horrible performance against Stanford the week before.
Like the rest of the o-line, Graf gets high marks for a good bounce-back performance last Saturday.
Grade: A-
Randall Telfer (Tight End)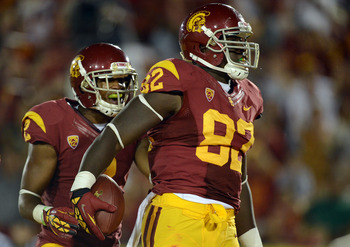 Harry How/Getty Images
Like everyone associated with the offensive line, tight end Randall Telfer had a nice game.
Part of the "two-headed" tight end monster (along with Xavier Grimble), Telfer had two receptions for 19 yards after mostly serving in a blocking capacity.
However, he also had a false start penalty which marks him down a little bit.
Grade: B
Robert Woods (Split End)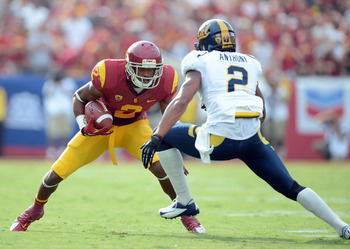 Harry How/Getty Images
Is Robert Woods healthy or not?
Although thought to be 100%, Woods' lack of production, coupled with the fact that he has only practiced on a part time basis this year, has provided results that would indicate that health-wise, he still has a ways to go.
In this game, Woods had only five receptions for a paltry 30 yards, and he dropped at least two passes, including one bomb that he normally would catch in his sleep.
Grade: C
Marqise Lee (Flanker)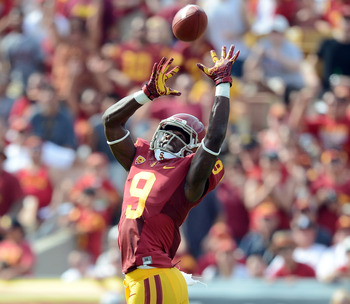 Harry How/Getty Images
Marqise Lee had an uneven game for the Trojans against Cal.
On one hand, you can't ignore the production, with Lee going for 11 receptions and 94 yards along with two touchdowns.
On the other hand, Lee had some drops, and like Woods was mostly only effective on short passes, upon which he added yards after the catch.
Lee also had an unfortunate illegal block which cost Robert Woods a nice play.
Grade: B
Soma Vainuku (Fullback)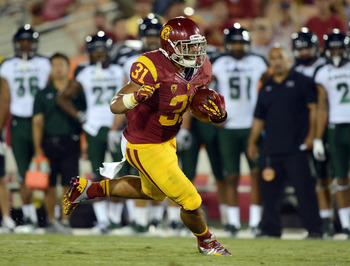 Harry How/Getty Images
Still in search of an identity in the Trojan offense, fullback Soma Vainuku provided very good blocking from the offensive backfield and in two carries, gained 10 yards.
Vainuku is a 250 lb, 4.5-forty guy with soft hands, and from a layman's point of view, seems like a guy that should be featured more in this offense.
Perhaps that will change after the bye week.
Grade: B-
Curtis McNeal (Tailback)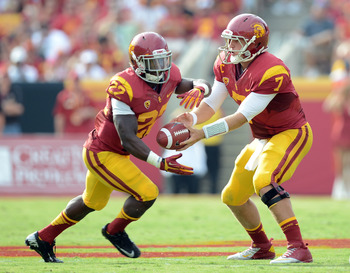 Harry How/Getty Images
Speaking of "two-headed monsters," Curtis McNeal, along with his counterpart Silas Redd, had a very productive game against Cal.
After producing 115 yards on only 10 carries, McNeal was part of a USC offense that went for 296 net yards on the ground against the Bears.
On the negative side, McNeal also had a costly fumble which probably had a lot to do with his only having those 10 carries.
Grade: B
Matt Barkley (Quarterback)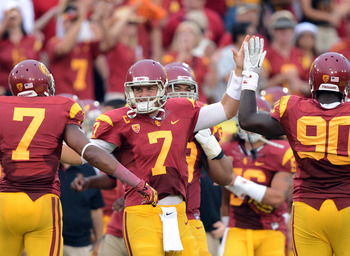 Harry How/Getty Images
After a horrible game against Stanford where his offensive line basically served him up as fodder for the Stanford defense, quarterback Matt Barkley looked for redemption against the Bears.
But Saturday, that redemption was only realized partially.
Though he threw for two touchdowns, Barkley matched that with the same amount of interceptions and had several passes batted down at the line of scrimmage.
His final numbers were 22 for 34 for 192 yards.
Good but certainly not great.
Grade: C+
T.J. McDonald (Free Safety)
Stephen Dunn/Getty Images
T.J. McDonald has All-American ability and Saturday against the Bears, he played like it.
With a team-high (tied) nine tackles, McDonald also had an interception and a pass breakup in support of both the run and pass defense.
Speaking of that interception, it came at a time when Cal was marching down the field and USC was looking a bit vulnerable.
However, there were a couple of times when Cal receivers got behind both safeties and could have hurt USC had quarterback Zach Maynard found them.
Grade: A-
Jawanza Starling (Strong Safety)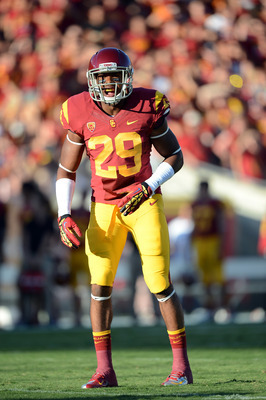 Harry How/Getty Images
T.J. McDonald's partner, Jawanza Starling, had an interesting game.
Although he had an interception, he also let an awful lot of Bear receivers behind him, and only a lack of recognition of those open receivers by Bear quarterback Zach Maynard saved the Trojans from possible disaster.
Coupling that with only one measly tackle for the game gives Starling a pedestrian game grade for Saturday.
Grade: C+
Nickell Robey (Cornerback)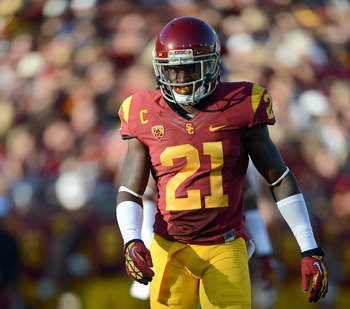 Harry How/Getty Images
It's always difficult to grade Nickell Robey because, frankly, opponents don't like throwing to his side of the field.
In this game that was also the case, although Bears receivers did give him a go upon occasion.
The game stats for Robey showed that he made four tackles for the game, including three of the solo variety.
Grade: B
Torin Harris (Cornerback)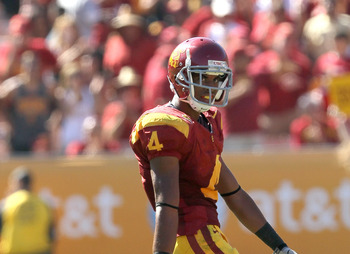 Stephen Dunn/Getty Images
Because opponents tend to throw away from Nickell Robey, it means that the other side of the field sees a lot of passes.
That side of the field for the Cal game was manned by Torin Harris, and on Saturday he was pretty good.
Still finding his way after an injury in 2011 forced him to miss much of that season and most of the preseason in 2012 as well, Harris was far from perfect but still better than anyone on the Trojans roster not named Robey.
For this game Harris had five total tackles along with a pass breakup.
Grade: B
Hayes Pullard (Weakside Linebacker)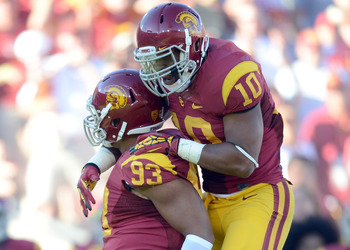 Harry How/Getty Images
Uh oh.
When Hayes Pullard left the Cal game with an undisclosed injury, the Trojans were all of a sudden very thin in their linebacker unit.
This is because Lane Kiffin recently announced that true freshman middle linebacker Scott Starr will miss the remainder of the season with a neck injury.
Before his injury, Pullard had four total tackles, including three solo.
Grade: Incomplete
Lamar Dawson (Middle Linebacker)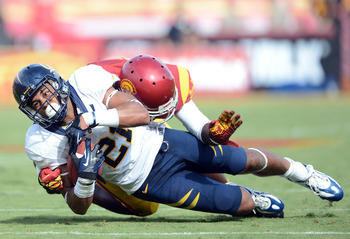 Harry How/Getty Images
Trojan fans have been waiting for sophomore linebacker Lamar Dawson to finally play up to his abilities this year and against Cal, Dawson delivered.
Tied for a team-high of nine tackles, Dawson controlled the second level of the defense when a Bear got beyond the yeoman effort of the defensive line.
Now with his backup, Scott Starr, on the shelf for the rest of the year, Dawson will have to not only replicate his fine game against Cal for the rest of the year, but he will now have to stay healthy while doing it.
Grade: A-
Dion Bailey (Strongside Linebacker)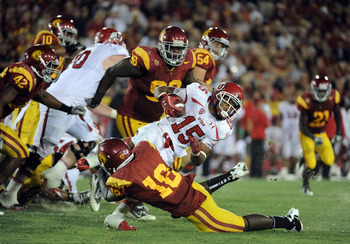 Harry How/Getty Images
USC fans are used to Dion Bailey being in the thick of things for their defense and against Cal, that is right where he was.
Bailey finished third on the team with eight tackles and among them were six solo tackles.
If Pullard misses any significant time, Bailey will have to step up even more, but fortunately for the Trojans, he has proven he can do just that.
Grade: B+
Wes Horton (Defensive End)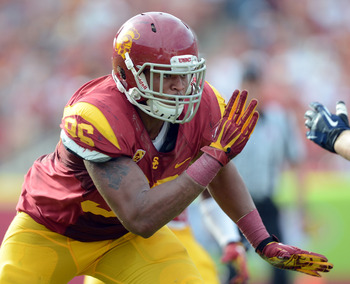 Harry How/Getty Images
After defensive end Devon Kennard was lost for the season due to injury, Wes Horton was supposed to be the mainstay on the defensive line for coach Ed Orgeron.
However, injuries limited Horton prior to this game and his presence was less than impacting.
Against Cal, Horton returned, to some extent, to his dominant self and contributed a sack to go along with three tackles.
While not all the way back, it was good to see that Horton contributed, and Trojan fans hope he will build off of that.
Grade: B
Antwaun Woods (Nose Tackle)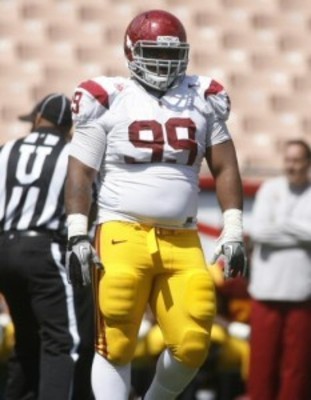 photo from ocregister.com
If the revamped defensive line is to continue to succeed in 2012, it will take the contributions of nose tackle Antwaun Woods.
While his stats line may not seem impressive at first blush (four tackles, a half-sack, one tackle for loss), Woods clogged the middle and made things difficult for Cal's tailbacks.
Some positions just don't lend themselves to filling the stat sheet, but Woods did all of the dirty work that needed to be done.
Grade: B+
George Uko (Defensive Tackle)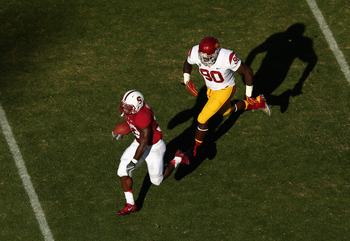 Ezra Shaw/Getty Images
Trojan fans are witnessing the flourishing of a star in the making in defensive tackle, George Uko.
Uko has all of the talent in the world and under coach Orgeron, he is beginning to realize the potential that his coaches rave about.
In this game, Uko only had four tackles, but included in that line is one-and-a-half sacks and two-and-a-half tackles for loss.
But like his interior line mate Antwaun Woods, Uko disrupted everything in the middle that Cal attempted to run.
And like Woods, Uko brought his lunch pail and got the job done.
Grade: A
Morgan Breslin (Defensive End)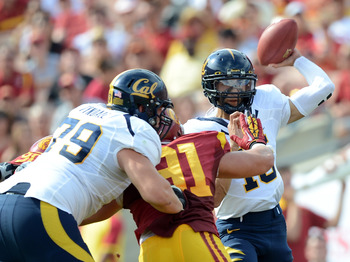 Harry How/Getty Images
Trojan fans are beginning to run out of superlatives for junior college transfer and defensive end Morgan Breslin.
Breslin, who came to the Trojans as an unheralded prospect, has been nothing short of a revelation for a defensive line that desperately needed an impact player in 2012.
Boy, has he delivered.
Against Cal, Breslin was simply unstoppable.
With six total tackles, including four-and-a-half for loss and three sacks, Breslin controlled his side of the line of scrimmage and was in Cal's backfield almost as much as quarterback Zach Maynard was.
And the legend of Breslin continues.
Grade: A+
Keep Reading

USC Football: Like this team?