UFC 152 Results: Power Ranking the Main-Card Bouts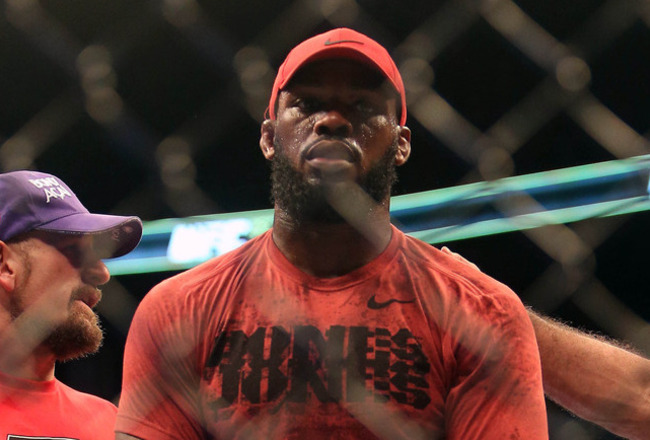 Tom Szczerbowski-US PRESSWIRE

After UFC 152 last Saturday, the dust can be said to have finally settled on all the uproar surrounding Jon Jones' decision not to fight late replacement Chael Sonnen, the cancellation of UFC 151 and the deciding of the UFC's inaugural flyweight championship.
There's much to reflect upon in the aftermath of what was a mixed card which delivered both highs and lows.
Here's a power ranking of the five main-card fights.
Matt Hamill vs. Roger Hollett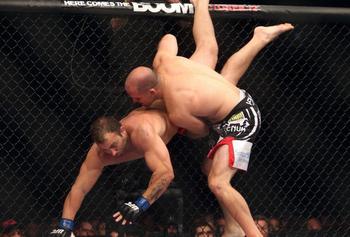 Tom Szczerbowski-US PRESSWIRE
Matt Hamill marked his return to the Octagon with a triumph that was hardly 'triumphant.'
In a match I spent most of the time fast-forwarding on the Internet stream I was watching it on, Hamill, the accomplished wrestler, decided to 'stand-and-bang' with his Canadian opponent before resorting to his bread-and-butter 'lay-and-pray' tactics later in the match.
The tactic worked. While both fighters neutralised each other on the feet (with a less than spectacular pugilistic display) on the ground, Hamill was able to control Hollett long enough, without inflicting much damage, to win the unanimous decision in the eyes of the judges.
Hollett, making his UFC debut, should have been an easy opponent to help Hamill, whose victories include Mark Munoz, Keith Jardine and Tito Ortiz, ease back into the world of MMA.
That might have been the case on Saturday night as the light heavyweight shook off any ring rust and pushed to his first victory in three fights.
But if he hopes to hang around the division for any length of time, Hamill is going to have to come up with a far more convincing performance than we saw at UFC 152.
Cub Swanson vs. Charles Oliveira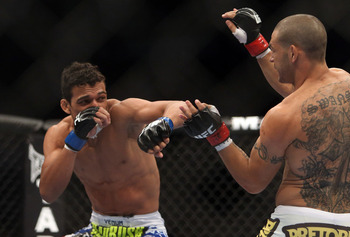 Tom Szczerbowski-US PRESSWIRE
Cub Swanson is on a tear through the UFC's featherweight division. On Saturday night, he finished off his opponent Charles Oliveira with a spectacular first-round knockout, marking his third straight victory.
The younger Oliveira, who has a much longer history in the UFC, was also looking for his third straight win, and my prediction going into the match was a submission victory for the Brazilian.
However, neither BJJ black belt spent much time on the ground in this short match, allowing the 28-year-old Swanson to prove he was the much more accomplished striker.
A body shot put Oliveira in trouble, then a haymaker with the overhand right finished him off.
Swanson is proving a killer at 145 pounds, TKO'ing all of his last three opponents. This surely sets him up for a marquee fight in the division, perhaps against "The Korean Zombie" Chan Sung Jung or even Erik Koch.
For Oliveira, this won't be the biggest setback of his career. He's still only 22 and, although he didn't have much of a chance to show off his skills on Saturday night, he is still an accomplished fighter with both a solid ground and stand-up game to build on.
Michael Bisping vs. Brian Stann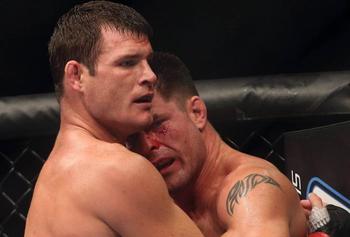 Tom Szczerbowski-US PRESSWIRE
Two hard-hitting warriors went at it for three rounds in a high-paced match which ultimately left the Brit, Bisping, as the victor with a unanimous decision in his favour.
And that was a just decision after the two fighters neutralised each other on their feet, leaving Michael Bisping turning to his wrestling to topple Brian Stann over repeatedly during the latter stages of the match.
All three judges scored it 29-28, and there were glimpses of both fighters putting the other away with their power punching throughout the match, just like we expected.
But it was Bisping who was able to adjust the best, resorting to the wrestling he's worked so hard at over the years to bring Stann to the mat and almost score a submission in the second round.
That must come as a bitter disappointment for Stann, who was taken down at will by Chael Sonnen in their match and it was obvious that he had spent a lot of time working on his takedown defence before coming into UFC 152.
But Bisping's relentless pace proved too much and soon the takedowns were hitting their mark.
However, while the Brit hoped for a title shot straight after the match, even he was reluctant to call out Anderson Silva as he had promised.
The unanimous decision certainly wasn't convincing enough, and even Dana White had a hard time deciding on whether Bisping would get the much coveted title shot.
As for Stann, it was a painful loss which puts him 1-2 now in his last three matches. He certainly wasn't able to dominate Bisping and his performance leaves question marks as to how he would fare against any other top middleweight, such as Chris Weidman.
The American clearly has some rebuilding to do.
Joseph Benavidez vs. Demetrious Johnson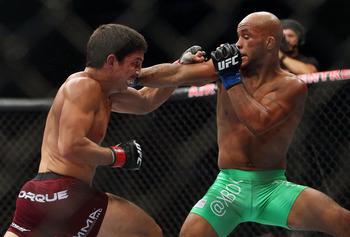 Tom Szczerbowski-US PRESSWIRE
The boos that erupted in the latter stages of the inaugural UFC flyweight title fight between Joseph Benavidez and Demetrious Johnson prompted another Dana White classic moment, when he derided those fans as "morons."
And he was right.
In danger of contradicting our very own Jonathan Snowden, the flyweight title fight was a fantastic display of skill and pure athleticism which lasted deep into the fifth round.
There were near knockouts, close submissions, lightning-quick takedowns, brilliant transitions and smooth footwork throughout the match.
In the end, Johnson was the deserved victor, but only just.
Benavidez held his own for the first two rounds and could be said to have been ahead going into the third, but 'Mighty Mouse' turned things around...and while Benavidez started to fade, Johnson only grew stronger.
Ducking his opponent's strikes with ease, Johnson brought Benavidez to the mat where both fighters were able to display expert grappling skills few uninitiated in the sport could appreciate.
And that may be why the match proved so polarizing and why the Air Canada Center in Toronto, so often home to the most seasoned of MMA fans, grew frustrated with the fight.
The match lacked the blood and gore that the fans were looking for and had already witnessed in the spectacular prelim between Evan Dunham and TJ Grant.
But the fact is, the two men came to fight, and they competed fiercely from bell to bell. They didn't fight conservatively and they didn't hold anything back. If they neutralized and frustrated each other, then that's testament to the skills they possessed and any knowledgeable fan should be able to appreciate that.
The flyweights aren't the deepest division in the UFC, and Johnson's fights leading to his title victory have all been close. So you can expect more close fights as he looks to defend his newly acquired belt in the future.
For Benavidez, the loss won't be too hard to take. The match was close and he is still a top three flyweight in the UFC.
Jon Jones vs. Vitor Belfort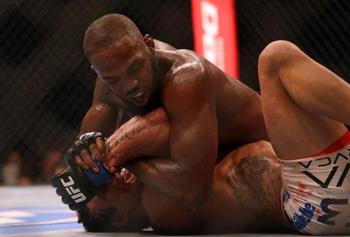 Tom Szczerbowski-US PRESSWIRE
It's time to eat my words.
Back at the end of August, when it was announced that Vitor Belfort would be stepping up to take on light heavyweight champion Jon Jones at UFC 152, replacing an injured Dan Henderson, I said the match made no sense.
I was wrong.
When you saw the 'old lion,' looking so diminutive squaring up to Jon Jones, giving his all and coming close to ending the fight in the first round, you can't help but think that the undisputed champion was given one of the best fights he's ever had.
Belfort came to fight, and while his tactic of repeatedly going to his back to out-BJJ Jones perplexed some, it came oh, so close to working.
Early in the first round, Belfort sunk in an armbar which almost broke his opponent's arm and caused the biggest upset in MMA since Matt Serra TKO'd Georges St. Pierre.
As it was, Jones went on to push through the match, avoiding any similar traps set by Belfort, and claiming his own submission victory early in the fourth round.
The champion displayed all the tenacity in winning the fight that makes him champion. With an injured arm, he continued to hold the challenger to the ground, opening up a deep cut over his eyes and finally grinding out a win.
It's remarkable that Belfort even lasted four rounds, and though some may criticise his decision to pull guard so often (including one time when he was put to the mat by a vicious sidekick to his solar plexus), it was probably his best chance to win.
Just by looking at the physicality of the two fighters (Jones with his long, gangly limbs against the short, stocky Belfort) by mere genetics alone, Belfort had no hope of putting Jones on his back or even coming close enough to winning a striking match.
And Jones used his physical advantage expertly, using sidekicks to the leg to keep Belfort at a distance and then going on to use his trademark elbows when he had his opponent on the canvas.
The victory leaves Jones as one of the most accomplished light heavyweights in UFC history and Vitor Belfort looking into the chasm at the end of a long and illustrious career.
Keep Reading