New Jersey Devils: 4 Biggest Financial Concerns Looking Ahead to NHL Season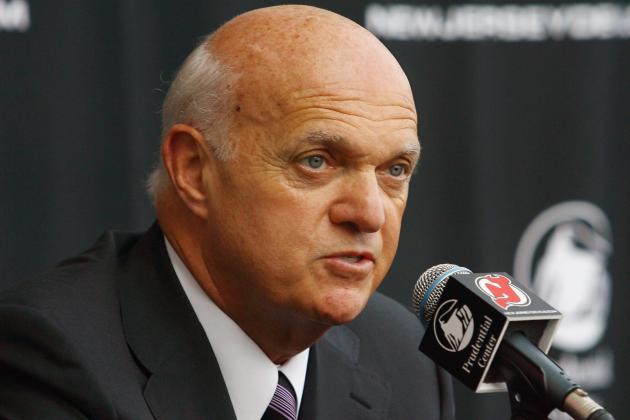 Andy Marlin/Getty Images

The New Jersey Devils' financial woes have been well documented for the past decade. However, only this past year did rumors begin circulating that the National Hockey League could potentially take over the Devils.
According to the New York Post, though, on September 7th, majority team owner Jeff Vanderbeek reportedly reached an agreement with the NHL, which would allow him to pay off his multimillion dollar debts.
Are the Devils out of trouble? Not necessarily.
Despite reaching a deal with the NHL that keeps Vanderbeek at the helm of the Devils, New Jersey will continue to lose money. That's just the fact of the matter when among other things, you're the youngest of four teams in the area.
While general manager Lou Lamoriello regularly spends to the cap floor, or close to it—on average, the Devils have had the 10th highest cap over the past four years (Capgeek.com)—one can imagine this trend coming to end if money is continually lost at an exponential rate.
Added to what is the uncertainty that is the collective bargaining agreement, retaining certain players after the inevitable lockout will be tough.
The Devils have nine players slated to become either unrestricted or restricted free agents at season's end. Let's take a look at four players the Devils have to re-sign in order to remain successful, but may have difficulties in doing so.
Begin Slideshow

»
Harry How/Getty Images

Adam Henrique exploded on the scene last season, playing a pivotal role in the New Jersey Devils' Stanley Cup run. The 22-year-old seemed rather unfathomed, playing much of the season between two superstars in Zach Parise and Ilya Kovalchuk.
Locking up Henrique for the considerable future is key if the Devils want to remain a potent franchise for the next 10-15 years. While his RFA status gives New Jersey the leverage in negotiations, re-signing Henrique should still be a challenging task, considering players of similar calibre have cashed in big on recent signings.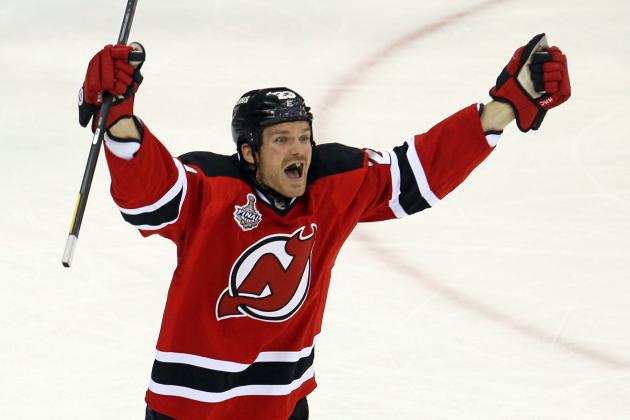 Jim McIsaac/Getty Images

David Clarkson is the definition of a guy you absolutely hate to play against but love to have on your team. A well known pest around the league, Clarkson has seen his offensive game flourish since coming into the league six years ago. The former undrafted free agent saw career highs in goals, assists, points, game-winning goals and shots during the 2011-12 campaign.
With the loss of shot machine Zach Parise via free agency, expect Clarkson to reach upwards of 250 shots this season, which according to the Great One, will lead to more goals. Clarkson is essentially a poor man's Alexander Burrows. Considering the latter is set to carry a hefty $4.5 million cap hit for the next four years, one can imagine Clarkson will demand upwards of $3 million a year for the next 3-4 years.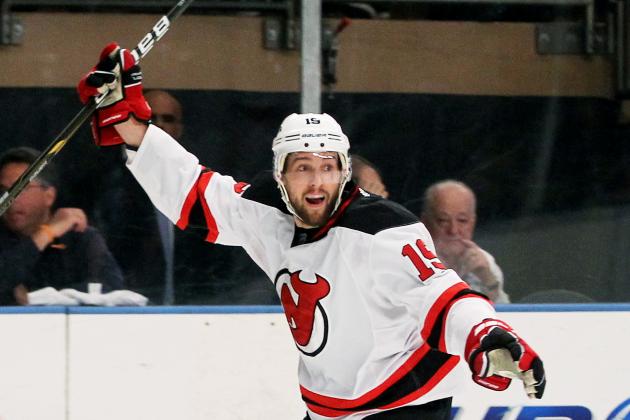 Bruce Bennett/Getty Images

Despite missing most of the 2011-12 regular season with an Achilles injury, Travis Zajac was sensational for New Jersey en route to the Stanley Cup Final. The lengthy center registered 14 points in 24 playoff games, and was lethal in all special team situations. Though Zajac is often labeled as the perfect second-line center, he has excelled while playing on New Jersey's first line for the majority of his career.
If hockey is played this year, it will be very interesting to see how Zajac performs without his wingman in Zach Parise. Zajac played without Parise in 2010-11 and put up just 44 points in 82 games. However, this came in what was a debacle of a season for Jersey's team, thus is not much of a sufficient sample piece of how Zajac will perform without Parise on his wing.
Since the odds of an NHL season are slim to none though, the Devils can play the "you're still coming off an injury" card, which would help their cause in negotiations.
Zajac has made an annual salary of $3.88 million a year for the past four years, and will most likely demand a raise of $800,000 to $1 million.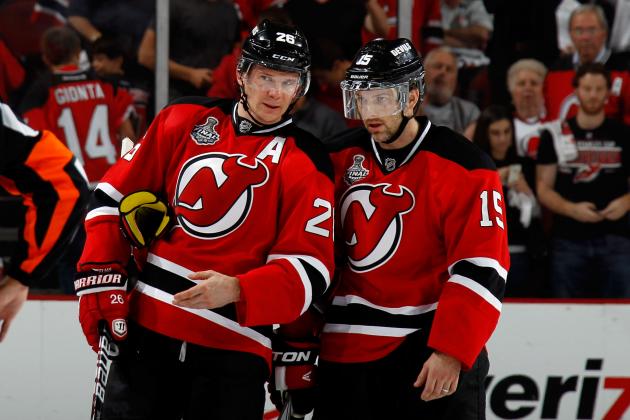 Bruce Bennett/Getty Images

Patrik Elias is the greatest New Jersey Devils forward of all time. That's just a well known fact. The native of Czechoslovakia continues to defy age and is consistently among the most productive Devils year after year. A versatile forward, Elias brings out the best of those around him—the guy got a 35-year-old, over-the-hill, tryout invitee Petr Sykora 44 points last season for crying out loud!
Elias's average cap hit has been at $6 million since signing his current contract back in 2006.
In all honesty, Patrik Elias could probably continue playing the game until he is 50 years old. Reality is though, as one gets older, he becomes more prone to injury, which is the only reason as to why Elias will be the only player on this list taking a pay cut.
A three-year, $16 million contract appears to be in the hands of Elias next offseason, barring the Devils are able to make such a commitment.