Projecting the 2012-13 Final Southeast Division Standings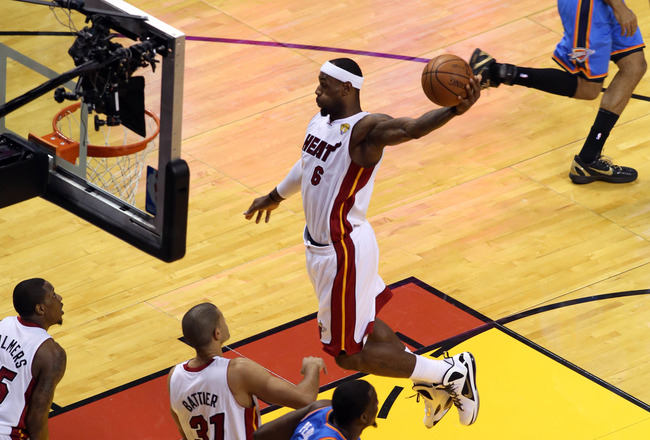 Robert Mayer-US PRESSWIRE
For inhabitants of the Southeast division, the 2011-12 season was one of both glory and utter failure.
The Miami Heat won the division crown en route to capturing their first championship of the Big Three era and saw LeBron James make the leap so many had hoped for.
On the other hand, the Charlotte Bobcats got the unfortunate distinction as worst team in NBA history with their 7-59 record.
The biggest story of the 2012 NBA offseason also came from the Southeast as the Orlando Magic traded center Dwight Howard to the Los Angeles Lakers in an effort to rebuild the franchise.
With so many storylines heading into the 2012-13 NBA season, there likely isn't any division more intriguing.
For that reason, let's check in with the Southeast and make some very early projections for how the division will play out this season.
5. Charlotte Bobcats
Nick Laham/Getty Images
2011-12 Season Record: 7-59 (5th in division, 15th in Eastern Conference)
Projected 2012-13 Season Record: 15-67 (5th in division, 15th in Eastern Conference)
Players Added: SF Michael Kidd-Gilchrist, SG Ben Gordon, C Brendan Haywood, PG Ramon Sessions

Players Lost: PG DJ Augustin, SF Corey Maggette
Analysis: While the future may be bright in Charlotte, the present is far too bleak to know for sure.
Taking Michael Kidd-Gilchrist with the second overall pick in June's draft was certainly the first step in the right direction. He's a strong-willed, hard-working player who is the perfect fit to help usher in a new culture for the Bobcats. The former Kentucky Wildcat simply isn't developed enough on the offensive end to contribute where Charlotte will need him most: offensively.
That onus will mostly be at the feet of Ben Gordon, whose three-year run with the Detroit Pistons was a train wreck almost since the minute he signed. For the Bobcats to have any shot at making a marked improvement in 2012-13, Gordon will have to recapture his 20-points a night magic.
Outside of those two, it's essentially another run for an overmatched mash-up of mismatched talent.
Nonetheless, even the slightest improvement is a step in the right direction for basketball's worst franchise.
4. Orlando Magic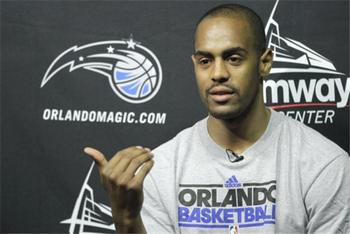 Photo Credit: Bettor.com
2011-12 Season Record: 37-29 (3rd in division, 6th in Eastern Conference)
Projected 2012-13 Season Record: 30-52 (4th in division, 11th in Eastern Conference)
Key Players Added: SG Arron Afflalo, PF Al Harrington, SF Moe Harkless, C Nikola Vucevic, PF Josh McRoberts, PF Andrew Nicholson, C Gustavo Ayon
Key Players Lost: C Dwight Howard, PF Ryan Anderson, SG Jason Richardson, PG Chris Duhon
Analysis: Though the Magic are in full rebuild mode following the end of our national nightmare that was the Dwight Howard saga, there is still some strong talent on the roster.
Arron Afflalo is consistently among the league's most underrated players, a guy who does every small thing on the court and can light it up from beyond the arc. He should see the most shots of his career this season as he ostensibly steps into the franchise player spot.
But the true key to this Magic team will be depth. While not possessing elite talent at any spot, Orlando can go 10 deep on a nightly basis with a stable mix of veteran and developing players.
General manager Rob Hennigan will undoubtedly be working the phones throughout the season to unload some of that depth. It's impossible to rebuild without a full nosedive, and while this roster is on its way, there is too much talent for Orlando to be anything other than a mid-tier lottery team as currently constituted.
3. Atlanta Hawks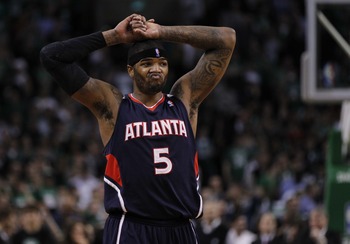 Greg M. Cooper-US PRESSWIRE
2011-12 Season Record: 40-26 (2nd in division, 5th in Eastern Conference)
Projected 2012-13 Season Record: 43-39 (3rd in division, 7th in Eastern Conference)
Key Players Added: PG Devin Harris, PG/SG Lou Williams, SF Kyle Korver, SG/SF Anthony Morrow, SG DeShawn Stevenson, C Johan Petro, SF Damion James (from Nets), SG John Jenkins

Key Players Lost: SG Joe Johnson, SF Marvin Williams, PG Kirk Hinrich, SG Willie Green, C Jason Collins.
Analysis: There are some early-season prognosticators who have jumped on Joe Johnson's departure setting up a possible Ewing Theory situation for the Hawks in 2012-13.
Let's just stop that rolling train before it goes completely off the rails: Those projections are asinine.
Seemingly everyone who has any modicum of understanding with the inner workings of the NBA knows that the upcoming season is merely one of transition for Atlanta.
You don't stockpile a cavalcade of expiring contracts and mismatched parts to make any sort of inspired run at relevance. You do so to open up cap space and provide your franchise a shot at future relevance.
And, quite frankly, it was an absolutely brilliant move by general manager Danny Ferry. He rid his franchise of the worst contract in the league all the while acquiring actual assets for future use.
Josh Smith, Al Horford and the rest of this motley crew have too much talent to miss the playoffs entirely. However, don't expect any big sparks from the Hawks until we see what they do in the 2013 offseason.
2. Washington Wizards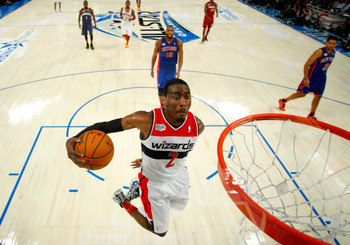 Pool/Getty Images
2011-12 Season record: 20-46, 4th in division, 14th in Eastern Conference
Projected 2012-13 Season Record: 44-38 (2nd in division, 5th in Eastern Conference)
Key Players Added: SG Bradley Beal, PF/C Emeka Okafor, SF Trevor Ariza, SF Martell Webster, PG A.J. Price
Key Players Lost: PF Andray Blatche, SF Rashard Lewis, SF James Singleton
Analysis: Outside of patchwork fixes that will save jobs in the interim, there is no competent reasoning for the Wizards' offseason moves (outside of drafting Bradley Beal).
For the next two seasons, they will be paying Nene, Trevor Ariza and Emeka Okafor, three players that are concrete definition of above average, between $33-35 million a year. That is nearly 57 percent of the team's salary cap tied up in players that don't produce well enough to denote that price, and are barely even consistent fixtures on the court.
Nevertheless, it is an unalienable fact that Washington has playoff talent this year. After two years of playing with the most mentally unstable supporting cast in basketball, John Wall finally gets some professional teammates in 2012-13.
Considering Ariza and Okafor's presence on the defensive end, the Wizards should be able to find an ideal mix on the two ends of the floor and should be able to compete on a nightly basis.
It's just interesting that after analyzing Danny Ferry, a man who delayed gratification for a greater reward down the line, we get to look at Ernie Grunfeld, a man who took a polar opposite approach.
1. Miami Heat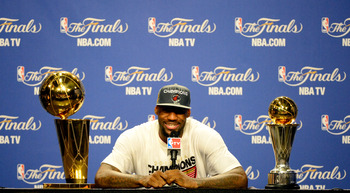 Ronald Martinez/Getty Images
2011-12 Season Record: 46-20 (1st in division, 2nd in Eastern Conference)
Projected 2012-13 Record: 58-24 (1st in Division, 1st in Eastern Conference)
Key Players Added: SG Ray Allen, SF Rashard Lewis, PF/C Josh Harrellson
Key Players Lost: PF/C Ronny Turiaf
Analysis: For the defending NBA champions, the 2012 offseason was a period of celebration and holding firm on what proved to be a winning forumla.
LeBron James capped what was easily among the five-best calendar years for any player in basketball history by winning the Olympic gold medal in London and the team one-upped the Boston Celtics in the chase for Ray Allen.
It also seems that Dwyane Wade's recovery from offseason knee surgery is going well and that he will be back to full force by opening night. And adding Lewis and Allen should give the team's stars the best collection of talent yet during the Big Three run.
Essentially, winning the Southeast is not only a likelihood—it's an outright guarantee. This is one of the weakest divisions in the NBA competing against the league's best team.
Nonetheless, we do not judge the Heat based on division championships and mere playoff appearances. Without walking out of next June's NBA Finals as repeat champions, the 2012-13 season will be deemed a failure.
The Southeast division? That's a mere warm-up.
Keep Reading