Tennessee Titans: 7 Things We Learned from 44-41 Win over Detroit Lions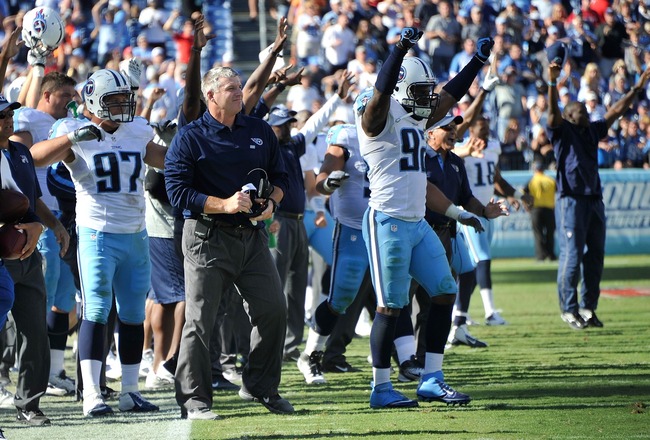 Frederick Breedon/Getty Images
The Tennessee Titans managed to pick up their first win of the 2012 season, a 44-41 overtime thriller against the Detroit Lions.
I was in attendance (the first time I've ever been to a Titans' home game), and, from start to finish, it was an absolutely thrilling game to watch.
The Titans defense had a bit of a rough time, but they came up with plays when they needed them. Despite the score, the Titans were in control pretty much the whole time.
It wasn't the easiest win to get, but it at least eases some concerns going forward about the Titans.
Here are seven things we learned from the game.
1. The Offense Can Be Explosive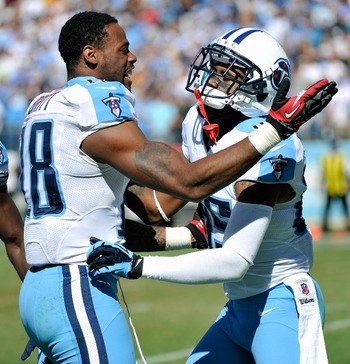 Frederick Breedon/Getty Images
Against San Diego, the Titans offense hardly showed up at all. It couldn't stay on the field, made multiple mistakes and just looked terrible.
Against the Lions, Tennessee played like a different team. The Titans only put up 20 offensive points, but they had two additional drives that ended in missed field goals; the offense wasn't as stagnant as the point total might suggest.
With Nate Washington back to 100 percent and Kenny Britt seemingly able to do it all again, the Titans have a deep, talented group of receivers, and the passing game indeed can be deadly.
Oh yeah, Jake Locker also had a monster game, throwing for 378 yards and two touchdowns while completing over 69 percent of his passes. He also rushed for 35 yards.
Speaking of Locker...
2. Jake Locker Is Going to Have a Roller-Coaster Season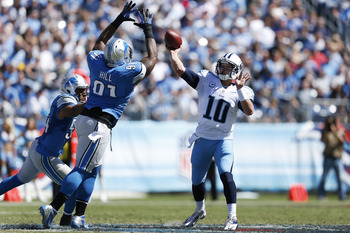 Joe Robbins/Getty Images
This is what I've been thinking for a while now, and as far as I'm concerned, the Detroit game settles it—Jake Locker is going to have some big ups and some big downs this season.
Locker is effectively a rookie. He got some playing time last season, but it was mostly after games had already been decided, so he didn't really get much NFL quarterback experience.
Right now, we're seeing from Locker what you usually see from mobile rookie quarterbacks. Some games he looks like the second coming of Steve Young; some games he looks more like Jimmy Clausen.
That's probably going to be the case for most of the season. When Locker is on, his physical talent can be a big difference-maker, and he has the potential to help turn the Titans offense into a powerhouse.
But when he's off, he's going to lose and look bad doing it.
Consistency will come as he gets more experience. For now, get used to seeing a different Locker every week.
3. Nate Washington's 2011 Was No Fluke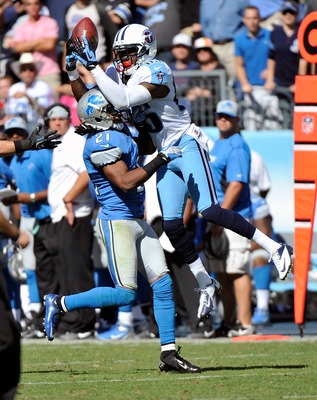 Frederick Breedon/Getty Images
I think it's safe to say that Nate Washington has arrived. After his 1,000 yard season in 2011, many people expected him to have a big drop-off in 2012.
But his play thus far has defied those skeptics.
Washington had a measly three receptions, but he turned them into 112 yards and a touchdown, including a 71-yarder that, actually, should have been an interception. He caught the ball against the back of the corner covering him, pulling the ball around and then running untouched into the end zone.
Even excluding that monster play, Washington averaged 20.5 yards per reception. Not too shabby.
Obviously, Washington and Britt are critical pieces to Tennessee's new offense. The difference they made against Detroit was apparent.
Expect big things from Nate Washington this season. I don't think this will be his last big game.
4. The Offensive Line Can Still Pass Block Pretty Well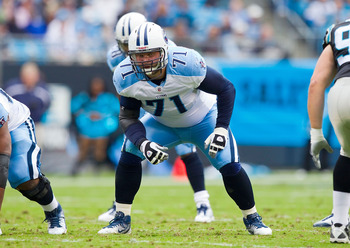 Brian A. Westerholt/Getty Images
I expected to see a double-digit sack total today.
Both Tennessee and Detroit have been having some issues with offensive-line play, and both of them have very talented defensive fronts.
However, there was only one sack in the whole game, and it came from Akeem Ayers.
That means that Tennessee's offensive line, which looked worse last week than it had in years, kept Cliff Avril, Kyle Vanden Bosch, Nick Fairley and Ndamukong Suh off of Jake Locker entirely.
In fact, Detroit's defense registered only one quarterback hit, which came from Suh.
Last season, Tennessee's offensive line struggled to open up holes for Chris Johnson. This season, those struggles have continued, but new ones have emerged in the passing game. San Diego had Locker running for his life the entire game.
Against Detroit, Tennessee's line held. I don't know what to make of that, but the problems in the trenches suddenly don't seem to be as bad as they did a week ago.
5. The Defense Is Talented, but Still Coming Together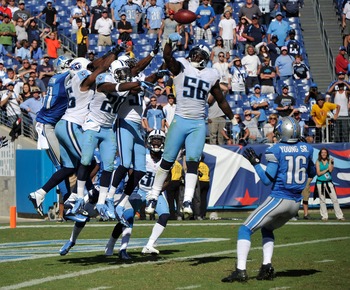 Frederick Breedon/Getty Images
Despite the score, there was a lot to like about the Titans defense in the game.
The red-zone defense was great, as the Lions only had two touchdowns in seven trips (if you don't count the two touchdowns the Lions got in garbage time), and Detroit's offense is far from mediocre.
They also won the game in the trenches, and one defensive touchdown resulted from Alterraun Verner stripping the ball from Brandon Pettigrew and then returning it for a touchdown. Verner also nearly had another interception and, later on, he nearly accounted for a forced fumble.
Akeem Ayers also showed what a difference-maker he can be, leading the team in tackles with 16, nabbing the game's only sack, getting an additional tackle for loss, defensing one pass and batting the Hail Mary heave that miraculously ended up in the hands of Titus Young.
On the other hand, Derrick Morgan and Kamerion Wimbley were both quiet after a big first two weeks. And, of course, the team, as a whole, allowed 41 points.
Having said that, I don't hold 14 of those points against the defense, because the scores came after it looked like the game was already over.
The Titans defense is young and talented, but there is still a ways to go. There are still a few positions to fill before this unit becomes a complete one.
6. Colin McCarthy Was Missed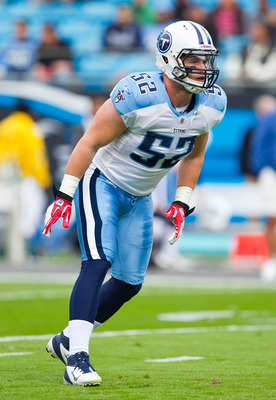 Brian A. Westerholt/Getty Images
Like I said, there was a lot to like from the defense, but they clearly missed Colin McCarthy.
There were times when the defense wasn't on the same page, and McCarthy's presence could've made a difference. But it also would have been nice to have his playmaking ability in the mix.
McCarthy is great at reading offenses, and he can play coverage as well as stuff the run. When he's in, he shows an ability to halts run before they get to the defensive backs, and he protects the middle of field on passing plays.
In short, were McCarthy in the game, I don't think Mikel Leshoure would have had a 100-yard rushing day.
The Titans have found a real gem in McCarthy. Moreover, if Ayers keeps playing at the level he's shown recently and Zach Brown plays up to his potential, the Titans are going to have one of the most dangerous linebacking units around.
Of course, for that to work, McCarthy will have to stay on the field. Hopefully, he won't become a constant injury concern.
7. It's Not Time to Push the Panic Button Just Yet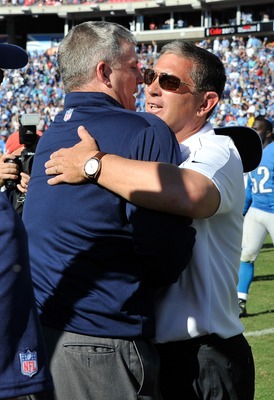 Frederick Breedon/Getty Images
Even though it came via a crazy, high-scoring, overtime route...a win is a win.
After Week 2's blowout loss to San Diego, a lot of people were starting to doubt whether Tennessee had it in them to win more than two or three games this season.
This win over the Lions is, more than anything else, a mental victory. The Titans drew the short straw when the schedule came out, but I think this victory will give them enough mental toughness to weather the rest of their brutal schedule.
Next week, they travel to Houston, then to Minnesota (the team that just knocked off San Francisco) before returning home to host the Steelers.
Don't expect a lot of wins from that group of games. It'll be tough.
But even if the Titans lose all three, they'll still have this win over Detroit to remind them of their potential to knock off good teams. Hopefully, they can later draw upon the memory of this win and not panic and lose to teams they should beat when they get to the softer part of their schedule.
The Titans will win some games, but they won't win many in the first half of this season. This win might be the most important one of the season just for that reason.
Keep Reading

Tennessee Titans: Like this team?