Penn State Football: Grading All 22 Starters from the Temple Game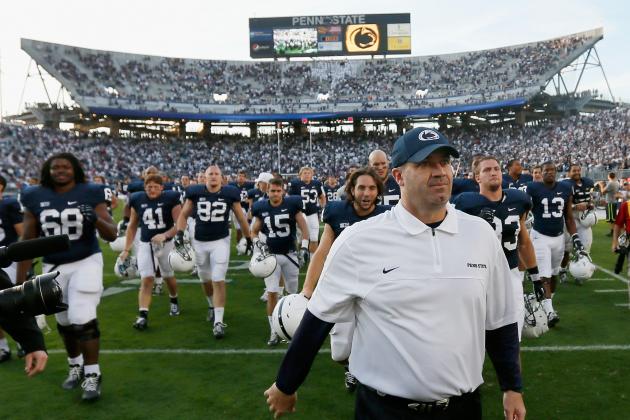 Rob Carr/Getty Images

After picking up their first victory in convincing fashion against Navy a week ago, Bill O'Brien and Penn State improved to .500 with a 24-13 win over Temple.
While the 11-point margin of victory indicated a close game, the contest between the in-state rivals was dominated by the Nittany Lions from the get-go.
With that being said, let's look back and see who stepped up and who may have disappointed for the Lions.
Begin Slideshow

»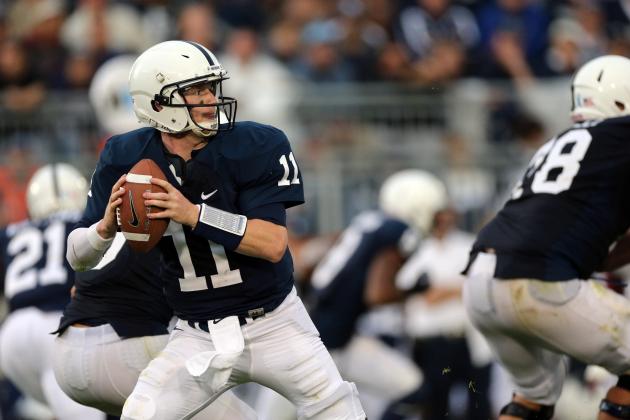 Rob Christy-US PRESSWIRE

Facing a Temple defense that allowed 36 points to Maryland the game before, Matt McGloin needed to come in and make the plays expected of him, and he did more than that.
McGloin put up a season-high 318 yards on 24 of 36 passing attempts with a touchdown pass and two rushing TDs.
The senior's performance landed him at the top of the list of passing yards per game—ahead of signal-callers like Denard Robinson, Taylor Martinez and Braxton Miller.
Not only were his stats impressive, but McGloin also looked poised and confident in the pocket and rolling out.
He did have one interception, but it wasn't really his fault (see Brandon Moseby-Felder).
Grade: A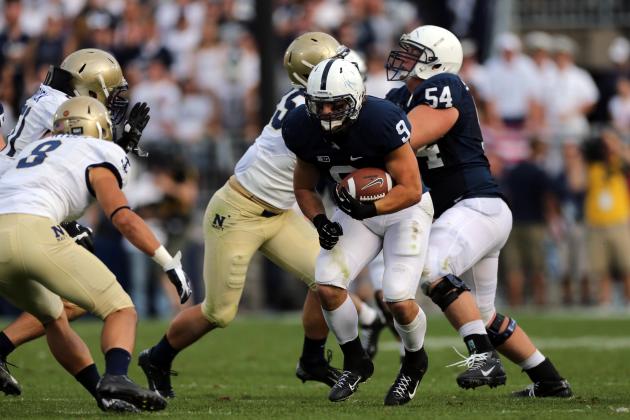 Rob Christy-US PRESSWIRE

Even though they didn't log a touchdown, running backs Michael Zordich and Zach Zwinak did an extremely good job, considering the circumstances.
With tailbacks Bill Belton, Derek Day and Curtis Dukes out with injury, Zordich and Zwinak combined for 169 yards on just 33 carries for an average of 5.1 yards per carry.
While they never really broke out for a ridiculous run, the two used their strength for a solid amount of yards after contact.
They also helped out McGloin immensely by taking the pressure off their quarterback and balancing the offensive attack.
Despite all this, the duo were unable to garner a touchdown.
Grade: B+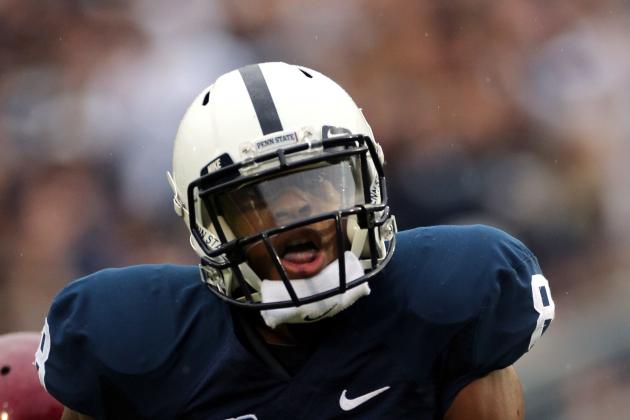 Rob Christy-US PRESSWIRE

Robinson:
Another Saturday, another solid performance for Allen Robinson.
Robinson, the Big Ten's leading receiver, added a touchdown to his 2012 tally, along with five receptions for 84 yards.
The sophomore made a great play to create separation from double coverage and snag a high throw from McGloin for the Lions' lone receiving touchdown of the afternoon.
The Biletnikoff Award Watch List member has been off to a fantastic start to the year and his stock should continue to rise as the season progresses.
Grade: A
Moseby-Felder:
While he made a nice snag for a 19-yard pickup, Brandon Moseby-Felder did more bad than good on Saturday against Temple.
On McGloin's lone interception, the ball should have been caught by Moseby-Felder, but went through his hands into Temple's Tavon Young.
Other than that, his impact was limited with just 2 catches for 20 total yards.
With Robinson making headlines, defenses will start to key in on him, and Moseby-Felder will need to step up.
Grade: C-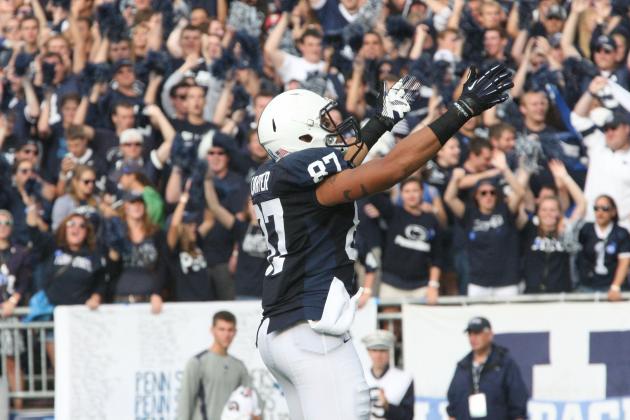 Rob Christy-US PRESSWIRE

Carter:
With a plethora of tight ends, it was questionable before the season who would start in Bill O'Brien's offense.
Four games into the season, it's clear that freshman Kyle Carter is McGloin's favorite target from that position.
Carter was consistent on Saturday with five catches and 70 yards, including with a 20-yard grab.
If the freshman can continue to make an impact in the play-action pass game, the Lions' chances of creating a balanced offensive attack will be exponentially higher.
Grade: A
Lehman:
Although he only logged two catches, Matt Lehman made one of the biggest plays of the day with a 22-yard gain in the third quarter, setting the Lions up inside the Temple 10-yard line.
The play was a highlight of the game after Lehman broke a tackle and somehow stayed on his feet to get the ball in prime condition for the Lions game-clinching touchdown.
Look for more out of Lehman heading forward, especially in the red zone.
Grade: B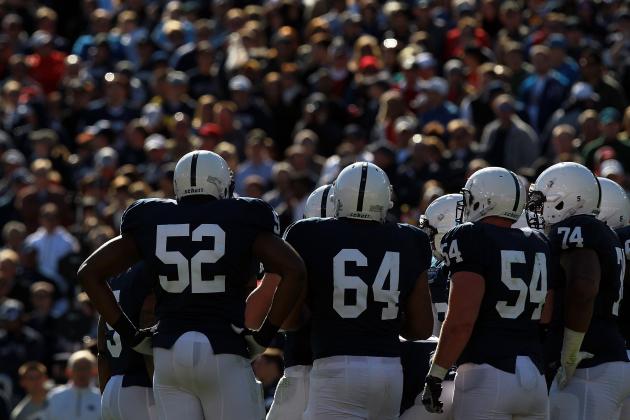 Ronald Martinez/Getty Images

After keeping McGloin's jersey clean for most of the day, the Penn State offensive line deserves a pat on the back.
Led by center Miles Dieffenbach and tackle John Urschel, the O-line allowed zero sacks and opened holes for runners Zordich and Zwinak to run through.
Except for a 7-yard loss on a Paul Jones rushing attempt, the Temple Owls defensive line rarely saw the backfield on Saturday.
If the O-line is able to play like this heading forward, the Lions will be in solid shape.
Grade: A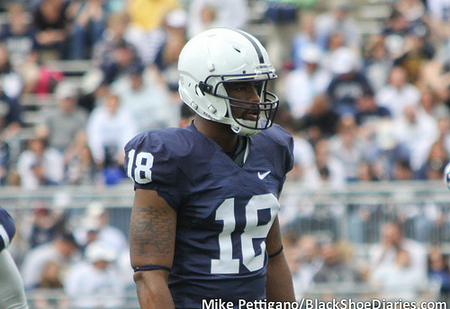 Mike Pettigano/BlackShoeDiaries.com
Barnes:
While he didn't tally a sack in the contest, Deion Barnes was pressuring the quarterback all day with defensive ends Pete Massaro and Sean Stanley out.
Barnes, a redshirt freshman, is tied for fourth in the Big Ten in sacks, standing alongside proven studs like Wisconsin linebacker Chris Borland.
Even though he never took down the quarterback, Barnes still recorded two tackles, one of which was for a loss.
Grade: B-
Olaniyan:
After seeing substitute time in the first three games, Olaniyan got the start on Saturday with both Massaro and Stanley out.
Even though he didn't record a sack of TFL, the redshirt sophomore did break up a pass at the line of scrimmage which almost turned into an interception.
Olaniyan showed some good things and with his size (6-3, 248 lbs.), and with defensive line coach Larry Johnson's mentoring, he'll be making headlines as the games go on.
Grade: B-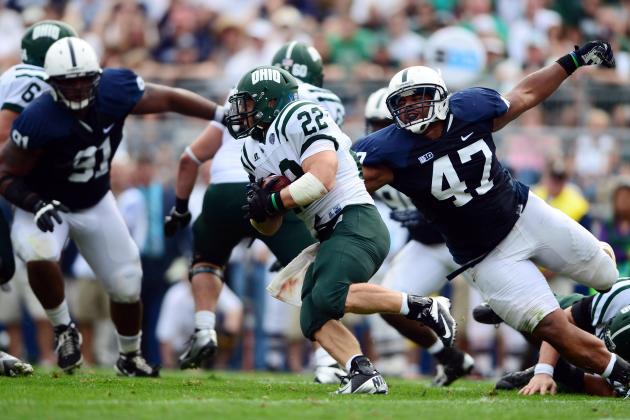 Andrew Weber-US PRESSWIRE

Hill:
Senior defensive tackle Jordan Hill proved on Saturday why he was being compared to former All-American Devon Still prior to the season.
Hill, a senior, tallied seven total tackles, one sack, and one tackle for a loss of nine yards.
The 292-pound tackle also forced a fumble, adding to the chaos he caused in the Temple backfield.
If the Lions get a performance out of Hill like that every game, the defense will be in position for another top-five year.
Grade: A+
Jones:
While Hill had a monster of a game, his counterpart DaQuan Jones was virtually nonexistent.
Jones, who was supposed to fill the role Hill provided in 2011, was no problem for Temple's meek offensive line on Saturday.
With only one assisted tackle to his name, Penn State fans better hope Jones picks up the pace heading forward.
Grade: C-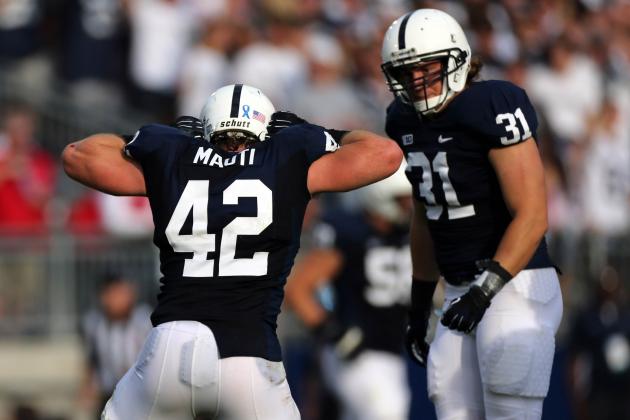 Rob Christy-US PRESSWIRE

Mauti:
Once again, senior linebacker and team leader Michael Mauti showed why he's one of the nation's premier linebackers.
After a nine-tackle performance against Temple, Mauti pushed himself to second on the Big Ten tackles leaders list.
With a forced fumble and pass break-up on Saturday, Mauti is in absolute beast mode and is a force to be reckoned with heading into Big Ten play.
Grades: A+
Hodges:
After three solo tackles and three assisted tackles, Gerald Hodges once again showed that he's an darn good outside linebacker.
Not only did he make several tackles, but he also did well in man-to-man coverage throughout the entire contest.
The only thing that was disappointing was the lack of pressure on Temple quarterback Chris Coyer.
Considering Hodges will most likely be a first to second-round draft pick in April, you have to expect at least one sack from him against a team like Temple.
Grade: B
Carson:
Even though he only tallied three total tackles, underrated linebacker Glenn Carson was throwing his body all around the field on Saturday.
Carson, a junior, made his presence felt on the field with some big hits against Temple.
However, you would hope for more production from a guy like Carson in the game right before the Big Ten opener.
Grade: C+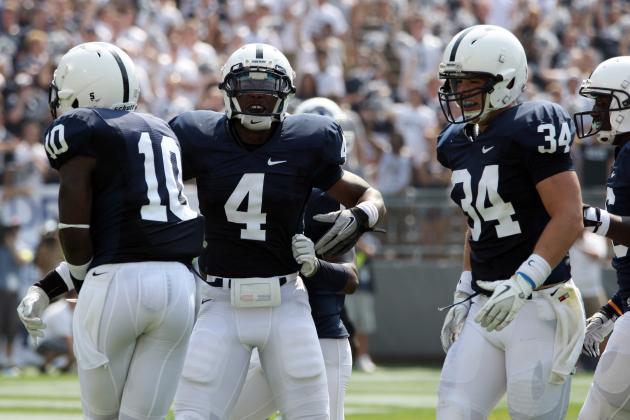 Rob Christy-US PRESSWIRE

Morris:
Stephon Morris provided leadership on the field throughout the game and took an aggressive approach to Temple's short passing game.
Morris, a senior, posted five tackles against the Owls, two of which were solo takedowns.
However, Morris did get burned on a few play-action pass plays, but luckily the Temple receivers weren't able to capitalize.
Grade: B
Amos:
While he only made two solo tackles, Adrian Amos had his head on a swivel the entire game and made an impact in the secondary.
The sophomore laid some huge hits on Temple receivers when the Owls tried to get the screen game going.
Amos is one of the most athletic players on the Penn State roster and his high-flying approach is something that will be extremely valuable for an inexperienced secondary moving forward.
Grade: B+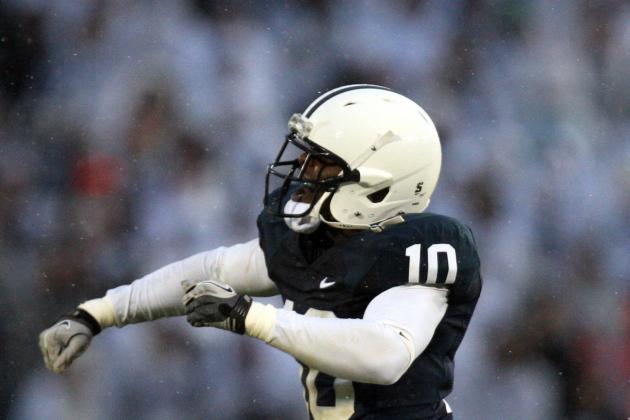 Rob Christy-US PRESSWIRE

Willis:
While Jacob Fagnano did collect some playing time this week, Malcolm Willis showed why he should be starting at safety.
Willis, a redshirt junior, always seemed to be in the right place at the right time, logging four tackles against the Owls.
Known as a big-time hitter, Willis made his presence known on the field from the get-go, and it looks like that may become a trend.
Grade: B+
Obeng-Agyapong:
After establishing himself as a ball-hawk in the secondary, Stephen Obeng-Agyapong has played with reckless abandon this season and he was all over the field against Temple.
Although he only logged one tackle, it was for a loss and Obeng-Agyapong also broke up a pass.
Look for Obeng-Agyapong to continue his consistent play once Big Ten play begins this weekend against Illinois.
Grade: B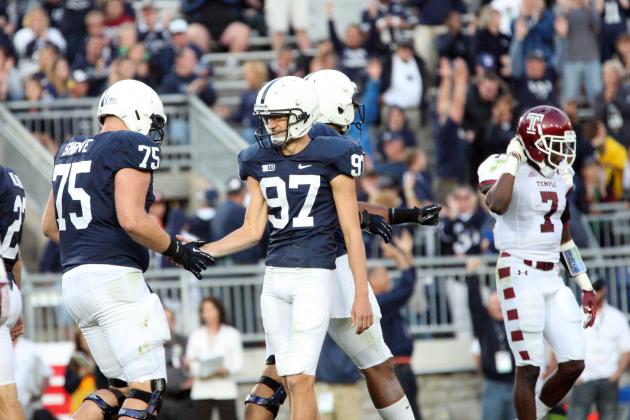 Rob Christy-US PRESSWIRE

Overall, the Lions had a pretty solid day on special teams.
While his kicks were wobbly and worrisome at some points, much-talked about kicker Sam Ficken made all his extra points and a 21-yard chip shot in the fourth quarter.
Punter Alex Butterworth shanked one punt for 15 yards, but had a serviceable bottom-line performance.
With an average of 30.4 yards per punt, Butterworth pinned the Owls within their 10-yard line twice, contributing to the field-position battle early.
Also, Jesse Della Valle did a phenomenal job returning punts, using his shiftiness to pick up gritty, crucial yards throughout the contest.
Grade: B+