4 Ways Josh Rutledge Can Be Used by Colorado Rockies Next Season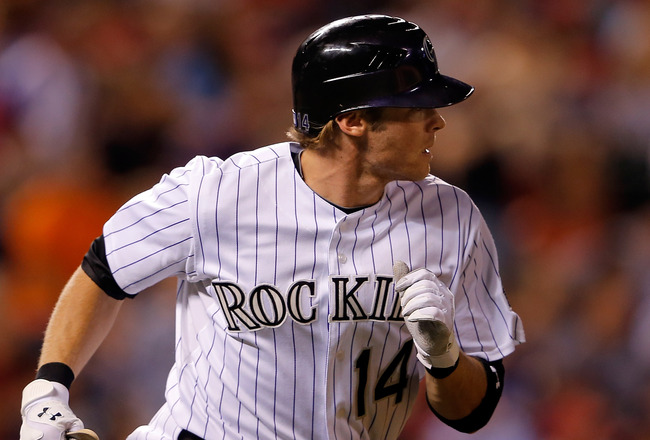 Doug Pensinger/Getty Images
Colorado Rockies middle infielder Josh Rutledge has been extremely beneficial to Colorado's offense and defense. He's primarily a shortstop, but with Troy Tulowitzki being the franchise player, it's hard to envision a rookie being valued more.
However, there is always a place on an MLB team for a hard worker that can contribute. Rutledge is that guy, and here's how the Rockies can use him.
Pinch-Hitter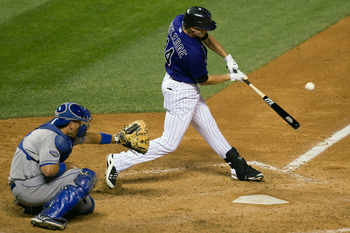 There's always a place on the roster for pinch hitters, especially in the National League.
Justin Edmonds/Getty Images
Although Josh Rutledge is a great fielder, he might find his niche in Colorado as a temporary pinch-hitter.
In his MLB career (which just began this season), Rutledge has pinch hit 10 times.
In those 10 at-bats, Rutledge has gotten six hits, including a double, a triple and a home run; he's also got five runs batted in with two runs scored.
I'm sure you can understand just how valuable he will be to the Rockies next season, even if it's just as a pinch-hitter.
The infielder has a very respectable bat—he's pinch-hitting for a .600 average. This is why he'll be beneficial to the Rockies, especially if the offense becomes anemic.
Back-Up Shortstop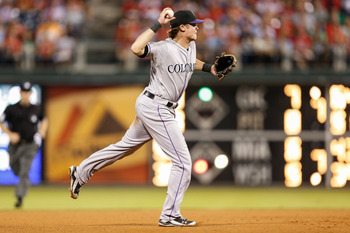 Rutledge served as the shortstop during Troy Tulowitzki's temporary hiatus.
Brian Garfinkel/Getty Images
Rutledge's original position coming out of college was shortstop, and in the minors he played the six hole well.
This season, Josh has started at shortstop 49 games, but he's played the position in 50 games total. In those 50 games, Rutledge has committed 10 errors. While this isn't great, it could certainly be worse.
Troy Tulowitzki saw his 2012 season cut short due to a groin injury. Many can attest that once you suffer an injury, rarely do you ever return to 100 percent, and for that reason the Rockies might find value in Josh Rutledge.
The 23-year-old Rutledge could serve as a backup shortstop...just in case.
Everyday Second Baseman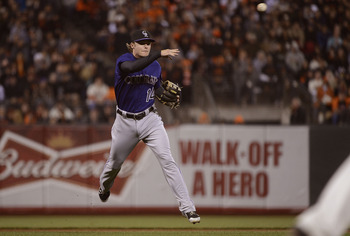 Colorado could utilize Rutledge as their everyday second baseman, and this would certainly benefit the team.
Thearon W. Henderson/Getty Images
Andrew Fisher of purplerow.com has said that Rutledge could possibly be tabbed the Rockies everyday second baseman in 2013.
This would be a smart move for Colorado.
The Rockies' organization has been testing Rutledge at second base recently, and he's passing the test with flying colors.
He's started four games for the Rox at second base, and thus far, he has not committed an error at the position.
Josh just has so much more potential at the position than others, and his bat in the lineup is far more significant, so he should be given all the time on the field that he can get.
I'd certainly choose Rutledge over DJ LeMahieu at second base.
Trade Bait?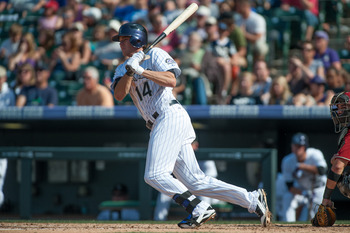 Dustin Bradford/Getty Images
Although it's extremely unlikely, the Rockies could always use Rutledge as trade bait for other needs.
No. 14 has been a consistent contributor to Colorado, and the fans aren't the only ones that took notice.
There are other teams that I'm sure have seen what Josh has brought to the table for the Rockies, and without a doubt, in the future, the organization will receive calls about this guy.
While his opportunities at the position have been limited, he's been playing a solid second base, and quality second basemen are in demand.
There's been a saying for as long as I can remember that says, "You can never have too much pitching."
If that's the case, the Rox could always flip Rutledge for some arms—either to be placed in the rotation or bullpen.
As I said earlier, although it's doubtful, it could happen.
Keep Reading

Colorado Rockies: Like this team?