WWE Hell in a Cell 2012: Why CM Punk vs. John Cena Is Worthy of a HIAC Match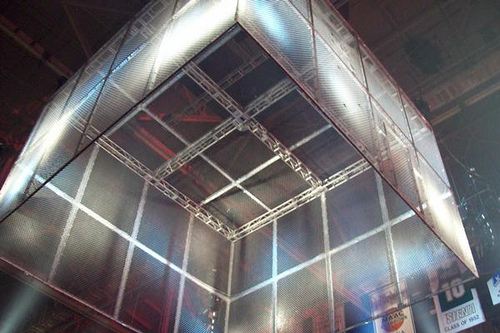 photo on Flickr by jmac33208
CM Punk vs. John Cena would be a worthy Hell in a Cell match.
The pay-per-view is five weeks away, and no matches have been made. One that seems obvious would be their rematch for Punk's WWE Title.
The Cena-Punk feud has become the main attraction. Both men have a storied history with each other, a feud that is definitely worthy of a Wrestlemania. Their matches only heighten their storyline to bigger proportions.
The Cena-Punk match would be worthy of a Hell in a Cell match because the last few matches haven't brought forth prolonged feuds since Hell in a Cell got its own PPV. Sure, you could put the Undertaker and Kane on there. However, at the time their feud only lasted a month before their match. You can't put Taker/Triple H because their match already took place at Wrestlemania 28.
Cena and Punk can create a classic in this October PPV. Let's take a look back at what makes their rivalry worthy of a Hell in a Cell match.
Begin Slideshow

»
It simply didn't start with a diet soda.
Punk was doing commentary for Raw while recovering from a hip injury suffered in 2010. He came back to the ring in 2011 feuding with Cena, which led the New Nexus. The feud was short, lasting only two months.
Punk would be on the losing end twice. Cena eliminated Punk from both the Royal Rumble and the Elimination Chamber of 2011.
Punk would move on to feud with Orton, while Cena began chasing the WWE Title again.
Their two-month feud was only a sample of what fans would get later in the year.
Everyone knows the infamous promo Punk cut in late June. What they didn't know or maybe forgot was Cena was in the ring at the time.
As Punk aired his grievances, Cena witnessed live Punk's speech of being held back, as he attacked the WWE brass. Their match at Money in the Bank was a classic, and it started the summer of Punk.
Their feud culminated at SummerSlam, with Punk defeating Cena again.
In fact, before last week's events Cena has not beaten Punk since the Raw 2011 Elimination Chamber match. Yes, records still matter in the WWE.
This brings up an important point in their history: CM Punk has had the upper hand more times than John Cena. It also brings an intriguing factor to an inevitable rematch.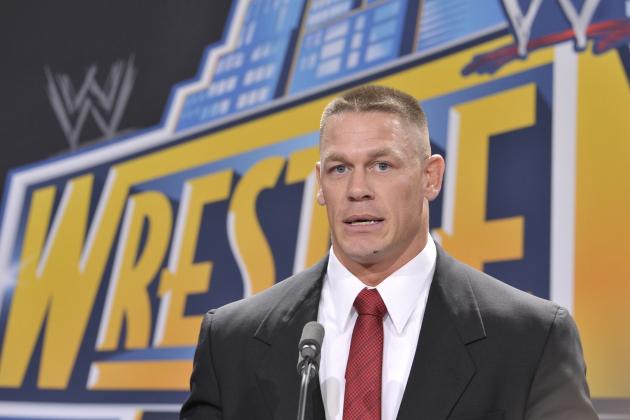 Michael N. Todaro/Getty Images

Nothing bad can be said about their matches.
Each encounter tells a story. Their matches in Money in the Bank and SummerSlam made the WWE Title prestigious again. Night of Champions brought that nostalgic feeling back, as well as a new element in their storyline.
They are the best matches in the WWE not taking place at a Wrestlemania. Cena and Punk bring out the best in each other.
The match at Night of Champions saw both men using moves they either rarely or never used. When was the last time Cena pulled off a suicide dive? How was that rock bottom by Punk?
Their matches never disappoint. A hell in a cell match between them could bring their feud to new horizons.
Their latest chapter is built around respect.
CM Punk demands respect, while John Cena believes respect is earned. It hasn't helped Punk that Cena pointed out how he's in the main event while Punk's the champion.
Punk joining forces with Paul Heyman brings a new wrinkle to the storyline. What role will Heyman play at Punk's side?
The draw at Night of Champions adds more intrigue to their next encounter. Fans are talking as to who was the better man that night. The story will command another match between the two. The only way to settle their recent feud must be Hell in a Cell.
What would their inevitable rematch bring?
The one thing we haven't seen them do is brawl against each other. We only got samples of their brawling work in the Elimination Chamber and last year's Hell in a Cell triple-threat match with Alberto Del Rio.
However, we haven't seen them cut loose against each other. Both men are capable of providing exciting matches in a hardcore environment. We've seen them put on entertaining matches with stipulations.
Add weapons and a cage to their in-ring chemistry and you have what Jim Ross would call a potential slobber-knocker.
Hell in a Cell would write a new chapter for the Punk/Cena rivalry. It would bring back the cell in its all brutality, and rightfully so.
The prolonged Cena-Punk rivalry would restore the respect the cell deserves. If this match happens at the cell, it could possibly top their other encounters. Bring it on!