Seahawks vs. Packers: Final Report Card, Player Grades for Seattle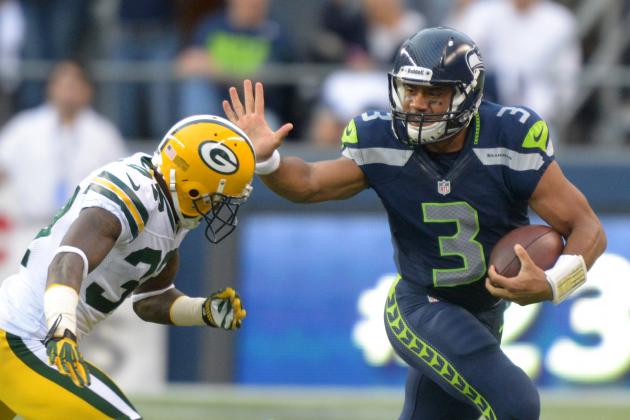 Kirby Lee-US PRESSWIRE

The Seattle Seahawks topped the Green Bay Packers, 14-12, winning in what proved to be a controversial fashion. Thanks to a horrible call by the referees at the end of the game, the Seahawks were able to complete a game-winning drive with a touchdown pass that should have been ruled an interception.
Seattle will leave CenturyLink Field with a 2-1 record while the Packers will fall into a tie for last place in the NFC North at 1-2.
Let's take a look at the Seahawks final grades for all the key players on their roster.
Begin Slideshow

»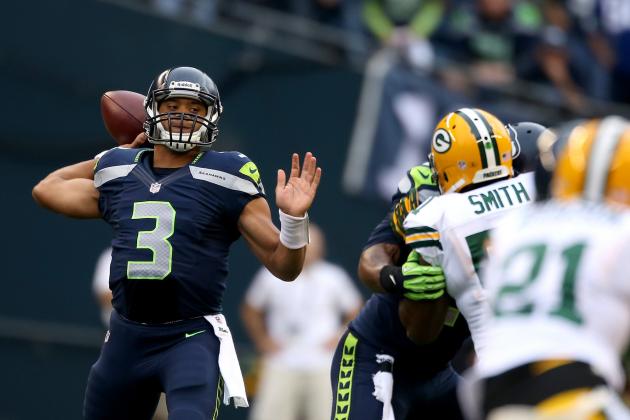 Otto Greule Jr/Getty Images

Wilson — D-
Wilson did make mistakes in this game, but none of them were in the form of turnovers. Still, Wilson simply didn't do enough to win this game for his team as he completed less than 50 percent of his passes.
Taking into account the fact that the game-winning touchdown pass shouldn't have counted, Wilson really ended up with just 106 yards through the air with his longest pass coming on a 41-yard connection to Tate for the team's first and only legit touchdown of the evening.
The rookie quarterback did have another shot at the end zone earlier in the fourth quarter, but lobbed a pass that was dropped by Tate. Despite it bouncing off Tate's hands, the pass looked to be intended for Sidney Rice in the back of the end zone, but if that was the case, it fell far short.
Wilson must do a better job of making accurate throws. I understand he was rushed quite a bit in this game, but there were some throws that he should have made, but didn't.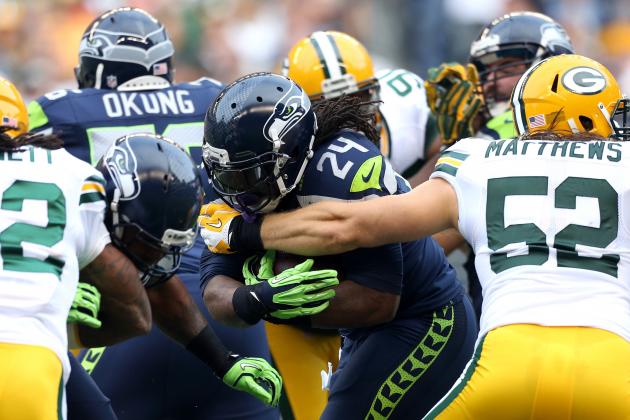 Otto Greule Jr/Getty Images

Marshawn Lynch — B+
At one point in this game, Lynch was the only reason Seattle could move the ball down the field. Seattle's running back ran hard as always, punishing opposing defenders who got in his way.
Lynch finished the game with 98 yards on the ground, failing to reach the end zone in the process. He didn't get much help from his offensive line, however, as Lynch only averaged a shade under four yards per carry.
On the receiving end, Lynch caught one pass for a minimal gain and didn't do much to help the Seahawks move the ball through the air, but that isn't really his job in the first place.
Lynch continues to be the heart and soul of this offensive unit and without him tonight, Seattle's offense would have been stationary for the vast majority of this game.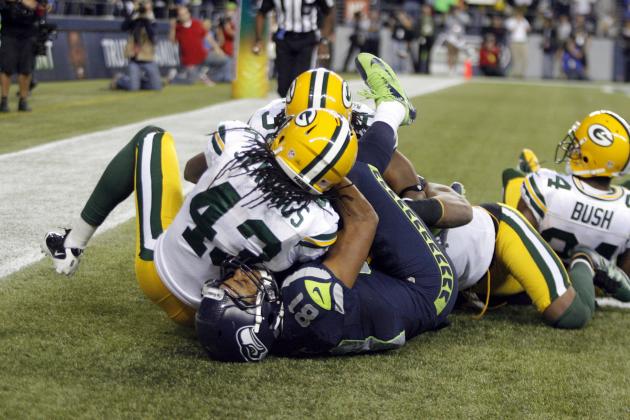 Joe Nicholson-US PRESSWIRE

Golden Tate — A
Tate caught both touchdown passes on the evening, one deserved and one not so deserved. But still, that won't matter to fantasy football owners in the morning who got two scores out of their receiver.
Tate's catch in the second quarter was a 41-yard reception that saw the 24-year-old blow past the Packers' secondary for the first score of the game.
For his second touchdown catch, Tate got a ton of help from the referees as the call should have been an interception. However, Tate didn't give up on the play and his hard-fought battle for the game-winning jump ball was apparently credible enough to make it look like a catch to the officials.
Sidney Rice — C-
Rice was nowhere to be found in this game, at least until the fourth quarter. Wilson connected with Rice for a huge 22-yard pass in the waning seconds of the fourth quarter that helped set Seattle up for a game-winning touchdown pass. That would be Rice's only catch of the night.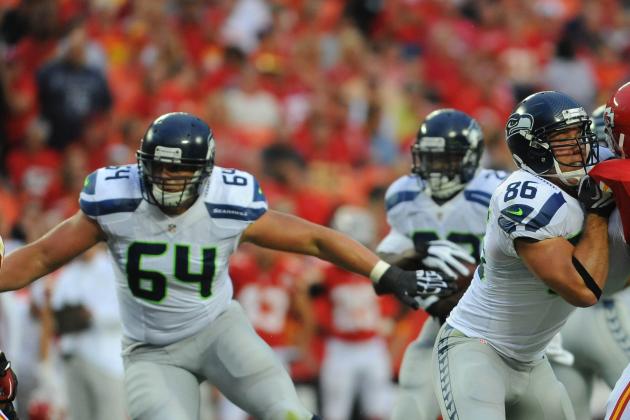 Denny Medley-US PRESSWIRE

Zach Miller — D-
Miller was non-existent in the Seahawks win over the Packers.
Miller caught two passes for 12 yards and failed to get into the end zone at all as he continues to have a quiet season for Seattle.
If Miller did any blocking in this game, it certainly didn't show as the Packers put pressure on Wilson all night.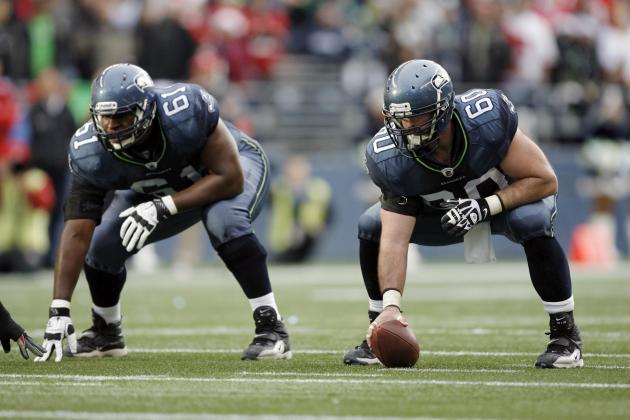 Joe Nicholson-US PRESSWIRE

Max Unger — A
If there was pressure from the Packers, it didn't come up the middle very often. Lynch saw some of his better carries on the evening when he punched it right up the gut behind Unger.
Besides that, Wilson and Unger didn't botch a single snap which is something normal for any quarterback to do, let alone a rookie.
Rest of Offensive Line — C-
Despite the fact that Wilson was only sacked once, the Seahawks' O-line didn't fare so well in this game. Wilson was running for his life for much of the night and while Lynch did compile 98 yards on the ground, it was at a 3.9 yards per carry clip.
This offensive line needs to do a better job protecting their quarterback if they hope for Wilson to get the time in the pocket necessary to complete passes and get better.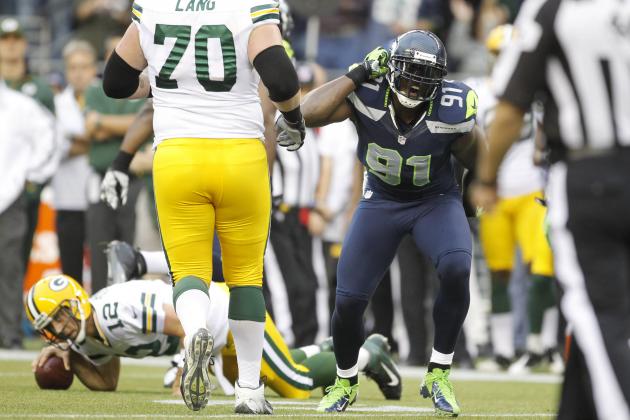 Joe Nicholson-US PRESSWIRE

Chris Clemons — A+
There's no doubt Rodgers will be seeing Clemons in his nightmares after this game as the Seahawks' defensive end sacked the Packers' signal-caller four times in the second quarter.
Clemons also got his hand on a pass deflection and was a major part of the Seahawks' success in stopping the run.
Bruce Irvin — A
The first-round pick started the first half sack party on Rodgers with two sacks of his own in the first quarter. Not bad production for a guy who is listed as second on Seattle's depth chart for the right defensive end position.
In total, Irvin made contact with the quarterback three times during this game.
Brandon Mebane — A
Mebane was another important piece to a Seahawks defense that allowed just 84 yards on the ground.
The 27-year-old racked up two sacks in this game and hit the quarterback three times in all. Mebane would finish with four tackles on the evening and did a lot of positive things on the field in Seattle's victory.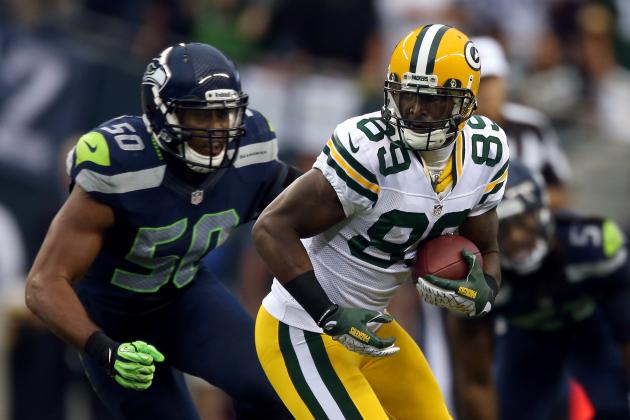 Otto Greule Jr/Getty Images

K.J. Wright — A
Wright was spectacular in this game for the Seahawks.
Not only did he have 11 tackles with one for a loss, but Wright also showed some great awareness and did a great job reading plays and making stops.
The future is bright for Wright.
Bobby Wagner — B+
Wagner's solid night was well overshadowed by what Wright was able to do, but he had a good game nonetheless.
The Seahawks' linebacker notched eight tackles on the night, but failed to take down the Packers' offense behind the line of scrimmage.
Leroy Hill — C+
Hill wasn't around very much in this game, but he did manage to pick up five tackles.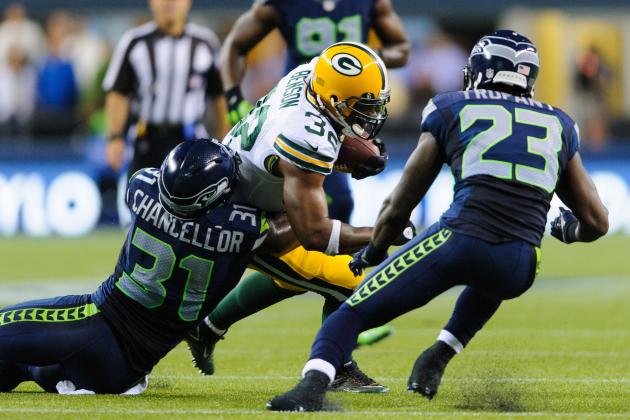 Steven Bisig-US PRESSWIRE

Kam Chancellor — A+
Chancellor was very busy against the Packers on Monday night and it showed.
The Seahawks' safety finished with 10 tackles on the evening and even got his hands on a pass to deflect it incomplete.
Most importantly, Chancellor's work deep stopped Rodgers and the Packers offense from pulling off big plays down the field.
Earl Thomas — B
Thomas wasn't busy in the tackling department, but along with Chancellor, he did a great job keeping the Packers' deep game at bay. The Seahawks' other safety finished with four tackles.
Brandon Browner — B+
Browner still needs to get his emotions in check, but fortunately for Seattle it didn't cost them anything. Browner had three tackles and a pass deflection.
A two-point conversion attempt by Green Bay fell short after Browner got his hand on a pass from the arm of Rodgers. If the Packers would have completed that play, the Seahawks final "touchdown" would have sent this game to overtime instead of being a game-winner.
Marcus Trufant — D
Trufant was pretty quiet against the Pack as the veteran only picked up three tackles.
The biggest play of the game involving Trufant happened on the touchdown drive that put the Packers ahead, 12-7. Trufant got burned by Greg Jennings for a reception that put Green Bay just a few yards away from a score that they eventually got.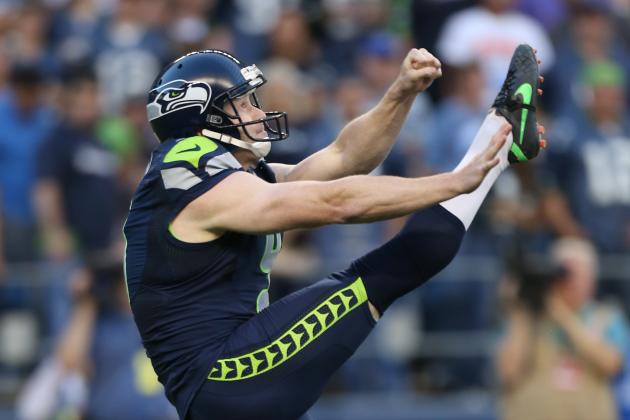 Otto Greule Jr/Getty Images

Leon Washington — D
Washington wasn't much of a factor in this game as he only had two kick returns, averaging 21 yards per return.
Washington also had two punt returns, but only managed to pick up five yards in total and his last punt return in the fourth quarter was a sloppy one. The 30-year old ran around and wasted valuable time on a return that amounted to nothing.
Steven Hauschka — A
There wasn't much to grade Hauschka on considering he didn't get a single field goal attempt in this game, but Seattle's kicker did hit both extra points.
Jon Ryan — A+
In a game that was all about field position, Ryan did another stellar job in Week 3. Seattle's punter booted six punts for an average of 51.5 yards per kick. His longest punts were 65 and 73 yards, respectively.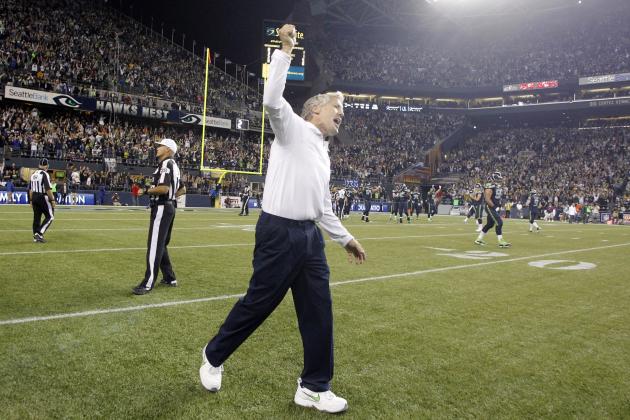 Joe Nicholson-US PRESSWIRE

Final Grade — B
Pete Carroll's offense couldn't get anything going during this game. In the second quarter, Seattle took a shot down field after keeping it short and that proved to be successful as it resulted in a 41-yard touchdown score. That would be the only great call Seattle's offense made all night.
Late in the fourth quarter, the Seahawks had their worst play call of the night. On a third and short situation, Seattle called for an option play that resulted in Wilson running right into a Packer defender for negative yardage.
The Seahawks' coaching staff did an incredible job of preparing for the Packers' offense. Seattle put a ton of pressure on Rodgers and held him to mostly short passes throughout the game. Green Bay's rushing attack wasn't even a factor.
Carroll and his coaching staff should be proud of the way they played the Packers on the defensive end. The coverages were perfect and the pressure was constant, helping Seattle to hold Green Bay to just 12 points in this game.