Winners and Losers from Arizona's 27-6 Win over Philadelphia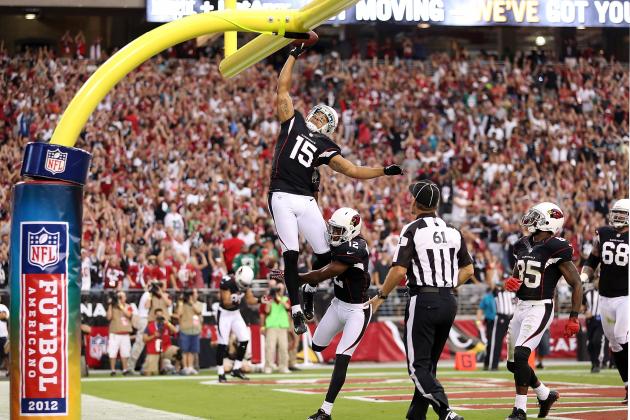 Christian Petersen/Getty Images
Michael Floyd (center) dunks the ball over the crossbar following his touchdown.
Week 3 of the NFL season featured a matchup of unbeaten teams when Arizona hosted Philadelphia. At the end of the day, one team would be 3-0.
The Arizona Cardinals used stifling defense to hold the Philadelphia Eagles to a pair of field goals and cruise to a 27-6 win Sunday afternoon at University of Phoenix Stadium in Glendale, Ariz.
Cardinals quarterback Kevin Kolb threw for 222 yards and a pair of touchdowns against his former team. Wide receivers Larry Fitzgerald and Michael Floyd each scored touchdowns, and the Cardinals posted their 10th win in their last 12 games dating back to last season.
Start the slideshow and see who were the winners and losers in the Cardinals' second win over the Eagles in as many seasons.
Begin Slideshow

»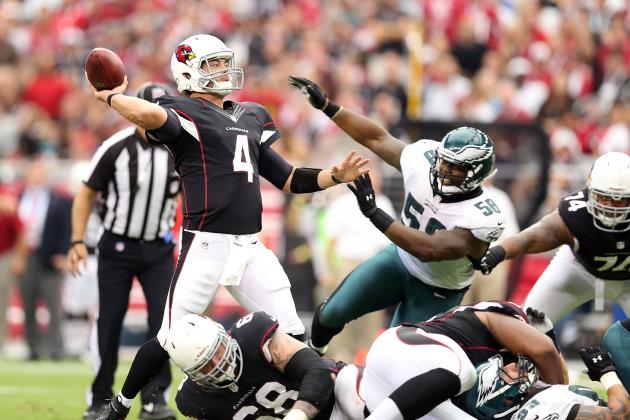 Christian Petersen/Getty Images
Kolb (left) gets off a pass before the Eagles' rush can get to him.
Kolb looked sharp against the Eagles. He hit on 17 of 24 passes for 222 yards with a pair of touchdowns. Besides the sharp-looking stat line, he also did something else very important. He utilized Larry Fitzgerald significantly and gave the Pro Bowl wideout a team-high nine targets.
He also spread the ball around with six different Cardinals catching a pass. Kolb had a pair of completions that went for more than 25 yards each.
No one's going to mistake Kolb for Tom Brady after this performance, but he's been getting the job done. He knew he had to seize the opportunity since John Skelton got sidelined in the opening game against Seattle.
Kolb has made the most of this chance and it would be difficult to see anyone but him starting next week when the Cardinals host Miami. About the only reason he wouldn't start is if his wife went into labor. Kolb and his wife are expecting the couple's third child and are due on October 4.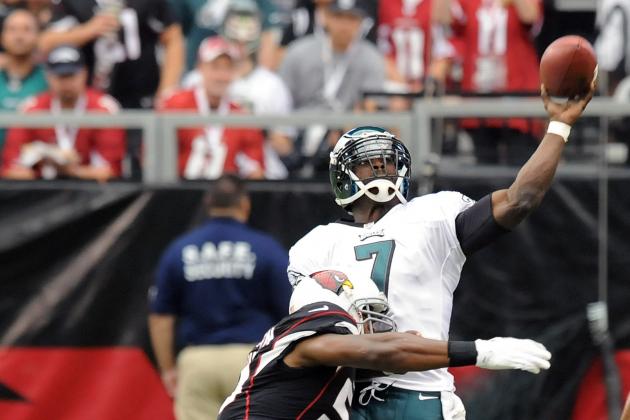 Norm Hall/Getty Images
The Cardinals hit Vick 13 times in Sunday's win.
Michael Vick's early-season turnover woes continued at the hands of the Cardinals defense. Vick threw four interceptions in the season opener against Cleveland but the Eagles squeaked out a one-point win. Vick threw two interceptions against Baltimore but the Eagles eked out a one-point win again.
Vick didn't throw a pick against the Cardinals but he lost two fumbles and was sacked five times. Vick ran out of luck with his arm as well as he completed just 17 of 37 passes for 217 yards. The Cardinals defense also kept his feet in check as Vick gained 28 yards rushing on the day.
Arizona made it tough on Vick to weave his magic and got helped by Jeremy Maclin's hip injury that kept him out of the game. It left DeSean Jackson to get a lion's share of the targets, and the Arizona defense easily kept him in check.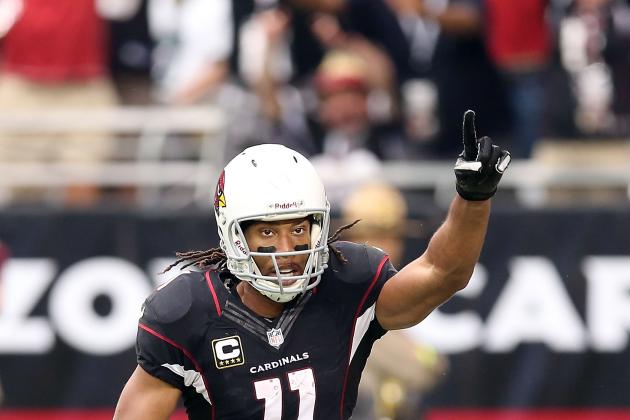 Christian Petersen/Getty Images
Fitzgerald celebrates his touchdown against the Eagles.
For the first time all season, Larry Fitzgerald actually looked like a Pro Bowl wide receiver. He led all receivers with a nine-catch game for 114 yards and a touchdown.
Fitzgerald was targeted nine times and made nine catches. Kolb was able to get the ball to him and give him space to make plays as well. He was able to get open for a 37-yard touchdown catch in the second quarter and looked very confident as the game went along.
He needed this kind of game after his one-catch, four-yard clunker last week in New England. If Fitzgerald keeps getting targeted, he should be able to produce these kind of numbers on a more consistent basis. When that happens, it will also take pressure off of a beleaguered running game.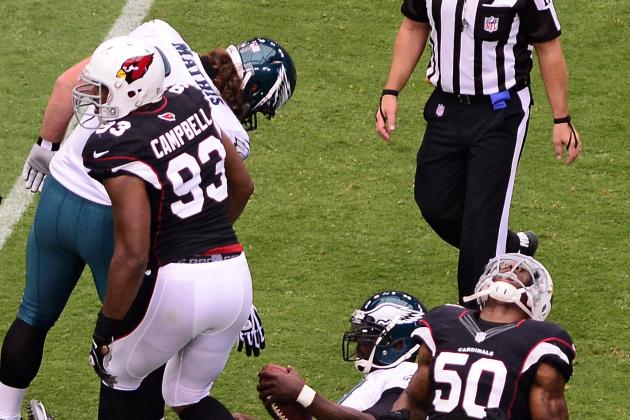 Jennifer Stewart-US PRESSWIRE
O'Brien Schofield celebrates a sack of Michael Vick.
The Cardinals were able to push the Eagles' offensive line around all day and made them into losers. They took advantage of a rookie making his first start in the NFL at center and continued to bring the heat up the middle.
Vick was getting punished by the defensive tackles, linebackers and defensive backs all day so all three tiers of the Arizona defense got their licks on Vick.
With the number of hits he's taking, Vick will need to get some better protection or he's going to be getting smacked around for the rest of the season. They also didn't open many holes in the running game either. LeSean McCoy was held to just 70 yards on 13 carries with a long run of 14 yards.
If the Eagles offensive line can't open up running lanes and can't protect Vick, it won't be long before the Eagles' fans revolt against Andy Reid.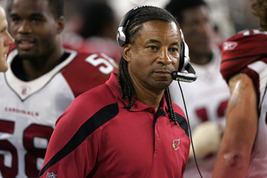 Defensive coordinator Ray Horton has the Cardinals' firing on all cylinders.
Defensive coordinator Ray Horton (pictured here from the Cardinals' website) has been on fire in the first three weeks of the season.
He's drawn up game plans that have stifled Seattle, puzzled the Patriots and vanquished Vick and the Eagles. Arizona has allowed just 40 points through three games this season and lead the league in points allowed.
Horton's stock has been rising on the coaching carousel of the NFL. He's sure to get some interview requests for openings at the end of the season if the defense can continue to perform like this.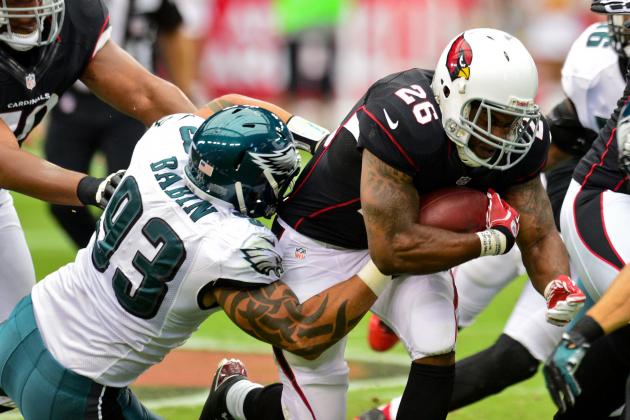 Matt Kartozian-US PRESSWIRE
Wells (center) has been running into opposing defenders quite often in 2012.
The Cardinals have been winning with defense and special teams. The passing game is showing signs of life but the ground game is still grounded, especially when it comes to Beanie Wells.
Wells ran for a career-best 1,057 yards and 10 touchdowns a year ago but looks like a mere shell of his 2011 self this season. So far he has 29 carries for 76 yards and no touchdowns. His longest run of the season is all of 10 yards.
Worse than that, Ryan Williams had a breakout game against the Eagles with 83 yards on 13 carries that was highlighted by a 25-yard scamper.
Yes, Williams had as many yards on one play as Wells averages in one game.
Beanie needs to get his propeller spinning quickly otherwise he's going to find himself on the bench wondering how he went from 1,000-yard rusher to just being a backup.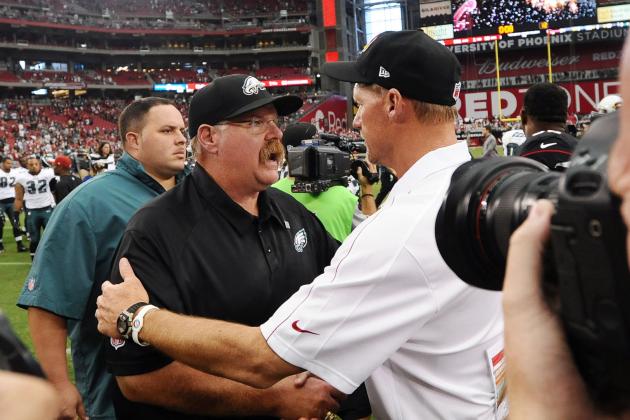 Jennifer Stewart-US PRESSWIRE
Whisenhunt (right) shakes Andy Reid's hand after the win.
Cardinals head coach Ken Whisenhunt is one of the biggest winners of all. This was a team that was in the news for the Kolb-Skelton quarterback battle. Whisenhunt took the entire preseason before making a decision and was heavily criticized for it.
There's nothing like a 3-0 start to silence the critics. The Cardinals have not started a season 3-0 since 1974 when the franchise was in St. Louis. That Don Coryell-coached team finished 10-4 and won the NFC East before falling to Minnesota in the divisional round.
The team is playing well now and is standing alone atop the NFC West after San Francisco lost earlier Sunday at Minnesota by a 24-13 score.
Whisenhunt is smiling somewhere as the head coach of one of three undefeated teams in the NFL with Atlanta and Houston.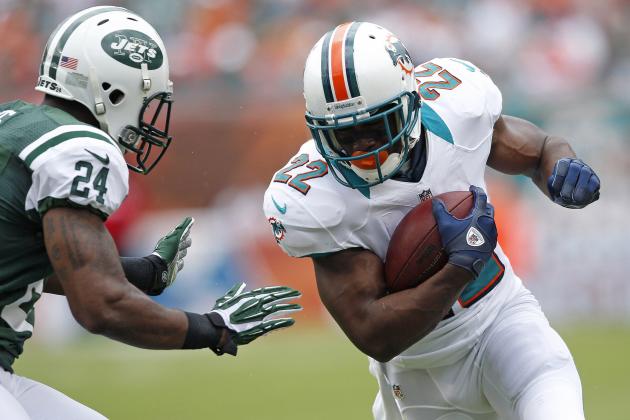 Joel Auerbach/Getty Images
Reggie Bush (right) and the Dolphins take on Arizona next Sunday in the desert.
The Miami Dolphins are the next team to take a swing at giving Arizona its first loss of the season. Miami suffered a 23-20 loss in overtime to the New York Jets in Week 3.
More importantly, running back Reggie Bush limped of the field late in the second quarter and didn't return. His status for Sunday is uncertain, and Bush has been the driving force for the Dolphins this season.
Miami is second in the league in rushing but is near the bottom of the list in passing. Defensively, Miami can shut down the run as it is fourth in that category, allowing 54 yards a game. The Dolphins can't stop the pass as they allow 313 yards a game.
Arizona is good at passing and poor at running so those things will both play well when they match up with Miami with a chance to be 4-0 a quarter of the way through the season.