College Football All-Week 4 Team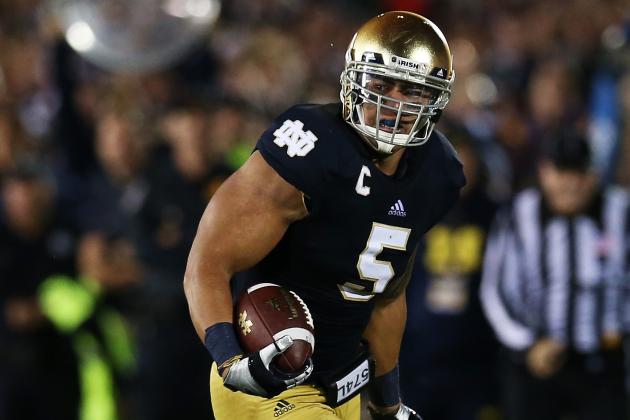 Jonathan Daniel/Getty Images

If you were charged with selecting the best college football players, by position, thus far in the 2012 season, what would your list look like?
Yes, if you were tasked with filling out your All-American ballot today, after only four full weekends jam-packed with delicious action, who would make the cut?
The following slideshow takes a stab at this daunting task by proudly presenting the unofficial, yet fully authorized College Football All-Week 4 Team.
The list features the best of the best, not only of the fourth week of the 2012 season, but also the guys who have been getting it done since the first whistle sounded a mere month ago.
Begin Slideshow

»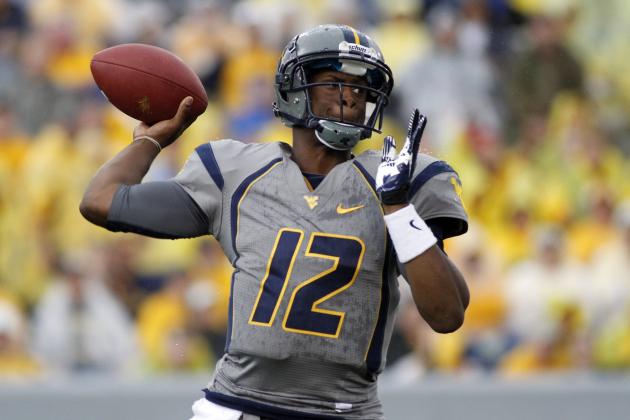 Justin K. Aller/Getty Images

With USC's Matt Barkley, Oklahoma's Landry Jones and Arkansas' Tyler Wilson all suffering early-season setbacks, Geno Smith is arguably the cream of the QB crop thus far in 2012.
Though West Virginia hasn't exactly played the kind of foes that put the fear of God into a man's heart, Smith's numbers speak for themselves.
Smith is 96-for-118 (81.4 percent) for 1,072 yards, 12 scores and zero picks through three contests.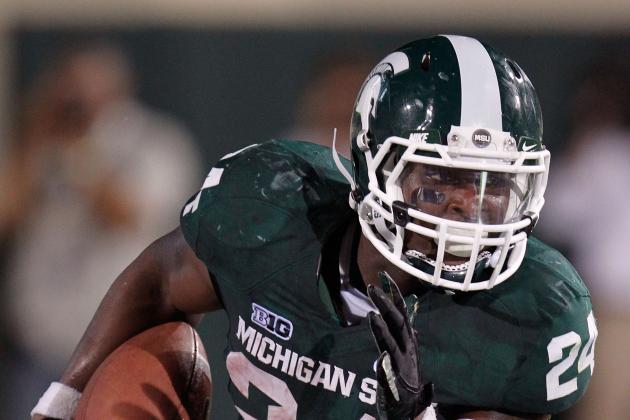 Gregory Shamus/Getty Images

Though the Spartans are far from experiencing an offensive revival in 2012, junior Le'Veon Bell is ripping it up, and in the process, keeping the Green and White attack afloat.
Bell has 610 yards and five scores on 117 attempts through four games and also touts two 200-plus yard performances this season.
Bell pulled off this feat first in Week 1 versus Boise State (he rushed for 210 yards and one score on 44 carries) and then again in Week 4 versus Eastern Michigan (reeling off a whopping 253 yards and one score on 36 carries).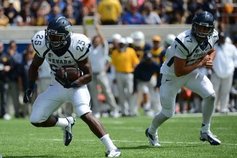 Who is the leading rusher in the FBS through four weeks of jam-packed college football?
Well, that would be Nevada's Stefphon Jefferson, who leads the pack with 699 yards and 11 scores on 122 carries.
Jefferson has rushed for over 100 yards in each of the Wolf Pack's four contests, including a 247-yard performance in the Week 3 win over FCS Northwestern State and 170 yards and six TDs in Week 4's drubbing of Hawaii.
Nevada is 3-1 and Jefferson is a big reason why they are ranked No. 4 nationally in rushing yards.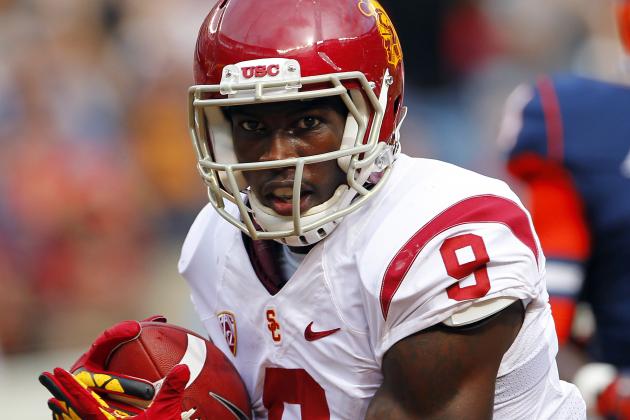 Rich Schultz/Getty Images

Just because USC dropped off the big-time radar following its Week 3 loss to Stanford doesn't mean it doesn't still have a plethora of top-tier athletes.
Sophomore Marqise Lee is one of those guys.
Lee's 457 total yards and six TDs make him the No. 2 receiver in the FBS through four weeks of play, a mark that already puts him near half of his total output as a freshman last season.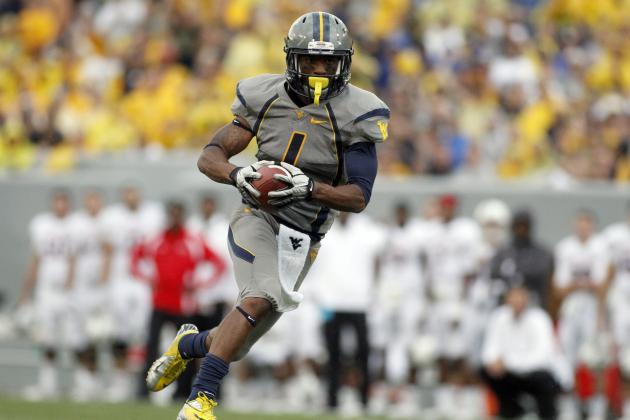 Justin K. Aller/Getty Images

What's somewhat misleading about senior Tavon Austin's 345 total receiving yards and five scores on 34 catches in 2012 is the fact that he's gotten it done in only three games.
That's right—Austin is the 20th-most productive receiver in college football even though almost everyone ahead of him on the list has played an extra game.
Austin's high-water mark came in WVU's Week 4 win over Maryland, when he racked up 179 yards and three scores on 13 catches.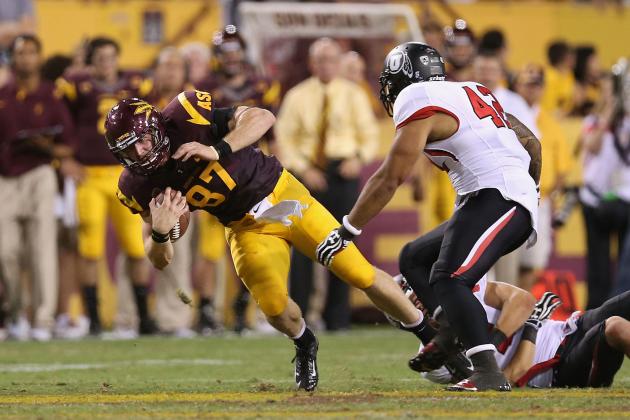 Christian Petersen/Getty Images

The most productive tight end in the FBS through four contests is Chris Coyle, a junior for the suddenly 3-1 Sun Devils.
Coyle, who saw limited action in 2011, has already racked up 301 yards and two scores on 22 catches this season, and his 62 yards on five grabs in Week 4 were key in ASU's 37-7 drubbing of Utah.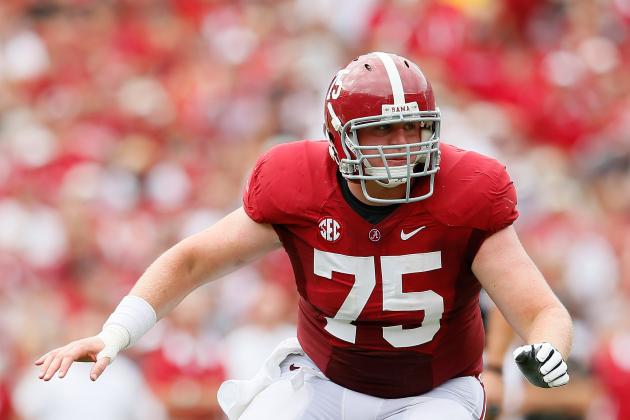 Kevin C. Cox/Getty Images

The starting center for the defending national champions, senior Barrett Jones is part of a unit that leads the No. 38 ranked rushing offense in the land.
Jones is one of the quiet reasons that the Tide are 4-0 and ranked No. 1 in the country.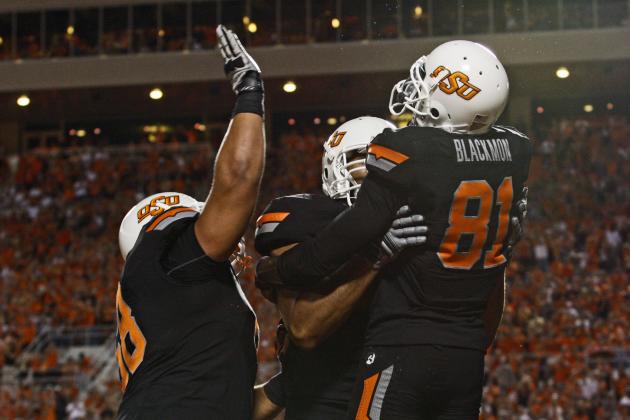 Brett Deering/Getty Images

Hidden beneath the layers of a young team and a 2-1 record is senior OG Lane Taylor, the leader of an offensive line that is yet to allow a sack in 2012.
Want more proof Taylor belongs on this list even though he didn't even play in Week 4 (Oklahoma State had the week off)?
The Cowboys are also ranked No. 6 in the nation in rushing yards per game with 308.3.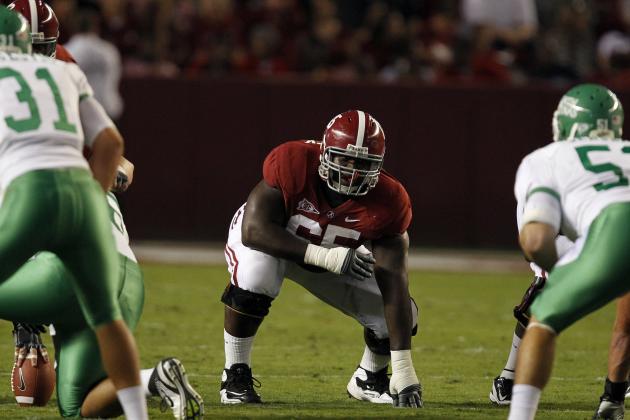 Butch Dill/Getty Images

It's hard to stay away from the Tuscaloosa phonebook when you're looking for great offensive linemen.
Senior guard Chance Warmack, who some prognosticators have as a top-10 overall pick in the 2013 NFL draft, is All-World and one of the anchors on a line that, week in and week out, gets it done in dominating fashion.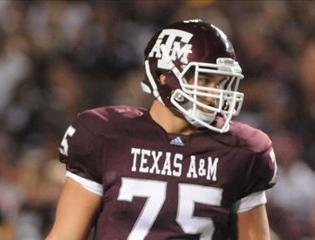 photo from heavyinthegames.com
Junior tackle Jake Matthews is a leader on the Aggies 2012 O-line that leads the No. 33-ranked rushing offense in the land.
Matthews and company were stellar in Week 4 when A&M hung up 265 yards of rushing and 70 points on the FCS South Carolina State.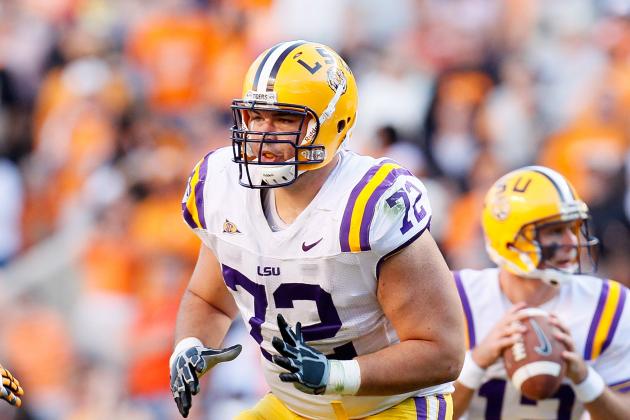 Kevin C. Cox/Getty Images

Whichever side of the center Les Miles puts senior tackle Alex Hurst, he performs.
Hurst is fixture on LSU's O-Line, a unit that ranks No. 15 nationally in rushing yards—a stat that can't do anything but make beautiful music for any new starter under center.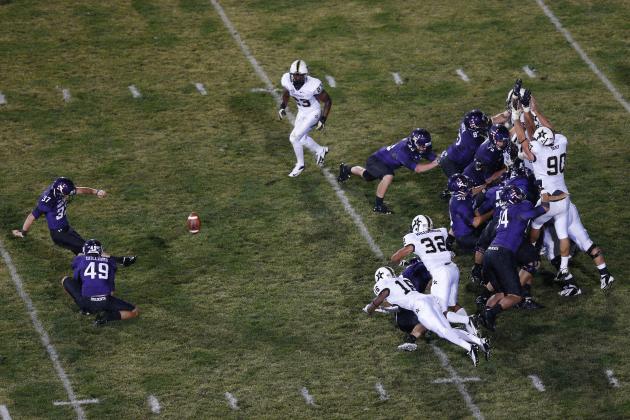 Joe Robbins/Getty Images

Even though junior Jeff Budzien didn't kick a field goal in Northwestern's Week 4 win over FCS South Dakota, he's still the best kicker in college football thus far.
Budzien is a perfect 8-for-8 on field goals and 14-for-14 on extra points in 2012, and his performance has had a huge impact on the Wildcats' 4-0 start.
Budzien was responsible for 11 points in Northwestern's 23-13 win over Vandy in Week 2 and then scored 16 in Week 3's 22-13 win over Boston College.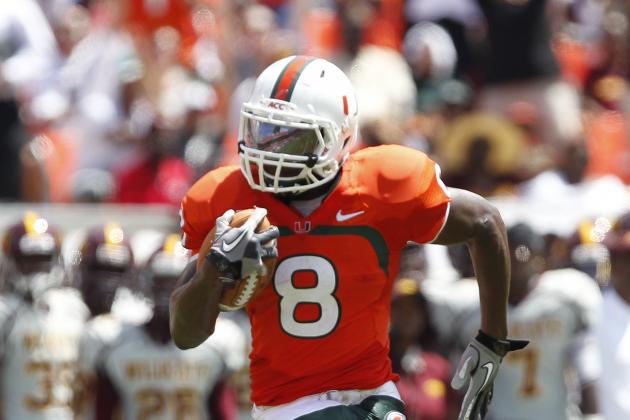 Joel Auerbach/Getty Images

Though there are more flashy (and well-known) selections for an all-around yard hog, Hurricanes freshman Duke Johnson currently has more all-purpose yards than anyone in the nation.
Johnson has 320 yards rushing, 123 receiving, and 395 yards as a kick returner, giving him 838 total yards and a national identity as a rising star.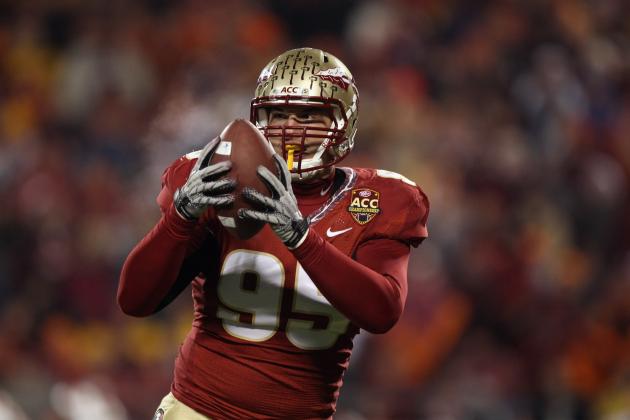 Streeter Lecka/Getty Images

The college football sensation from Berlin (the one in Germany), FSU junior Bjoern Werner is a major force on a defense that ranks No. 6 nationally in scoring.
Werner leads the nation with 6.5 sacks and also has racked up 15 tackles (12 solo) and nine tackles for a loss (No. 4 nationally).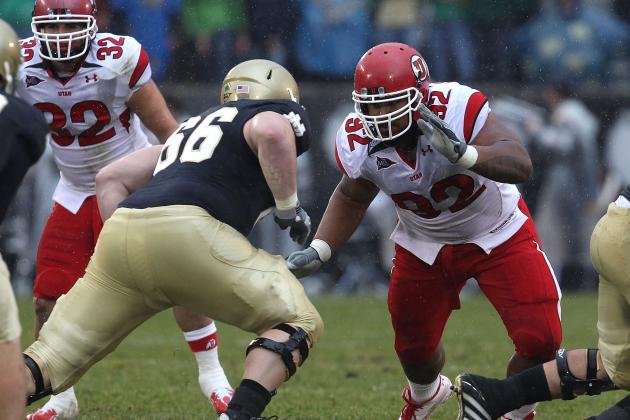 Jonathan Daniel/Getty Images

The guy that many consider to be the best DT in the game right now, Utah's Star Lotulelei has registered 18 tackles (13 solo), two forced fumbles and one sack thus far this season.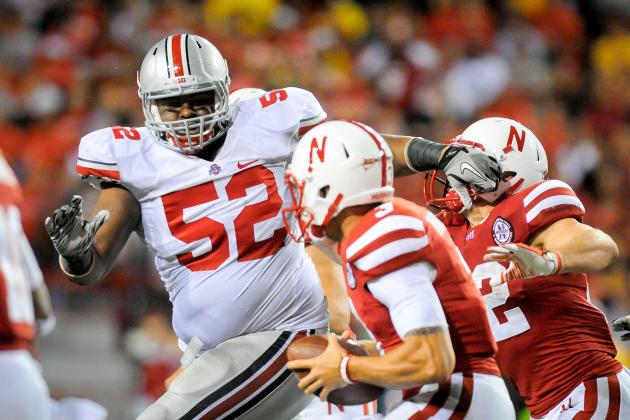 Eric Francis/Getty Images

Johnathan Hankins is another guy on our list who we'll likely see go in the first round of next April's NFL draft.
Hankins registered six tackles and 0.5 tackles for a loss in Ohio State's Week 4 win over UAB, and he's a major reason Buckeye fans can expect their defense to improve as the season rolls on.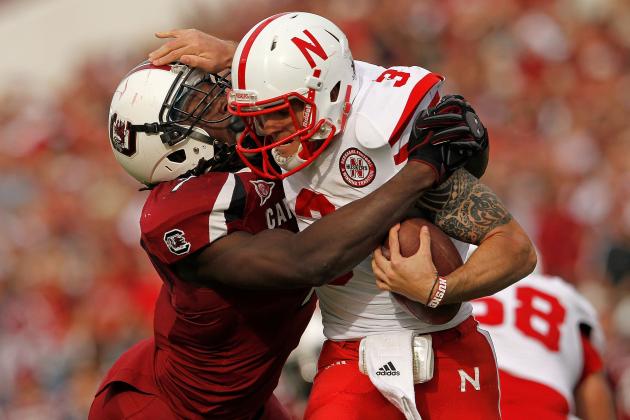 Mike Ehrmann/Getty Images

Even though he's but a sophomore, Jadeveon Clowney is one of the most exciting and effective defensive players in college football.
Clowney has 4.5 sacks, seven tackles for a loss and 17 total tackles (10 solo) thus far on the season. He is a huge contributor to a Gamecock D that ranks No. 5 nationally in scoring.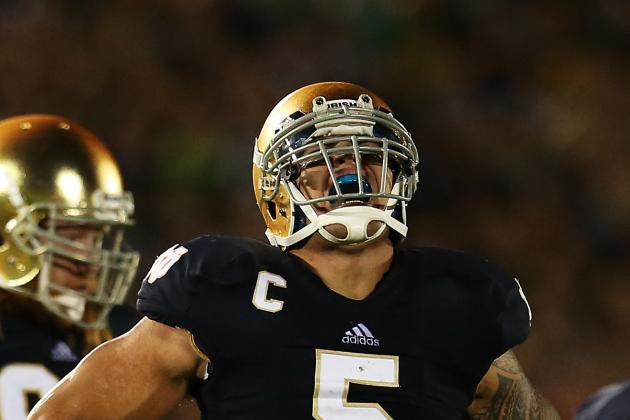 Jonathan Daniel/Getty Images

The emotional leader of the undefeated Irish's No. 4 nationally ranked defense, senior Manti Te'o had eight tackles and two picks in Notre Dame's big 13-6 win over Michigan in Week 4.
Overall, Te'o has 36 tackles and three picks on the year, and what can't be measured is the inspiration he provides the Irish.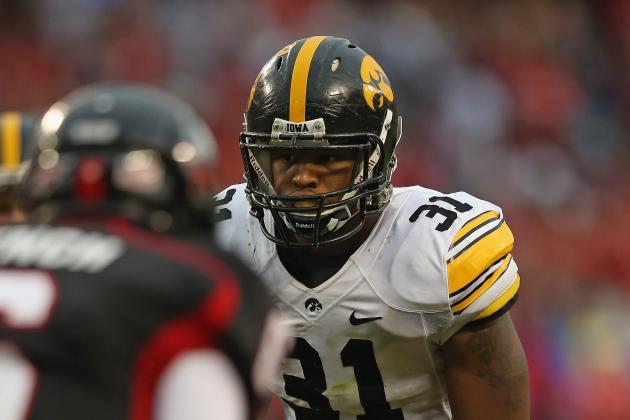 Jonathan Daniel/Getty Images

Even Iowa's 2-2 record can't hide the fact that junior LB Anthony Hitchens has been flat-out stellar thus far in 2012.
Hitchens leads the nation with 51 total tackles and registered a generous 14 in the Hawkeyes' devastating 32-31 loss versus Central Michigan in Week 4.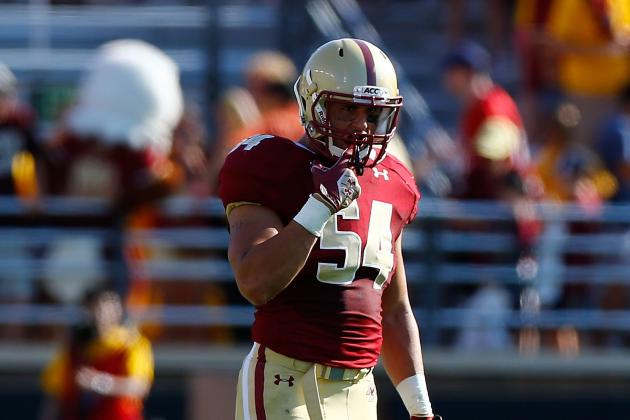 Jared Wickerham/Getty Images

The Boston College Eagles are 1-2 and straight off a 22-13 loss at Northwestern. This is a team that ranks No. 48 in scoring defense, No. 118 in rushing offense and No. 83 in points scored.
Yes, other than a No. 16 ranking in passing yards, these guys are struggling.
But despite all the dismal facts, senior LB Nick Clancy is the No. 6 tackler in college football, and he's hit the numbers in three games while the rest of the top 25 did it in four.
Clancy has 43 total tackles on the season, and if you want to see his Week 4 credentials, how about a whopping 24 tackles in the loss to Northwestern.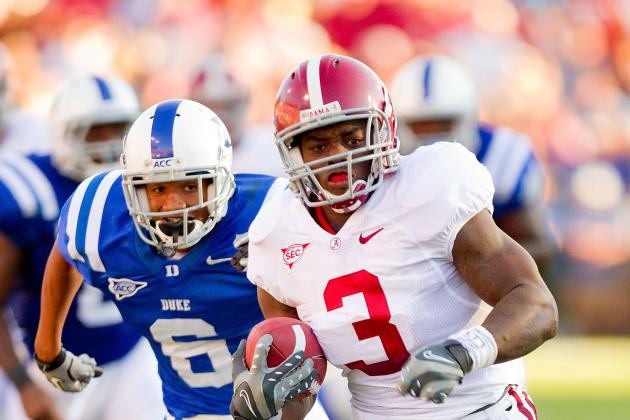 Brian A. Westerholt/Getty Images

Hey! Guess what? Duke is 3-1.
Yes, other than a 50-13 beatdown at the hands of Stanford in Week 2, the Blue Devils have won every game they've played in.
Standing out in D for Duke is junior CB Ross Cockrell, who registered seven tackles and defended one pass in the Blue Devils' Week 4 win over Memphis.
Overall, Cockrell has 23 tackles, three picks and has seven defended passes in 2012.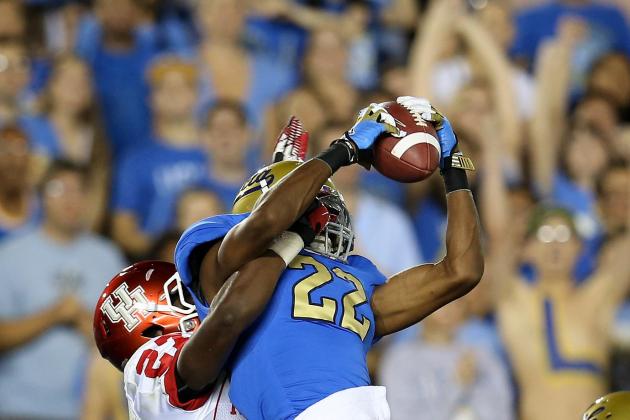 Stephen Dunn/Getty Images

Senior Sheldon Price may not have scored a pick in the Bruins' Week 4 loss to Oregon State, but his four interceptions thus far this season tie him for the most in the nation.
Price has registered seven tackles to go along with his interceptions, and if UCLA returns to relevance in the Pac-12, he'll be a major spark.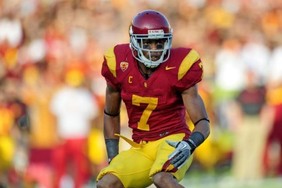 photo from nepatriotsdraft.com
Senior safety T.J. McDonald has been one of the few bright spots on a Trojan pass defense that ranks No. 69 nationally.
You definitely have to wonder what USC's win/loss record would look like without McDonald's 28 tackles and one pick, numbers that are among the best in the land.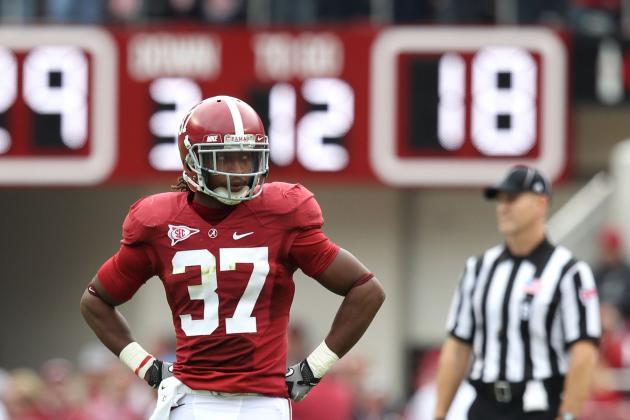 Mike Zarrilli/Getty Images

Headlining Alabama's No. 2 nationally-ranked pass defense is senior safety Robert Lester, who not only has registered 11 tackles thus far, he also has 1.5 total sacks.
photo from draftnasty.com
Senior Ryan Allen has averaged 45.5 yards per punt through Louisiana Tech's three wins in 2012, and in total, has booted for 637 yards on 14 attempts.
Uncelebrated roles like that of Allen at La Tech go a long way in explaining how a team from a dwindling WAC conference can beat a Big Ten squad 52-24 on the road, a feat which the Bulldogs achieved in Week 4 at Illinois.