Chiefs vs. Saints: 5 Things We Learned About Kansas City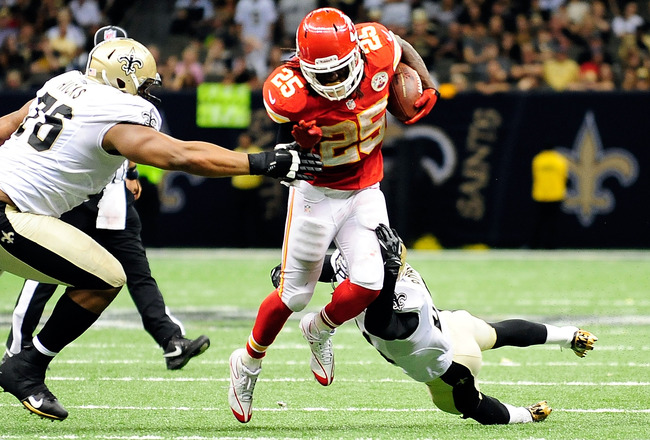 Stacy Revere/Getty Images
Just when you think it's time to pack it up and call it a season, the Kansas City Chiefs come out and surprise everyone.
Sunday, that even included the New Orleans Saints, whom the Chiefs derailed in a 27-24 overtime win after trailing 24-6 midway through the third quarter.
For the first two quarters of the game, Kansas City was the same team that imploded against Atlanta and Buffalo—a team that is competitive at times but underachieves and can't overcome adversity.
Then for the final 30 minutes of Sunday's game, they were somebody else. Their porous defense stymied Drew Brees while the offense rolled over the Saints defense. Ryan Succop earned his money with four field goals and put the Chiefs on top for the first time all season.
Kansas City showed fans plenty to feel good about, plus a few things that continue to hold the Chiefs back.
Most importantly, Kansas City told everyone else in the NFL that their season isn't over yet, not by a long shot.
Justin Houston Completes Kansas City's Pass-Rushing Tandem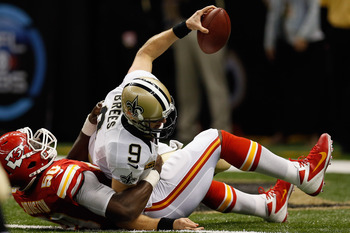 Chris Graythen/Getty Images
Kansas City had one of the best pass-rushing tandems in the league with Tamba Hali and Jared Allen. In 2007, the two players combined for 23 sacks despite Allen missing two games on a suspension.
But that was five years ago, and Kansas City's hoped for that 1-2 combo ever since.
Late last year that search appeared to be over. Rookie Justin Houston came on strong, closing out the season with 5.5 sacks.
Now Houston seems to be picking up right where he left off.
Houston entered the game with one sack for the season, then hammered Drew Brees again and again throughout the afternoon. Houston put Brees on the ground for a loss three times, including a fourth-quarter safety that pulled the Chiefs to within three points.
The Chiefs found Houston last year in the third round and counted him as a bargain even before he'd played a down in the NFL.
Now Houston looks like he might just be the steal of the 2011 NFL draft. If he keeps up the pace he's shown so far, he will be.
Losing Dexter McCluster from the Lineup Hurts, but Can Be Overcome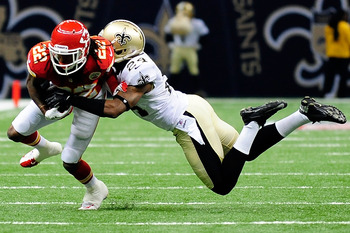 Stacy Revere/Getty Images
Dexter McCluster didn't seem like a whole lot to be concerned about prior to this year's preseason.
A smaller player (5'8", 170 lbs), McCluster had bounced back and forth between slot receiver and running back the last two years in Kansas City. But with the additions of Cyrus Gray and Devon Wylie in the 2012 NFL draft, McCluster appeared expendable.
McCluster's worked hard to prove that last statement false. In 10 quarters, McCluster caught 12 passes for 139 yards. Extend those numbers over the season and McCluster would bring in 76 passes for nearly 900 yards.
Now Kansas City looks like it'll go without that production for a while. McCluster's forceful landing on his arm looked bad enough; seeing McCluster unable to walk to the locker room for a non-leg injury shows just how painful that landing was.
Then Saints interim coach Aaron Kromer challenged the play to gain possession of the ball, capitalizing on an injury and shoving some salt into the emotional wound.
But this isn't about the injury or Kromer's classless move. This is about a Chiefs team that lost one of their top performers and kept moving forward despite it all. Kansas City continued to move the ball, completing five scoring drives after McCluster's injury.
Kansas City will miss McCluster more than most fans thought prior to the start of the season, but if Sunday was any indication it should have enough talent on the roster to cover down.
Someone Needs to Just Give Jamaal Charles the Ball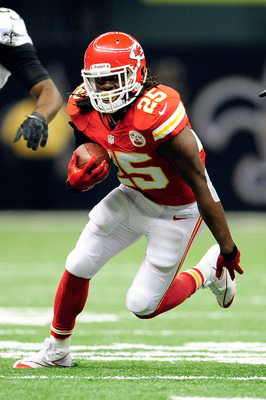 Stacy Revere/Getty Images
In the last two games, Jamaal Charles touched the ball a total of 25 times. The Chiefs lost by a combined 75-41, with most of Kansas City's points coming during fourth-quarter trash time.
In their third game, the Chiefs came from behind and beat the Saints 27-24 in overtime.
The difference is in Charles' stat line: 33 carries, six receptions, one touchdown, 288 combined yards from scrimmage.
Now, Kansas City can't exhaust Charles like they did Larry Johnson in 2006. But if the Chiefs want to be competitive they need to put their best foot forward.
Or best feet, in this case.
Few players electrify an offense the way Charles does. He is a home-run threat every time he touches the ball. He hasn't drawn the type of attention that should command because of the uncertainty around his health following his ACL surgery last year.
But once the Chiefs re-establish Charles as a potent weapon, defenses will focus on how to keep him out of the end zone. That opens up opportunities in the passing game, much like Priest Holmes did for Trent Green last decade. That same type of attention helped Kansas City take the AFC West in 2010 and sent Matt Cassel and Dwayne Bowe to the Pro Bowl.
That doesn't happen until the Chiefs make opposing defenses fear Charles again. Sunday's game took a big step in that direction.
The Chiefs Can't Keep Coming Up "just Short." They Must Finish Plays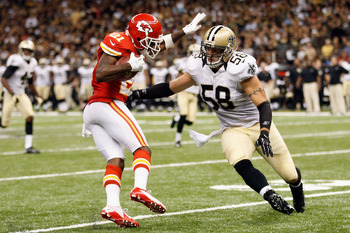 Chris Graythen/Getty Images
Yes, the Chiefs won the game on Sunday against the Saints. Yes, they finished the game with 510 yards of total offense.
But how many times did the Chiefs get inside the New Orleans' 30-yard line? Seven.
How many times did the Chiefs score a touchdown on that drive? Zero.
It's great that Jamaal Charles broke the record for longest run in franchise history. It's great that Ryan Succop broke the franchise record for most field goals in a game.
What's not great is the Chiefs can't find the end zone without something spectacular happening or the game being so far out of reach that their opponent just doesn't care.
The Chiefs need to be more aggressive in their play-calling, especially in their throws downfield. Having a receiver run a five-yard route when the team needs eight for a first down sets that team up for failure. And Kansas City's had enough failure to last for quite some time.
Outside of the second half of Sunday's game against the Saints, the defense felt much the same way. Kansas City will hold a team on the first two downs, then fail to tackle the runner as he trucks for 47 yards on third-and-short.
Until the Chiefs can consistently close out drives on both sides of the ball, their wins will keep feeling like this—infrequent and difficult to achieve.
Kansas City Might Have Finally Found Its Defense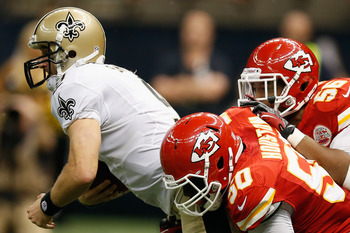 Chris Graythen/Getty Images
For all the complaints about not finishing drives, Kansas City shined on defense in the second half of its game against New Orleans.
In the second half, the Chiefs sacked Brees twice and intercepted him once. They scored a safety and held the normally potent Saints offense to 55 total yards.
Factoring in the eight minutes, 28 seconds of overtime, New Orleans gained just over one net yard per minute of play after halftime. Plus, 26 of those yards came on short fields following Chiefs turnovers.
That's not just big; that's colossal.
Kansas City completely shut down one of the most prolific passers in the history of the NFL for 38 minutes of game time. Brees looked flustered late in the game, pressured in the pocket and throwing more than a couple balls way off target.
As much as the Chiefs need their offense to put points on the board, it's the defense that needs to carry the day for plenty of reasons.
First, the defense boasts the deeper talent. With six first-round picks in starting positions Kansas City fans should expect greater production on that side of the ball. And since most of those players were drafted before the new CBA, they claim a large portion of the salary cap.
More than that, though, Chiefs fans need to be reminded of when teams feared Arrowhead Stadium. Kansas City once held claim to one of the most menacing defenses in the history of the NFL, when Derrick Thomas and Neil Smith destroyed the pocket while Albert Lewis, Deron Cherry and Kevin Ross ruthlessly patrolled the secondary.
When Arrowhead Stadium didn't just echo with the cheers of their fans, but rather shook its very foundation.
If Romeo Crennel and the Chiefs players think Kansas City fans are intense now, just wait and see what happens when their defense sits atop the NFL again.
Keep Reading

Kansas City Chiefs: Like this team?