What We Learned from Cincinnati Bengals 38-31 Win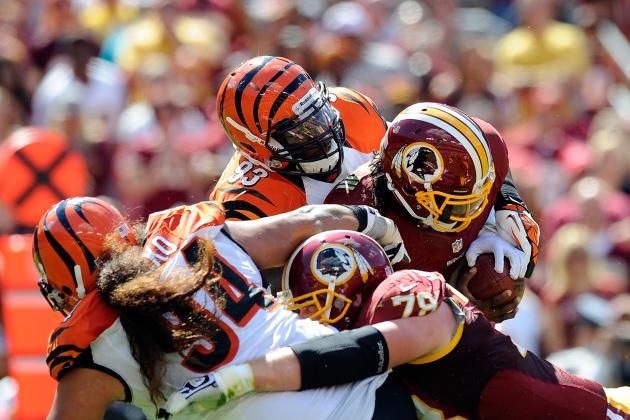 Patrick McDermott/Getty Images

The Cincinnati Bengals held off a late charge from Robert Griffin III and the Washington Redskins to move to 2-1 with a wild 38-31 win on Sunday.
In what proved to be a highly competitive encounter, the Bengals gave their most complete performance of the 2012 season, thus far, to spoil the Redskins' home opener.
Here's what we learned from the Bengals' 38-31 victory.
Begin Slideshow

»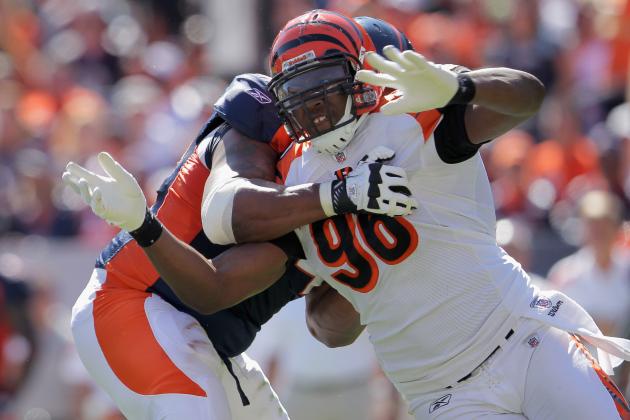 Doug Pensinger/Getty Images

Carlos Dunlap made his first start of the 2012 season on Sunday, and it proved to be a triumphant return.
Dunlap had only two tackles and one assist but brought much-needed pressure all day long, forcing RGIII's hand on several occasions.
His real contribution came in the form of one forced fumble that lead to a BenJarvus Green-Ellis touchdown and one sack of the No. 2 overall pick.
Dunlap's return has clearly had a beneficial effect on his teammates and helped to keep the rotation alive and kicking in Washington.
Out since the preseason opener with a sprained knee, Dunlap's presence has been missed on the defensive line.
Following his monster game this week, the Bengals defense has the lifeline it sorely needed.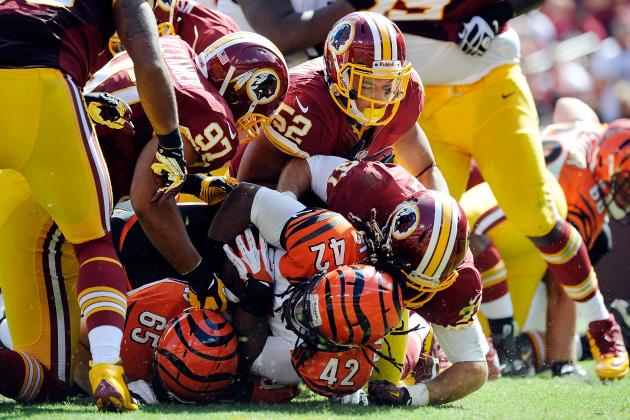 Patrick McDermott/Getty Images

It had to happen eventually.
It took 590 career touches, but BenJarvus Green-Ellis finally has a fumble to his name.
With a vastly increased workload in from what he saw in New England, it was all but certain that Green-Ellis' sticky hands would come unstuck at some point in 2012, and BJGE will have been pleased to have gotten it out of the way early.
It was a long day for "The Law Firm" who, despite grabbing a goal-line TD, had a fairly quiet game.
The same went for returning Bernard Scott, as the rushing game sputtered to an average of 3.3 YPC for the day.
Green-Ellis finished with 38 yards and a TD.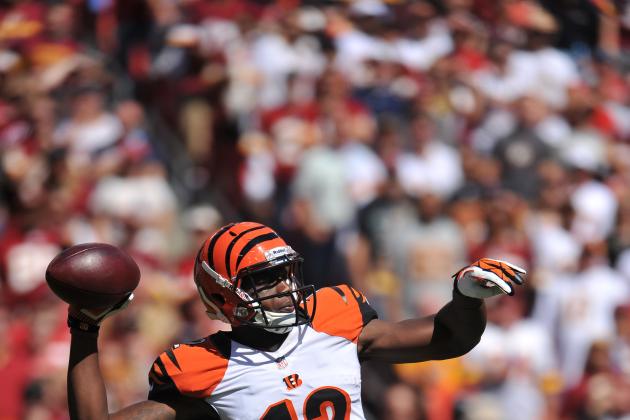 Larry French/Getty Images

Mohamed Sanu's selection for Sunday's clash over promising wideout Marvin Jones was met with raised eyebrows prior to kickoff.
However, all questions were thrust aside on the very first play of the game.
Sanu lined up at QB, with Andy Dalton to his right. A.J. Green lined up in the slot and blew through the Redskins' utter confusion to beat DeAngelo Hall, hauling in Sanu's pass for a 73-yard TD.
It was just one of many exciting plays that Jay Gruden brought to the table on Sunday, and Sanu executed it perfectly.
The Bengals have a never-ending list of receivers battling for playing time this year, and Sanu seemed to be a step behind some of his competitors.
It only took one play for that to change and for Sanu to assert himself as a valuable commodity on the Bengals offense.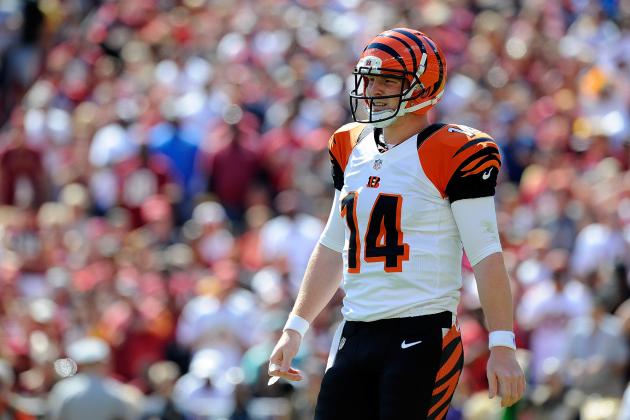 Patrick McDermott/Getty Images

Andy Dalton had the best game of his career on Sunday afternoon in Washington.
He completed 19-of-27 pass attempts for 373 yards, three TDs and an interception with a career-high passer rating of 132.9.
It was also the first time that Dalton has had back-to-back games with 300-plus yards.
His performance in Week 2, while statistically sound, was, by no means, sexy. He didn't respond to pressure particularly well and made some bad decisions, taking multiple hits.
What a difference a week makes. Dalton was sacked twice in Washington, while otherwise looking great in the pocket. He registered pressure well and didn't panic, making some fine throws in the process.
Dalton spread the ball round his receivers with ease. A.J. Green put on a show to the delight of fantasy owners everywhere, and Jermaine Gresham finally got on the board with an impressive six-yard TD.
Dalton's stellar display bodes well for a fairly light schedule in coming weeks, starting with Jacksonville in Week 4.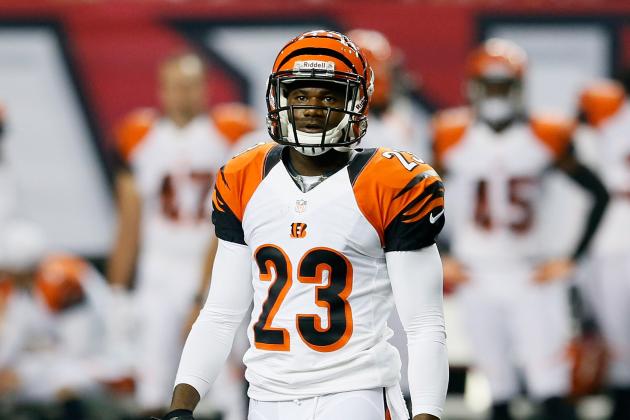 Kevin C. Cox/Getty Images

Despite Terence Newman's best efforts, the Bengals still came away with a win on Sunday.
That is, perhaps, a tad strong, but Newman's failures on the field almost cost the Bengals a victory on the road.
With the Bengals up 38-31 at the death and RGIII on the run up the sideline, Newman lowered his helmet and slammed into the Redskins QB a few moments after he had stepped out of bounds.
It unsurprisingly drew a flag and gave the Redskins a lifeline in what would prove to be an unsuccessful last drive of the game.
He did, however, have four tackles for the day and a nice pass break-up that forced a punt.
Unfortunately for Newman, it only takes one mistake to undo a whole day of good work.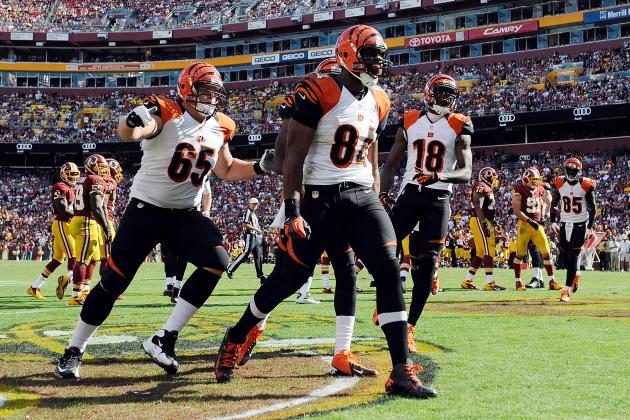 Patrick McDermott/Getty Images

A.J. Green, Armon Binns, Jermaine Gresham, Andrew Hawkins and BenJarvus Green-Ellis all left the field with a touchdown to their names on Sunday afternoon.
Green had a blockbuster 183 yards receiving off nine receptions, on a day in which DeAngelo Hall simply had no answer for the Pro Bowl wideout.
Mohamed Sanu caught just about everyone off guard with his 73-yard TD connection with Green to kick things off.
Binns scored on a pretty 48-yard catch and run up the sideline to give the Bengals their second TD of the day.
Hawkins did what he does best—outrunning the competition. He scored on a 59-yard reception from Dalton to remind us just how lucky the Bengals are to have found him. He is quickly becoming one of the highlights of the offense and hasn't had a bad game yet in 2012.
Gresham made his first real contribution, muscling his way into the end zone amid a flurry of Redskins defenders to put the nail in the coffin.
It's also worth noting that Orson Charles had his first reception as a Bengal. He caught a 25-yard laser from Dalton in traffic.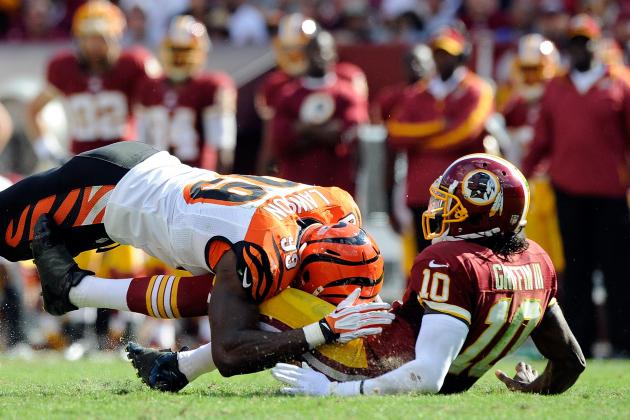 Patrick McDermott/Getty Images

The Bengals defensive front gave RGIII all the pressure he could handle in Week 3.
Its impressive contribution for most of the day allowed the unspectacular secondary to take a back seat for the most part.
The return of Carlos Dunlap has made a huge mental and physical difference to the pass rush and has brought the best out in his teammates—in particular Michael Johnson.
Johnson had three sacks for the day, two of which came back-to-back.
Rey Maualuga took a step forward after a slow start with seven tackles and six assists to lead the team on the day.
If the Bengals defense can stay healthy and keep its rotation in tact, it can subsidize the shaky secondary.
Two weeks of performances have lit a fire under the Bengals and the return of Dunlap has given them a significant boost.
They need their front seven to bring strong performances from here on out if the secondary is going to remain the team's weak link.