Florida State Football: Winners & Losers from the Week 4 Game vs. Clemson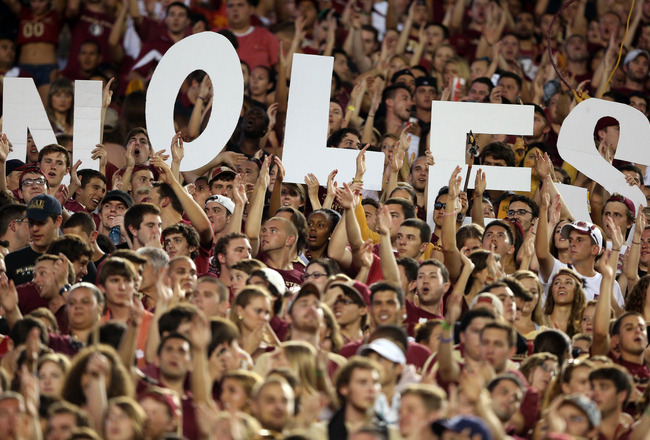 The fans are convinced--Florida State is (finally) back!!!
Streeter Lecka/Getty Images
The Tigers are Nole and void.
As my best friend and I hugged each other, fog from fireworks blanketed Doak Campbell Stadium. I couldn't help but feel we were living in the 1990s. I fist-pumped and screamed at the top of my broken voice, "We own the world!"
The fans were unbelievably supportive, even as Death Valley greeted us on our own turf. Their yells released the weight of an eon's agony. 12 years of suppression ended in 12 minutes of ecstasy as Florida State overcame a 28-14 deficit and decimated Clemson.
Like my inability to start the wave, though, not everything was perfect. Naysayers will state that the Seminoles should not be taken seriously because they won an ACC home game against a leaky defense. Those people need to see ESPN's replay of this Game of the Week. Clemson brought its A-game.
And, on the largest stage of college football this weekend, the Seminoles did too.
It doesn't matter if we win it all or merely reach the Orange Bowl.
Florida State is finally back.
Winner: 'Nole Nation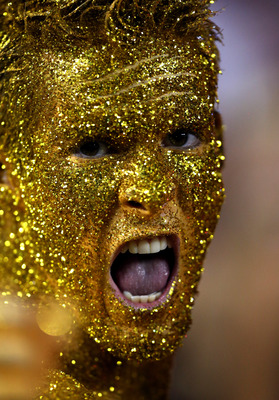 The Gold Guy sees a BCS Championship for the Seminoles.
Streeter Lecka/Getty Images
Yes, the players earned it on the field. But support had to come from the sidelines—especially the Student Section.
Props to the cheerleaders and the unknown men, who each and every week, cover themselves—literally—in garnet and gold.
The sell-out crowd supported FSU players as they raised their hands to rile the crowd in the second half.
Whoever doesn't believe in home-field advantage is mistaken.
Loser: Clemson's Defense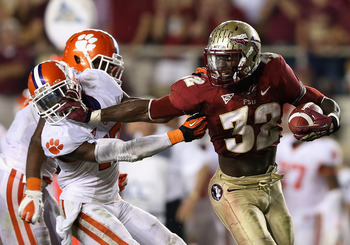 Clemson's defense couldn't claw James Wilder, Jr.
Streeter Lecka/Getty Images
The Seminoles generated 667 yards of total offense, and scored 49 points on the Tigers.
Sure, it isn't what West Virginia accumulated in the Orange Bowl, but it suffices. If it weren't for two missed field goals by FSU kicker Dustin Hopkins and E.J. Manuel showing class by preventing a last second touchdown, the score would have been 62-37.
Winner: E.J. Manuel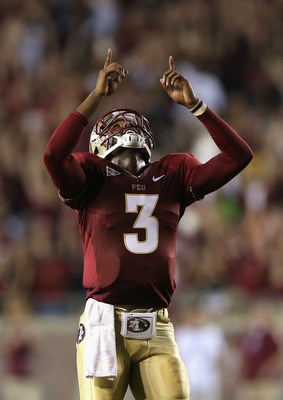 E.J. Manuel celebrates his best game on the biggest stage.
Streeter Lecka/Getty Images
E.J. Manuel finally lived up to his billing, having arguably his best all-time game in front of a Gameday crowd.
Manuel, who's had trouble throwing the long ball reliably, went an incredible 8-of-11 for passes more than 20 yards. He's thrown himself into the Heisman conversation like Kansas State's Colin Klein, taking the places of USC quarterback Matt Barkley and Wisconsin running back Montee Ball.
Loser: Dustin Hopkins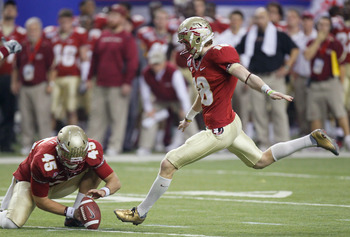 Dustin Hopkins failed to live up to his lofty expectations.
Kevin C. Cox/Getty Images
I've said it before and I'll say it again—Dustin Hopkins is an adequate kicker.
He's not excellent. The 2009 55-yard field goal against Clemson came when the Tigers and Seminoles were tied. Had Hopkins missed, the game would have gone into overtime.
The Seminoles have endured two consecutive losses during the Homecoming game when Hopkins missed field goals at the last second.
Therefore, Hopkins missing two field goals is not surprising. A field goal he missed prior to halftime could have changed the momentum of the game. Instead, the Seminoles had to rally from a 28-14 deficit in the second half.
Winner: Seminole Coaching Staff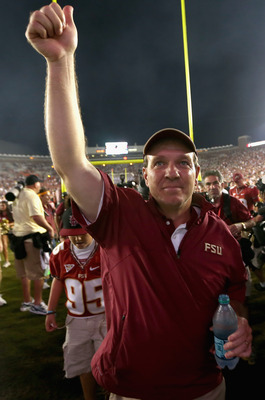 Jimbo Fisher proved he could win the big game.
Streeter Lecka/Getty Images
For all the hype Jimbo Fisher has received, he and his coaching staff entered year three without a signature win.
That came on Saturday against Clemson. Florida State lived up to its lofty preseason ranking, and beat a Top 10 opponent for the first time since 2009, when the Seminoles ended Brigham Young's BCS dreams.
Winner: Clemson Offense
Sammy Watkins was a triple threat against the Seminoles.
Streeter Lecka/Getty Images
Sammy Watkins not only received and ran the ball, but threw a couple of times. Despite Florida State's defensive prowess, the Seminoles could only contain this future first-round draft pick. Watkins had 24 yards receiving and 37 rushing yards.
Winner: Chris Thompson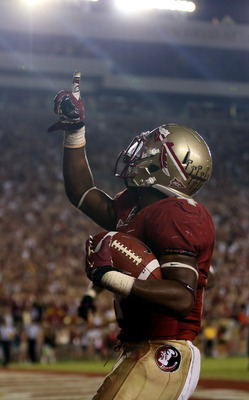 Chris Thompson might be a Heisman contender in his own right.
Streeter Lecka/Getty Images
Chris Thompson gained over 100 yards on the ground. He already has five rushing touchdowns on the year, two from the Clemson game alone.
One can truly see that Thompson has improved since breaking his back, and will have a great NFL future.
Hopefully he can top it off with a national championship.
Keep Reading

Florida State Football: Like this team?