10 MLB Players Who Played Their Ways into Huge Free Agent Contracts
Alex Trautwig/Getty Images
While the free agency pool isn't as deep as in years past, there will be no shortage of large contracts handed out this winter.
Some players have pre-emptively been taken off the market, having signed extensions with their current team (ahem, Cole Hamels.) That hasn't entirely cleared the field of tremendous potential though.
In some form of serendipitous fortune, players that many believed would have signed extensions did not, broadening the spectrum of talent out there this season.
If last winter was any indication of the type of spending spree fans can expect, the following ten players may find themselves to be happy recipients of said fortunes.
Josh Hamilton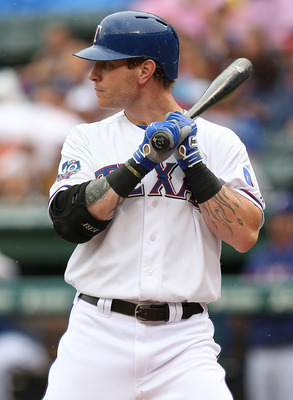 Ronald Martinez/Getty Images
Josh Hamilton is going to make a lot of money. In other news, the sky is blue.
Arguably the most valuable commodity on the free agency market, Hamilton, the 2010 American League MVP, is one of the best, arguably the best player in the American League.
He started the 2012 season red hot, seemingly belting home runs left and right. He is tied for first in the AL with Miguel Cabrera with 42 home runs, while coming in second to Miggy in RBI with 123.
One area of concern suitors will have surrounding Hamilton will be his hot and cold play. Yes, he has hit .395, .344 and .310 in March/April, May and August, but on the flip side he has also hit .223, .177 and 231 in June, July and September.
That said, Hamilton is a career .304 hitter who can deliver 30 home runs and 100 RBI to your offense.
There are several teams that would be willing to shell out big money for that type of production.
Cody Ross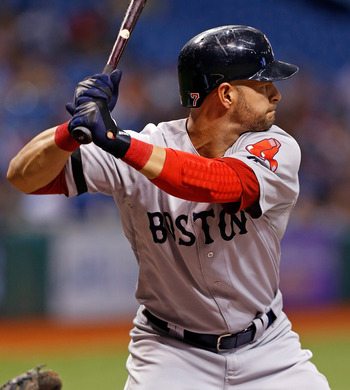 J. Meric/Getty Images
The Boston Red Sox signed Cody Ross to a steal of a deal, one year and $3MM.
He has been significantly better than that contract dictates this season. One of the lone bright spots on the Red Sox roster this season, Ross might have played himself into being the silver medal for a team that loses out in the Josh Hamilton race.
Ross, who is batting .268 with a .331 OBP, .489 SLG and a .820 OPS has been one of the most consistent bats on the Sox.
He has 21 home runs and 76 RBI this season. While it isn't exactly Josh Hamilton stats, he will easily double, possibly triple his 2012 salary next season for the right bidder.
Adam LaRoche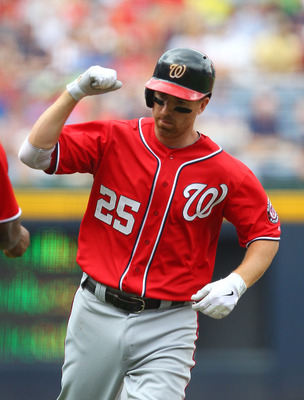 Mike Zarrilli/Getty Images
Adam LaRoche is a restricted free agent this winter. Meaning, the Washington Nationals can pick up a one-year $10MM option, or elect to buy him out at $1MM.
It will be curious to see which route the team decides to go.
LaRoche has been an important contributor to the Nats offense this season, providing a .272/.342/.513/.855 batting line.
He has 64 extra base hits that breaks down to 31 home runs, 32 doubles and a triple with 98 RBI. His home runs and RBI both lead the Nats.
Should he hit the free agent market, LaRoche could cash in. If the Nats decide to extend him, he could cash in. Either way, it is going to be a win/win for LaRoche, who will earn at least $10MM in 2013.
Zack Greinke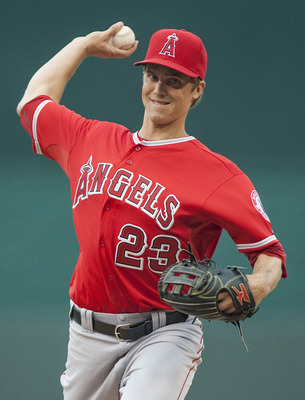 Tim Umphrey/Getty Images
Will Zack Greinke be the most sought after arm this winter? You bet he will.
It was reported by multiple sources that Greinke turned down an offer from the Milwaukee Brewers for a five-year contract extension worth more than $100MM.
As is, that average annual salary would have made him the highest paid pitcher in baseball. $25MM would eclipse what Johan Santana and C.C. Sabathia make.
The only reason one could possibly imagine for Greinke turning down that offer had to be for the years. There is no way, in this market, he will get more than $25MM per season.
Teams that would be willing to shell out that kind of coin: Boston, New York, Philadelphia for example, are the types of places that would likely crush a player who prefers small market teams.
There is hope for him that the Dodgers may want to keep shelling out money...
Delmon Young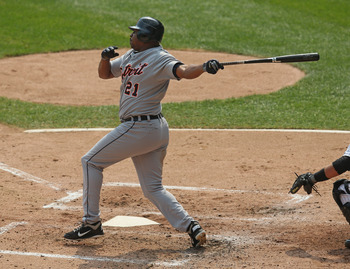 Jonathan Daniel/Getty Images
Delmon Young is a very interesting name on the free agent market this winter.
Though he is only batting .268 for the Tigers, he has managed to drive in 72 runs on a team that has both Miguel Cabrera and Prince Fielder as their primary run producers.
What's more, he is only 27 years old, just about to enter the prime of his career.
While his batting average isn't exactly what it was in Minnesota, there is no reason to believe that he cannot bounce back to form and be that type of player once again.
Despite that dip, he has been a consistent hitter with solid defensive skills that will likely see a significant pay increase with a contract similar to what Curtis Granderson received in New York.
Melky Cabrera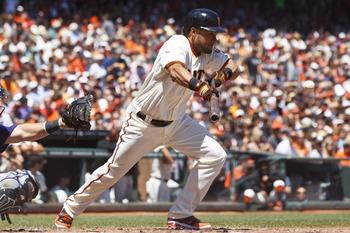 Jason O. Watson/Getty Images
Who cares about steroid use, right?
Obviously I'm kidding. What I'm not kidding about however is the fact that Melky Cabrera, despite the whole P.E.D. fiasco this season, will still get paid.
Don't get me wrong, he has cost himself millions of dollars for being an idiot, taking steroids, making up a fake website to cover up his boneheaded moves, yadda, yadda, yadda...
That being said, somebody is going to pay for him, and they'll still pay a fairly hefty price. Over the past two seasons, at 26 and 27 respectively, when a player naturally hits their stride, he has raised his batting average significantly.
That is something that will not be overlooked.
David Wright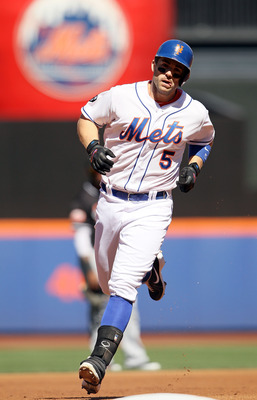 Alex Trautwig/Getty Images
It is unfathomable that the New York Mets have not extended David Wright.
Yes, he has a $16MM team option in 2013, however, they have not picked that up yet either. One could see a situation where the Mets opt to go with the $1MM buyout and continue to rebuild.
If David Wright hits the market, he is going to get paid in the Ryan Zimmerman ballpark of $135MM.
The Mets would be wise to negotiate a deal with Wright to keep him in New York. After all, the six-time All-Star leads the team in batting across the board, hits, doubles and gets RBIs, putting aside the fact that he is the face of the franchise.
David Ortiz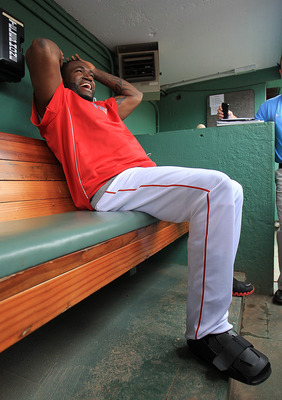 Jim Rogash/Getty Images
David Ortiz has not played in a game for the Boston Red Sox since August 24th. Prior to that, Big Papi hadn't played since July 16th.
Ortiz is going to get paid, and yes, it will likely be from the Boston Red Sox once again. However, after he was "offended" that he only signed for $14.58MM for 2012 (the highest contract ever for a DH), he will make the Sox pony up even more this winter.
If he goes to arbitration, he will get a raise. What Papi wants is a two-year-deal, which will still have to be somewhere in the $24-30MM range.
He showed the team his value early, got injured, and is letting them see how important he truly is to this offense.
Carlos Ruiz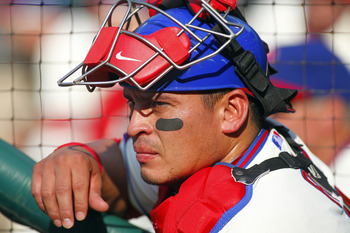 Rich Schultz/Getty Images
The most insulting thing the Philadelphia Phillies could do for Carlos Ruiz this winter is to merely pick up his $5MM team option.
In 106 games for the Phils, Ruiz has batted .328 with a .396 OBP, .542 SLG and .938 OPS. Only Buster Posey has a higher batting average among catchers in Major League Baseball this season.
He leads the team in batting and OPS while providing stellar defense behind the plate. When the team sold off at the trade deadline, there was a good reason why they kept Ruiz, even at 33 years of age, he is part of the future of the team.
Hiroki Kuroda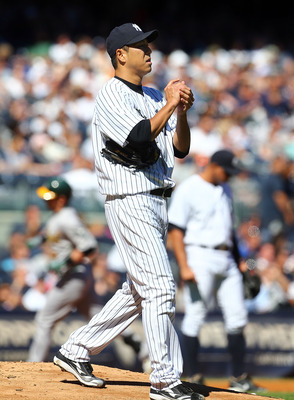 Jim McIsaac/Getty Images
The New York Yankees took a $10MM/one-year gamble on Hiroki Kuroda. That gamble has certainly paid off, as Kuroda has been one of the best, most reliable pitchers on the Yankees staff all season long.
While he is still arbitration eligible for the next two seasons, the Yankees could decide not to offer it to him.
That scenario, in my eyes, is highly unlikely. His 14-11 record is second best on the team, but his 207.1 innings pitched leads all Yankee starters, and by no small margin either.
Keep Reading