UFC: The Top 10 Middleweights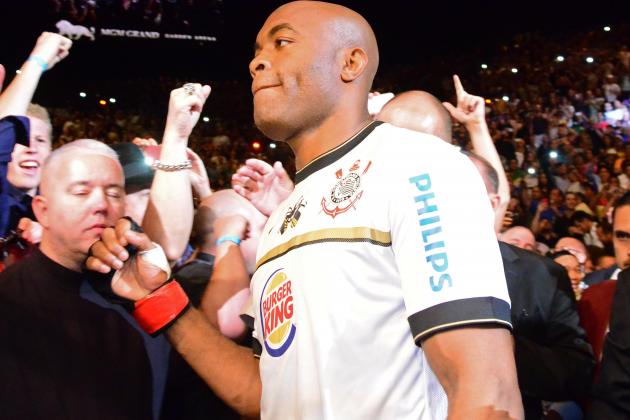 Mark J. Rebilas-US PRESSWIRE

The 185-pound weight class has basically come full circle for the UFC.
It was ruled by legend Evan Tanner for a while, until Rich Franklin bumped him off and then held the belt for a time.
Then he ran into the greatest unarmed killing machine ever conceived in Anderson Silva, who took that belt and has had it ever since.
There have been ups and downs, contenders and pretenders and a division with potential and a division cleaned out during Silva's six-year reign.
But now, perhaps as much as at any time in history, the top 10 of the division is full of new faces and interesting styles to mix in with (and probably lose to, if we're being honest) The Spider.
Coming off of UFC 152, here are the top 10 middleweights in the UFC.
Note: With his announced move to 205 pounds, Chael Sonnen is removed from the rankings. Having most recently fought at 205 pounds, Vitor Belfort is removed from rankings.
Begin Slideshow

»
Ron Chenoy-US PRESSWIRE

Shields has long looked more comfortable at middleweight, and his first showing at the weight in the UFC supported the idea that it's where he belongs.
No one will ever accuse him of being the most exciting fighter on the planet, but he's remarkably durable, as elite of a grappler as you'll ever find, and has improved his standup to the point that it's becoming more "quirky" than "downright awful."
He needs to put on a little more mass and step up in competition a bit, but this is a man who bested Dan Henderson not that long ago. He's a threat at 185.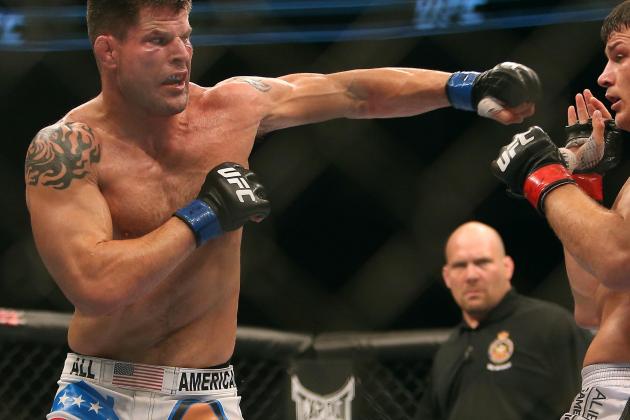 Tom Szczerbowski-US PRESSWIRE

Brian Stann is a hell of a guy. He's a war hero, a budding media personality and a pretty solid fighter. He may never be a true top contender, and it's back to the drawing board after a loss at UFC 152 to Michael Bisping, but there are worse things to be in this world than a steadily improving fringe top-10 mixed martial artist.
His kickboxing is above average, he can take a punch, and he has dynamite in his hands. His ground game is getting better and he may be as strong as anyone in MMA at 185 lbs.
The fact of the matter is that he needs to do it against top end competition, but there's nothing to say that it's out of the realm of possibility for him to do so.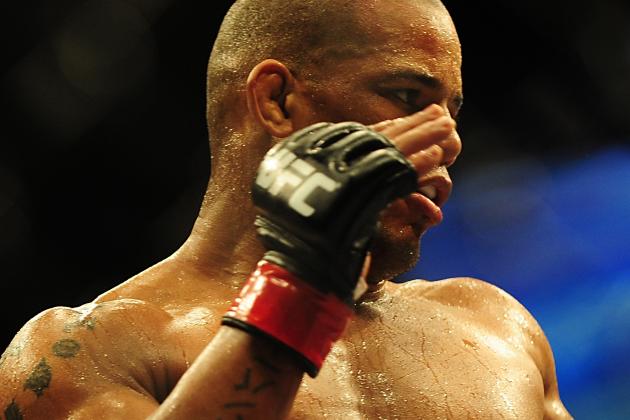 Anne-Marie Sorvin-US PRESSWIRE

People are still mostly unsure what Hector Lombard is about given his controversial loss to Tim Boetsch at UFC 149. He later claimed injury negatively influenced him, but the fact remains that he didn't win his UFC debut and is a guy in his mid-30s with no clear direction in the division.
He's a violent man when he wants to be with knockout power and Olympic-level judo, so he's never far from the conversation in terms of guys at 185 who can do damage.
The question is: Can he get back on track with a win over Rousimar Palhares in December? If so, he may be only a fight away from a chance at the top of the UFC heap.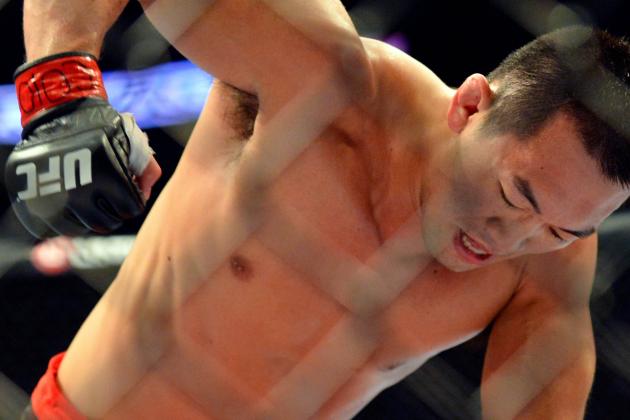 Ron Chenoy-US PRESSWIRE

Perennial contender Yushin Okami has floated around the top five for years; however, recent performances suggest it might be a while before he gets into the mix again.
After being embarrassed at the hands of Anderson Silva, he was victimized by the hulking Tim Boetsch in one of the greatest comebacks the UFC has ever seen. He went on to collect a lame win at UFC 150, and will rematch Alan Belcher after Christmas.
If he can't take a W there, he risks becoming irrelevant in a division that is suddenly full of hungry contenders.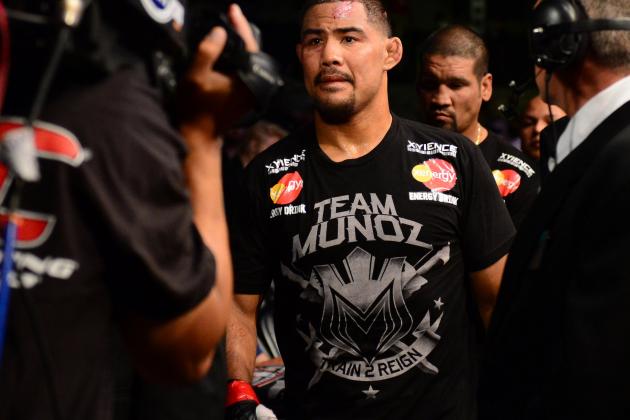 Kyle Terada-US PRESSWIRE

Mark Munoz has had a rough 2012, suffering through injuries and losing out when he was a fight away from a crack at the title.
His wrestling chops are solid; however, he's mostly abandoned them in favour of adopting a standup style that has provided mixed results. Getting back to his vicious ground-and-pound roots might help him regain some divisional prominence, as many are already wondering if the window is closing on the 34-year-old.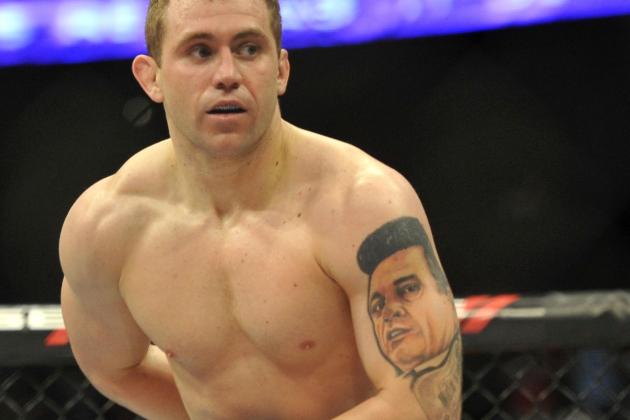 Joe Camporeale-US PRESSWIRE

Belcher has been repeatedly derailed by injuries in his career, but is still a ways off from 30 and may actually just be entering his prime right now.
He, like many Roufusport products, is a largely underrated grappler with the obvious striking upside that comes from training under such a vaunted coach.
He collected a signature win over Rousimar Palhares in May on network television, and he'll rematch Yushin Okami at UFC 155 in hopes of pushing his way closer to a crack at gold.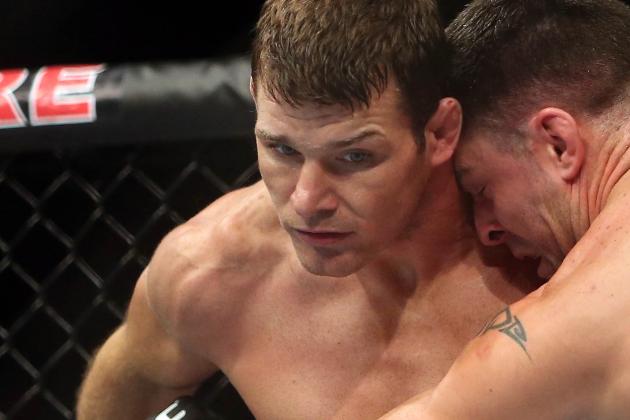 Tom Szczerbowski-US PRESSWIRE

The brash Brit has seemingly begun to understand what it takes to get his name in the hunt for a title shot.
While Michael Bisping has long tried to talk his way into a fight with Anderson Silva instead of earning it in the cage, a win over Brian Stann at UFC 152 and a grossly more intelligent approach to promotion in recent weeks has made Bisping seem more credible as a title contender.
Realistically, he's probably a win or two away, despite his best efforts to suggest he should be next in line for a crack at gold, but he seems to be peaking as he enters his mid-30s. Continue on that path, and he might finally get his wish.
Anne-Marie Sorvin-US PRESSWIRE

Boetsch has bullied his way into relevance at 185, smashing guys in violent fashion to become an against-all-odds story of perseverance.
A relative journeyman at light heavyweight, he dropped to middleweight in 2011 and has gone undefeated in four bouts. His toughness, brute strength and physicality is the exact type of thing that could make him an interesting bout for Anderson Silva at some point in the not-too-distant future.
Next up though, he'll meet Chris Weidman in December.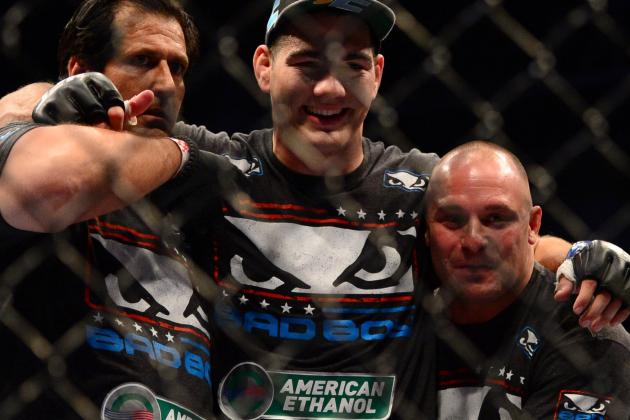 Kyle Terada-US PRESSWIRE

Weidman is an interesting study, a guy who has become the second-best middleweight in the UFC because nobody else really wanted to take over for Chael Sonnen.
He's 5-0 in the promotion with signature wins over Mark Munoz and Demian Maia, and has long been touted as a prospect to watch.
Despite his best efforts, his next fight won't be for the title though. He draws Tim Boetsch at UFC 155 in what could very likely produce the next top contender for a shot at Anderson Silva.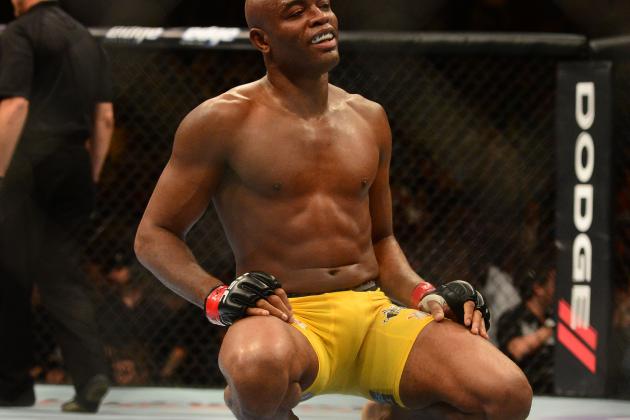 Mark J. Rebilas-US PRESSWIRE

Was there really any doubt?
He's the best ever, not just the best middleweight ever. He's beaten everyone the UFC could give him, some of them twice, and at 37 he actually looks to be improving.
His next fight is at 205 lbs. against Stephan Bonnar, but it's him and then everyone else at 185.