WWE vs. TNA: Who's Been Better This Week? (Sept. 16-22, 2012)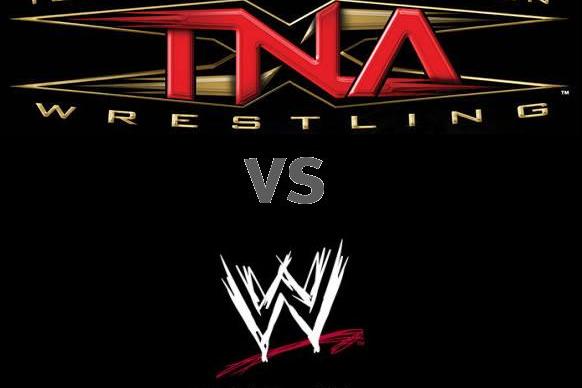 Image: wetalkwrestling.com
Hello and welcome to this week's edition of WWE vs. TNA, where I analyse each promotion's output over the past seven days and decide who's been better.
WWE certainly had the busier week with its Night of Champions pay-per-view, while on TNA Impact! it was Open Fight Night. So, let's have a look at what happened.
Begin Slideshow

»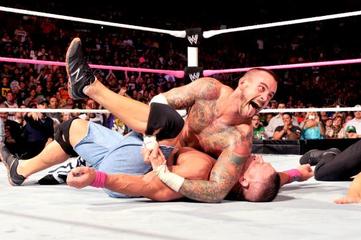 Image: wwe.com
Part of the fun of the pre-show Battle Royal was seeing the number of undercarders entered and trying to work out who I wanted to win the most and least—all while being fully aware of the unlikeliness of the victor defeating Antonio Cesaro anyway.
It was also an early chance to notice the snazzy white/pink/white ropes. Only later did I learn this had to do with breast cancer awareness, but it looked so good that they should have different rope colour combinations more often.
As for the Battle Royal itself, the sequence leading to Tensai's elimination of Tyson Kidd was especially good. Santino Marella's clowning around was not good, but thankfully he didn't win.
The show proper opened with JBL coming out to commentary (good move) and then the Intercontinental Championship Fatal Four Way. Why Sin Cara was putting masks on people I don't know, but it was a great match regardless and set a high standard for the rest to follow.
Kane and Daniel Bryan won the Tag Team Championships, meaning despite whatever else would happen, I had reason to be happy. It's all so silly, but it's brilliant and the best booking in the tag division for a long time.
Contributing further to my happiness, Antonio Cesaro's defeat of Zack Ryder was reassuring, if not a little workmanlike.
Randy Orton vs. Dolph Ziggler was fantastic with a disappointing result. It was nice to see a variation on the RKO, considering we see the ordinary version about ten times a week.
Whether Eve Torres' replacement of Kaitlin was a planned story or a late change, it was a good idea. Eve may not be a fantastic wrestler, but she's Bret Hart compared to Kaitlin. She's got a lot more going on character-wise too, making things a fraction more interesting. Having someone with a character as the Divas Champion is a good thing.
Sheamus' defeat of Alberto Del Rio was anti-wrestling. Even more egregious than Cena's "five moves of doom" is Sheamus' one move of doom. And I'm serious when I say anti-wrestling; it goes against all sense of a satisfying conclusion to a hard fought match. Despicable, but let's hope this feud is at least over.
Whatever else happened throughout the night though, the final match was the one that would make or break it. The build to Money in the Bank 2011 and the match itself may have been the best thing the WWE has ever done, and the build to this match may be the best we've had since.
From CM Punk coming out first and his extended title waving before the match, I got the feeling and concomitant sense of doom that Punk would be doing the job—a sense deepened by John Cena being Mr. Anti-Cancer.
The start was a little disappointing, but it soon got going with Punk putting on a clinic. John Cena completely no-sold a crossface. Punk's moonsault was wide of the mark. John Cena has never learned to late kick out, it's always just after two. My heart completely broke when Cena won.
In hindsight, that German Suplex spot was so odd I should have known something funny was going on. But it completely engrossed me throughout, and that means a good match.
What's needed for a really good pay-per-view isn't easy to define. In terms of results I'm pretty happy, with only Orton's victory disappointing—though I prefer Del Rio to Sheamus, I couldn't bear another rematch as his victory would have necessitated. In terms of wrestling, we had three top-notch matches and a really fun tag match, too.
It was certainly a good show, and for the purposes of this series, it was also better than TNA's No Surrender the previous week.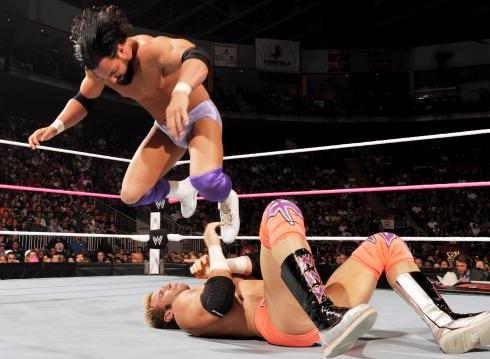 Image: wwe.com
Paul Heyman opened the show on the mic, speaking about CM Punk rather than Brock Lesnar. As he did after SummerSlam, he called out the referee of the previous night's main event.
The nature of Punk and Heyman's relationship still hasn't been explained, and it isn't any clearer after this. I hope there's more to their connection than just what we've had so far; all Heyman's really done is talk, and Punk's one of the best at doing that himself.
Killing any intrigue stone dead, AJ's skipping, head movements and breathy speech were all on show as she came out to make a tag match "super main event." Cringeworthy.
JBL coming out to join Michael Cole on commentary made me happy. He did a great job the previous night and (as unfortunate a time as it may be to point it out) was much more entertaining than Jerry Lawler has been for a long time. Sadly, Jim Ross also made his completely unwelcome return (to me that is, I'm well aware I may be the only one who feels that way).
New Divas champion Eve Torres defeated Beth Phoenix easily. Raw has an hour longer than Impact and they give a Divas match a fraction of the time a Knockouts match gets. Eve may not be a terrific competitor, but given a little more time, surely Beth could have got a more entertaining match out of her than that.
Heath Slater unfortunately did not defeat Brodus Clay. Clay's music and dancing may have had renewed entertainment value because we'd not seen it for a while, but Heath Slater's more entertaining in pretty much every way. The sight of children dancing in the ring with him makes me long for Steve Austin to drive out in a beer truck—and I'm not one for rose-tinted Attitude Era adulation.
The Miz debuted a talk show. His guest was Booker T. It got a boring chant. The crowd was too kind. Ryback throwing sofas around was very "Goldbergy," but it was more interesting than the previous few minutes. Similar to last week's observation of Brodus Clay and Tyson Kidd, Ryback and The Miz sort of have the same face.
Dolph Ziggler defeated Santino Marella, though he still put him over far more than I liked. Ziggler should able to cough at Santino and have him down for the three count at this point.
Wade Barrett vs. Justin Gabriel was longer than I expected. Gabriel's a fine wrestler, but if Barrett's going to mount a challenge for a world title, you'd expect him to make quicker work of someone that low down the card.
Kane and Daniel Bryan put in another interesting match against R-Truth and Kofi Kingston. Part of the ongoing appeal of their team (if it's not too soon to talk about ongoing appeal) is that you genuinely believe at times that they won't hold it together and they'll lose. Great stuff.
Of course, they were in what's usually the face corner (back left, facing the camera), meaning they're the ones we should be most interested in, so there wasn't really much chance of them losing. The post-match hugging and yelling went on for quite a while, but it was still miles better than Santino's routines.
Backstage, we have some acknowledgement that CM Punk and Alberto Del Rio did in fact have a feud last year, rather than just pretending they ought to get on as tag partners.
Damien Sandow came out to educate the audience, and the miscreant Zack Ryder disrespectfully interrupted. I don't understand why Ryder is the face and Sandow is the heel. It seems we're meant to boo Sandow for being intelligent and cheer Ryder for being a silly fool, and that's kind of anti-intellectualism that does the image of wrestling fans no favours. Thankfully, justice prevailed and Sandow won.
The main event of John Cena and Sheamus vs. CM Punk and Alberto Del Rio featured JR protesting that he might be a mind reader. Team Face won, sure enough, and confirmed that Punk now has the predictable weakness that all non-monster heels are cursed with in the WWE. And his foot was on the rope.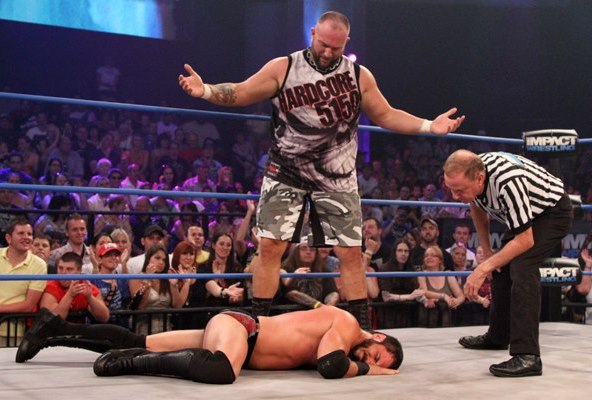 Image: impactwrestling.com
It's Open Fight Night time again already, and things kicked off with Kurt Angle and AJ Styles calling out Chavo Guerrero and Hernandez. A great start and it hooked me in straight away.
Disappointingly, a great match of unpredictable back and forth action ended with interference from Christopher Daniels and Kazarian. The crowd certainly hated it. Hulk Hogan made the Bound for Glory tag title match a three way between the teams, which anyone could have seen coming—but it's certainly a match to look forward to.
Gut Check this week featured an 18-year-old lad. If we don't have to suffer the judges droning on about "paying your dues" when their segment comes, I'll be astonished. Doug Williams won the match easily without the boy getting any offence in whatsoever, all while Taz once again played the sagacious old expert on commentary. The judges segment writes itself.
James Storm called out Bobby Roode for a match I expected would wait until Bound for Glory. And seeing Roode in a suit, it seemed I was quite right to expect that. A brawl ensued that wasn't particularly interesting and ended in a count out, but I think we all know where this will be resolved.
This week's dose of Aces and Eights action saw Joseph Park's laptop and head whacked in with a sledgehammer on the screen. The poor guy just doesn't get a break. And whatever happened to Abyss?
The show closed with Austin Aries calling out Bully Ray, who had a bit of fun on the mic with the audience first. The problem with a match like this (or so I thought) is that it's quite certain who's going to win—Aries defeated Bully Ray the last time they met, and he was X-Division Champion at the time rather than World Champion. You couldn't have the story of the underdog overcoming the odds this time.
Bully Ray made it more interesting by comically yelling at the referee throughout, and then won via some cheating with his chain. His stock certainly seems to be rising.
Impact had a great start and a pretty interesting ending, but lagged quite a bit in the middle; certainly not the show's best week compared to recent episodes.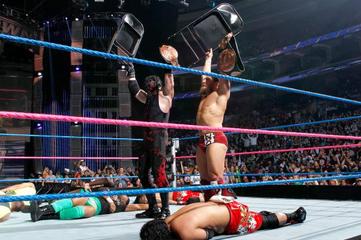 Image: wwe.com
SmackDown opened with the return of the "Overrated R Superstar." Some not particularly interesting things involving Kane and Daniel Bryan happened until Damien Sandow once again saved the day.
Sandow defeated Kane after Daniel Bryan's distraction, which is a big step backwards for Kane. He kicked out of an RKO on TV last year, defeated Randy Orton at WrestleMania, yet here he is losing to a neckbreaker.
At this point, the week's edition of "The Team Friendship Show" hadn't been brilliant, and I expected the show to move on entirely. It seems like the WWE has realized they're onto a good thing and are proceeding to overdo it. By then it had been over 20 minutes of the show, and we'd had nothing new at all.
Backstage, Alberto Del Rio told Booker T that his issues surrounding Sheamus, the Brogue Kick and the World Heavyweight Championship are not over. Please no WWE, don't even joke about us having to suffer Sheamus vs. Del Rio yet again.
Layla defeated Natalya quickly. This was disappointing, because Natalya is the better wrestler. Obviously, it's a standard part of the build to Layla's title rematch, but it's still wrong.
Sheamus and Randy Orton vs. Alberto Del Rio and Dolph Ziggler was, as ever, completely forgettable. Del Rio taking a big fall from the turnbuckle to the floor stood out, but we see this match every week. It's not interesting, it's just an easy way of using the top wrestlers in a match and it's completely insipid.
Cody Rhodes defeated Daniel Bryan after being distracted by Kane. Who could have seen that coming? Making the tag match between the champions and Rhodes and Sandow was the first unexpected part of the show.
Brodus Clay vs. Heath Slater is a squash we must have seen a hundred times by now, so I quite reasonably expected no change in quality whatsoever from the so far tedious and predictable fare. So the formation of a new heel faction made me sit up and take notice. Because it's new. Anything that pushes Heath Slater gets tentative approval from me.
Santino Marella defeated Antonio Cesaro after he was distracted. I thought we were over Santino vs. Cesaro. It served to split Cesaro up with Aksana. I don't know why, but maybe something interesting will come of it. I'm ever the optimist.
The main event tag match ended in disqualification by Cody Rhodes, but the show ended with Kane and Daniel Bryan cementing their friendship by whacking a dozen people with chairs—I don't know about you, but that's how I repair all my broken friendships. It was a fun and entertaining end to a very lacklustre SmackDown. It was actually quite sweet, as odd as that sounds.
It may have been a very poor show, but the tag titles have very quickly come to mean a lot. By having Team Friendship as the central part of the show rather than the World Title, it was certainly something different in that respect—and so a bigger shame that it really didn't work until the very end. But never mind that, where was Wade Barrett? Isn't he a SmackDown guy anymore?
Image: impactwrestling.com
Show of the week: WWE Raw
None of the shows were that great this week (with SmackDown being outright awful mostly), but Raw was the most consistent. Impact's middle really let it down. Night of Champions was great, but this was a very unremarkable week for the TV shows.
Match of the week: Kurt Angle and AJ Styles vs. Chavo Guerrero and Hernandez
This excepts Night of Champions of course. WWE has the excuse of having had all its good matches at the pay-per-view (not that I think it justifies such low quality wrestling on the TV shows), but the lack of really good matches on Impact is quite unusual. The lack of a conclusion to the opening tag match disappointed, but in terms of the action it did provide it was easily the best TV match of the week.
Thank you for reading and all comments are appreciated.