New England Patriots vs. Baltimore Ravens: Live Score, Video, & Analysis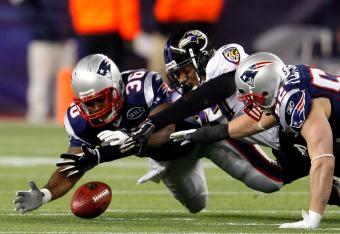 Rob Carr/Getty Images
After a heartbreaking loss to the Patriots in the AFC Championship game last season, the Ravens will host Tom Brady and company in a rematch on Sunday Night Football.
The Ravens have the longest home winning streak in the NFL, boasting 11 straight wins at M&T Bank Stadium. Can they protect Joe Flacco while also slowing down the Patriots' high-powered offense?
Meanwhile, can New England keep things rolling without Aaron Hernandez?
Either way, one of these two AFC powerhouses is going to start the 2012 season 1-2.
Bill Belichick will likely get fined big time for grabbing an official after the game. Bush league move for a guy of his tenure in the league.
This was one of the most insane football games I've ever seen. I have to say I think the replacement refs helped make it that way. Not sure if that is good or bad but it definitely made it interesting to watch.
Justin Tucker hits a 27-yard game winner as time expired to give the Ravens a 31-30 victory over the New England Patriots.
A last minute field goal attempt against the Patriots? Hmmm I've seen this movie before. Hopefully it has an alternate ending.
With two minutes remaining the Ravens are driving down by two points. One timeout remaining.
I have faith in Joe Flacco and the Ravens offense to score again, but I don't have faith in this Ravens defense to stop Tom Brady and the Pats passing game.
For the second time tonight, Torrey Smith catches a touchdown, this time a five-yard pass from Joe Flacco with 4:08 remaining in the 4th quarter. Ravens now trail 30-28.
Are they seriously playing "Evenflow" by Pearl Jam at M&T Bank Stadium?!?!? That song came out when I was in 7th grade I think.
Ravens hold the Pats to a field goal. Get the ball back trailing 30-21 after a 20-yard field goal by Stephen Gostkowski.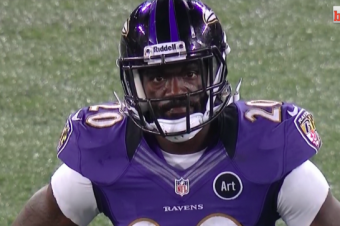 Ed Reed's replacement ref face, courtesy of the Bleacher Report twitter page.
At the end of the 3rd quarter, New England holds a 26-21 lead over the Ravens.
The Pats are inside their own five yard line so the Ravens defense needs to help them to a field goal if they want to stay in this game. That penalty on third down is going to be a defining moment of this game if the Patriots hold onto this lead.
Ed Reed gets flagged for a nasty helmet-to-helmet shot on Deion Branch on 3rd down. Patriots are picking up yards in chunks and don't seem to have any trouble doing what they want.
After getting torched by Brent Celek last week I've very surprised that Gronk only has two catches. Pats are targeting the cornerbacks instead.
Ravens offensive line has been nothing short of amazing today. Flacco has all the time in the world to throw the ball. Has yet to be sacked.
Danny Woodhead sneaks into the end zone for a three-yard touchdown. Twelve-play drive with seven of them being running plays. Patriots lead 27-21.
Cary Williams seems to get picked apart every single week. Opposing offenses are obviously targeting him. Weak link of the Ravens defense for sure.
INJURY UPDATE: WR Julian Edelman has a hand injury and his return is questionable, according to the Ravens twitter page.
An 80-yard drive ends with a seven-yard touchdown run for Ray Rice with 11:42 remaining in the 3rd quarter. Ravens take the lead, 21-20
Joe Flacco followed up an unimpressive first quarter with a dominant 2nd quarter. Great seeing Torrey Smith find the end zone after the tragedy he's dealing with.
Finally, getting Ray Rice more involved helps the entire offense run more smoothly and takes the pressure off Flacco's shoulders. Cam Cameron needs to keep it up.
The defensive breakdowns for the Ravens have been unreal. Obviously, Brady is an elite quarterback, but receivers were routinely open during the entire first half. Secondary really needs to step it up to slow down this Pats offense.
Tom Brady throws a touchdown pass to Julian Edelman with seven seconds remaining in the 1st half. Patriots lead 20-14.
What a turnaround! Joe Flacco in the second quarter: 9-for-11 for 126 yards and two touchdowns.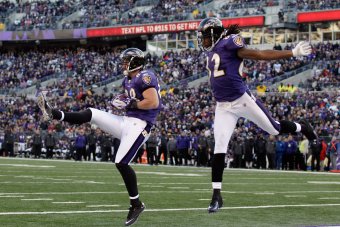 Rob Carr/Getty Images
Joe Flacco with a dump off pass to Dennis Pitta and he does the rest, rumbling for a 20-yard touchdown. Ravens take the lead 14-13.
Two minute warning in Baltimore with Flacco and company driving down the field. Remember, the Ravens get the ball to start the second half so this could easily become a momentum shift for them.
Courtney Upshaw with a huge 14-yard loss as he tackles Danny Woodhead in the backfield. Patriots will now punt.
This article is
What is the duplicate article?
Why is this article offensive?
Where is this article plagiarized from?
Why is this article poorly edited?