Joseph Benavidez vs. Demetrious Johnson: What Went Right for Johnson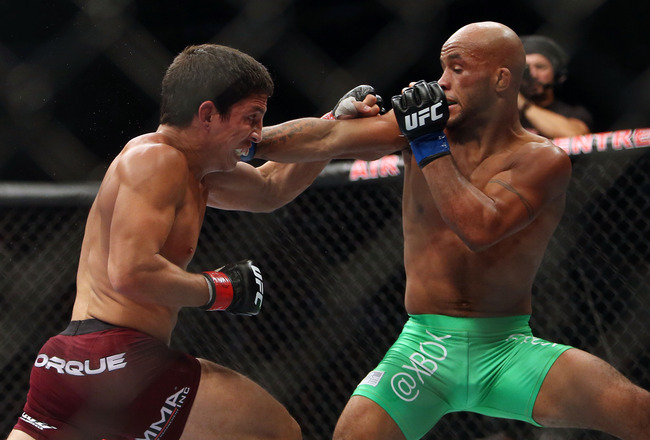 Tom Szczerbowski-US PRESSWIRE
Demetrious "Mighty Mouse" Johnson was crowned the first-ever UFC flyweight champion Saturday night at UFC 152 after securing a split-decision over the formidable Joseph Benavidez.
Through five grueling rounds of back-and-forth action, Johnson's wrestling, speed, athleticism and ability to deflect strikes proved too much for Benavidez, a fighter many put in the top 10 in the world.
Benavidez was simply unable to get inside on Johnson and seemed considerably outmatched when it came to canvas scrambles and technical boxing.
Here's what went right for the new flyweight titleholder.
His Wrestling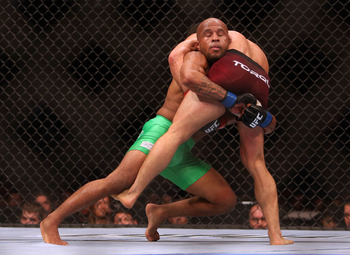 Tom Szczerbowski-US PRESSWIRE
Demetrious Johnson's wrestling has always been good.
With a low and explosive base, Johnson has been able to sling opponents to the ground with relative ease. This was never more evident than Saturday night against a wily Joseph Benavidez.
Through five rounds, Johnson secured five takedowns, a few of which came on the back of big scoop-and-slams.
The fact of the matter is that "Mighty Mouse" is finally comfortable within his weight class. His wrestling wasn't as effective in the past as it is now simply because the bantamweight division sports longer and stronger opponents than flyweight.
However, Johnson now has the ability to take down any flyweight fighter, keep him there and grind out a victory.
His Boxing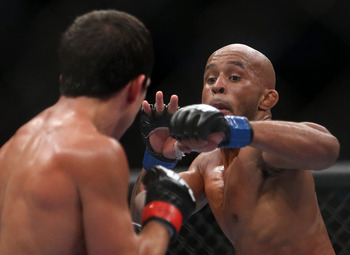 Tom Szczerbowski-US PRESSWIRE
Watching Demetrious Johnson box Joseph Benavidez was like watching Anderson Silva fight Forrest Griffin.
Johnson was simply too technical.
From deflecting punches to quickly slinging jabs in the pocket, "Mighty Mouse" was every bit mighty on his feet Saturday night.
His elusiveness and ability to respond with two strikes for every one of Benavidez's proved too much. Benavidez had no choice but to wing power punches in hope of catching Johnson.
The bottom line is that the flyweight champion has never looked this good on his feet, but with even more maturation to come, his boxing skills could rival Junior dos Santos' for the UFC's pound-for-pound best in the near future.
His Submission Defense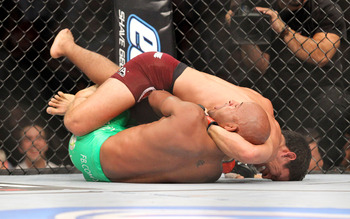 espn.go.com
In what may have been the most pivotal moment in the fight Saturday night, Demetrious Johnson survived a fourth-round submission attempt from a hungry and frustrated Joseph Benavidez.
On the back of a brief knockdown, which seemed more like an awkward slip on Johnson's part, Benavidez pounced on "Mighty Mouse" with the intention of choking him out with one arm.
The submission attempt was tight, but Johnson's flailing and strong base allowed him to escape serious damage—or even potential defeat.
A sound submission defense is key for any UFC champion. Just look at what Jon Jones had to endure in the first round of his fight with Vitor Belfort.
Johnson proved he has the capability of fighting off his opponent's very best en route to capturing close decisions.
His Cardio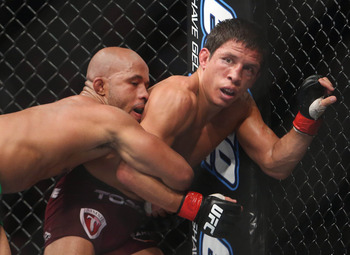 Tom Szczerbowski-US PRESSWIRE
Demetrious Johnson may possess the best pound-for-pound cardio in mixed martial arts.
Sure, Georges St-Pierre, Cain Velasquez and Chael Sonnen all have world-class stamina, but they don't fight at the same pace as Johnson does.
For his championship fight opposite Joseph Benavidez at UFC 152, Johnson utilized his quickness to distract Benavidez on his feet and leave him open for takedowns.
In order to do this for five straight rounds, Johnson needed bulletproof cardio.
Well, he had it.
For 25 minutes the two men traded punches, transitions, positioning and scores. It was an all-out war that left the better-prepared fighter victorious.
The Judges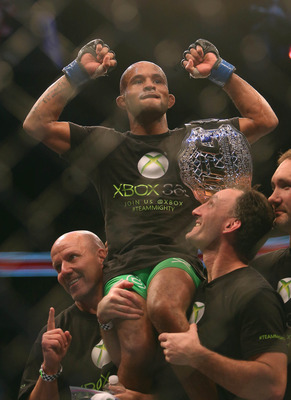 Tom Szczerbowski-US PRESSWIRE
As impressive as Demetrious Johnson looked, his UFC 152 title fight was actually pretty even.
Minus the difference in takedowns, Joseph Benavidez produced just as many key punches as Johnson did, despite landing 33 fewer strikes.
The fact of the matter is that the first-ever flyweight championship came down to the judges. That's usually the case in a bout between two top flyweights, but it's still alarming when you consider these guys were fighting for UFC gold.
It's well known that flyweights don't have the finishing capacity of fighters in other weight classes, but that doesn't mean this fight couldn't have been finished early.
For Johnson, a guy who needed two fights to defeat Ian McCall en route to facing Benavidez, leaving his championship hopes in the hands of the judges seemed gutsy.
He obviously came out on top, but a split decision is as close as it gets.
For more UFC 152 news and coverage, Follow @DHiergesell
Keep Reading