Tampa Bay Bucs vs. Dallas Cowboys: Live Score, Highlights & Analysis for Week 3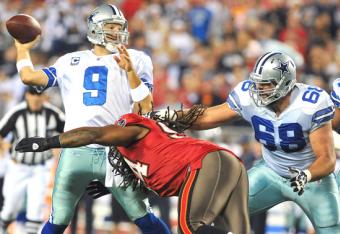 The Cowboys have defeated the Bucs 16-10.
Dallas' offensive line accounted for about nine penalties, Tony Romo was blasted on many a play and they turned the ball over three times.
Austin had 107 receiving yards and Dez Bryant aided them with a 44 yard punt return.
Dallas plays the Bears at home next week on Monday Night Football.
Final
Tampa Bay 10
Dallas 16
The Cowboys are now in victory formation as they will defeat the Bucs 16-10.
Head coach Jason Garrett's offense looked pretty bad but the defense looked great.
Dallas has a lot of soul searching to do after this game 13 penalties for 105 yards and only 40 rushing yards on 22 attempts.
BUCS...FG
The Bucs just scored a field goal with 40 seconds left on the clock.
Dallas still leads by six.
Cowboys 16
Bucs 10
1:16 4th Quarter
Uh-oh. The Bucs are driving as Freeman just completed a 23 yard pass to Mike Williams.
Tampa has the ball on the Cowboys 17 yard line...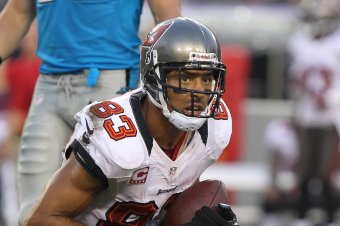 Kim Klement-US PRESSWIRE
Bucs tall receiver Vincent Jackson just caught his first ball of the game as the clock ticks toward one minute.
Carr and the Cowboys secondary has pretty much ruled him out of the game. Tampa looked to use his height and skill and Dallas put Brandon Carr on him with a safety playing over the top.
Jackson has one catch for 29 yards in four quarters of play.
The Bucs are trying to mount a drive with 1:26 left on the clock.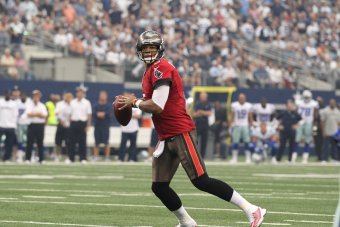 Matthew Emmons-US PRESSWIRE
2 Minute Warning 4th Quarter
I believe the Bucs have conceded victory as they ran the ball on third and nine to take the game toward the two minute warning.
Since Tampa's first score, they have an interception and now nine punts.
Freeman is 6/21 with 39 yards and one touchdown. He's averaging 1.9 yards per attempt with a rating of 35.6.
Both offenses have a lot of work to do before week four.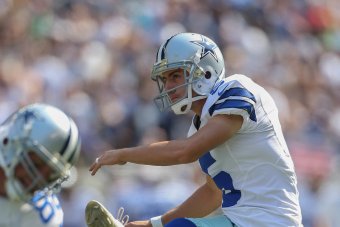 Otto Greule Jr/Getty Images
So with 2:47 left on the game clock in the fourth quarter, Bailey extends the Cowboys lead to nine points with a 22 yard field goal.
Dallas was close to scoring a touchdown as Murray ran the ball down to the Bucs three yard line but it was called back due to a holding penalty by left tackle Tyron Smith.
Cowboys 16
Bucs 7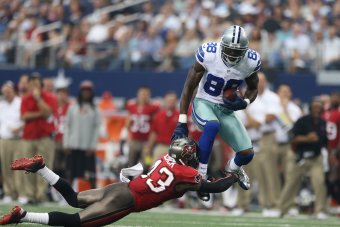 Matthew Emmons-US PRESSWIRE
4:44 4th Quarter
Dez Bryant just returned a punt for 44 yards down to the Bucs six yard line.
Cowboys have a chance to wrap it up with a touchdown or field goal as Tampa's offense has been inept.
Josh Freeman is having a pretty tough afternoon.
DeMarcus Ware just had another strip sack of Freeman, which the Bucs recovered, and forced Tampa to punt.
Dallas ball.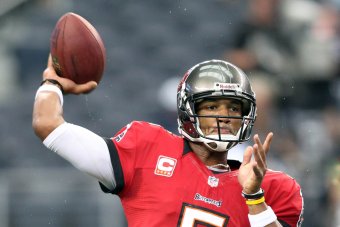 Tim Heitman-US PRESSWIRE
7:28 4th Quarter
Dallas was forced to punt and still only hold a six point lead.
The Bucs defensive line has sacked Romo four times and hit him an additional four.
To give you an idea of where the Bucs offense stands, they have 108 total yards and freeman is 6/20 for 39 passing yards.
A tough afternoon for Freeman and the Bucs offense.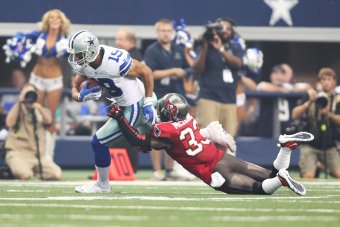 Tim Heitman-US PRESSWIRE
10:03 4th Quarter
Romo just found Austin for a 17 yard completion to take the Cowboys to the Tampa 47.
Austin left the game earlier due to an injury but has since returned.
Mr. Miles leads the Cowboys in receiving yards today with 107 on five catches.
Cowboys driving...
Josh Ellis, a reporter for DallasCowboys.com, sums up the afternoon for the Cowboys line.
This line is a JOKE.

— Josh Ellis (@DCStarJEllis) September 23, 2012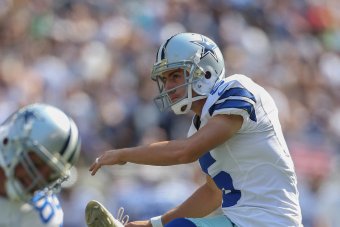 Otto Greule Jr/Getty Images
COWBOYS...FG
Dallas just scored a field goal behind the leg of Dan Bailey as he booted it from 26 yards out. Cowboys up by six.
Cowboys 13
Bucs 7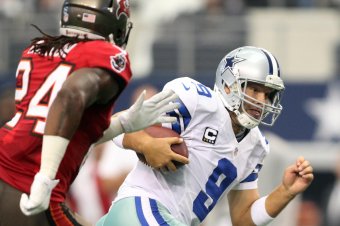 Tim Heitman-US PRESSWIRE
12:29 4th Quarter
Romo was just blasted by Bucs defensive linemen Gerald McCoy and Michael Bennett.
McCoy was working against guard Mackenzy Bernadeau, who was either pushed out of the way or tried to push McCoy out of the way.
McCoy hit Romo up high near the helmet and Bennett got him down low.
To let you know how big it was, Romo's eyes were still closed as he was sprawled out on the turf.
Cowboys are attempted a field goal.
Dallas officially has a drive going.
After Witten's drop, Romo found receiver Kevin Ogletree for 19 yards and then Dez Bryant for nine yards.
Cowboys have on the Bucs nine yard line.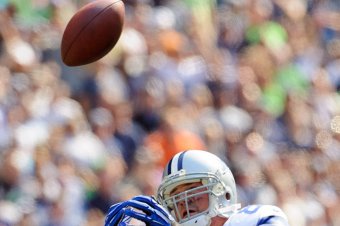 Steven Bisig-US PRESSWIRE
End of 3rd Quarter
Jason Witten officially has a case of the drops.
Romo found the All-Pro tight end down the seam for what should have been a touchdown but Witten dropped the ball.
Cowboys will have the ball to start the fourth quarter.
Tim Heitman-US PRESSWIRE
Romo just completed a 49 yard bomb to Miles Austin.
Romo was flushed from the pocket, rolled to his right, hit pretty hard by Bucs defensive lineman Gerald McCoy as he released the ball and still completed the pass.
Dallas driving.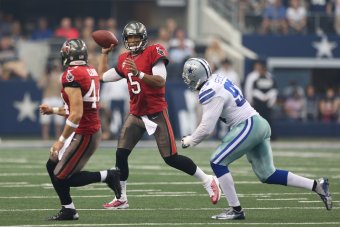 Matthew Emmons-US PRESSWIRE
1:38 3rd Quarter
Tampa is unable to capitalize on Dallas' misfortune.
The Bucs were forced to punt after recovering the Cowboys fumble. Freeman is out of sorts as he had a wide open Vincent Jackson on third down but threw the ball well behind him.
Again--My man stares his receivers down, holds the ball to long and seems to be a touch inaccurate.
Dallas ball as the score is still 10-7, Cowboys way.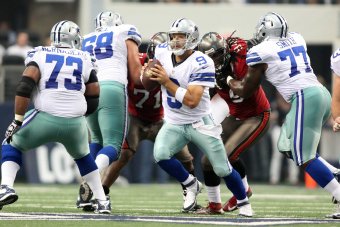 Tim Heitman-US PRESSWIRE
Tony Romo was just destroyed by Bucs defensive end Michael Bennett.
Bennett came off the edge against tight end Jason Witten and right tackle Doug Free, Free looked him and left him to Witten, Bennet shook him off and stuck Romo right between the numbers.
The ball was jarred lose by the hit, but it was ruled down by the replacement refs.
The call was challenged by Tampa Bay and won. So another turnover by Dallas but the Cowboys have to do something about their offensive line.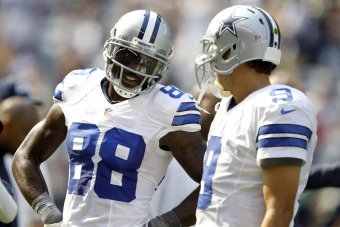 Joe Nicholson-US PRESSWIRE
3:55 3rd Quarter
Dez Bryant is such a physical animal.
On 2nd and 5, Bryant came down with an 18 yard catch over Bucs corner Aqib Talib.
Cowboys driving...
Tom Pennington/Getty Images
6:20 second 3rd Quarter
The Bucs are driving as their drive was kept alive by another Cowboys penalty.
Safety Mana Silva was flagged for pass interference, which gave Tampa a first down.
On the very next play, the Bucs LeGarrette Blount carried the ball for a few yards, finally taking the team over 100 total yards for the game.
Bucs driving on the Cowboys 44 yard line...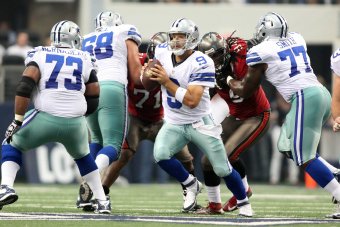 Tim Heitman-US PRESSWIRE
10:29 3rd Quarter
The Cowboys have turned the ball over due to a Romo error.
After the Cowboys were finally make its way down the field, Romo fumbled the ball deep in Tampa territory.
He was pressured, wrapped up by multiple Bucs defenders and tried to force the ball forward by pitching it toward a waiting DeMarco Murray.
But the ball was already coming loose and Romo tried to mask it by pretending to pass the ball.
If that made no sense at all to you, just know that the Bucs now have the ball instead of Dallas.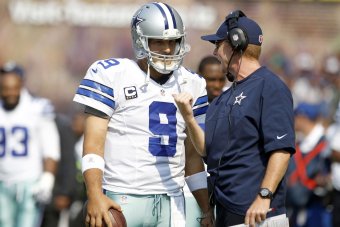 Joe Nicholson-US PRESSWIRE
11:14 3rd Quarter
Garrett is starting to open up the offense for the Cowboys.
On three straight plays, the Cowboys have first down passes down the field as Romo is starting look down the field.
Romo just connected with Austin for 21 yards, Bryant for 18 and Ogletree for 12.
Cowboys driving as they have the ball on the Bucs 17 yard line.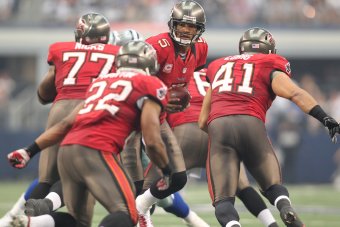 Tim Heitman-US PRESSWIRE
14:12 3rd Quarter
The Bucs started out the second half with the ball, but we have another example of Freeman staring his receivers down.
On 2nd and 8, Freeman went for play action, held the ball as he was fixed on one receiver, ended up throwing the ball away because he did not go through his progressions and Cowboys defensive end Sean Lissemore was about to hit him.
Freeman has to learn to keep his eyes away from just one receiver.
Now the Bucs are forced to punt.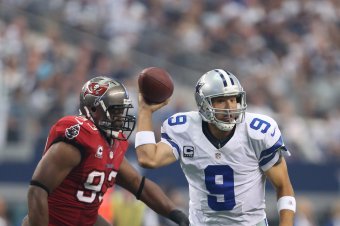 Matthew Emmons-US PRESSWIRE
So there is the end of the first half with the Cowboys up by just three points.
Both teams have looked sloppy and slow on offense as this is turning out to be an unexpected defensive ballgame.
Look for the Cowboys to take a few more chances down field in the 2nd half if the offensive line is able stop the penalties and keep Romo upright as he's been hit eight times.
Cowboys 10
Bucs 7
This article is
What is the duplicate article?
Why is this article offensive?
Where is this article plagiarized from?
Why is this article poorly edited?