New York Jets vs. Miami Dolphins: Live Score, Highlights & Analysis for Week 3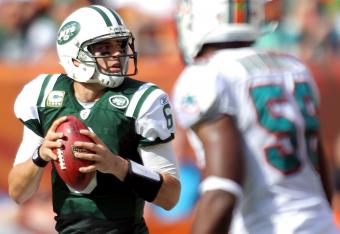 Marc Serota/Getty Images
It wasn't pretty, but the Jets pulled out the win on a late field goal in overtime from Nick Folk.
For the Jets, the win comes bittersweet. They lost Darrelle Revis in the third quarter, and it appears to be serious. Plus, Sanchez was underwhelming and the running game was non-existient.
For the Dolphins, as bad of a loss as this is, Tannehill's late drives give them promise for the future. The defense was stout, especially against the run. However, they made a few more mistakes than the Jets at the end of the game to get another loss.
Dolphins 20, Jets 23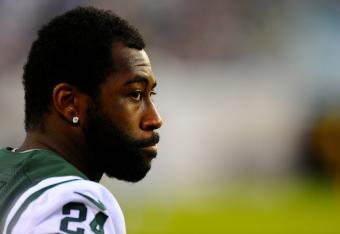 Darrelle Revis will undergo an MRI tomorrow to see the extent of his injury. Hopefully, its not an ACL tear, but non-contact injuries are rarely minor.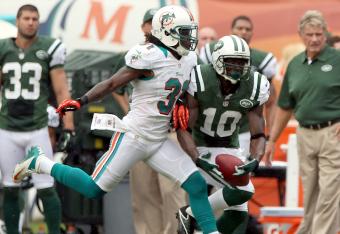 This is a big win for the Jets, but it comes with a price. Losing Darrelle Revis for extended time makes their defense go from top-five to borderline top-10.
For Miami, they can take solace in Ryan Tannehill's final drives to put them in position to win the game. They were just a few Dan Carpenter kicks away from pulling the upset.
Still, it was an ugly game by both sides that was filled with penalties and turnovers. Neither team really deserved to win.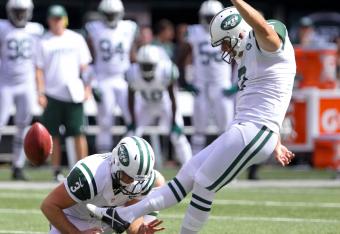 It's good! Nick Folk's field goal wins it!
FINAL: Jets 23, Dolphins 20
The kick is BLOCKED, but JOE PHILBIN CALLED A TIMEOUT!! The Jets have another chance!
Here comes the kick form Folk.
7:41 OT
Sanchez connects on a huge play to Santonio Holmes to put the Jets right into field goal range at the 20. A few more runs to center the ball could do it.
HE MISSED IT! Kick goes wide left, and Rex Ryan's timeout worked!
Jets take over at the 38.
48-yard attempt coming from Dan Carpenter. This is it.
10:00 OT
HUGE play to Brian Hartline to put the Dolphins in field goal range at the 35 yard-line.
The Jets flipped field position by getting two first downs and almost coming up with a third. Game is now sudden death.

— J.P. Pelzman (@JPPelzman) September 23, 2012
11:04 OT
Dolphis take over around their own 10, start out with two straight runs. Short, but huge third down conversion coming up here.
Almost a disastrous play for the Jets, as Sanchez fumbles the snap and nearly throws an INT trying to get rid of the ball.
Meanwhile, Chaz Schilend comes up with another third down catch, but he's short of the sticks. decision time for the Jets, it looks like they will punt.
12:52 OT
Sanchez with a big-time conversion on third down to Chaz Schilens. Jets need another 20 yards or so be in field-goal range.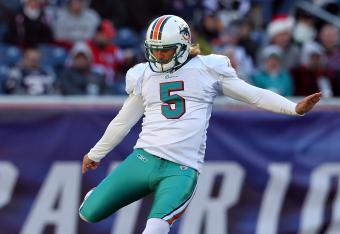 In case you missed it, Dan Carpenter kicked a long field goal to tie the game. Ryan Tannehill engineered a good late-game drive to set them up.
Jets will receive the ball to start overtime.
We're headed to OT in Miami! Interesting that Tebow is one of the captains for the coin toss.
Sorry for the delay, had some technical issues. We're back.
3:01 4th Quarter
TOUCHDOWN JETS!!!
Sanchez hits Jeremy Kerley on a quick slant route for the score.
The biggest drive in Ryan Tannehill's young career is coming up. Can the rookie bring his team back against a Revis-less Jets?
4:32 4th Quarter
The Jets are finding ways to keep this drive going, overcoming errant throws and costly penalties. Santonio Holmes is having one of the best games of his Jets career.
Rex Ryan calls a timeout, but he may regret that. The Jets are all-in here. With only one timeout, they have to be in four-down territory.
Stephen Hill update:
Stephen Hill has a hamstring injury. Questionable to return #nyj

— Brian Costello (@BrianCoz) September 23, 2012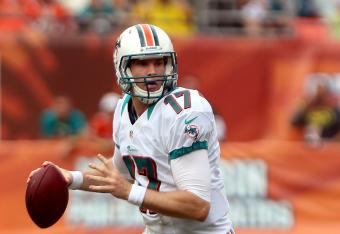 7:30 4th Quarter
A brutal drop by Bilal Powell kills a Jets drive. Powell had some space in front of him too, probably would have picked up a good ten yards at least.
This is Miami's chance to end the game right here. A time-killing TD drive would put the Jets away for good.
9:44 4th Quarter
Sanchez is staring down Santonio Holmes. Not even looking at other receivers.
Welp, this about sums up the game:
Mark Sanchez is 12 for 29 today so far. He is 22 for his last 56. #nyj

— Manish Mehta(@MMehtaNYDN) September 23, 2012
Stephen Hill now coming up lame on his leg. This Miami heat is doing some damage to key Jets players.
10:41 4th Quarter
Dan Carpenter misses a field goal, becoming the first kicker to miss a field goal against the Jets since the 2010 season.
11:44 4th Quarter
Huge offensive PI call takes the Dolphins out of field goal range. Jets cannot allow this game to turn into a 2-score game with the way their offense is playing.
Meanwhile, Cromartie is back in the game.
What is apparent is that Tannehill has a great arm. He's flung it down with field with just his wrist twice now.
This article is
What is the duplicate article?
Why is this article offensive?
Where is this article plagiarized from?
Why is this article poorly edited?