UFC 152 Results: Grades for All the Main-Card Fighters
Tom Szczerbowski-US PRESSWIRE
The MMA vacation is over, as UFC 152 took place Saturday night at Toronto's Air Canada Centre.
The main event had several captivating moments that saw a somewhat-vulnerable Jon Jones. He was ultimately able to systematically destroy Vitor Belfort over four rounds, ending the Brazilian's night with a spectacular Americana.
The night also saw the first UFC flyweight champion crowned as Demetrious Johnson took a split decision over Joseph Benavidez. Johnson dominated with speed and flawless transitioning between striking and wrestling.
The main card created new title challengers and saw the continuing expansion of the Jon Jones legend. What a night!
Here are the grades for all of the main-card fighters.
Charles Oliveira: C-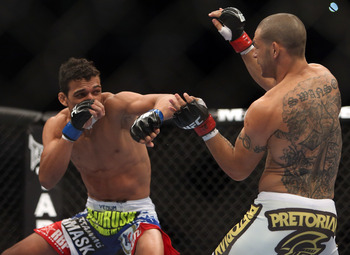 Tom Szczerbowski-US PRESSWIRE
Poor, poor Charles Oliveira.
Oliveira has always been consistently inconsistent and is incapable of stringing together some wins. That is a shame because he's probably one of the most talented young fighters in the UFC today.
That was probably one of the most ridiculous knockouts I've ever seen in my life. It was a very delayed reaction. If he delayed any more, he'd have done a Ric Flair flop.
Cub Swanson: A-
Tom Szczerbowski-US PRESSWIRE
I guess it's time to consider Cub Swanson as a featherweight contender. The guy has been on an absolute roll and has been putting a hurting on people's faces.
He was able to stay composed on his back and get out from under a very respected grappler in Charles Oliveira.
Did I mention that Cub Swanson hits super hard? He hits so hard that it took an extra few moments for Oliveira's brain and body to realize just how hard he had been hit.
He's finally starting to show that he's a fighter to take seriously, and I am excited to see what he does next.
Roger Hollett: F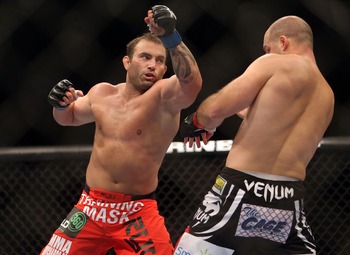 Tom Szczerbowski-US PRESSWIRE
The loser in a terrible fight deserves a terrible grade. And that was a terrible fight.
There were large chunks of that fight where Hollett just stood still. There were other chunks that saw the Canadian get punched in the head a whole bunch.
What I don't remember seeing was Hollett doing anything memorable. Sorry, just not impressed by this UFC newcomer at all.
Matt Hamill: D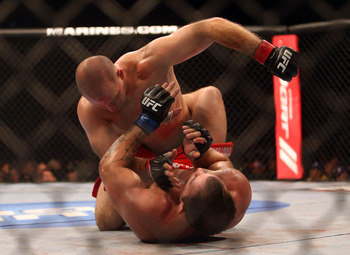 Tom Szczerbowski-US PRESSWIRE
Yes, a win is a win. And there were moments when Hamill looked to be in top form.
Still, he punched himself out in the first round and then did just more than the virtually unknown Roger Hollett for the rest of the fight. Luckily, Hollett did nothing, so Hamill won the fight.
That doesn't mean I have to be happy about it and give him a positive grade. That bout just about put me to sleep.
Matt Hamill gets a D because of the effort.
Brian Stann: C-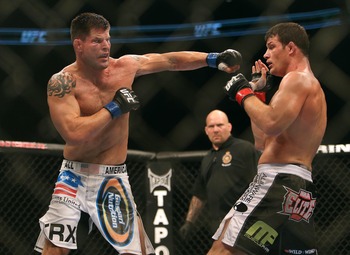 Tom Szczerbowski-US PRESSWIRE
I had high hopes for Brian Stann. I thought that he had shown enough improvement in overall skill that he'd stand a chance against the habitually underrated Michael Bisping. And if we're being honest, he does have those skills.
Unfortunately, he fell in love with his right hand after a near knockout near the end of the first round.
It caused him to all but abandon combinations, as he continually flung right hand after right hand at a retreating Bisping. In doing so, he left himself open to the jab.
Ultimately, I think we've seen the best we'll see of Brian Stann. He's a talented guy who hits super hard, but that'll only get him so far.
Michael Bisping: B+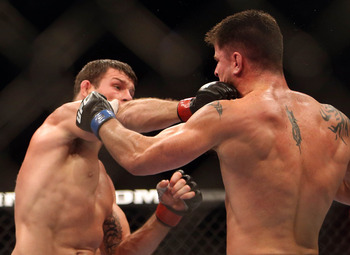 Tom Szczerbowski-US PRESSWIRE
Time away from the Octagon has helped Michael Bisping strengthen and polish his overall skill set. One of the most apparent was his wrestling.
Sure, Stann was able to stuff a large percentage of the Brit's attempts, but he also spent a considerable amount of time on his back.
Bisping has finally picked up that top-10 win that fans have been begging for. I don't know if he deserves a title shot, but at least he's starting to make the case.
Perhaps a fight with Chris Weidman or Tim Boetsch? I can get behind that.
Joseph Benavidez: C+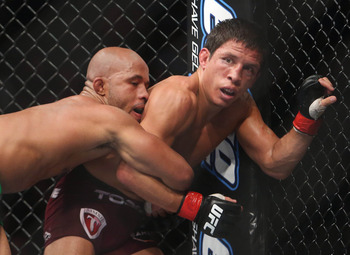 Tom Szczerbowski-US PRESSWIRE
Another disappointing loss for Team Alpha Male.
Joseph Benavidez, in my mind, was the superior fighter on paper. He hits harder and has better control on the ground.
What I didn't take into account was how slow he'd look compared to Demetrious Johnson. There were moments when I thought Johnson was fighting in bullet time.
This will be one of the most devastating losses of his career. Hopefully, he can rebound and improve enough to stop Johnson should they meet again.
Demetrious Johnson: A+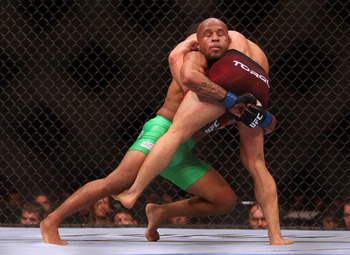 Tom Szczerbowski-US PRESSWIRE
In my opinion, this was the best bell-to-bell performance of the night. I also believe it was the best bell-to-bell performance of Demetrious Johnson's career. This guy is crazy good and keeps getting better and better.
I did not see him winning this fight. He gutted through a tight guillotine and demonstrated his technical boxing and wrestling acumen throughout the five-round battle.
He's the first ever UFC flyweight champion, and he's probably going to hold that belt for quite some time. Expect Mighty Mouse to face the winner of Jussier da Silva and John Dodson.
That can't come soon enough.
Vitor Belfort: C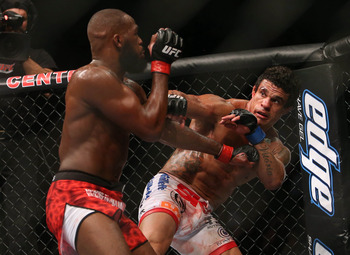 Tom Szczerbowski-US PRESSWIRE
The armbar in the first round was one of the highlights of the night. He came close to stopping Jon Jones with one of the most basic BJJ submission techniques.
He had some good moments but spent most of the fight eating devastating kicks to the knee and elbows to the face.
I have no idea why he kept pulling guard when it allowed Jones to elbow the hell out of his face. I probably will never know, but that was a mind-boggling strategy.
Rough night for the Phenom.
Jon Jones: A+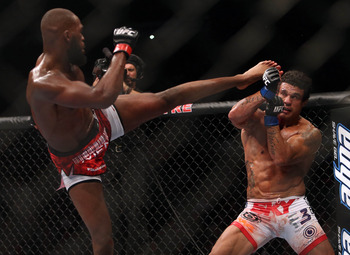 Tom Szczerbowski-US PRESSWIRE
Outside of that near-armbar, this was a picture-perfect performance from Jon Jones.
The kicks to the knee are probably one of the most devastating moves in his skill set. He consistently finds a home for those almost immediately, and they take an opponent's legs away.
As good as those were, his elbows from the top were even better. He opened up a massive cut over Vitor Belfort's right eye in the first few minutes that definitely took the Brazilian's spirit after.
It was a great performance from a fighter that has shown no signs of slowing down or having a ceiling. I'm excited to see what happens from here.
And fights with Alexander Gustafsson and Dan Henderson...I want to see those happen too.
Bonus Slide: Jon Jones' Interview with Joe Rogan: F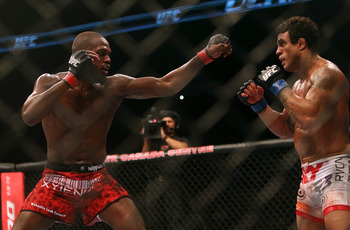 Tom Szczerbowski-US PRESSWIRE
"My DUI set me free" is a crazy thing to say. Seriously, a real-life person said this in real life. Terrible.
It makes it even worse that when asked about the UFC 151 debacle, he basically said he turned down the fight with Chael Sonnen because he doesn't respect him.
Seriously, that's an F.
Keep Reading