Bills vs. Browns: Final Report Card, Player Grades for Cleveland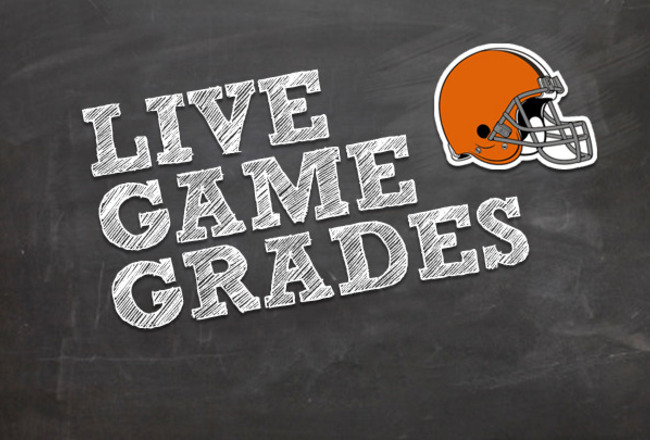 The Buffalo Bills defeated the Cleveland Browns by a 24-14 margin at Cleveland Browns Stadium in Cleveland, Ohio.
Stevie Johnson caught a touchdown over the middle against one-on-one coverage from Dimitri Patterson and the Browns were unable to move the football to come back. Brandon Weeden threw two interceptions on his last two possessions to close out the game.
Hail and rain poured down on Cleveland Browns Stadium before game time and rain continued into the action. That didn't stop the Bills from easily orchestrating offensive drives through both the ground and air as they piled on 24 points against a defenseless Browns' defense.
In what was an ugly game from the start, the Browns failed to stop the Bills throughout most of the game despite C.J. Spiller being knocked out of the game in the first quarter.
Tashard Choice picked up right where Spiller left off and helped fuel a Bills' offense that played good enough to win against a struggling Browns team.
On offense, Cleveland failed to establish any type of presence at the line-of-scrimmage and had to rely on rookie quarterback Brandon Weeden throwing the ball 47 times in hopes of coming away with the win.
It almost happened too. Weeden connected with Travis Benjamin on a 22 yard touchdown throw to bring the Browns within three points. The team's defense couldn't hold, though, and the Bills went ahead for good on Johnson's late fourth quarter touchdown grab.
Quarterbacks
Jamie Sabau/Getty Images
Brandon Weeden: C-
Brandon Weeden displayed some positives in his third appearance as the Cleveland Browns' starting quarterback. However, he also struggled in the pocket at times and checked down far too frequently when pressured.
Some of the balls dropped by his receivers were avoidable and clear mistakes by them. But there were others he just flat out missed on and needs to be more accurate with moving forward.
He did have a nice touchdown pass and moved the chains effectively in the second and third quarters. That doesn't negate the struggles of the first and fourth quarters, though.
If Weeden hopes to turn the Browns' struggling franchise around he will need to continue to improve and take more responsibility for the offenses' struggles. He'll also need to figure and establish better timing with his wide receivers as he missed twice down field after they beat coverage.
After all, his down field ability and arm strength are the reasons he was brought into Cleveland and why he was given the starting job over Colt McCoy.
He hasn't shown he has the ability to hurt a team down field in the NFL, yet.
Running Backs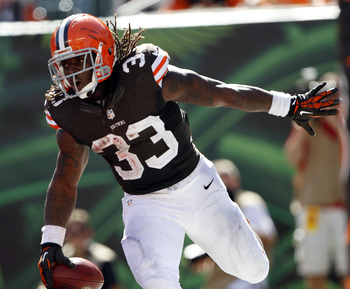 Frank Victores-US PRESSWIRE
Trent Richardson: C+
It's hard to blame Richardson for the team's offensive struggles. Questionable play calling called for only 12 rushes for Richardson for the game. Like during his rookie debut against Philadelphia, the No. 3 pick was stuffed frequently at and behind the line-of-scrimmage. The lone bright spot came from a six yard touchdown run in which he bounced off initial contact and then took the ball outside and into the end zone.
In the passing game, Richardson looked comfortable for the most part. He hauled in six of the seven passes that came his way out of the backfield.
If it weren't for his excellent goal line run, Richardson would have had an awful game for the Browns.
Chris Ogbonnaya: C+
Ogbonnaya's role in the offense was diminished with the increase in repetitions for Trent Richardson on third down. He did grab a pass lined up as a wide-out and had a six yard run but was limited.
Owen Marecic: C
Marecic was barely involved in the game plan, seeing no targets in the passing game and limited time on offense as the Browns employed more one-back sets than normal.
His role is likely diminished due to inconsistency and an inability to move the defenders at the point of attack.
Wide Receivers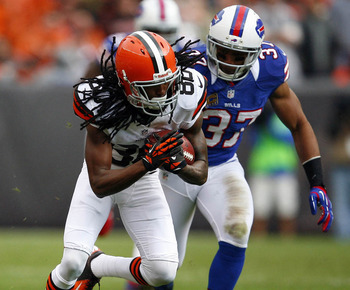 US PRESSWIRE
Greg Little: C
Little had another drop and had another ball just out of his reach as he seemed to have a mis-communication with quarterback Brandon Weeden on the play. The play was critical as the Browns were moving the football and were forced to punt on the Bills' side of the 50-yard line.
He was quick to celebrate the two first-down catches he did receive, though. It's hard to judge where Little goes from here. He's been incredibly inconsistent catching the ball
Mohamed Massaquoi: B-
Massaquoi beat his coverage and was open down the far sideline but Weeden's throw fell short and the ball was deflected by the Bills' cornerback. His only catch was a nice 14 yard.
He suffered a hamstring injury and sat most of the game after that.
Josh Gordon: C+
Gordon showed some signs of being a competent and reliable target for Brandon Weeden. Then, at times, he looked like he stopped and didn't finish routes. He finished with three catches for 40 yards on six targets.
Weeden's first interception was on a slant thrown to Gordon across the middle. Gordon looked like he let up, but the ball was thrown well ahead of him because of the coverage draped over him.
Travis Benjamin: A-
Benjamin dropped an easy ball across the middle but also had a nice first down grab and an excellent 22 yard out-route that he hauled in for a touchdown from Brandon Weeden.
He also beat his many on a fade route but like Massaquoi, the ball was under thrown by his quarterback. He doesn't have the height to go up and grab balls like that.
Tight Ends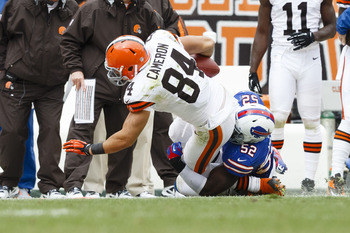 Rick Osentoski-US PRESSWIRE
Benjamin Watson: C
Watson hauled in just four of the eight targets that came his way Sunday afternoon. Of those four catches, he only recorded 15 yards.
He wasn't very effective in blocking when he was asked too, either.
Jordan Cameron: A
Cameron had a bit of a coming out party and was the Browns' most successful receiver in the loss. That isn't saying much, though.
He hauled in 5-of-7 targets for 45 yards. The injury to Alex Smith allowed for an increased role for Cameron and he made the most out of it in this one.
Offensive Line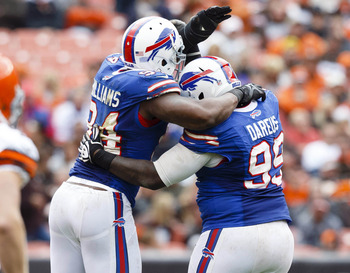 Rick Osentoski-US PRESSWIRE
Offensive line summary:
As a whole, the Cleveland Browns' offensive line failed to give Brandon Weeden ample throwing time. Penalties were minimalized, but key holding calls on Pro Bowlers Alex Mack and Joe Thomas killed drives that could have otherwise turned into points. Mack's call came after Weeden completed a pass to Greg Little for a first down, forcing a third-and-21 and the team eventually punted.
Unable to move anyone upfront, the Browns compiled just 33 yards rushing against a pretty weak Bills' rush defense. Sure, the team threw the ball a lot, but they had to because of the line's inability to move defenders and create forward momentum on the line.
Joe Thomas: C-
Jason Pinkston: C+
Alex Mack: C-
Shawn Lauvao: C-
Mitchell Schwartz: C
Defensive Line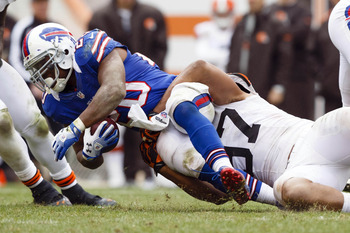 Rick Osentoski-US PRESSWIRE
Jabaal Sheard: B
Sheard didn't record a sack for his third consecutive game to begin his sophomore season. However, a nice hit on Ryan Fitzpatrick forced an errant throw on third down which forced a Buffalo field goal.
He also recorded a tackle for a loss in garbage time as the Bills were attempting to run out the clock.
The defensive end product out of Pitt has seemingly digressed in his second year in the league.
Frostee Rucker: B-
Rucker didn't get into the backfield and pressure Fitzpatrick but there wasn't much time to do it anyway. He still held down his side of the defensive line relatively well and was in on four plays including two solo tackles.
Ahtyba Rubin: C
Rubin helped clog up the middle to stuff C.J. Spiller in the first quarter but was unable to keep up with the Bills' physicality as the game progressed. He knocked down a Ryan Fitzpatrick pass, demonstrating some good athleticism but was neutralized for most of the day as the Bills' offensive line moved him and created lanes off of his aggressiveness.
Billy Winn: C+
Winn had a pass deflection as Ryan Fitzpatrick rolled out and attempted to dump it to tight end Scott Chandler. The excellent play by the rookie forced a Buffalo punt.
He recorded another deflection but was unable to get into the backfield to disrupt Fitzpatrick as the Bills utilized an effective outside running game and quick passing attack that kept the Browns' defense at bay.
Juqua Parker: B-
The veteran defensive end didn't see as much action as usual but it wouldn't have mattered anyway. Buffalo's quick-strike offense kept the Browns' defense at bay and the team failed to pressure or get after Fitzpatrick.
He did collect the Browns' only turnover of the game which came on an unforced fumble by Fitzpatrick who lost the ball due to the rain before bringing his arm forward.
Linebackers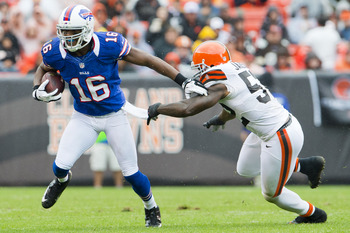 Jason Miller/Getty Images
D'Qwell Jackson: C-
Jackson, the team's defensive captain and leader on the field, again recorded another personal foul for a late hit on T.J. Graham. The call, in my opinion, was questionable because Graham had continued to run the ball up the sideline when Jackson hit him.
He didn't appear to shoot gaps as effectively as he has during the first two weeks and looked more like the player of old who reacted and made plays downfield rather than disrupting them in the backfield.
Craig Robertson: B+
Robertson was perhaps the best Browns' defender of the game in regards to being in position and making plays. He recorded a team-high seven tackles and was in on another.
L.J. Fort and Scott Fujita: C
Both Fujita and Fort were utilized minimally as the Browns played most of the game out of the Nickel defensive set. Buffalo's three and four receiver sets were the reasoning behind this and the Browns chose to roll with Craig Robertson and D'Qwell Jackson for much of the game.
Defensive Backs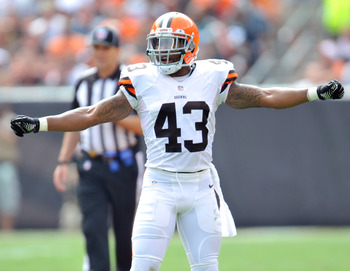 David Richard-US PRESSWIRE
Dimitri Patterson: D
Patterson was beaten badly on a double-move by Bills' wide receiver Stevie Johnson. The coverage was awful and Johnson was easily able to score uncontested over the middle. That touchdown effectively ended the Browns' hopes by giving the Bills a 24-14 fourth quarter lead.
He also had a deflected pass bounce right off of his chest. He had nothing but green grass in front of him had he held on for the interception. It's hard to blame him, the ball was deflected and came at him pretty quick.
What isn't hard to blame is the bad coverage he displayed again for the Browns. Hopefully the return of Joe Haden will be able to mask the horrible play the team's secondary in the two weeks since he's been out.
But as long as Patterson, Brown and Skrine are in the game, there will be ways for offenses to exploit the Browns' defense.
Buster Skrine: C-
On a drive in the fourth quarter, Skrine broke up a fade pass to Stevie Johnson in the end zone that he almost hauled in for a game ending touchdown. He also recorded three tackles but his size makes him a liability in the running game and it was taken advantage of by the Bills on a couple plays.
He also limits the ability for the Browns' defense to play in press-coverage because he is so easily beaten by the bigger and stronger receivers in the NFL.
Sheldon Brown: D+
Sheldon Brown made a couple plays, including a pass breakup on Stevie Johnson on second down. The play came on the same drive, a play before, the deflection by Skrine in the end zone. He did record six tackles, but most of them were after he had already given up yardage.
One play stood out as the veteran read a quick pass by Fitzpatrick and bottled it up at the line-of-scrimmage for a short gain.
While Brown showed some positive signs, he was continually targeted by the Bills and was unable to stop the team from moving the football.
T.J. Ward: B
Ward continued to rack up the tackles with seven total and six individual stops on the afternoon. He was found out of position on C.J. Spiller's 32 yard touchdown reception and demonstrated bad pursuit on the play.
Usama Young: B
Young started off relatively well with a good stop on the first defensive play of the game. He didn't see as much action as the game progressed as rookie Tashaun Gipson was given some playing time. Young recorded six solo tackles but didn't make much of a difference in the secondary playing next to T.J. Ward.
Tashaun Gipson: B+
The undrafted rookie out of Wyoming got his first significant playing time and made the most out of it. He flew to the ball and made some really good plays in the run defense. He wasn't tested through the air, though, and it remains to be seen whether Sunday's performance is a sign of things to come as the Browns' search for a safety opposite of T.J. Ward.
Special Teams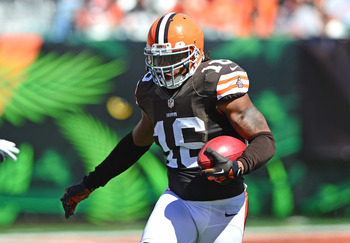 Andrew Weber-US PRESSWIRE
Phil Dawson: A
Dawson didn't have an opportunity to kick a field goal as the team's offense was inept for most of the game besides the two touchdown drives.
Reggie Hodges: C-
Hodges had his chances to improve his average after a so-so day of punting for the Browns. He had eight chances, to be exact. His 42 yard average was beefed up by a couple longer punts that made up for the shanks that set the Bills up pretty nicely on a couple drives.
Josh Cribbs: B+
Cribbs broke a tackle on one punt but muffed and fumbled another. He showed glimpses of his former self but doesn't seem to have that same explosiveness that made him one of the NFL's best kickoff returners.
He averaged 28.3 on kickoff returns and 14.3 on three punt returns for the game. The biggest play for him was a 27 yard punt return that energized the Browns' sideline.
Special teams wasn't his only contribution in this one. He also saw a rare offensive play and took a short screen pass for a 24-yard Browns' first down.
Coaches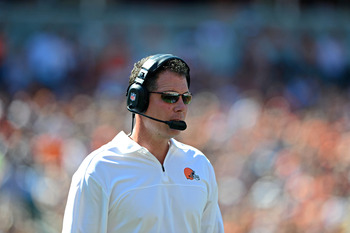 Andrew Weber-US PRESSWIRE
Pat Shurmur: D+
Shurmur called an excellent game plan after making adjustments while down 14-0 in the second quarter. Even after half time it seemed like he was turning the corner by making actual improvements to his team during a game instead of after-the-fact.
Shurmur won his first challenge of the season on an easy call when the ball slipped out of Ryan Fitzpatrick's hand due to the moistness of the ball.
Someone has to be accountable for the poor product on the field Sunday against the Bills. Unfortunately for Shurmur, he is that someone. The buck stops with the head coach and until the team begins to win, it will continually fall on the sophomore head coaches shoulders.
Brad Childress: C+
Childress is responsible for the game plan each week on offense and there is no doubt there are effective plays being drawn up by the former Minnesota Vikings head coach. Whether or not Shurmur chooses to call them is another story altogether.
Dick Jauron: D+
Jauron's defense was consistently being outsmarted by the Chan Gailey's game plan. The Bills used a quick-strike offense in order to neutralize the blitz of the Browns—something they've done for two weeks so far this season.
It seems to me like Jauron was afraid of the speed of Buffalo's receivers and played with cushion again. The downside is that that left them open for screens and underneath throws that ate up yards for the Bills.
When blitzing, it's conventionally better to press-cover a team's receivers in order to neutralize those quick throws. However, with the absence of Joe Haden, the Browns don't really have the ability to do that across the field.
Chris Tabor: C
Tabor's special teams' unit faltered in the first quarter, allowing 53 yards on two returns by Leodis McKelvin. Those returns both helped the Bills build a 14-0 lead as they scored touchdowns on both those plays.
Other than that, special teams were more or less a stalemate for much of the rest of the game. There isn't much more to say about Tabor's coaching other than he needs to improve schemes and lane responsibilities by either shaking up his personnel or coaching up his existing players and Reggie Hodges better.
Mike Hoag is a Breaking News Team writer with Bleacher Report and also covers the Cleveland Browns and the NFL for the site.
Keep Reading

Cleveland Browns: Like this team?