Steelers vs. Raiders: Week 3 Live Score, Highlights & Analysis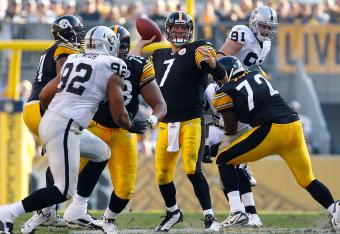 Jared Wickerham/Getty Images
Final Score: Oakland 34, Pittsburgh 31
The Pittsburgh Steelers (1-1) are in Oakland this afternoon, taking on the Raiders (0-2) in a game currently televised on CBS.
These two teams last played during the 2010 regular season. Pittsburgh won that November matchup 35-3 and have won four of the last seven games against Oakland. The Raiders lead the all-time series 13-12.
Keep tuned into this blog throughout the game for up to date scores, analysis and thoughts from around the web.
Follow me on Twitter: @nickdewitt11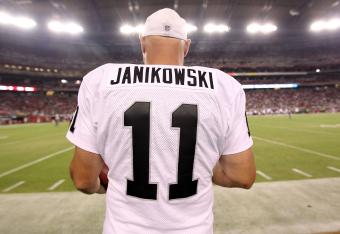 Raiders win on a Janikowski field goal. You can all take a moment to thank the Pittsburgh defense for one of the most abysmal efforts that I've ever seen in the entire NFL.
Stay tuned for winners and losers. I'm pretty sure you already can tell who's going to be on the unhappy end of that article. I'm never nice when I'm mad at this team and I'm livid right now.
Oh great, another injury for the defensive front. The Steelers can't afford that. They already can't stop anybody.
And it appears that Dick LeBeau and the defense are just fine with going into the bye week with a loss. If this were my team I'd be firing LeBeau and making him find his own way home.
If you think I'm overreacting, you need to watch last year's games all over again and then watch all three of this year's games too. The Steelers are 1-2 when their offense played 3-0 ball. What a shame.
The Raiders are about a yard shy of Janikowski's range. Anyone who thinks that the Steelers can prevent the Raiders from gaining yardage now can probably buy the Brooklyn Bridge for a very good price.
Yet another third down conversion by the Raiders. The Steelers are going to lose this game on defense. It's just that simple.
As much as I'd love to just say go for it, this time you have to punt the ball away and pray. Butler delivered a booming punt of 46 yards and the Raiders will have to go awhile to get into field goal range.
The problem is that a field goal this time ends the game.
I think Bob Pompeani has this one dead on the money. Tomlin is sending a message with that fourth down attempt.
Going for it on 4th also might have been vote of no confidence for defense.

— Bob Pompeani (@KDPomp) September 23, 2012
Well the Raiders obviously don't seem to understand the principle of running up the middle when you need a yard. You could see that play set up a mile and a half away.
If I were Mike Tomlin, I'd just go for it. At this point, it makes no sense to give the defense any chance to screw this up without seeing if Roethlisberger can pull it out.
Okay, maybe the plan should be not to throw the ball to either of the starting receivers. Jerricho Cotchery is the possession receiver. Maybe we should just throw it to him and let him possess the ball.
Willie Colon is healthy and causing the Steelers problems again. I liked it better when he was on the sidelines in street clothes.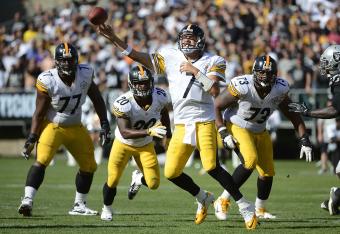 Okay. The new offensive strategy should be killing the clock and not throwing to Antonio Brown unless there's absolutely no way he can turn it over.
This drive needs to kill as much clock as possible and end with some kind of score. There's just no way the Steelers can give the ball back to Oakland without the lead. If they do, it's probably going to be a loss for them heading into the bye week.
Someone needs to tell Dick LeBeau that the bye week is next week. His defense doesn't seem to realize that yet.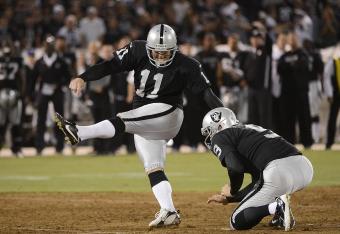 That was the first stop the Steelers have made before the line of scrimmage in this half of football I think. I'm not sure if that's completely accurate, but you get the point.
The Steelers followed it up by actually stopping the Raiders on third down too. Too bad that sequence didn't happen outside of Sebastian Janikowski's range, but I guess we should be glad that it happened before the end zone.
And now we're all tied up again. Back you, Ben Roethlisberger.
If you're looking for a big failing of this defense today, it shouldn't be hard to find about thirty, but their inability to stop the Raiders on third down has really, really been painful. They've done their worst work on third down.
This is probably too much to ask, but could the Steelers' defense possibly force a turnover of their own? Ryan Clark's interception seems like it happened about 60 years ago.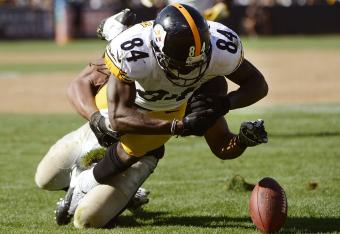 Antonio Brown might just have given the game to Oakland with his second fumble. Someone needs to teach the kid ball control again. That's just unbelievable.
This drive needs to cover the last 12:07 of the game and end with a touchdown so the defense can't give up any points after the final gun. They'd be able to do it if anyone is.
The Steelers offense deserves a victory. The Steelers defense deserves to lose. We'll see who wins out here.
I'm not trying to take anything away from the Raiders' offense, but an effective defense could silence them in a heartbeat. That happened two weeks in a row before Pittsburgh's swiss cheese curtain rolled into town.
So let me get this straight. The officials can't see two obvious personal foul penalties that could have ended seasons for two players, but a minute flinch by an interior lineman is plainly obvious to them?
I'm officially lost as to how these guys officiate any level of football.
And now we're back to the defense failing to stop anyone from doing anything positive with the football for the Raiders.
Bill Barnwell has it right. This hit marks the total failure of the replacement officials in this game to prevent players from getting seriously injured.
Refs in PIT-OAK have now failed to throw a flag on scary helmet-to-helmet hit on DHB and possible ACL-tearing dive at Roethlisberger's knee.

— Bill Barnwell (@billbarnwell) September 23, 2012
Great to see Heyward-Bey's thumbs up. I'm not a Raiders fan, but I will never, ever be happy to see anyone seriously hurt playing a game. Once again, shame on Ryan Mundy and shame on the replacement officials.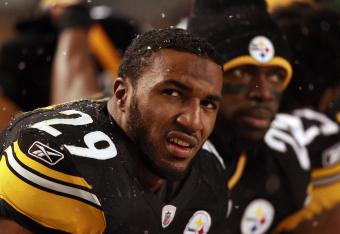 Mundy looks upset and he should. I'm not going to defend him. This isn't the first time he's launched himself at someone. This is simply the first time it's done serious damage to another player.
The league needs to fine him. The team needs to sit him. Until this young man learns a lesson about the right way to play football in the NFL, he doesn't need to be in a Pittsburgh uniform. Heck, he doesn't need to be in any uniform.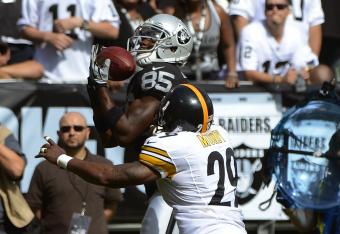 Mike Tomlin and Troy Polamalu are talking to Ryan Mundy right now. I'm not sure whether or not he intended to hit him that way or not, but you can't launch yourself at a guy. He could have badly hurt Keenan Lewis on that hit as well and he did injure Darrius Heyward-Bey.
I have never been a big fan of Mundy and this cements it. With Robert Golden present on the roster, I think it's time to see what he has. I don't want these dirty, senseless hits on my football team and I'm sure Mike Tomlin and his staff feel the same way.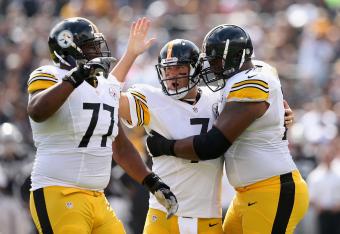 To lighten the mood, let's get a little humor at the expense of the collapsing Pittsburgh Pirates, the only Pittsburgh sports institution currently more inept on defense than the Steelers:
Big Ben has made more completions to second base this game than Barajas has made all season.

— jtkola™ (@jtkola) September 23, 2012
This article is
What is the duplicate article?
Why is this article offensive?
Where is this article plagiarized from?
Why is this article poorly edited?