New York Mets: Can Pitcher R.A. Dickey Knuckle His Way to Win Number 20?
Use your ← → (arrow) keys to browse more stories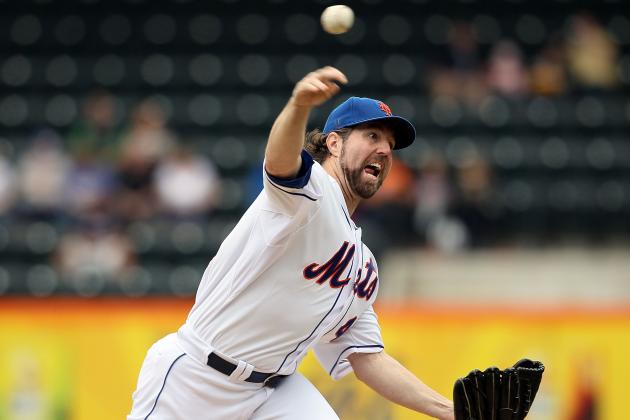 Alex Trautwig/Getty Images

There's a famous proverb that goes a little something like this:
"Every cloud has a silver lining."
I argue that the strongest testament to this quote is the New York Mets of the 2012 season. Well, it could just as easily be applied to any Mets team since 2007, but I prefer to not dwell on the dark days of the past of my team and focus more on the dark days of the present!
Nobody in their right mind picked the Metropolitans to have a decent season—even a .500 seemed like an impossibility. This was a team full of no-names, save the guy at third base and the pitcher by the name of Johan. The stars of yesteryear, Jose Reyes and Carlos Beltran, skipped town. The rotation and bullpen were in shambles. Only the bats of David Wright and Ike Davis seemed to be legitimate threats. Jason Bay is...Jason Bay. It was a team that seemed to be ripped straight out of the screenplay of Hollywood's newest sports comedy.
But of course the Mets wouldn't leave well enough alone. They did the impeccable. They were winning. The Amazins from Queens were playing great ball. They enjoyed a stay in first. They picked up the first no-hitter in franchise history. It was too good to be true. There had to be a catch.
And a catch there was. The Mets fell, or more accurately, crashed back to Earth. The losses began piling up once the All-Star break was over. Before the break, New York was 46-40. Now they sit at 68-83.
So, about that silver line I alluded to a while back. Yes, believe it or not, Mets fans can take solace in one player's performance this season: the knuckleball specialist R.A. Dickey.
Dickey picked up the W on Saturday, working eight innings plus and holding the Miami Marlins to two runs, striking out four. The Marlins mustered six hits off the right-hander, while the Mets offense and bullpen did an effective enough job to lock up the win—a rare sight in the second half of the season.
Jeff Zelevansky/Getty Images
It wasn't just an ordinary win on Saturday, though. Dickey's record improved to 19-6, putting him in position to become the club's first 20-game winner since Frank Viola in 1990.
The 2012 campaign has been Dickey's best of his career, and it couldn't have come at a better time in the 37-year-old's life. The knuckler's autobiography, "Wherever I Wind Up," was released earlier this year, detailing the struggles he faced in his childhood, including being a victim of sexual assault at a young age.
Yet the public knowledge of his dark past seemed to drive Dickey rather than distract him. He leads the National League with a 2.66 ERA and is one win behind the NL leader in Ws, Gio Gonzalez. He's having the season of a lifetime, one that has even thrown him into the Cy Young discussion. Whether or not the league would be willing to give the award highlighting the best pitchers in the league to a knuckleballer is a question still up in the air, but a 20-win season would certainly strengthen the argument.
But can he do it? Dickey has two starts left slated on the schedule, against Pittsburgh on Thursday and a start in the final series of the year at Miami. Dickey's only faced the Pirates once this year, picking up a victory in seven innings of work with 11 strikeouts. The sample size is small, and the Mets have been playing atrociously at home as of late, but Dickey has a good chance of treating the home crowd to win number 20, at least giving them something to smile about at the end of the year. Should Dickey lose or get a no-decision Thursday, his odds are favorable on his final start of the year. R.A. has dominated the Fish this season, improving to 5-0 with a 1.38 ERA in five starts. At the very least, Dickey should finish the year with 20 wins, possibly even 21.
The fate of his season doesn't rely on his hand but on the rest of the Mets. Whether or not their offense can muster enough power to support Dickey is a huge question mark—they've only scored more than three runs eight times this month. The other question mark is if the bullpen can protect a lead given to them. Frankly, I'm sure all Mets fans would like to see Dickey work a solid nine innings for victory number 20. He was on the verge of doing so today until he gave up two runs in the ninth, prompting Jon Rauch to come in to shut the door, which he did successfully, after giving up a run of his own. If Dickey is robbed of his 20th win because of inept offense or terrible relief pitching, Mets fans will be even more miserable.
I don't know if it's possible for us Metsies to feel even worse about our team this season, but I'm sure we could find a way. Here's hoping we won't need to find out.