Texans vs. Broncos: Live Game Grades and Player Analysis for Denver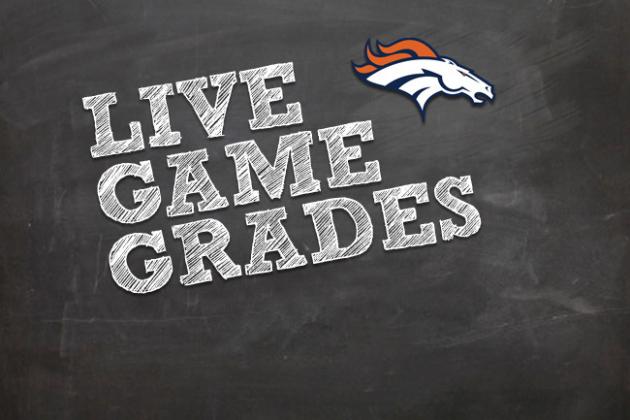 The game ends with the Houston Texans beating the Denver Broncos, 31-25.
Peyton Manning and his offense did everything in their power with only 20 seconds remaining on the clock. But they fell short on an attempt at a Mile High Miracle.
The ball changed hands four times on the final play before Houston's defense finally put a Bronco down on the field with possession of the ball.
The Broncos go into Week 4 with a 1-2 record on the season while the Texans remain undefeated.
Christopher Smith, Featured Columnist for Bleacher Report, Blogging Live from Dylan's Bar and Grill in Denver, Colorado.

Begin Slideshow

»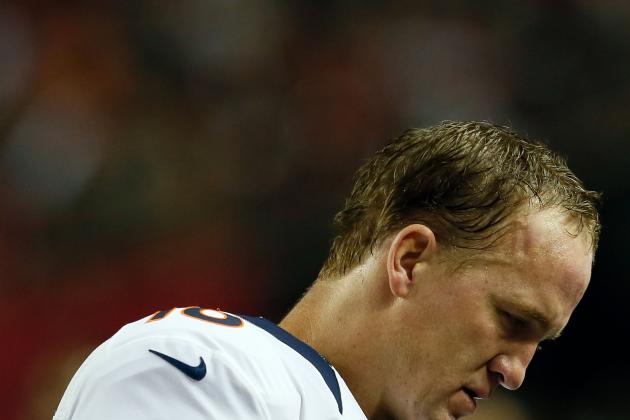 Kevin C. Cox/Getty Images

Fourth Quarter Game Grade: A
Peyton Manning finally began to play like a man with his last name in the fourth quarter.
He received some help from the officials and a lucky bounce in the endzone for a touchdown pass to Joel Dreesen.
Nevertheless, Manning finally got into his game and brought the Denver Broncos within six points of tying the Houston Texans late in the game.
With only 20 seconds remaining, Manning delivered the ball to his receiving corps in hopes of a miracle in Denver. The game ended immediately afterwards with the same score on the board.
Third Quarter Game Grade: D
Peyton Manning continues to play a below average game against the stifling Houston Texans defense.
He's not on key with his receivers, he's doing nothing to change the play at the line. Manning is simply taking the play calls and doing nothing with them.
It doesn't help that he's had hardly any support from his offense. And it certainly hurts his cause when the offense cannot keep from committing penalties. Manning's one decent play, a deep pass to Eric Decker, was called back on a holding call.
Second Quarter Game Grade: C+
Peyton Manning is still keeping the mistakes to a bare minimum, but he doesn't seem to be connecting with his receivers.
There's been miscommunications leaving balls floating into empty field near the endzone, and balls flipping off the finger-tips of receivers that weren't in the right position.
It's evident that Manning is still tweaking his game, and that his receivers are still learning how to best work with him on the field.
First Quarter Game Grade: C+
Peyton Manning started this game off in much better fashion than he began his affair in Atlanta in Week 2.
He has yet to turn over the ball, but also yet to make much of an impact for Denver's offense. He was able to lead the team within field goal range and give Matt Prater an opportunity to put three points on the board.
It's still too early to know if Manning will have a great game like his season premiere, or if this Sunday afternoon will look something like last Monday night.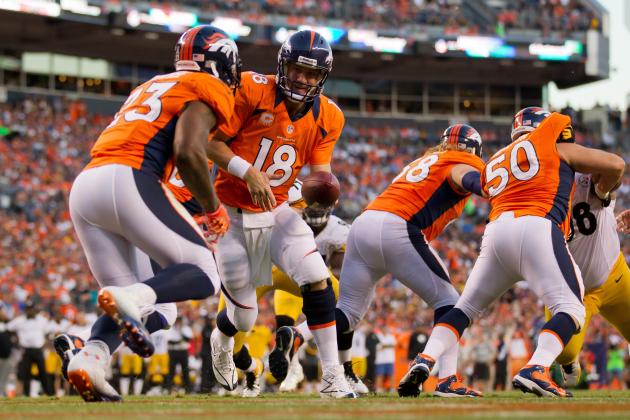 Justin Edmonds/Getty Images

Fourht Quarter Game Grade: A
As in the previous slide, the offense finally delivered in the fourth quarter.
Unfortunately, it wasn't enough. The Broncos receivers and running backs did a lot in the fourth quarter to bring their team back into the game.
Even more impressive, the penalties almost disappeared. It's hard to credit any unit for lack of penalties with replacement officials destroying the integrity of the game, but the mistakes were suddenly gone in the fourth.
This bodes well for the Broncos in what is quickly turning into an unexpected rebuilding season.
Third Quarter Game Grade: D
The Denver Broncos haven't done a thing to get themselves closer to Houston on the scoreboard in the third quarter.
The running game has vanished, the passing game is constantly negated by penalties, and they've accumulated absolutely zero yards. This offense is about as stale as they can be. There may be no hope left or this team in this game.
As the quarter was ending, Eric Decker caught a very impresive pass near the sidelines and followed it with a decent gain down the center of the field.
Following Decker's second gain, the replacement officials missed another penalty as Decker was hit late after hitting the ground.
It's yet to be seen if Decker's play will mean anything during the final fifteen minutes.
Second Quarter Game Grade: C+
Peyton Manning's not the only one playing an average game today for the Denver Broncos.
The running game is stale, the receivers are missing their routes and getting pushed around at the line, and Houston's defense is having a field day running through the offensive line and disrupting plays.
This, like the first fifteen minutes, was an average quarter by what appears to be an average team.
First Quarter Game Grade: C+
The offense for the Denver Broncos has been somewhat lackluster so far.
Peyton Manning managed a big passing play to Eric Decker late in the first to give Denver a shot at a field goal from Matt Prater.
Willis McGahee has been effective as usual, but hasn't broke very far out of the backfield. Lance Ball has been in to relieve him multiple times already.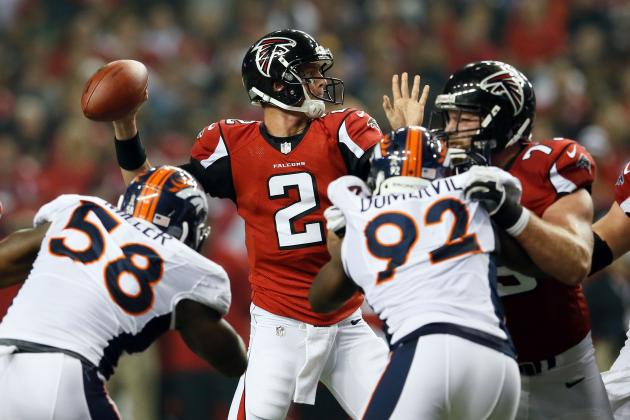 Kevin C. Cox/Getty Images

Fourth Quarter Game Grade: B+
The defense of the Denver Broncos could have earned an A in their effort on Sunday afternoon had they stopped the Houston Texans earlier on their final drive. Unfortunately or Denver, the defense came up a bit short and Matt Schaub shredded the secondary for a third down conversion to essentialy put the game away.
Third Quarter Game Grade: D
The Denver Broncos defense almost made a game of things when they started the quarter by knocking Matt Schaub senseless on two consecutive plays and forcing him to miss a play,
As the excitement died down, and Denver's offense continued to punt the ball back to Houston, the Texans returned to previous form and burned Denver's secondary for their fourth touchdown of the game.
Denver's defense is on point with their offense, which doesn't say much for the final quarter of play.
Second Quarter Game Grade: B

Until Jack Del Rio started screaming from the sidelines for his defense to cover their assignments, this Denver Broncos squad was running around the field confused and scared.
It doesn't seem that any of the Broncos defenders know what Matt Schaub and this Houston Texan offense is going to do.
Tracy Porter is no longer the only cornerback to get burned by Schaub and his receivers. Champ Bailey has joined the club, giving up a huge touchdown play to Kevin Walter.
It's hard to think that Porter would have had a batter chance against Walter than Bailey did, but it's odd to see the top cornerback for Denver suddenly covering the second receiver for Houston.
Denver needs pressure on Schaub immediately if they want to keep this game within reach going into the second half of play.
LATE UPDATE: Wesley Woodyard took an interception away with one hand to keep Houston from extending their lead with only 40 seconds left in the quarter. Instant grade improvement, and exactly what Denver needs to get back in this game.
First Quarter Game Grade: C+
At first, the Denver Broncos defense looked to be running an A+ game against the Houston Texans.
Houston's first play from scrimmage resulted in an Elvis Dumervil sack against Matt Schaub for a safety, and a quick two points for Denver to start the game.
Shortly afterwards, Houston answered as Schaub found Andre Johnson open behind Tracy Porter for a 60-yard touchdown pass and the lead.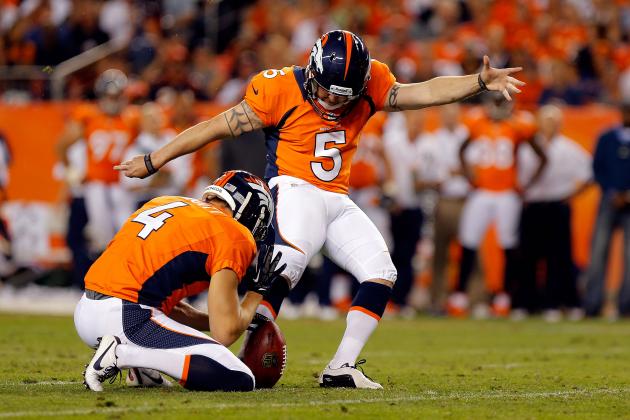 Doug Pensinger/Getty Images

Fourth Quarter Game Grade: D
The monotony of this Denver Broncos Special Teams unit is tiring.
The Special Teams was responsible for creating a spark on the final punt return of the game. However, Eric Decker coudl not stir a great return and put Denver in workable field position for their last drive.
I've said it before and I'll say it again, the Denver Broncos Special Teams needs to be really special really soon if they mean to make up for the basic mediocrity of the rest of the team.
Third Quarter Game Grade: D
Not only have the Denver Broncos Special Teams players done only what is required of them and nothing more, but now the punt coverage team has contributed to Denver's penalty yards.
Omar Bolden committed a fifteen yard penalty when he interfered with the punt returner beore the ball made it in.
Now there's three units on the field for Denver that are moving them backwards constantly.
Second Quarter Game Grade: A
Each and every week the story stays the same.
The Special Teams unit earns a passing grade for not messing up. But it's an A earned only by doing what is required and nothing else.
Matt Prater is doing his job, Britton Colquitt is punting well, and the coverage teams aren't giving up any exceptional gains.
Still, this is a boring unit. They need to put the plus at the end of their grade in the second half.
First Quarter Game Grade: A
As usual, Special Teams for the Denver Broncos is nothing special.
Matt Prater is 1/1 on his only attempt of the game.
The punt coverage team was able to pin Matt Schaub's offense behind their own five yard line, but it was for nothing after Schaub trekked right back down the field for a score.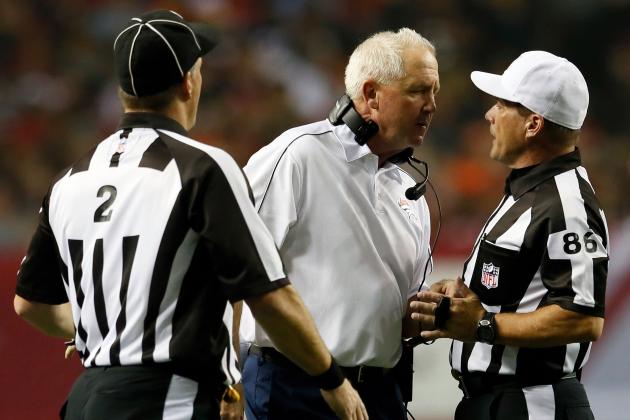 Kevin C. Cox/Getty Images

Fourth Quarter Game Grade: A
The fourth quarter was a great one for the main 22 players of the Denver Broncos.
A lot of the credit can go to the coaching staff for letting Peyton Manning take control of his offense, and for Jack Del Rio getting his defense into gear for the final half of the game.
It was a mostly absentee performance from the coaching staff on Sunday afternoon considering the lack of challenges, red flag or not. But they did their job in the fourth to get Denver within reach of the game.
Third Quarter Game Grade: C
In an effort to keep from saying the same things for three straight quarters I'll go ahead and pretend that the play-calling and coaching has gotten better in the third quarter.
But only for a moment. The drives are still stalling, the defense is still getting burned, and the game is getting further out of hand.
This game looks to be a learning experience not only for the players but for the coaches as well.
Second Quarter Game Grade: C
Another fifteen minutes passed, and another fifteen minutes without much of an appearance from John Fox on the sidelines for the Denver Broncos.
Jack Del Rio is doing his part and trying to get the defense to step up and play their game as it's designed.
Otherwise, it's been absentee coaching and poor play-calling for Denver or the day.
First Quarter Game Grade: C
Denver's head coach John Fox earns a C for the first quarter because it's hard to grade someone who's been almost invisible for the full fifteen minutes.
Even after what looked to be an obvious pass interference call on what could have been an easy touchdown for Denver, Fox seemed completely disconnected. There was no anger, no name-calling, no calls for an explanation. There was nothing.