UFC 152 Results: Memorable Quotes and Images from Jones vs. Belfort Fight Card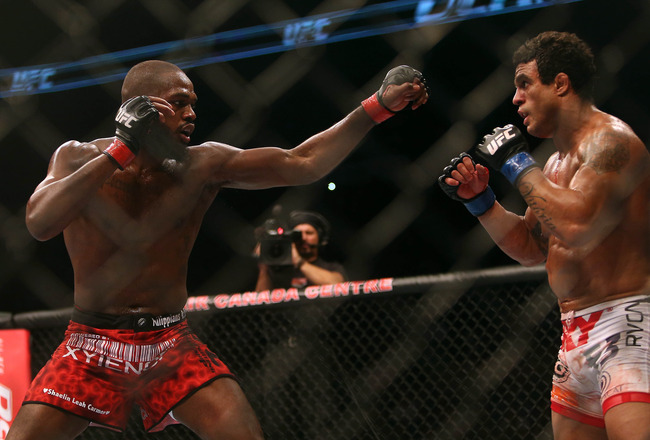 Tom Szczerbowski-US PRESSWIRE
If you slept on UFC 152 for any reason at all, you missed out. I understand many fans were pissed off at Jon Jones, but you know what, if you based your decision to not watch the fight card on your personal opinion of the man who was fighting on the top of the card, you made the wrong call.
UFC 152 was an exciting event. Sure, there were some slower moments, but, by and large, it was well worth the time, effort and cash to see. There were upsets, crazy finishes and a champ showing that he can work his way through adversity. Everything that would make an MMA fight card great took place inside the Air Canada Centre on Sept. 22.
What follows are memorable images and quotes from and about each of the fights on the UFC 152 fight card, and seriously, if you skipped this one, you made a mistake.
*all quotes provided by the UFC or gathered firsthand
Kyle Noke Stops Charlie Brenneman Early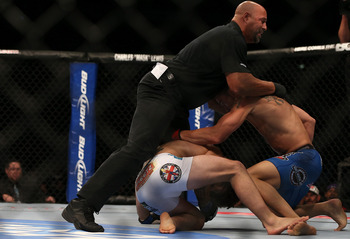 Josh Hedges/Zuffa LLC UFC via Getty Images
The first fight of the night set the tone for UFC 152, and if you weren't in your seat to see the start of the bout between Kyle Noke and Charlie Brenneman, you probably missed the entire 45-second fight.
Noke kept Brenneman at distance and landed a right that dropped Brenneman and brought the referee in for the stoppage. There was some talk that the end was premature, but to use a favorite saying of UFC president Dana White, "It is what it is" at this point.
Noke's take on the victory:
Charlie went down when I hit him and I couldn't see his face, so I can't really comment on the stoppage. I wasn't surprised he stopped it though.

I'm happy with the win. I worked hard and I felt like I was in the best condition of my life. I train with some of the best guys in the world and I felt completely prepared to go three rounds. It just so happens that it was a short night.
Mitch Gagnon Subs Walel Watson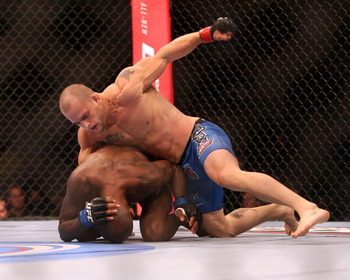 Tom Szczerbowski-US PRESSWIRE
The second fight on the Facebook preliminary card lasted a little longer than the first but not by much.
Mitch Gagnon, much to the delight of the Toronto crowd, landed a perfectly timed counter left to the jaw of Watson and dropped him. From there, Gagnon's ground and pound softened Watson up for the rear-naked choke submission.
Gagnon had the following to say after the fight:
I specifically practiced that left hook counter and I was able to execute it perfectly. I wanted to bait him in with kicks to change it up so that I would have an opportunity to throw it and he opened up for it. I'm very glad to be healthy and I want to keep this streak rolling. I'd love to fight in Montreal and give the fans another great performance.



Seth Baczynski Drops Simeon Thoresen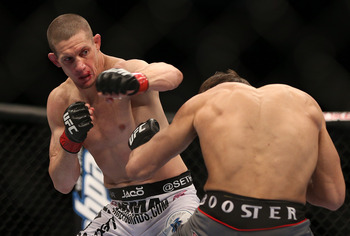 Josh Hedges/Zuffa LLC UFC via Getty Images
This was another Facebook preliminary fight and another first-round stoppage. This time, Seth Baczynski dropped Simeon Thoresen.
The end came seconds after UFC announcers Joe Rogan and Mike Goldberg remarked that Baczynski was having a tough time landing his punches.
Baczynski agreed with Rogan and Goldberg, saying:
I had a really hard time finding my range out there. He has long arms and he's much quicker than I anticipated so I just tried to bide my time and place the right shots. I was able to feel him out after the first few minutes and luckily I slipped that shot and was able to connect when he didn't expect it.
Marcus Brimage Ends Jimy Hettes' Unbeaten Streak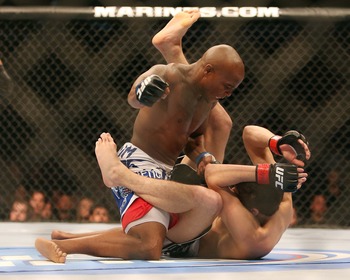 Tom Szczerbowski-US PRESSWIRE
Jimy Hettes saw a 10-fight winning streak come to an end at UFC 152. It was a bizarre performance by Hettes. He seemed to be content to fight with his hands down and take punch after punch from Brimage, and that's what won the fight for Brimage.
The win will move Brimage up the rankings and should serve as a lesson for Hettes. If Hettes wants to compete against top-level featherweights, he is going to need to fight a little smarter and not rely on toughness.
After the fight, the two competitors sounded off:
Brimage:
I was hoping I could knock him out in the first but it went the distance. I think I wasted a little too much energy trying to finish early on in the fight so I wasn't very confident going into the third. Big thanks to Charles McCarthy jiu jitsu and American Top Team for giving me the training to survive Hettes' submission attempts. Glad I got the win and ready to get back in there soon.
Hettes:
Stand up was his game and I couldn't get him to the ground so I think I deserved the loss. Not taking anything away from him but I knew that if I got it to the floor I would win the fight and I wasn't able to do that.
Sean Pierson Tops Lance Benoist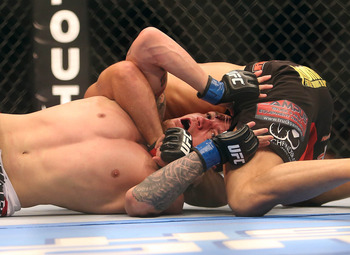 Tom Szczerbowski-US PRESSWIRE
This was an exciting fight that was highlighted by the Toronto crowds very vocal support of Sean Pierson, as well as the late third-round comeback from Lance Benoist who had some thinking the fight could have been stopped in his favor.
In the end, the decision went to Pierson, giving him two straight wins in the UFC.
Pierson spoke about the victory:
Lance is a really tough kid and he gave me a lot of trouble out there. I thought I edged the first two rounds but he hurt me pretty bad in the third and I just went into survival mode. I was fighting purely on instincts at the end there and he did really well trying to get the finish. Just glad I was able to hold out and get the win.
TJ Grant and Evan Dunham Rightfully Win Fight of the Night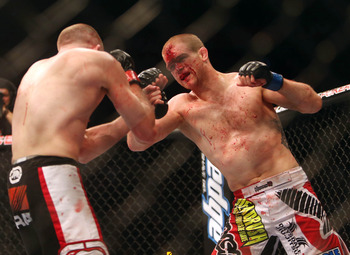 Tom Szczerbowski-US PRESSWIRE
Sometimes, fight fans love technical bouts. The fight between TJ Grant and Evan Dunham was not one of those fights. Instead, it was a toe-to-toe scrap that left the mat looking like it had been used in an abattoir at some point.
Following the fight, which was bumped from the pay-per-view to accommodate the Jon Jones versus Vitor Belfort bout, the fighters spoke about the "Fight of the Night."
Grant:
I feel awesome after that. It was a taxing fight on both of us and we each did a lot of damage to one another. I think I had an edge in the exchanges and I definitely landed more body shots than Evan did. I don't ever plan to take punishment going into a fight but as soon as I found out who I was fighting I knew it was going to be a hard fight. My father passed away on June 4th and I'd like to dedicate this win to him. We all love you dad.
Dunham:

I thought it was a ridiculous decision. He cut me with one good knee but I think we were even on the exchanges and I took him down in every round. I didn't just hold him in the guard. I was attacking at every chance I had. He's got great jiu-jitsu and he avoided a lot but the takedowns should've won it for me. Their decision was based on one cut.
Vinny Magalhaes Makes His Return to the UFC Count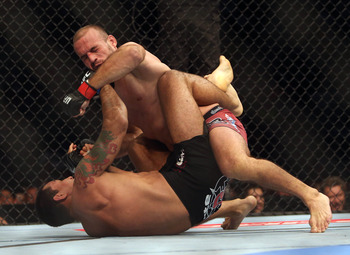 Tom Szczerbowski-US PRESSWIRE
Vinny Magalhaes had a short run in the UFC back in 2008-09, losing in the finale of Season 8 of The Ultimate Fighter and then dropping a decision to Eliot Marshall. Following his departure from the promotion, he went 7-1, capturing the M1 Global light heavyweight title and defending it once before signing back on with the UFC.
Magalhaes' return set the blueprint for his future opponents, and that lesson was: don't even think about taking the fight to the ground.
Magalhaes:
This is just the first step on the road to the title for me. I think being dropped from the UFC is the best thing that happened to me because I wasn't ready for this back then. I was calm tonight and I didn't have any of the nerves that I had the first time I stepped in the octagon. So this was my first real UFC fight as far as I'm concerned. I've always known that when I get guys to the ground I can quickly finish almost everyone in my division. My UFC record in 1-2 now so I'd like to build from here and keep the winning streak going.

Igor Pokrajac, "We obviously knew how great his jiu-jitsu is. I just got lazy and got caught."
Cub Swanson with Knockout of the Night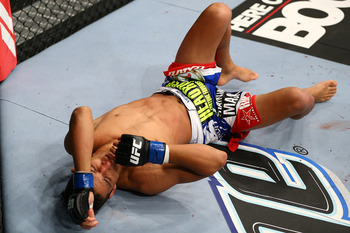 Al Bello/Zuffa LLC UFC via Getty Images
Bizarre would be one way to describe Cub Swanson's knockout of Charles Oliveira at UFC 152. In fact, any number of adjectives could be used to describe the finish of that bout.
Swanson delivered a left to the body that looked like it had Oliveira hurt. He then followed that with a right to the head that took a few seconds to register, but when it did, Oliveira's brain said, "oh, that's it" and down he went.
Swanson spoke about the knockout:

I've never seen a guy fall like that in an actual fight. Sometimes in practice with big gloves you'll see delayed reactions to punches but not like that. At first I thought he was just hurt and that he might've broken his orbital bone or something so I was hesitant to go in and attack right away. I think that believing in my abilities and having some ups and downs have helped me become a better fighter. It's easy when you're on a streak but coming back from adversity is what it's about.


Matt Hamill Gets a Win in His Return to the Octagon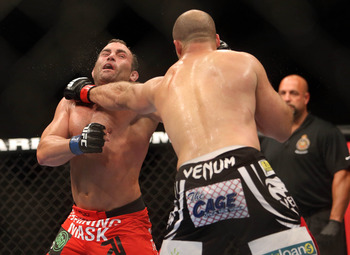 Tom Szczerbowski-US PRESSWIRE
It wasn't the prettiest fight on the UFC 152 fight card, but Matt Hamill was able to get the win after coming out of retirement to fight Roger Hollett. Let's blame ring rust and hope that Hamill uses the win as a stepping stone to look better in his next outing.
Hamill on his comeback victory:

I've had such a long layoff since my retirement so I definitely looked a little rusty out there. I got the W and that's the most important thing but I was not happy with my performance. It's a long story why I decided to come back but to put it simply I didn't want to look back ten years from now and have any regrets. So now it's one thing at a time and one fight at a time while I climb back up the ladder.



Michael Bisping Gets Win over Brian Stann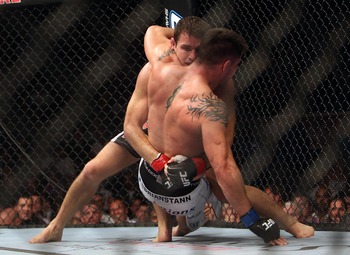 Tom Szczerbowski-US PRESSWIRE
Michael Bisping has been telling anyone who will listen that he wants a shot at UFC middleweight champion Anderson Silva, and he may have a case.
He's been around the UFC for a while, he has name recognition, he can sell a fight with the best of them and he looked pretty impressive at UFC 152 en route to defeating Brian Stann.
After the win, Bisping again asked for a shot at Silva's crown:
I want to fight for the title. I've been winning fights impressively and I'm a big draw. I was happy with my performance but it could've been better. I could've stopped him and not gotten caught hard in the first round. I was faster to the punch, a better wrestler, and I felt stronger. I knew I won the fight because rounds two and three were clearly mine. The judges definitely made the right call. I really enjoyed promoting the fight with Brian and wish him all the best. Who knows, maybe we can get a beer together after this.
Demetrious Johnson Becomes the First UFC Flyweight Champion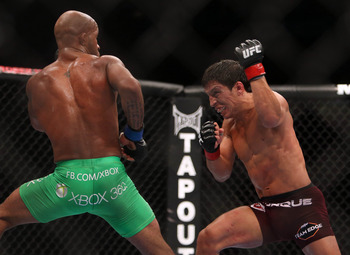 Tom Szczerbowski-US PRESSWIRE
The co-main event at UFC 152, a bout between Joseph Benavidez and Demetrious Johnson, decided the first UFC flyweight champion.
After five rounds, the belt was strapped around Johnson's waist. Some fans loved the fight; some fans hated the fight. One fan who loved the fight was UFC president Dana White who expressed the following sentiment at the post-fight press conference:
Let me tell you what: If you didn't like that flyweight fight, please, I'm begging you, don't ever buy another UFC pay-per-view again. Don't ever buy another one. I don't want your money. You're a moron, you don't like fighting and you don't appreciate great talent or heart if you didn't like that flyweight fight.
Jon Jones Survives a Scare in the Main Event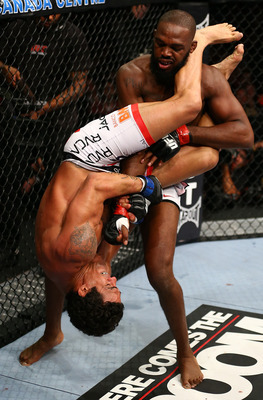 Al Bello/Zuffa LLC UFC via Getty Images
Face it, almost no one expected the UFC 152 main event between Jon Jones and Vitor Belfort to leave the first round. The popular opinion was that Jones was going to walk through Belfort, and that was going to be that.
That outcome did not come to pass. In fact, it looked like we were very close to seeing one of the biggest upsets in UFC history when Belfort slapped an armbar on Jones and held on for dear life as the champ tried to shake Belfort loose.
Jones eventually did break free form the hold, and after that, pretty much cruised to victory, gaining a fourth-round submission of his own.
At the post-fight press conference, Jones did acknowledge that, while Belfort was cranking on the armbar, the thought of losing his title did cross his mind:
I felt as if there was a point where I don't think physically he could have extended it even more. I mean, it was popping, and I felt after 25 years that I've never felt that feeling before. I just came to terms with what was going to happen, just thinking, "Man, I can't believe I'm getting ready to lose this way."
Keep Reading