Arizona vs. Oregon: Live Scores, Analysis and Results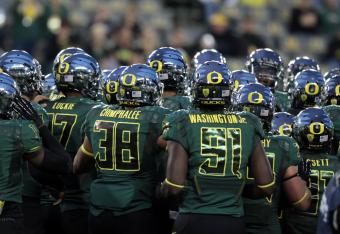 Oregon 49 Arizona 0, Final
Beware the Ducks. Chip Kelly and his crew were nothing short of stellar tonight, as they kept Arizona to a shutout. While favored by 23 going into the matchup, there were still a lot of questions as to whether or not the Ducks were really that good.
Needless to say, they are that good.
Arizona fought an uphill battle against the red zone where they went 0-6. Plenty of opportunities wasted. While the Wildcats were not able to keep up with the Ducks, it doesn't mean they didn't play well. Had they been able to convert in the red zone, it could have been a much different ball game. However, it wasn't and Oregon showed just what they are made of.
At the beginning of the season, many said the Pac-12 would have a team able to beat the SEC for a national championship. The difference is that at that time, they were referring to USC.
Move over, Trojans. The Ducks have arrived.
The game may be over, but feel free to post your thoughts in the comments below. How did you feel about Oregon's performance? What about Arizona's?
Share away!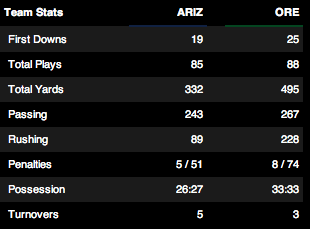 Game Stats, via ESPN.com.
Well, that's all she wrote, folks.
Oregon 49, Arizona 0 Final
"They're young, they're fast, they're talented." - Excellent way of putting it.
Arizona wasn't terrible in this game and I think it's important to point that out. Oregon is just a phenomenal team all around. Tough to compete with this group.
Do it for us all. Please.
Just kneel, Arizona.

— Tom Fornelli (@TomFornelli) September 23, 2012
I can't keep up. Troy Hill with a pick 6.
Oregon 49, Arizona 0
Bryan Bennett takes the ball into the endzone for the Ducks.
Oregon 42, Arizona 0
If the ESPN announcers are going to bring it up, we might as well check it out. Colt Lyerla high jumping.
That was a pretty stiff arm. Colt Lyerla executed that perfectly.
They have to be close.
Wondering what the record is for most trips to the red zone without a single point. 0-for-6 for Zona has to be well on the way.

— Travis Haney (@TravHaneyESPN) September 23, 2012

ESPN thinks it's still daytime in Eugene according to their weather.
Oh.
Is Arizona 0/6 in the red zone? They are the new Notre Dame.

— Brett (@BLeez17) September 23, 2012
The yellow line says Arizona is short. Is the yellow line right?
Yes, yes it is. The red zone curse strikes again. Six times in the red zone and nothing. Nothing at all!
Anyone have more Rich Rodriquez screenshots?
David Richards on the slant. Arizona back in the red zone.
Arizona's Trace Biskin appears to be hurt but up and walking on his own. Good sign.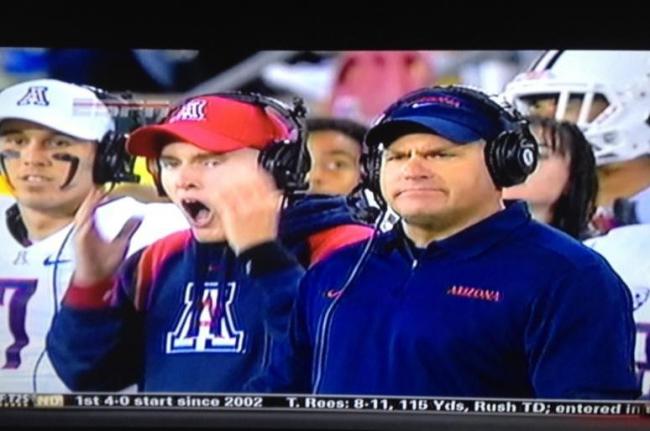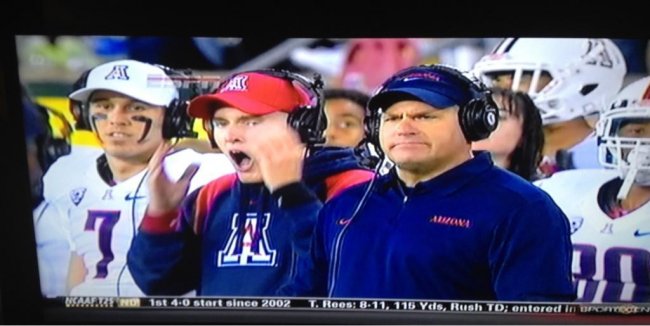 Rich Rodriguez is not happy.
Oh. I spoke too soon. Matt Scott actually intercepted. Second pick tonight for Ifo Ekpre-Olomu.
Oregon 35, Arizona 0
Matt Scott almost intercepted... again.
Is it too soon to bet on Oregon as the 2012 Pac-12 champs?
I told you before season started that Oregon might be the best team in the country. Not because of O, but b/c Chip Kelly finally has a D.

— Adam Hoge (@AdamHogeCBS) September 23, 2012
Wow - Touchdown Oregon. True freshman Bralon Addison takes the ball into the endzone.
Oregon 28, Arizona 0
Is this game over?
Just like that - Oregon intercepts the ball. Forget the Sports Illustrated curse, the red zone curse lives.
Finger pointing, bad snaps and a false start. Eeeesh.
Fumbled and recovered by Arizona. Is the red zone cursed for them or what?
Back in the red zone for Arizona...
This article is
What is the duplicate article?
Why is this article offensive?
Where is this article plagiarized from?
Why is this article poorly edited?