Philadelphia Eagles vs. Arizona Cardinals: Live Score and Analysis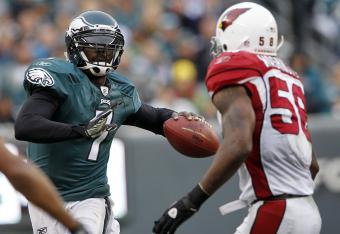 Rich Schultz/Getty Images
The Cardinals score again, on a Jay Feeley field goal, on a drive where they really just wanted to kill the clock.
Keep it here for all the updates and analysis.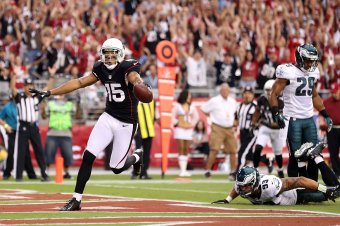 Christian Petersen/Getty Images
The Arizona Cardinals are a legit 3-0 team and they owe it all to Ray Horton and Kevin Kolb. Horton, the Cardinals defensive coordinator, has been masterful with his unit. He has held the Seahawks, Patriots and Eagles all under 20 points each. They now have sole possession of the lead in the NFC West.
The Eagles are an interesting 2-1 team. Are they about to collapse like they did last season? Or was this just one bad game against a very good team? Their next two opponents are the New York Giants and the Pittsburgh Steelers. If they are going to collapse, now would be the time. If they get past this stretch with a 4-1 record, this loss will be pretty forgettable.
This game reminds me a lot of the loss the Eagles suffered to the Pittsburgh Steelers in 2004. They lost to the Steelers 27-3 in Pittsburgh in the eight game in the season, only to win the next six games before clinching home field advantage in the playoffs.
This time the Eagles go five and out, with one 16 yard completion and four incomplete passes. Michael Vick looks terrible today. Ray Horton might get a head coaching job from this game along.
In 2010 the Eagles lost to a quarterback Andy Reid had recently traded away early in the season, only to come back strong and make the playoffs while the other team(Dononvan McNabb's Redskins) fell apart later in the season.
An obvious horse-collar tackle there by Jason Babin missed by the refs. Once of the few breaks the Eagles have received today.
Ryan Williams converts a third and very long. This isn't going to end well for Eagles' fans. I fully expect a 31-13 type of finish. To top it all off, Dominique Rodgers-Cromartie knocks Michael Floyd down after a two yard loss on the next play.
The Eagles are forced to punt on a 4th and 29 after Vick committs an intential grounding penalty. To make matters worse, Eagles long snapper Jon Dorenbos limped off the field and seemed to be in a lot of pain. Still a 18 point game with 10 minutes to go.
Arizona challenging a three yard pass completion on a second and 10 that would of made it a third and 7. Weird challenge.
The blitz gets the best of the Eagles again, but they were at least in field goal range. Interesing that the Eagles decide to kick another field as they were down 21 at the end of the third quarter. Now down 24-6. That play at the end of the half that was a 10 point turnaround is huge right now.
The Eagles are getting killed off the left side as Daryl Washington brings Vick down for another sack. When is Andy Reid going to use Clay Harbor for extra protection on that side next to Demetress Bell.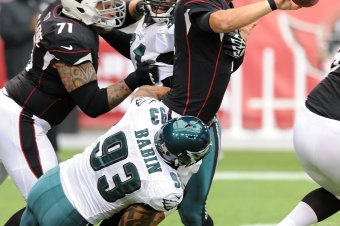 Norm Hall/Getty Images
And now the Eagles defense wakes up with a quick three and out that ends with a Jason Babin sack. Eagles finally have good field position just behind mid-field.
Eagles wide receivers can't get open on a critical third down, but they do settle for a Alex Henery field goal.
Marty Mornhinweg has been listening to somebody,whether it was the fans or just Andy Reid getting in his ear. The Eagles have been very balanced on this current drive. On this current drive the Eagles have run it six times and passed it four.
The Cardinals have a nice first drive that again ends with them pinning the Eagles deep in their own territory. Eagles need a touchdown here to try and turn momentum around. It just feels like they are hanging on by a thread. Arizona in complete control.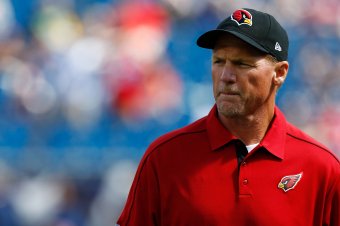 Jared Wickerham/Getty Images
It's been a tale of two teams going in completely different directions in this game. Arizona is well coached, takes care of the football and is taking what the defense gives them. Philadelphia is sloppy, has no fundamentals right now and is forcing everything.
Philadelphia has the offense to score points in a hurry, but they have to start executing a lot better than this. Arizona probably went into the locker room with very few adjustments to make. Coach Whisenhunt probably went into the locker room, said "keep up the good work" and went back onto the field.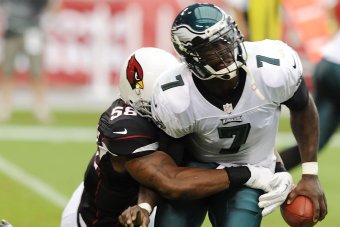 Norm Hall/Getty Images
Vick gets hit from behind and James Sanders scoops it up for a touchdown. Cardinals will take a 24-0 halftime lead and get the ball back to start the second half. What I don't understand is why Vick was working out of the shotgun on that final play with just six second left. Running that play under center takes longer, which is risky for two reasons. One, it gives the defense more time to get after Vick and two, it takes longer which can result in the end of the half instead of at least a field goal there. Just a pitiful end of the first half for Philly. Arizona has just dominated this game.
Michael Vick finally wakes up as he has made clutch throw after clutch throw as the Eagles are down at the Cardinals two yard line. No timeouts left with 16 seconds left.
A sack on second down forced the Cardinals in a third and long which forces a punt on fourth down. Punt goes in the end zone for a touch back. Eagles take over at their own 20 with just over two minutes to go in the first half. Huge possession for the Eagles.
The Eagles have to shadow Fitzgerald with two players and a safety over the top. He is almost over 100 yards already with one 37 yard touchdown. He could win this one by himself.
Kevin Kolb has completed 11 out of 16 passes for 162 yards and two touchdowns.
Take away Vick's 34 yard completion to Celek earlier in the game and he has completed just 2 out of 9 passes for 24 yards and a lost fumble.
The Eagles have completely reverted to their 2011 form. Defensive backs aren't on the same page, DeSean Jackson is whining and Michael Vick has no rythm with this offense. I don't see how the Eagles get out of here with less than a 30 point less. Credit the Cardinals coaching staff. They are making Andy Reid's staff look stupid right now.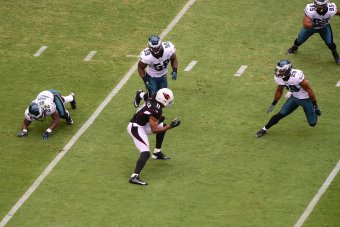 Jennifer Stewart-US PRESSWIRE
Larry Fitzgerald beats Nnamdi Asomugha deep for a 37 yard touchdown. Nnamdi was pressing Fitzgerald and got beat, while Nate Allen was nowhere to be found. 17-0 Cardinals.
The Eagles have another three and out. The offense is predictable. Vick is either going to chuck it deep or run around and take an unnecessary hit. Absolutely no desire to run the ball by the Eagles. Sometimes you run the ball just to keep the defense honest, even when you aren't getting the yards.
Eagles elect to keep Damaris Johnson back on punt returns...he calls for a fair catch at the Eagles 9 yard line.
This article is
What is the duplicate article?
Why is this article offensive?
Where is this article plagiarized from?
Why is this article poorly edited?