NFL Week 4: A Baker's Dozen Worth of Bold Predictions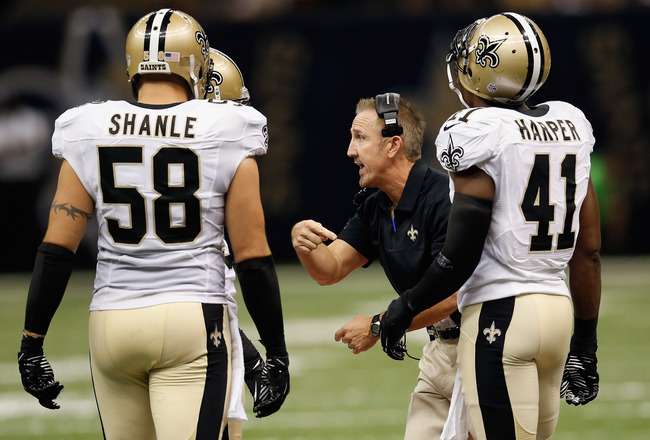 Will the Saints finally break into the win column this week?
Chris Graythen/Getty Images
After three weeks in the NFL, who could have predicted that the Arizona Cardinals would be 3-0 for the first time in nearly four decades?
How about that the Houston Texans would be off to their best start in franchise history?
And who would have guessed that the Saints would be one of only two winless teams and would have lost as many games in the first three weeks of 2012 as they did the previous year?
It's why we love this league, and why it's so difficult to predict what will happen next.
Not that I won't continue to try to in the upcoming slides.
Falcons 31, Panthers Something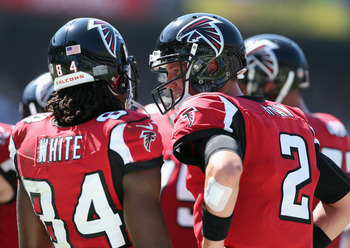 Jeff Gross/Getty Images
The 3-0 Falcons are off to their best start since 2004, a season that ended one game short of the Super Bowl.
That also marked the last time the franchise won a postseason game, a 47-17 conquest of the Rams in the NFC divisional playoffs.
Atlanta's start came at the expense of the AFC West, as Mike Smith's team swept through the Chiefs, Broncos and Chargers.
Now Cam Newton and Co., an NFC South rival, come to town.
The efficient Falcons are already plus-10 in turnover differential after coughing up the ball once in three games. The last time we saw the Panthers, they were committing five turnovers in that 36-7 Thursday night home loss to the Giants.
But most importantly, Matt Ryan and his gang have beaten Carolina four straight times and scored exactly 31 points in each of those contests.
So book it. Mike Smith's team hangs 31 on the Panthers.
Now let's see if the Atlanta defense continues its opportunistic play, or does Newton rebound from his not-ready-for-prime-time performance?
No Ordinary Joe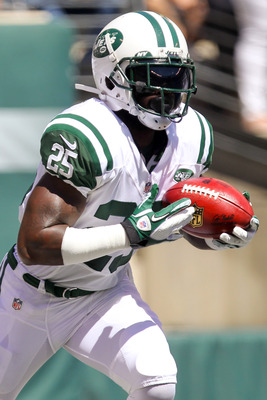 Ed Mulholland-US PRESSWIRE
The impact of the loss of perennial Pro Bowl cornerback Darrelle Revis on Rex Ryan's team can't be understated, so we won't try.
But the reality is that the shutdown corner won't be patrolling the Jets secondary, and opponents will be looking to take advantage early and often.
Enter Joe McKnight.
The backup running back who is the team leader in kickoff returns will now shift to the secondary.
Yes, Kyle Wilson and Antonio Cromartie are the starting corners, but you'll be hearing some cheers on Sunday when the speedy McKnight picks off 49ers quarterback Alex Smith and takes it the distance for a score.
You read it here first. Of course, let's see if it's the only touchdown Ryan's team manages against a Niners team still stinging from last week's loss at Minnesota.
Another Long Day in Tampa? Maybe Not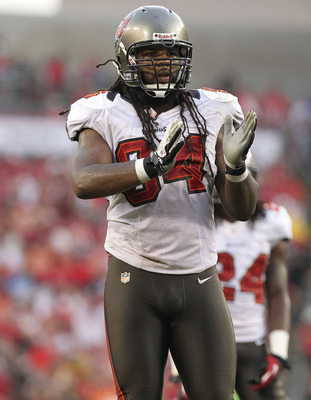 Kim Klement-US PRESSWIRE
After a promising opening Sunday, it's been a rough few weeks for the Redskins.
While rookie Robert Griffin III has had his expected good and bad moments, it's the inability of Mike Shanahan's club to stop anyone that has raised an eyebrow or two.
Washington has allowed 101 points in three games, surrendering 11 offensive touchdowns (10 through the air).
It looks like it will be more of the same Sunday in Tampa, which is not the team's favorite place to play. In their last 10 visits, the Burgundy and Gold are 2-8. Of course, that includes that memorable loss to the Raiders in Super Bowl XVIII.
Under normal circumstances, that record would figure to fall to 2-9 on Sunday. But as Buccaneers coach Greg Schiano says, the game isn't over until the final whistle blows.
So...
By the 'Skin(s)…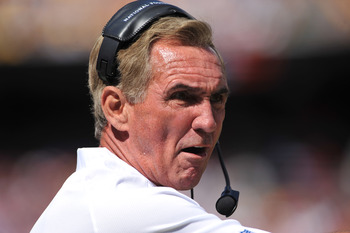 Larry French/Getty Images
Somehow you knew this was going to happen.
As we know all too well, Greg Schiano and his team play to the whistle. We found that out on the final play of a frustrating 41-34 loss to the Giants in New Jersey when the Tampa defense made the victory formation something more than a formality. Before Eli Manning knew it, he was picking himself off the turf after kneeling down to preserve that seven-point win.
Last week at Dallas, the Buccaneers trailed 16-10 in the closing seconds, and Schiano's club was at it again. There were three kneel-downs by Tony Romo and three attempts by the Bucs to make something happen. At least there were no surprises this time around.
Until now.
With Josh Freeman and his team nursing a 26-20 lead over the 'Skins in the closing minute, the Tampa quarterback will take a snap and take a knee. But Redskins linebacker London Fletcher will crash through the line and recover the ensuing fumble.
Three plays later, Griffin will find Leonard Hankerson in the back of the end zone for a score, and Billy Cundiff's PAT will give Washington the 27-26 win.
Hey, Tampa is not such a bad place for the Redskins after all.
Charles in Charge(rs)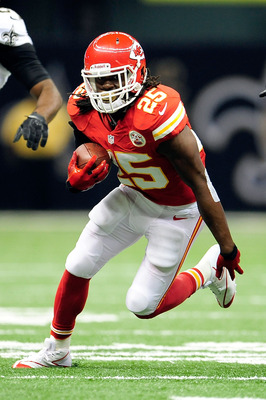 Stacy Revere/Getty Images
It was great to see one of the league's premier runners look like his Pro Bowl self last Sunday.
Somewhat lost in the Chiefs' comeback overtime win against the Saints at the Superdome was the performance of Jamaal Charles. Lost in the sense that we may forget that a little more than a year ago, the explosive runner was lost for the season after injuring his knee in Week 2 at Detroit.
But he looked healthy against the Saints, rumbling for 233 yards on 33 carries, including an electrifying 91-yard touchdown run that jump-started Kansas City's comeback from a 24-6 deficit.
This week could be a different story, however, as the Chargers come to town. Only three teams have given up fewer rushing yards than the Bolts, who have surrendered 31 fewer yards on the ground in three games (202) than Charles managed at New Orleans.
But that changes this week. It says here that the Chiefs back hangs a double c-note on San Diego, which plays a game outside of California for the first time this season.
And that forgettable 0-2 start by Romeo Crennel's club will be long forgotten.
It Was a Brees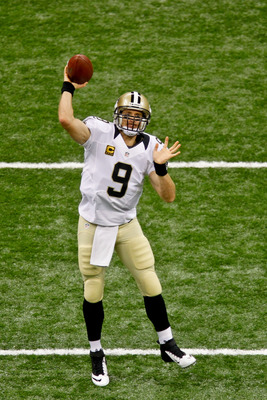 Derick E. Hingle-US PRESSWIRE
It went somewhat unnoticed last week, but Drew Brees only threw for 240 yards in an overtime loss to the Chiefs.
The performance ended his NFL-record streak of nine straight 300-yard passing performances, which dated back to 2011.
But while personal accolades may be the last thing on his mind, Brees has an opportunity to tie one of the NFL's most fabled records by throwing a touchdown pass Sunday at Lambeau Field. It would extend his consecutive streak of games with a scoring toss to 47, tying Johnny Unitas' mark.
Brees will not only make history, but he will also come up with the unlikeliest of plays, a "Hail Mary" pass to the left corner of the end zone that is snared by tight end Jimmy Graham to give the Saints their first victory of the season, 20-16.
But…
Upon Further Review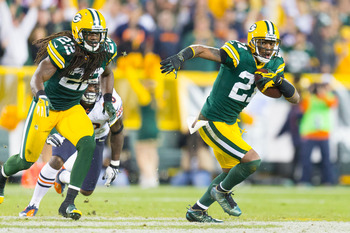 Jeff Hanisch-US PRESSWIRE
A funny thing happened on the way to New Orleans and Green Bay being 1-3 four weeks into the season.
When last we left Drew Brees, he was lofting the game-winning touchdown pass to Jimmy Graham to give his team its first victory of 2012.
Or so we thought. Apparently, when the Pro Bowl tight end leaped to grab Brees' pass, a closer look showed that the ball was actually knocked out of his hands by safety Charles Woodson before he touched down in the end zone.
Linebacker A.J. Hawk grabbed the deflection. Not only did that preserve Green Bay's 16-13 win, but it also put an end to Brees' 46-game streak of throwing a touchdown pass, one short of the NFL record held by Hall of Fame quarterback Johnny Unitas
You know the old saying (kind of). Turnover is fair play.
Chuckle if you will, but stranger things have happened.
Just ask the Packers.
What's in a Number?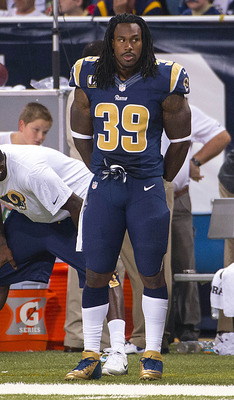 Scott Rovak-US PRESSWIRE
All references to final plays aside, you have to give credit where credit is due.
Even if the outcome of Monday night's Packers-Seahawks tilt had been different, Pete Carroll's team still would have held the high-powered Packers to 12 points in a five-point defeat.
Defense is the name of the game in Seattle these days. Not to take anything away from the play of rookie quarterback Russell Wilson, but those guys in the new unis have it going on when it comes to stopping the opposition.
It's early, but the 'Hawks have allowed a league-low 39 points in three games. They have allowed a total of 176 yards rushing in their 2-1 start, and we all saw what that pass rush was capable of on Monday night.
But coming off such an unlikely win and a short week, Carroll's club may be in for a letdown when it heads to St. Louis on Sunday.
Look for the No. 39 to play a big part in a Rams' victory as that aggressive Seattle defense focuses a bit too much on Sam Bradford and not enough on running back Steven Jackson.
It's going to be a fun year in the NFC West.
For the Record…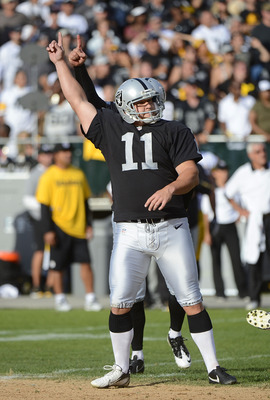 Thearon W. Henderson/Getty Images
It used to be that kicking a 63-yard field goal was a marvel. Apparently, it's just routine these days.
For the second straight year on the opening week of the season, a specialist has tied the NFL record for the longest field goal. Last season on a Monday night at Denver, Raiders kicker Sebastian Janikowski managed the feat. Three weeks ago at Lambeau Field, 49ers Pro Bowler Davis Akers duplicated that effort.
Janikowski returns to the Mile High City off his team's first victory of the season, a 34-31 surprise of the Steelers, thanks to a 43-yard field goal on the final play of the game.
As we have seen over the last few years, Janikowski has missed several long field-goal attempts, especially at the end of the first half.
But not this time.
In the closing seconds before intermission during this week's tilt in Denver, the former first-round pick will give it his all and connect on a 65-yard field goal as time expires.
Alas, it will come in a losing effort to Peyton Manning and Co.
On Pace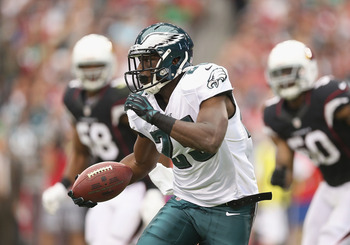 Christian Petersen/Getty Images
You have heard all the numbers because they're hard to ignore. Despite a 2-1 record, the Eagles have had a few problems hanging on to the football.
After three games, these Birds have coughed up the ball a dozen times. That's as often as the rest of the division brethren—the Cowboys, Giants and Redskins—have managed combined.
Speaking of the defending Super Bowl champions, the Giants arrive for a Sunday night tilt and should expect no brotherly love from the Birds, who are still smarting from a 27-6 loss at Arizona.
In that game, the Eagles committed three more turnovers. But that was better than the five they had at Cleveland and the four at home a week later versus the Ravens, although both of those efforts resulted in wins.
So common sense and the natural progression says Andy Reid's club will commit two turnovers in prime time against the Giants. Still, it figures to be another rough outing for Michael Vick, who will be unable to lead the Eagles to victory.
Because…
In the Nick of Time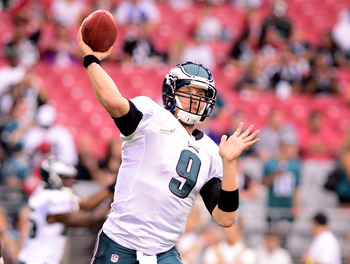 Jennifer Stewart-US PRESSWIRE
It will have been a rough Sunday evening for Michael Vick and the Philadelphia offense.
Two more turnovers, both by the Eagles signal-caller, with one an interception returned for a touchdown by Giants cornerback Corey Webster, will have Andy Reid's team in a 17-7 hole entering the fourth quarter.
And to make matters worse, another sack by Jason Pierre-Paul will have put Vick on the sidelines.
But just when you thought it was safe to say the Birds were on their way to a second straight loss, enter rookie quarterback Nick Foles.
The third-round pick from Arizona, who showed well during the preseason, proceeds to bobble the snap on his first play from scrimmage. The Giants recover and a field goal extends New York's lead to 20-7.
There's a boo or two from the Philadelphia crowd.
Minutes later, Foles rewards the team's faith in him, leading the Eagles on a pair of touchdown drives. And when the smoke clears, Reid's team will have its third one-point victory of the season, 21-20.
There will be a cheer or two from the Philadelphia crowd.
And now the real fun begins.
Where's DeMarcus?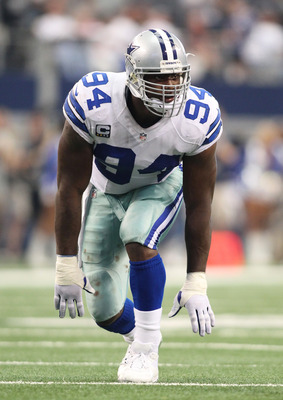 Tim Heitman-US PRESSWIRE
Since entering the NFL in 2005, no player has accumulated more sacks than Cowboys outside linebacker DeMarcus Ware.
The Pro Bowl regular has totaled 103.5 sacks in a little more than seven seasons and already has four sacks this season. That's standard fare for Ware, who twice in the previous four seasons totaled more sacks than games played, finishing with 19.5 a year ago in 16 games and a league-high 20 in 2008.
On Monday night, the Dallas defense will take aim at Bears quarterback Jay Cutler, who knows a little something about being corralled by opposing defenders. Although he was dropped just twice by the Rams last Sunday, we all know about that Thursday night at Lambeau Field in Week 2 when Clay Matthews and Co. sacked him seven times.
Hence, it will be up to Bears left tackle J'Marcus Webb (with probably some help) to limit the damage that Ware does, but that's easier said than done.
Last week at Seattle, we saw Packers quarterback Aaron Rodgers sacked eight times in the first half, four times by defensive end Chris Clemons.
It says here Ware does Clemons one better. Five sacks in the first half, then one more in the final 30 minutes will give the Cowboys defender 10 for the season.
It adds up to another win for Dallas and another week of head-scratching for Cutler.
The Replacement Officials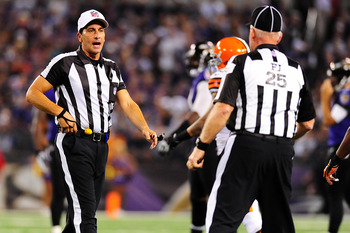 Evan Habeeb-US PRESSWIRE
If you watched the Thursday night game between the Browns and Ravens, you noticed a difference in the pace of play and the way the game was run. That's because the regular officials returned.
Replacements took the field for the first three weeks of the 2012 regular season (as well as the entire preseason). But now, it's back to business for the regular crews, and certainly just in time.
Here's a shout-out to the replacement crews, who did their best in what was a very difficult situation.
So we'll go out on a limb here without being specific. Let's say one of these replacement officials made enough of an impression to warrant another look and winds up on a regular crew down the road.
We may have to wait a while to see if we're right or wrong. But how good of a story would that be?
Keep Reading