Clemson vs. Florida State: Live Blog in-Game Analysis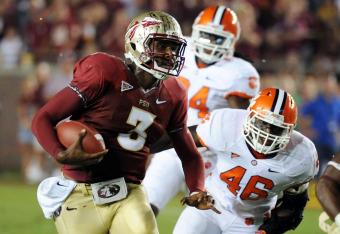 FINAL—Clemson 37, Florida State 49
For the first time in over a decade, we will have two top-10 ACC teams facing each other in what will have both conference and national implications. No. 4-ranked Florida State once again hopes to avoid falling in its goal toward an ACC championship against the Clemson Tigers.
Meanwhile, Clemson is coming into the game with a chip on its shoulder, trying to defend its place in the ACC and show all of college football that the Tigers are for real.
Here you will find live commentary, analysis and the results of the game, with kickoff beginning at 8 p.m. ET.
In conclusion, the Tigers' defense, especially the secondary, were unable to stop the FSU offense in the second half, and failed to pick up when the offense stalled in the middle of the second half. All in all, a good game nonetheless, and one that will certainly be a big subject of discussion for the rest of the upcoming week.
So, this is Colby Lanham, Featured Columnist, saying so long college football fans!
And failed onside kick. Clemson caught breaks, but failed to capitalize. Story of two halfs. Clemson won the first, but not the second. And games are won in the second half.
Touchdown Clemson, failed two point conversion. Onside kick coming.
Score: FSU 49-37
In the Orange Bowl, it was the 99-yard fumble return. This time, it was the big special teams return by FSU.
Back in the redzone, but is it too late?
Musberger and all this ESPN FSU love...
FSU just gonna eat clock. Clemson has a good offense, but its defense needs help on all levels.
Clemson gonna stop this running....ehh, I'm doubtful.
Another three and out. Is this a Clemson Orange Bowl all over again?
FSU has been on a 28-3 run. Chad Morris offense has zero touchdowns. ZERO.
And.... Tajh throws in double coverage for an interception. Wasted possession. And as I type, FSU score yet another touchdown. Defense has given up over 600 yards offense.
I wonder how many yards FSU is getting after contact: these backs are bruising.
Clemson's secondary tackling has yet to improve...any
We know what's coming: time for FSU to enforce their will and run the ball, keep Clemson's offense off the field. Don't want to give them any second chances.
And yet another three and out. FSU's getting louder again.
562 total yards> This defense is exposed to the skin.
And touchdown FSU! Taking advantage of a stalled Clemson offense and a now tired Clemson defense. The play of the game was the special teams return.
Score: FSU 42 - 31
Utter lack of fundamentals from this Clemson defense. Utter lack.
Clemson's defensive backs are leaving a lot to be desired. The only bright spot is true freshman Travis Blanks.
Well, heading into the fourth, with FSU driving, they lead 35-31.
Score: 35-31 FSU
Another Clemson three and out. Those FSU DBs made some good plays on this slant play to Hopkins.
Another FSU player down. Didn't think top defenses would drop players so fast.
But, they got it right back. Secondary for Clemson is suffering right now. Venables noted how concerned he was with his secondary. FSU takes the lead for the first time tonight.
Score: 35-31 FSU
Touchdown FSU! So many missed tackles by the Clemson defense. Wait, take that back. Holding on FSU, take that back. But that Clemson defense is getting tired too.
See if FSU can feed off of their momentum on offense. Clemson has no more to speak of after that special teams return.
This article is
What is the duplicate article?
Why is this article offensive?
Where is this article plagiarized from?
Why is this article poorly edited?