Vanderbilt vs. Georgia: Live Scores, Analysis and Results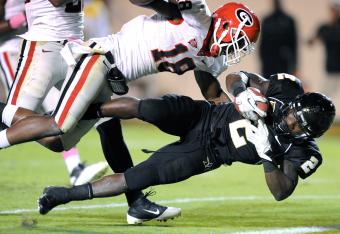 Georgia 48, Vanderbilt 3 FINAL

It's a wrap in Athens and the Bulldogs are now 4-0 after taking care of Vanderbilt.
Aaron Murray led the offense, accounting for three touchdowns while Jarvis Jones spearheaded the defense with seven tackles, one sack and three tackles for loss.
Vandy drops to 1-3 and are searching for answers. They are 0-2 in conference play and now have to re-evaluate their goals.
UGA will face Tennessee next week while the Commodores have the week off.
Georgia 48, Vanderbilt 3 FINAL
Done deal in Athens as Georgia blows past Vandy. It was total domination from start to finish for the Bulldogs and are looking ready to take on the rest of their schedule. It will be interesting to see how they do against the six other SEC teams they will face this season.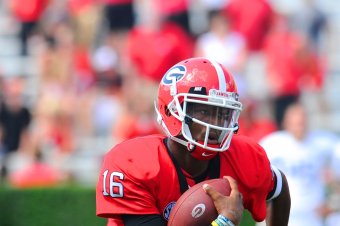 Dale Zanine-US PRESSWIRE
Christian LeMay is in at QB for the Bulldogs. He has a lot of potential and should be a really good signal caller for the Bulldogs in two years.
Jordan Rodgers has taken an absolute beating in this game. The offensive line should pay for his meals the rest of the week.
Vandy can't catch a break. It look like Rodgers scored a TD, but after the play was reviewed, the officials ruled that it was a fumble and the Bulldogs now have the ball at the 20-yard line because of a touchback.
When it rains, it pours and Vandy is in the thick of a Hurricane.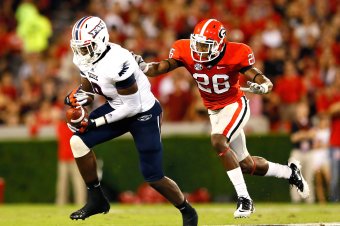 Kevin C. Cox/Getty Images
Rodgers throws a 60-yard pass to Chris Boyd. No, the second team is not in for the Bulldogs because it was Malcolm Mitchell that got beat deep in coverage.
With the UGA second-team offense now playing, the defense will follow suit and reserves will see action. There's no reason to have Jarvis Jones out there anymore.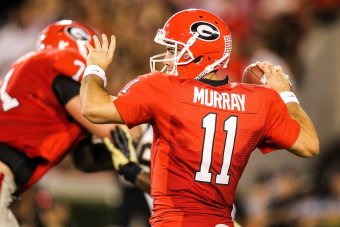 Daniel Shirey-US PRESSWIRE
Looks like Aaron Murray's night is done. 18-of-24 for 250 yards and two touchdowns for the junior. Not bad. Not bad at all.
It's the fourth quarter in Athens, which means ...
Georgia 48, Vanderbilt 3 - 0:46 Third Quarter
Todd Gurley scores on a 29-yard run where he breaks two tackles. Gulrey is only a freshman but is running like a NFL veteran.
Vandy missed the FG to keep the score 41-3. This by far the best this Bulldogs defense has looked this season.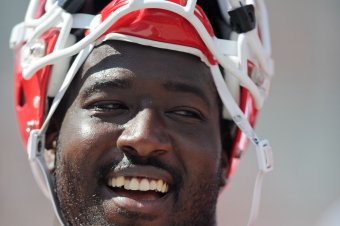 Kevin Liles-US PRESSWIRE
Abry Jones limps off the field. Would be a huge loss if he misses a significant amount of time.
Georgia 41, Vanderbilt 3 - 6:03 Third Quarter
Marshall scores 1-yard out thanks to Murray throwing a 58-yard pass to Marlon Brown. A great throw by Murray but better running by Brown.
Here's a look a the 58-yard pass.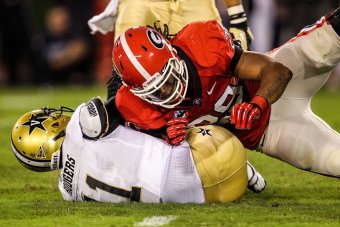 Daniel Shirey-US PRESSWIRE
Vandy turns the ball over on downs as Jones comes up with the sack on Rodgers. What's funny about that play is Jones was unblocked. But knowing Jones, he probably would have made the sack if he was tripled-teamed.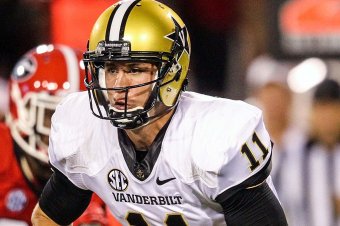 Daniel Shirey-US PRESSWIRE
Vandy has their longest play from scrimmage as Rodgers throws a 37-yard pass to James McIntosh. Rodgers is looking more confident as the game progresses.
Here's a look at the Murray TD pass to Brown.
Georgia 34, Vanderbilt 3 - 9:04 Third Quarter
Murray throws a 6-yard TD strike to Marlon Brown to increase the Bulldogs lead. It was a big-time throw were Murray got enough velocity to make sure Brown was able to get to it before the defensive back. He would not have made that throw two years ago.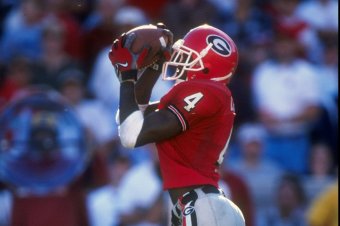 Vincent Laforet/Getty Images
Some trickery for the Bulldogs as Malcolm Mitchell gets a first down on a reverse. The coaching staff want him to be what Champ Bailey was for the Bulldogs in the mind 90s.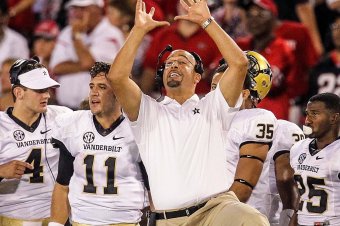 Daniel Shirey-US PRESSWIRE
Vandy goes three and out after the defense comes up with a stop. Vandy has to take advantage of the opportunities they have on offense because Georgia is not going to let up.
Georgia's offensive drive stalls at midfield to start the third quarter. They would have loved to score on that drive, but the defense is playing too well to worry about the offense adding more points.
I had to share this video. This was shown right before the game kicked off tonight.
Georgia 27, Vanderbilt 3 0:20 - Second Quarter
Carey Spear nails a 30-yard field goal to put Vandy on the board before halftime. That was by far the best offensive series by Rodgers the rest of the Commodores.
Vandy is driving. Jordan Rodgers is looking sharp on this drive with some very good throws.
Murray just missed Rantavious Wooten for a TD pass. Would have broken the back of Vandy if that was completed.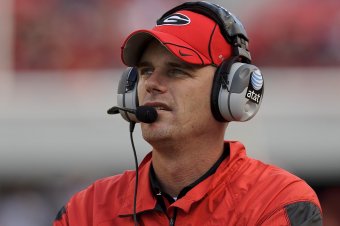 Paul Abell-US PRESSWIRE
Murray is 12-of-12 so far in this game. He's seven completions away from breaking the record which is held by Mike Bobo.
This article is
What is the duplicate article?
Why is this article offensive?
Where is this article plagiarized from?
Why is this article poorly edited?