Kansas State vs. Oklahoma: Live Scores, Analysis and Results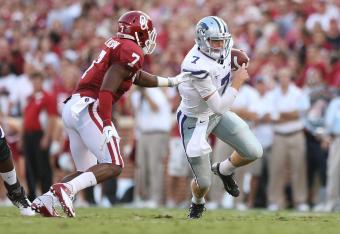 Final Score:
Oklahoma 19, Kansas State 24
Oklahoma loses at home to Kansas State—this is the second consecutive season the Sooners have suffered a loss at Gaylord Memorial, which is almost unheard of.
The Sooners had many chances to take control of the game, but too many mistakes (fumbles, sacks, interceptions, broken coverage) cost them the victory. On the flip side, Kansas State did all the little things they had to do to edge it out in the end.
Kansas State quarterback Collin Klein deserves a huge round of applause from all Sooners fans. He didn't necessarily beat the Sooners in the way that Robert Griffin III did last season, but he was solid all night—running, passing, decision making, etc. He was calm and collected in the pocket and put every throw on the money that he had to make.
Other than a few HUGE blown coverages (Gabe Lynn, Tom Wort), the Sooners defense actually didn't play too bad. I hate to place blame, but quarterback Landry Jones did not play like a fourth-year starter. He continuously looked rattled in the pocket, made poor decisions—he played like the Landry Jones of old, rather than the supposed "new and improved" Landry Jones.
One bright spot for the Sooners was the play of freshman wide receiver Sterling Shepard. Shepard has drawn many Ryan Broyles-like comparisons due to his size and skill set, and he really looked like he could measure up tonight. He finished with seven catches for 108 yards and one touchdown.
The win for the Wildcats means a berth (you'd imagine, at least) in the top 10 of the AP Poll. This game was a statement to show that they are, in fact, contenders in the highly competitive Big 12 conference.
The loss for the Sooners means a drop in the polls, obviously, but how far down will they go? I'd expect a No. 15 to No. 20 ranking, but rankings are the last thing the Sooners have to worry about.
Basically, a loss now means that the Sooners have to run the table for any hopes of playing for a national championship—but the way they played tonight, the idea of playing for a national championship seems laughable.
The Sooners have a lot of things they need to fix, but the majority of the blame tonight can be placed on Jones and his underclassman-like performance.
That's it, folks.
FINAL SCORE
Oklahoma 19, Kansas State 24
Kansas State just going to take a knee—smart move. Oklahoma can't do anything. What have we learned? Oklahoma doesn't look very good.
Klein runs it, Klein gets it.
Goodnight, Oklahoma.
Oklahoma uses their last timeout. Okay, I lied earlier. THIS is the biggest play of the game. 3rd and four. K-State converts here the game is more or less over.
Does Klein run it?
Collin Klein has been really great tonight in the pocket. K-State's offensive line deserves a lot of credit, too.
K-State converts 3rd and 11. Story of the night.
Incomplete pass, clock stops. That's big. Biggest play of the game upcoming.
Sooners elect to kick it deep and play defense. They've played pretty good all night, it's time to be great.
Landry Jones telegraphs the two-point conversion pass; thus, the pass gets knocked down at the line of scrimmage.
Score remains Oklahoma 19, Kansas State 24 — 4:09 Fourth Quarter
SHEPARD!!!! That boy is going to be something.
SCORE ALERT
Oklahoma 19, Kansas State 24
Oklahoma has to waste a timeout. Two-point conversion coming up.
I appreciate trying to trick defenses with draw plays, but think about that play clock, homies!
Sterling Shepard: Best player on the field for Oklahoma tonight.
OU really needs to run more hurry-up offense. They always look the best when they do it, and defenses have a really hard time reacting. Alas, they slow it down, and Landry Jones fumbles/takes an eight yard loss.
I'm really trying to place the blame on anyone BUT Landry Jones for this, but nobody else has really played that bad, including the defense.
John Hubert breaks through about five defenders and winds up in the end zone. Goodnight, Oklahoma.
SCORE ALERT
Oklahoma 13, Kansas State 24 — 7:27 Fourth Quarter
I feel like Kansas State's playbook consists of about five or six plays. Doesn't matter, they continue to work.
Charles Davis just likened Collin Klein to Johnny Unitas. For completing a pass to a wide open receiver? C'mon, man.
WIDE OPEN. What happened?
I ate too much pizza. The way I feel right now is how I feel about this game.
Possibly the biggest play of the night coming up after the timeout. Oklahoma needs this stop to get the ball back and try to swing momentum before it gets too late.
Kansas State could possibly put the game on ice with a touchdown on this drive. Big moments, you guys.
Every time I hear Gus Johnson say "Collin Klein," a little part of me always hears "Calvin Klein." Am I hearing things?
Kansas State doing all the little things correctly. Even if Oklahoma should be up in this game, Kansas State is playing with the least amount of mistakes. That almost always ends well.
How far will Oklahoma drop if they end up losing this game? 15? Further?
Just saw that LSU survived in Auburn. So much for that upset.
This article is
What is the duplicate article?
Why is this article offensive?
Where is this article plagiarized from?
Why is this article poorly edited?