Michigan vs. Notre Dame: Live Scores, Analysis and Results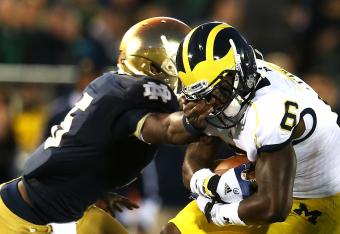 Final score: Notre Dame 13, Michigan 6

Notre Dame coach Brian Kelly made the right call by putting Tommy Rees in the game to relieve Everett Golson. Manti T'eo anchored the defense with two picks and nine tackles, and the Irish finally downed Michigan's "Shoelace" in a 13-6 victory on Saturday.
It wasn't as explosive of a game as I thought it would be (judging by last year), but it was a great game if you like defense.
Follow Bleacher Report's Michigan Wolverines football writer Adam Biggers on Twitter @AdamBiggers81.

Scoring update: Notre Dame 13, Michigan 6 (final)
Irish defense was the story of this game, specifically the play of Manti T'eo, who had two interceptions and nine tackles.
Michigan quarterback Denard Robinson threw four interceptions and fumbled once.
It was a lower-scoring affair than I anticipated, but I never doubted that Notre Dame would win (predicted 31-17).
Manti T'eo has played out of his mind -- eight tackles, two interceptions. All of that after losing his grandmother and girlfriend. What focus and pride.
Michigan has been inside 20-yard line five times but has just six points. If not for Brendan Gibbons, Michigan would be down 13-0.
Scoring update: Notre Dame 13, Michigan 6
Another Brendan Gibbons field goal (31 yards) still has Michigan in this game -- but it's getting pretty late.
Hopefully Devin Garnder is OK after being led out of bounds by Denard Robinson. Looked like a bad head-first fall. But when are those ever good?
It is now officially Denard Robinson time.
Scoring update: Notre Dame 13, Michigan 3
Kyle Brindza's 39-yard field goal has Irish sitting pretty with under seven minutes to play in fourth quarter.
Although Notre Dame "isn't" dominating ground game... typo in previous post. My fault.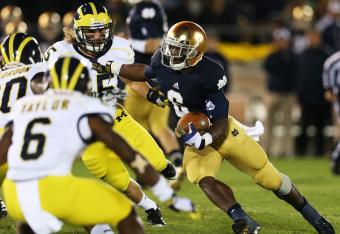 Although Notre Dame is dominating the ground game, one of its keys tonight has been the ability to keep drives going with three- and four-yard carries.
Michigan's defense is tired.
Score update: Notre Dame 10, Michigan 3
Brendan Gibbons' 33-yard field goal gives the Wolverines a little life -- and a little hope.
I predicted a 31-17 Notre Dame win. Can't say I ever anticipated such a sloppy, turnover-ridden game.
The "Shoelace" has been untied for the time being. Denard Robinson came into this game with 969 yards in two victorious starts against the Irish.
This is Notre Dame's first six turnover forced game since the '08 win over Michigan. Also rained that day, if you're curious.
This will make the "10 things we learned" follow-up story. Oh yes. This is good information. Thanks, Irish Illustrated.
George W. says:
Haha, oh Denard. #GoIrish
OK. That's not really George W. But it's still funny.

Bennett Jackson has been all over the place, adding a fumble recovery (via Denard Robinson's poor grip) to an interception.
Jackson and Manti T'eo, specifically, are shutting down the Wolverines offense.
How do you stop Denard Robinson?
Irish coach Brian Kelly didn't really know when asked that question.
"There's no easy answer. I can't tell you there's one thing that we can do against Denard Robinson," Kelly told the Daily Herald. "You're going to have to give up a couple of things. You have to minimize the big plays against a young man like this."
There has been a Fitz Toussaint sighting in the form of a 31-yard run.
Rees will the one to move the ball for Notre Dame, despite three-and-out drive. Just watch.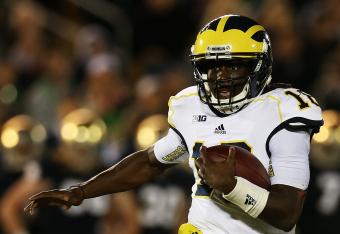 Are the defenses really good or are the QB's really bad? #GOIRISH
I'd say a little bit of both. But Tommy Rees seems to give Irish offense better chance than Everett Golson. If Michigan loses this game, a lot of the blame goes on Denard Robinson for not taking care of the ball.

Score update: Notre Dame 10, Michigan 0 -- halftime
Notre Dame's defense was incredible in the first half, forcing five interceptions (Denard Robinson threw four, Vincent Smith threw one) and keeping Michigan off the board and out of scoring position (Brendan Gibbons missed a field goal, though).
Manti T'eo has been the player of the game; he's anchoring the Irish defense.
Score update: Notre Dame 10, Michigan 0
Interception update: Michigan's Denard Robinson threw three interceptions. Notre Dame's Everett Golson threw a pair.
Tommy Rees' two-yard sneak saves Notre Dame from flushing drive down the toilet. Penalties backed Irish up about 10 yards... ugly football right now.
Michigan standing strong on the goal line. Jake Ryan's touchdown-saving tackle precedes nice stop by Desmond Morgan.
Notre Dame is aware that Michigan is horrible against the run, right?
Air Force's Cody Getz went for 130 yards in Week 2, and Alabama's TJ Yeldon -- and every other back -- rolled the Wolverines defense.
Run. The. Ball.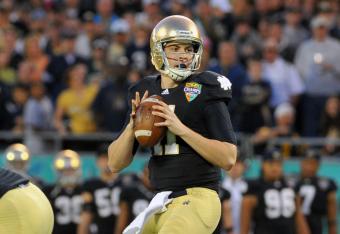 QB change
Notre Dame opts for Tommy Rees after Everett Golson's pair of interceptions.
Brian Kelly wasn't going to gamble for long.
Lots of talk on Twitter about interceptions.
Thank you Robinson for throwing another pick #ND #GoIrish
Manti T'eo has two picks on the evening. Guy is playing big, didn't have a pick entering senior year. He's playing in the honor of his girlfriend, you can be sure. He's at home and wants to put on a show. Love seeing guys turn a negative into positive motivation.

This article is
What is the duplicate article?
Why is this article offensive?
Where is this article plagiarized from?
Why is this article poorly edited?

Michigan Wolverines Football: Like this team?