Why Is the NCAA Coming Down Harder on Football Than Basketball Programs?
Use your ← → (arrow) keys to browse more stories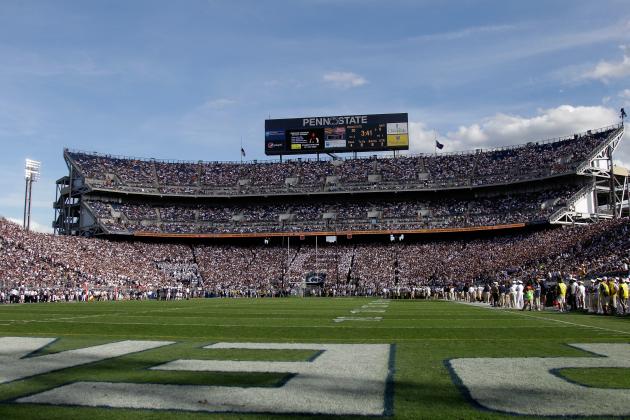 Rob Carr/Getty Images

The 2012 season was supposed to be the swan song for Penn State football—the final hurrah before NCAA sanctions put the program into dormancy that some analysts believe could last a decade or longer.
But after consecutive losses against historically lesser opponents to open the season, the years of Nittany Lion irrelevance are already upon us.
Undoubtedly, Penn State's punishment is unique in its severity and the horrific events behind it. However, by making this unprecedented move, the NCAA's decision has inadvertently shown how it views the college sport with the highest revenue.
Until last November, the most shocking scandal in college sports was the 2003 murder of Baylor basketball player Patrick Dennehy by his teammate Carlton Dotson, and ex-coach Dave Bliss's appalling attempts to cover his misdeeds.
Though the events at Baylor lack the extreme scope of those at Penn State, there are notable similarities. Both included shocking crimes involving athletic personnel, both included high-level university employees trying to conceal or manipulate the truth and both ended with decade-long prison sentences for the perpetrators.
But in terms of actual NCAA violations, the events at Penn State paled in comparison to those carried out by Bliss and his staff. Still, college sports' governing body crushed Penn State, while Baylor's punishment, by comparison, was much lighter.
An even closer one-to-one comparison of the NCAA's inconsistency are the sanctions levied against the football and basketball programs at USC in 2010. A yearlong investigation found that Heisman Trophy winner Reggie Bush and basketball stud O.J. Mayo received thousands of dollars from an agent while students at Southern Cal; it also accused former basketball coach Tim Floyd of acting as a middleman for the agent funneling money to Mayo in order to lure him to USC.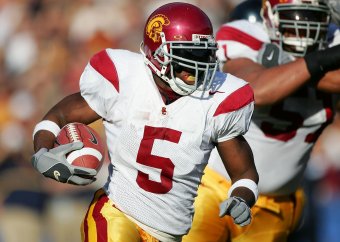 Jed Jacobsohn/Getty Images
But even with both programs committing similar violations and the added bonus of Floyd's involvement, the NCAA made an example of the football team while accepting a self-imposed one-year postseason ban from the university for the basketball team (which conveniently went into effect the year after Floyd was fired).
Hmmmmmm....
The NCAA has had moments of strict enforcement for basketball, most notably against the '52 and '89 Kentucky, '76 Minnesota and '91-'93 Michigan teams. But now that college football has become a billion-dollar industry, the association seems bent on cranking up enforcement for its flagship sport.
Why the inconsistency? You can look at this one of two ways.
For those who see the NCAA as a domineering Big Brother, punishing football sends a clear message to the entire athletics department: Get in line or your cash cow is gone.
Even at Kentucky, where basketball is revered and football fills the time until November, the athletics department earns twice as much on the gridiron as on the hardwood. As the pressure rises for ADs to raise money, dropping the hammer on a football program gives the NCAA a stranglehold on its member schools to abide by its rules.
For those who aren't quite as cynical and see the NCAA as the final barrier between turning student-athletes into professionals, punishing football pushes back on a sport that's becoming increasingly commercialized. In order to maintain the integrity of its core values (and thus the appeal of college sports), the NCAA must enforce its harshest punishment on the sport it believes is most at risk of being corrupted by money.
NCAA president Mark Emmert reinforced this image in his speech announcing sanctions against Penn State.
"But we do have to make sure that the cautionary tales of athletics overwhelming core values of the institution and losing sight of why we are really participating these activities can occur," he said. "That's the balance that every university needs to strive for."
(There are some glaring hypocrisies in this opinion, but that's for a separate discussion).
In truth, the NCAA is becoming complex as ever, and pinpointing a reason for this trend is as complicated as the rule book itself. What is clear, though, is the NCAA is going to truly show its cards in the post-Penn State era.