College Basketball: Preseason Bracketology and National Title Predictions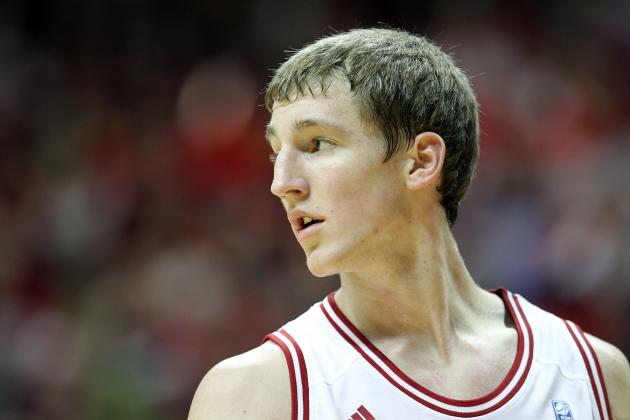 Andy Lyons/Getty Images
Cody Zeller
Since we last published a 2013 bracketology prediction in early June, a lot has changed throughout the college basketball landscape.
Dismissals of Butler's Chrishawn Hopkins, Xavier's Dez Wells, Murray State's Zay Jackson and LIU Brooklyn's Julian Boyd have all negatively affected their former teams.
Transfers such as Oklahoma State's Cezar Guerrero and Vermont's Four McGlynn have also weakened their former squads.
Absences due to health issues such as Michigan State's Kenny Kaminski, and even Saint Louis' coach Rick Majerus have--well, you get the point.
On the flip side, some teams have gained some ground from happenings during the offseason.
UNLV got a late commitment from Savon Goodman, while Norvel Pelle pledged to Iona and might be eligible this season.
Geron Johnson received an unexpected eligibility to play at Memphis this season.
Okay, you get the point. While no games have been played, a lot has happened that has altered the outlook of many teams.
But, that isn't the only reason teams have been shifted around. To put it simply, there are numerous teams that I like or dislike more than I did a few months ago.
In addition to the updated bracketology, an early look at the Final Four and National Title contenders is included on the concluding slide.
Here is the preseason version of our predictions for college basketball's most exhilarating three weekends of the year.
Note: For the purposes of this article, I'm going with an "innocent until proven guilty" mindset. Players facing eligibility issues, notably Shabazz Muhammad and Kyle Anderson of UCLA, were considered eligible until otherwise ruling.
Begin Slideshow

»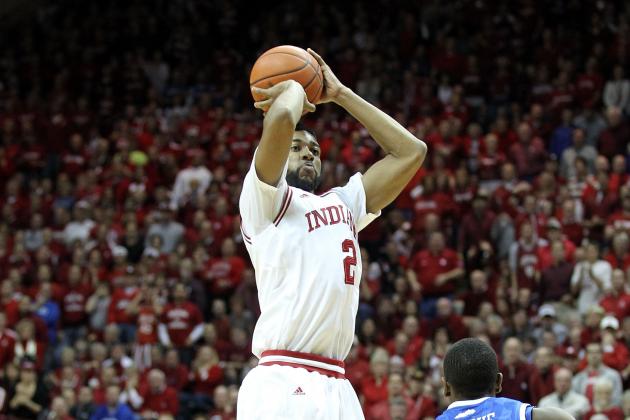 Andy Lyons/Getty Images
Christian Watford
No. 1 Indiana vs. No. 16 Stony Brook/Southern
Despite incoming freshman Ron Patterson being ruled ineligible, nothing has happened to dethrone the Hoosiers from the top overall seed. Cody Zeller and Christian Watford are elite players nationally, while the backcourt rotation consisting of Jordan Hulls, Maurice Creek, Victor Oladipo and Yogi Ferrell will be one of the deepest in the nation.
Indiana will face the winner of Stony Brook, replacing Vermont as the America East champions, and Southern, the winners of the SWAC.
No. 8 Kansas State vs. No. 9 Marquette
This tricky No. 8 and No. 9 matchup features two teams who will be second-tier squads of their respective conferences.
Kansas State's shooting guard Rodney McGruder is one of the most explosive scorers in the land. Will Spradling and Angel Rodriguez solidify a capable backcourt, while muscular forward Jordan Henriquez is one of the top offensive rebounders in the land.
Marquette's inexperience and lack of leadership worries me, which is primarily why the Golden Eagles took a bit of a tumble. Arizona State transfer Trent Lockett needs to elevate his game to superstar status, and he has some quality role players in Vander Blue, Junior Cadougan and Davante Gardner.
No. 5 Gonzaga vs. No. 12 Stanford/Maryland
My feelings about Gonzaga have remained fairly constant. The Bulldogs should be a mainstay in the Top 20 with some of the best mid-major talent in the nation. Kevin Pangos and Elias Harris are high-volume scorers and should lead Gonzaga to another WCC title.
Stanford won the NIT title last season because Chasson Randle and Aaron Bright exploded at the right time of the season. Expect those two to continue their postseason excellence into 2012-13.
Maryland will gain a significant boost in seeding if Dez Wells receives a waiver to play this season following his wrongful expulsion at Xavier. Nonetheless, Nick Faust and 7'1'' center Alex Len are two of the top sophomores in the nation.
No. 4 Memphis vs. No. 13 Lehigh
Memphis has one year remaining in Conference-USA before they bolt for the Big East, and I have no doubts that the Tigers will head out on top. This team will only go as a far as versatile sophomore forward Adonis Thomas takes them, and that might be a very good thing.
If you weren't aware of Lehigh's star player before the 2012 NCAA Tournament, you were most likely astonished by the dominance of Mountain Hawks' guard C.J. McCollum. The senior standout should roll right through Patriot League competition into postseason play.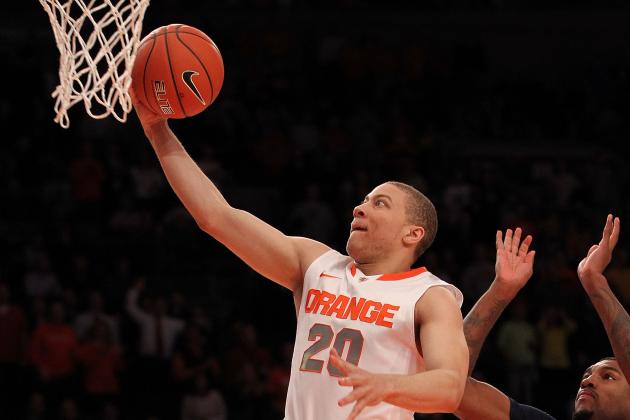 Michael Heiman/Getty Images
Brandon Triche
No. 6 Cincinnati vs. No. 11 Massachusetts
Very quietly, Mick Cronin's Cincinnati Bearcats carry one of the nation's deepest rosters. With Jaquon Parker, Sean Kilpatrick and Cashmere Wright running the backcourt, and Titus Rubles, Shaquille Thomas, Cheikh Mbodj and Justin Jackson down low, the Bearcats are absolutely loaded with capable bodies.
It's easy to get carried away while creating expectations for Massachusetts, simply because 5'9'' point guard Chaz Williams is such an impeccable asset. I'm being cautious with UMass solely because of size concerns, but it's hard to discount the fact that a 25-win Minutemen team brings back its core group of contributors.
No. 3 Arizona vs. No. 14 South Dakota State
Inexperience is often trumped by talent, which is the case for Arizona this season. Their frontcourt features three five-star freshmen, headlined by seven-footer Kaleb Tarczewski. In addition to proven starters Solomon Hill and Nick Johnson, 'Zona has hauled in Xavier transfer Mark Lyons, an elite point guard.
There's only one name to know on the South Dakota State Jackrabbits, and he's my prediction for the NCAA scoring title. Nate Wolters, an elite, playmaking guard, should lead the Jackrabbits to the Summit League title with ease.
No. 7 Tennessee vs. No. 10 Iowa State
Jarnell Stokes and Jeronne Maymon are the massive bodies in the middle for Tennessee, but the most pivotal producer for the Vols is sophomore point guard Trae Golden. If Golden continues his success from last season, Tennessee will achieve great things in the SEC.
Last year's core producers have left, but Cyclones coach Fred Hoiberg is rebuilding this squad through transfers and recruiting. Former Michigan State starter Korie Lucious and ex-Utah State double-double machine Will Clyburn, join four-star freshman Georges Niang as the foundation for this season.
No. 2 Syracuse vs. No. 15 Middle Tennessee
Brandon Triche and C.J. Fair are certainly reliable, but sophomore guard Michael Carter-Williams is the difference-maker for the Orange. MCW's performance will make or break Syracuse's season, and I think that will benefit Jim Boeheim's team.
With the majority of their starters returning from a 25-win team last season, Middle Tennessee should roll through the Sun Belt without a problem.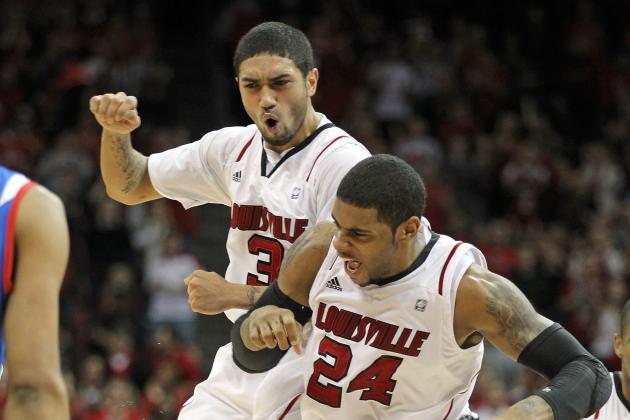 Andy Lyons/Getty Images
Chane Behanan and Peyton Siva
No. 1 Louisville vs. No. 16 Coastal Carolina
The Cardinals of Louisville check in at the No. 2 overall seed. Peyton Siva, Gorgui Dieng and Chane Behanan are the obvious stars, but it's the role players that elevate Louisville to this seed. Russ Smith, Kevin Ware, Montrezl Harrell, Luke Hancock and Wayne Blackshear are all integral pieces to this roster.
Louisville will face Big South winners Coastal Carolina, who boast one of the most prolific mid-major scorers in Anthony Raffa.
No. 8 Ohio vs. No. 9 Georgetown
This matchup seems eerily familiar, doesn't it? It was only a few years back when freshman point guard D.J. Cooper scored 23 points as No. 14 Ohio knocked off No. 3 Georgetown in the first round of the 2010 NCAA Tournament.
Now, D.J. Cooper is a senior, returning to Ohio after averaging over 13.5 points per game for three consecutive seasons. Notably, Walter Offutt and Nick Kellogg also are back from a team who advanced to the Sweet 16 last season, and has the experience and skill to make it even further.
It's easy to point out the losses of Jason Clark, Henry Sims and Hollis Thompson and criticize this fairly high seed. Sophomore combo forward Otto Porter will hush the critics. Porter has the tools to become an All-American this season, and he teams with quality guards Markel Starks and D'Vauntes Smith-Rivera.
No. 5 Duke vs. No. 12 Davidson
The loss of Andre Dawkins to redshirt undoubtedly weakens the Blue Devils, but their guard depth should be able to eradicate that pain. Seth Curry, Mason Plumlee and Ryan Kelly will serve as leaders, but freshmen Alex Murphy, Marshall Plumlee, Rasheed Sulaimon and Amile Jefferson provide the energy that will make this team a force.
The explosiveness of guard De'Mon Brooks should carry Davidson right into the NCAA Tournament. Nik Cochran and Jake Cohen are prominent role players, and are vital to the Wildcats' success.
No. 4 Wisconsin vs. No. 13 Valparaiso
Four-year stud Jordan Taylor may have graduated, but there is no shortage of talent in Madison this year. Josh Gasser and Sam Dekker provide outside shooting, while Jared Berggren and Mike Bruesewitz are scrappy players in the low post. Ryan Evans should continue as the Badgers' top scorer.
Valpo forwards Ryan Broekhoff and Kevin Van Wijk combine to make arguably the most underappreciated tandem in the land. The two international products will be forces in the Horizon League this season.
Jonathan Daniel/Getty Images
Trey Burke
No. 6 San Diego State vs. No. 11 Drexel
No team fell further than San Diego State, and that drop is the epitome of a change of heart. After Jamaal Franklin and Chase Tapley, I just don't see the firepower to life the Aztecs to anything higher than a six seed. Nonetheless, Franklin and Tapley are high-major caliber players and will keep SDSU in the Top 25.
The class of the CAA with VCU gone, Drexel was the biggest snub of the 2012-13 NCAA Tournament. High-volume scorer Frantz Massenat should lead the Dragons inside the bubble this time around, and into the field of 68.
No. 3 Ohio State vs. No. 14 Montana
For a team that lost debatably their two most talented players in William Buford and Jared Sullinger, I'm not at all too worried about the Buckeyes. Amir Williams and LaQuinton Ross will fill in nicely into the starting lineup. Deshaun Thomas and Aaron Craft have All-American capabilities.
Yes, I am aware Big Sky Player of the Year favorite Will Cherry is out with a foot injury until conference play, but the Grizzlies have enough manpower to suffice until then. Kareem Jamar is lights out from deep, and of course, Cherry is an unstoppable force in the Big Sky when he returns.
No. 7 Pittsburgh vs. No. 10 Alabama
Tray Woodall is an elite point guard, and now has assets surrounding him. Ex-Central Michigan stud Trey Zeigler is eligible this season at Pitt, while the five-star, seven-foot New Zealander Steven Adams is also in town.
JaMychal Green's absence is a crushing loss, but Tony Mitchell's departure really doesn't worry me. Freshman Devonta Pollard is primed for a spectacular season, while Trevor Releford has the talent to be the SEC's top point guard.
No. 2 Michigan vs. No. 15 Wagner
A lack of three-point shooting is the main concern for Michigan, but the explosiveness inside the arc that Tim Hardaway and Glenn Robinson Jr. have is undeniable. Trey Burke has all of the intangibles you need from a suitable point guard, and Mitch McGary is extremely versatile in the post.
Wagner leaps into the field of 68 after four LIU-Brooklyn players, including superstar Julian Boyd, were suspended indefinitely following arrest. Dan Hurley is no longer at the helm, but Bashir Mason inherits a strong group of guards who will tear up the NEC.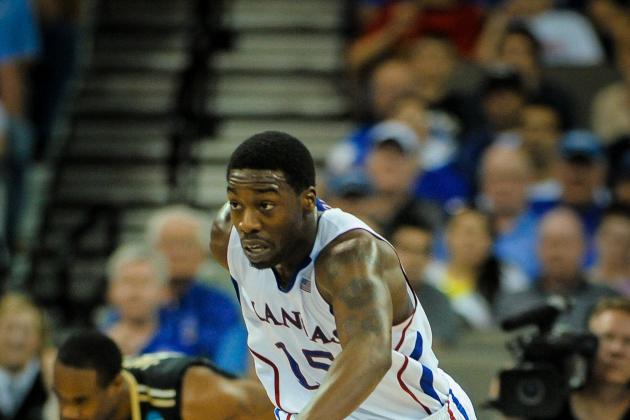 Eric Francis/Getty Images
Elijah Johnson
No. 1 Kansas vs. No. 16 Stephen F. Austin/Delaware State
Replacing Thomas Robinson and Tyshawn Taylor is an arduous task, but it's not impossible. Elijah Johnson will shift down to point guard, and redshirt freshman Ben McLemore will provide aid in the backcourt. Jeff Withey returns as one of the nation's most intimidating shot-blockers.
Delaware State is an underrated defensive team with quality guards, and should win the MEAC. The departure of Texas-Arlington from the Southland opens the door for Stephen Austin to grab the automatic bid.
No. 8 Florida State vs. No. 9 Saint Louis
FSU's Michael Snaer thinks he's the best shooting guard in the land. By season's end, it may be tough to argue that. Snaer and Ian Miller create a formidable backcourt, while Okaro White should evolve into a reliable ACC low-post threat.
Rick Majerus was the motor behind Saint Louis' tremendous squad last season, and he is currently on a leave of absence. Top scorer Brian Conklin is also gone, but point guard Kwamain Mitchell plays a lot bigger than his 5'10'', 175 pound frame.
No. 5 Missouri vs. No. 12 South Florida
Second year Missouri coach Frank Haith is forced to cope with the losses of Kim English, Marcus Denmon, Ricardo Ratliffe and Matt Pressey. To compensate, Haith brings in four stud transfers including UConn's Alex Oriakhi to team with Michael Dixon and Phil Pressey.
Replacing a player as productive as Augustus Gilchrist is no easy task, but South Florida returns an under-the-radar, but deadly guard-forward combo in Anthony Collins and Victor Rudd. The power of that duo should be enough to squeeze the Bulls into the field of 68.
No. 4 North Carolina vs. No. 13 New Mexico/Marshall
Speaking of replacing productive players, no one has more work to do in that sense than North Carolina. The NBA summoned four first-round picks from the 2011-12 Heels roster. The development of James McAdoo is imperative for UNC to be successful, as well as the poise of freshman point guard Marcus Paige.
While the name may be foreign to you now, Tony Snell is going to be one of the most well-known mid-majors by tournament time. His talents paired with Steve Alford's commendable coaching ability will have the Lobos squabbling for an NCAA berth, and ultimately sliding in.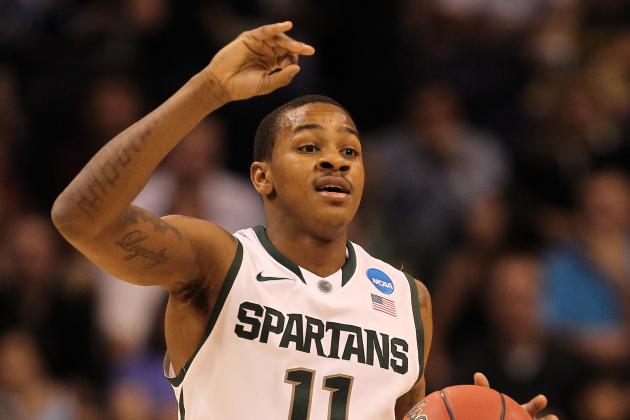 Jamie Squire/Getty Images
Keith Appling
No. 6 Creighton vs. No. 11 California
The obvious centerpiece and focal point of Creighton's offense is Doug McDermott, and so it should be. But don't overlook the Bluejays supporting cast, headlined by burly center Gregory Echenique and all-around contributor Grant Gibbs.
Cal just never seems to go away, and once again the Golden Bears should be on the right side of the bubble. Three-point specialist Allen Crabbe should continue his gradual improvement as he heads into his senior season, while point guard Justin Cobbs returns after a 12 point, five assist per game sophomore season.
No. 3 Michigan State vs. No. 14 Iona
The injury to four-star freshman Kenny Kaminski dropped MSU down a seed, but the Spartans are reloaded for this season. Branden Dawson is fully recovered from injury, while Adreian Payne and Derrick Nix create a formidable frontcourt. Keith Appling and Gary Harris are two of the B1G's most talented guards.
The absence of mid-major superstars Mike Glover and Scott Machado will certainly be felt, but not enough to keep the Gaels from the MAAC throne. Momo Jones may finish atop the national scoring race. If Iona can get ex-St. John's signee seven-footer Norvel Pelle eligible, then watch out for the Gaels.
No. 7 Minnesota vs. No. 10 Colorado
The enormous leap from NIT runner-up to NCAA Tournament seven seed can be credited to the return of Trevor Mbakwe, one of the nation's top pure power forwards who sat out due to a knee injury last season. Factor in highlflier Rodney Williams and point guard Julian Welch, and the Gophers are a serious threat in the Big Ten.
If Andre Roberson meets my expectations, and develops into the most dominant big man in the land, then this seed is completely attainable. If he falters, the Buffaloes can say hello to the NIT. In addition, four-star freshman center Josh Scott will help create one of the most fearsome frontcourts in the nation.
No. 2 NC State vs. No. 15 Princeton
Juniors Lorenzo Brown and C.J. Leslie are arguably the two best players in the ACC, and they both play for NC State. Richard Howell is a candidate for the ACC rebounding crown, while Scott Wood can do the same for three-point percentage. With freshman phenom Rodney Purvis eligible, the sky is the limit for the Wolfpack.
Harvard's Kyle Casey's withdrawal from the university following alleged implications in a cheating scandal, solidifies Princeton's slot in the field of 68. With Casey gone, Princeton's Ian Hummer can be considered a lock for Ivy League Player of the Year.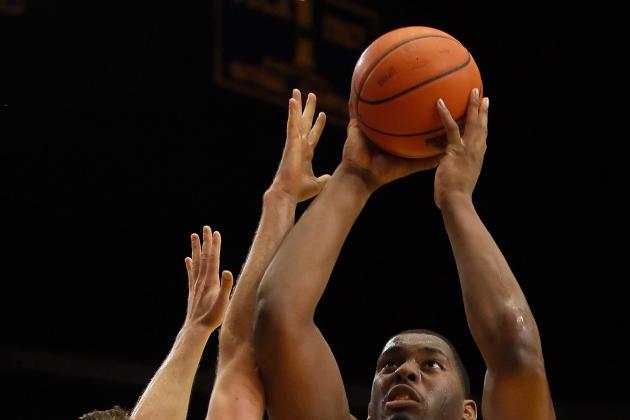 Jeff Gross/Getty Images
Josh Smith
No. 1 UCLA vs. No. 16 Cal State Fullerton
Reeling in four Top 40 freshman obviously creates a monumental impact, but UCLA has some upperclassmen that you shouldn't sleep on. The Wear twins, David Wear and Travis Wear, are better than ever following a spectacular offseason, while burly center Josh Smith has shed a considerable amount of weight.
Dan Monson is a terrific coach, but he and Long Beach State simply don't have the firepower to hold back Cal State Fullerton in the Big West after the departures of Casper Ware and Larry Anderson.
No. 8 Texas vs. No. 9 Saint Joseph's
Myck Kabongo's production should increase for Texas with shot-happy J'Covan Brown out of town. He has two phenomenal interior talents to work with in freshmen Prince Ibeh and Cameron Ridley. Quality scorers Sheldon McClellan and Jonathan Holmes return on the wings.
My Atlantic-10 champion pick is St. Joe's. The Hawks have possibly the most outstanding mid-major backcourt with premier scorers Carl Jones and Langston Galloway. Junior forward C.J. Aiken is easily the most underrated shot-blocker in the land, averaging 3.5 swats per game last season.
No. 5 Florida vs. No. 12 Murray State
Florida's seeding is heavily contingent on the performance of Scottie Wilbekin. The underused junior played just 15 minutes per contest last season, and will now be a full-time starter at point guard. Mike Rosario and Kenny Boynton are playmakers on the wings, while big-bodied Patric Young and sharpshooter Erik Murphy will man the post.
As low as a 12-seed seems for Murray State, I just don't see it improving its seed from last season. The Racers lost their second and third in Ivan Aska and Donte Poole, and now Zay Jackson is facing a long suspension. Nonetheless, All-American favorite Isaiah Canaan is back in Murray.
No. 4 Baylor vs. No. 13 Marshall/BYU
No one is doubting Baylor's backcourt with the trio of sharpshooter Brady Heslip, insane athlete Deuce Bello and team leader Pierre Jackson. The frontcourt is dealing with the issue of inexperience, but the talent of Isaiah Austin, Ricardo Gathers and Cory Jefferson should be able to overcome that worry.
Marshall's DeAndre Kane can put up huge amounts of points in a hurry, and is someone the Herd can always rely on to put the ball in the hoop. Dennis Tinnon should average a double-double for the second consecutive season.
For the second straight year, BYU may be heading to the play-in games. Powerful big man Brandon Davies is back in Provo for his senior season, while Matt Carlino has a terrific ability to get the job done in transition.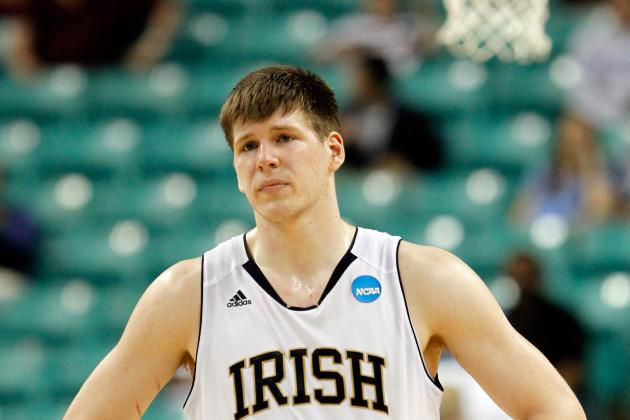 Streeter Lecka/Getty Images
Jack Cooley
No. 6 Notre Dame vs. No. 11 St. Mary's
Eric Atkins and Jerian Grant are constantly overlooked, but both of them are terrific Big East guards. Jack Cooley bust onto the college hoops scene out of nowhere last season and earned himself an All-Big East first team selection. Expect Cooley to continue his progression into stardom.
Graduated senior Rob Jones' 11 rebounds per game will be nearly impossible to restore, but the Gaels return the player who is more important to his team than any other player in the nation with Matthew Dellavedova. No player in the country has better instincts and more heart than the Aussie point guard.
No. 3 UNLV vs. No. 14 New Mexico State
UNLV doesn't receive Khem Birch til December, but that shouldn't affect their seeding. Mike Moser is a ferocious rebounder and Anthony Bennett is one the most versatile freshman in the land. The maturity of point guard Anthony Marshall is key for the Rebels' success.
Nevada would be the definite choice from the WAC, but the Wolf Pack bolted for the Mountain West. Instead, New Mexico State should appear in the NCAA Tournament for the third time in four years.
No. 7 Miami vs. No. 10 VCU
Miami is a serious ACC contender this season with nearly 550 pounds of monstrosity in their frontcourt between the mountainous Reggie Johnson and the inside-outside threat Kenny Kadji. Durand Scott has proven himself as a reputable scorer, but Shane Larkin will be the motor of the Canes' backcourt.
It's not often a team loses their best player and improves their seed, but VCU's jump from the CAA to the A-10 will help their cause. The Rams return low-post animal Juvonte Reddic and experienced senior point guard Darius Theus.
No. 2 Kentucky vs. No. 15 Mercer
There isn't the same level of talent in Kentucky as there was last season, but coach John Calipari has done a stellar job rebuilding the Wildcats' roster once again. He hauled in three five-star recruits, including the top overall prospect Nerlens Noel. Transfer guards Ryan Harrow and Julius Mays will aid a depleted backcourt.
Belmont switched from the A-Sun to the OVC, leaving Mercer as the top candidate to assume the Atlantic Sun crown.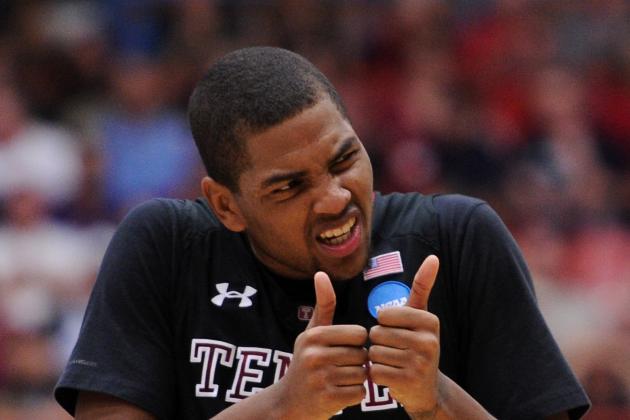 Harry How/Getty Images
Khalif Wyatt
Last Four In
Marshall
New Mexico
BYU
Maryland
First Four Out
Colorado State
Illinois State
Temple
Purdue
Next Four Out
Washington
Virginia
Nevada
Oregon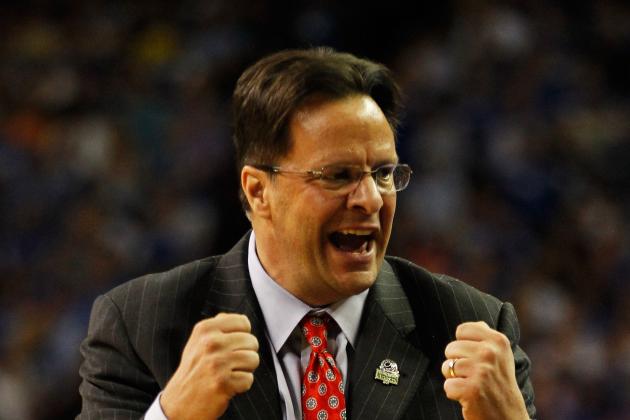 Streeter Lecka/Getty Images
Tom Crean, Indiana
Here are my late-round predictions based off of the previous slides:
Elite Eight

Midwest: Indiana, Syracuse
East: Louisville, Ohio State
South: North Carolina, NC State
West: UCLA, Kentucky
Final Four
Midwest: Indiana
East: Louisville
South: North Carolina
West: UCLA
NCAA Championship

Indiana vs. UCLA
Champion
Indiana