LSU vs. Auburn: Live Scores, Analysis and Results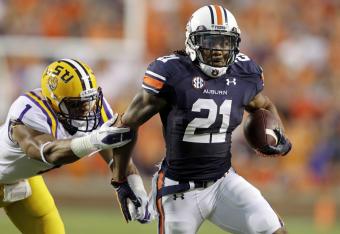 LSU 12, Auburn 10 -- Final


The Auburn Tigers took on the No. 2 LSU Tigers in Jordan-Hare Stadium tonight in Auburn, Ala. The game was an absolute dog fight from start to finish with both teams getting equal opportunity to finish with the win.
Zach Mettenberger was held at bay for the majority of the game, and the Auburn defense was able to hold the LSU rushing attack at bay.
Auburn had the 10-9 lead at halftime, but after a fumbled punt was recovered by LSU early in the third quarter the Bayou Bengals took the 12-10 lead to finish the game.
Both teams fought, and Auburn fans should be impressed with the growth that the Auburn Tigers showed defensively.
Auburn gave a valiant effort against No. 2 LSU tonight in Jordan-Hare Stadium.
Auburn showed a lot of passion and toughness in this game. They come up short after they fail to convert at the end of the fourth with a final possession.
LSU rushed to get the kick team on the field and missed the field goal.
Auburn now takes over the football with no timeouts but only down by two points.
This is huge for Auburn.
Can Kiehl Frazier become an instant legend?
Key Stats:
Total Offense
LSU: 350
AUB: 166
Time of Possesion
LSU: 32:37
AUB: 26:10
LSU picks up a big first down and get down to the Auburn 23 yard line. Auburn fought hard for this game, but LSU is overpowering late in the fourth.
The Auburn defense is still playing very aggressively. The Tigers are facing less than two minutes and hold no timeouts.
Valiant effort by Auburn.
Auburn has LSU at a 3rd and four. If they earn this stop there will be plenty of time remaining for Auburn to do something offensively.
Auburn is forced to punt here. Auburn defense is going to have to really make a big stop. LSU will take over with great field position at its own 27 yard line.
LSU will try to force the ground game to churn clock and let their defense finish the game.
Great play by true freshman Joshua Holsey. Holsey is an aggressive player and played great man coverage on that play. That could have been a big touchdown play for the Bayou Bengals.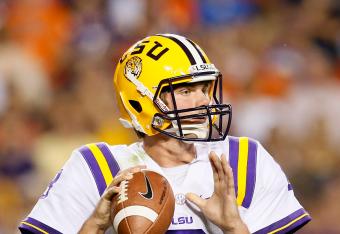 Right when I say that Mettenberger looks like an all-star, go figure.
Zach Mettenberger is making a lot of bad throws here late. He is not setting his receivers up well.
Auburn is bringing a lot of heat and continues to plow Mettenberger consistently, adding to the problems.
Auburn holds strong on defense forcing LSU to punt from deep within its own territory.
The Tigers defense has really done a great job keeping the Tigers in the game.
Auburn will take over around its own 25 yard line. Kiehl Frazier needs to keep his composure and get some movement in the passing game again.
Auburn offensive coordinator Scot Loeffler has done a great job from the sideline. I think the move from the box this week has worked wonders for the offensive communication.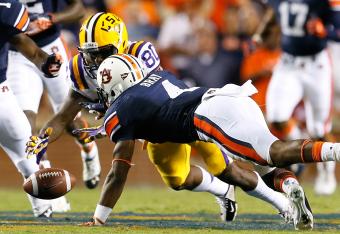 Auburn was forced to punt after a strong drive into LSU territory. LSU will take over at the 8 yard line. Auburn can make a big move if they can hold the Bayou Bengals to a punt, deep from their own territory.
Can the Tigers hold strong and keep up the intensity on defense?
The Tigers are showing a lot of composure on offense. That is good to see right now as the time ticks down late.
Auburn needs this to be a big drive.
Onterio McCalebb was a finger tip away from breaking a touchdown run.
Tigers driving on the LSU 45 yard line.
Auburn finally gains some yards on first down. That is crucial for Auburn to find success.
Kiehl Frazier made his first bad decision with that throw. There was no way that Philip Lutzenkirchen could have made that play.
Auburn has to hope that Kiehl Frazier doesn't freak out now. He has consistently curled up under pressure once he made a turnover. Auburn can't have that tonight.
LSU ball at its own 29 yard line.
FIELD GOAL LSU
The Auburn defense stood tall late on the drive after facing a short field. The Tigers forced a punt only to return to the field a play later.
LSU now leads, but Auburn has had some sparks on offense. A few good runs for the Tigers could push them back into the lead shortly. They have to churn up yards on the ground.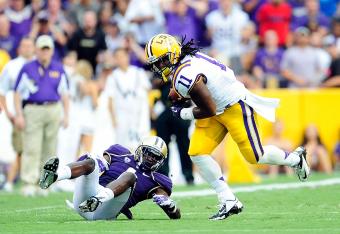 Auburn lost coverage and allowed a big play for LSU. The Bayou Bengals are driving at the Tigers 21 yard line.
Landry jogged off the field. Now LSU takes over on the Auburn 48 yard line.
Auburn's defensive line is making plays tonight. A unit that was labeled as the strongest on the team in preseason is showing out in this game.
Quan Bray muffs the punt and the ball is recovered by LSU receiver Jarvis Landry.
Landry is the leading receiver in the game for the Bayou Bengals, and he is now injured on the turf, focusing on his ankle.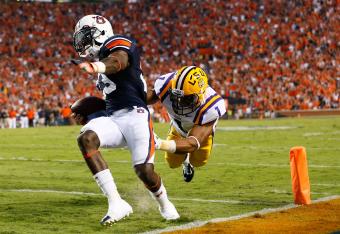 Jermaine Whitehead made a great play for Auburn there. He got lost in coverage, but didn't allow the receiver to come down with the catch.
Jordan-Hare Stadium is rocking as Auburn is trying to force LSU into a third and long situation. The Tigers have continued to bring their big sticks in the second half so far.
If Auburn is to continue to hang with the Bayou Bengals, they have to get more production from the running game. Big play or steady gains, the Tigers have to get more yards on the ground.
LSU gets the ball back from Auburn after a big offensive flop for the Tigers.
LSU committed two penalties on the return and are now taking over the football at the 13 yard line.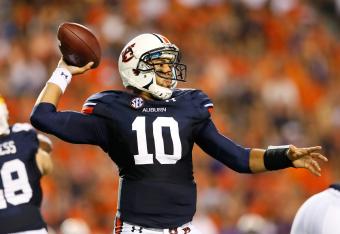 Kiehl Frazier: 9-of-12 for 72 yards.
Can Auburn capitalize on this momentum swing?
Looking at that replay, the ball looked to strike the LSU player in my opinion. I don't think that was T'Sharvan Bell. It hit Landry in the left hand.
I have photo evidence to backup that call by the officials.
Five yard penalty against Auburn.
This is the second game in a row that the Tigers have jumped off-sides during a critical down.
Auburn can't make these mistakes against LSU and expect to stay afloat.
Auburn is facing a big 3rd down play. If Auburn can continue to find pressure on this play, forcing a punt would be a big swing.
This article is
What is the duplicate article?
Why is this article offensive?
Where is this article plagiarized from?
Why is this article poorly edited?