West Virginia Mountaineers vs. Oregon Ducks: Comparing Offenses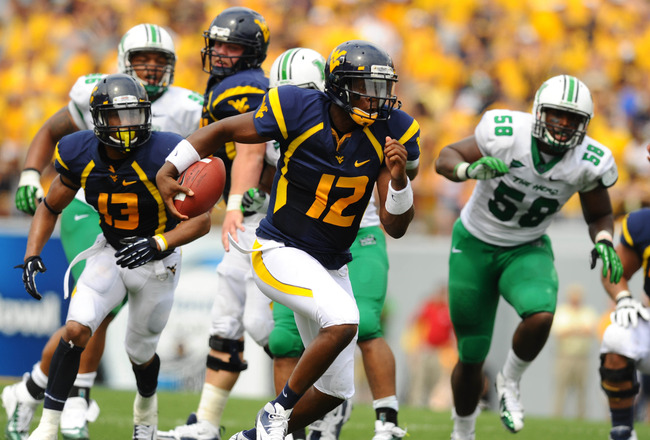 James Lang-US PRESSWIRE
When you think about either West Virginia or Oregon, you think of high-scoring, explosive and almost unstoppable offenses.
But which one is better?
There's no doubt that defenses around the country would hate to face either the Ducks or the Mountaineers, but which one would they dread more?
Let's take a look at both of these fiery, elite offenses one unit at a time and examine how they match up.
Ready? Read on.
Quarterbacks
Justin K. Aller/Getty Images
Both of these quarterbacks are remarkably efficient with the football. Marcus Mariota is completing over 75 percent of his passes, while Geno Smith's completion rate is north of 80 percent. Plus, Mariota has eight touchdowns to just one interception, while Smith has 13 touchdowns and has yet to throw a pick in 2012.
Granted, neither team has faced a particularly good defense thus far this season, but you can't ask for much better than what these two quarterbacks are dishing out.
Sure, Smith is a senior, but Mariota just might be the most mature redshirt freshman in the country.
Edge: Even
Running Backs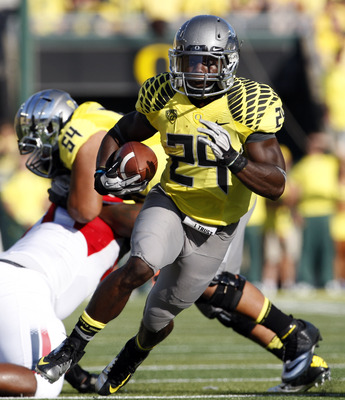 Kevin Casey/Getty Images
It's amazing to think that Oregon's best running back from last year is in the NFL, and still the Ducks are one of the most explosive running teams in the country.
After just three games, Oregon's Kenjon Barner and De'Anthony Thomas already have burned defenses for a combined 552 yards and 10 touchdowns.
Oh, and Thomas leads the team in receiving with 154 yards and three touchdowns. That makes this RB duo that much harder to defend.
The Mountaineers have a pretty solid RB in Shawne Alston, but Alston has struggled with injuries a bit over his career. His involvement against Maryland was limited due to a thigh injury.
West Virginia doesn't have nearly the depth that Oregon does. The Ducks rule in the backfield.
Edge: Oregon
Wide Receivers
Justin K. Aller/Getty Images
West Virginia has a pair of elite wide receivers in Tavon Austin and Stedman Bailey. This two-headed receiving monster has a combined 677 yards and 10 touchdowns.
Opposing defenses have to pick their poison, as covering both of these terrific WRs is almost impossible.
Oregon, on the other hand, doesn't have one or two star WRs, as they like to spread the ball out to a number of good targets. In fact, RB De'Anthony Thomas has the most receiving yards, which should tell you they don't have a single guy to turn to through the air.
The Mountaineers, therefore, are able to edge the Ducks, as Geno Smith has two sure-handed WRs to turn to.
Edge: West Virginia
Offensive Line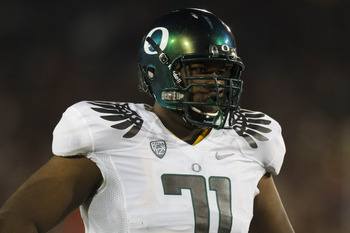 Jason O. Watson-US PRESSWIRE
The Ducks' offensive line excels at opening up holes for the running game. They're led by two seniors in RG Nick Cody and LG Ryan Clayton. They lost Carson York to injury in last season's Rose Bowl, and he requires surgery that will keep him off the field this season and could potentially end his career as a Duck if the NCAA doesn't approve a waiver for him.
While Oregon is excellent at run-blocking, they could use a bit of improvement in the pass-blocking department. Marcus Mariota has already taken five sacks this season.
Geno Smith, on the other hand, has taken only one sack all season. However, even the offensive linemen themselves say that there's room for improvement, especially in the communication department.
The Mountaineers line returns four starters and Josh Jenkins, who had to take last year off due to injury. A line like this in front of a QB like Smith is a dangerous thing.
Edge: West Virginia
Tight Ends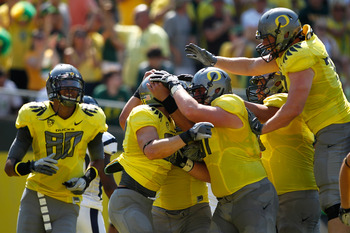 Jonathan Ferrey/Getty Images
Like most of the Oregon passing game, the Ducks don't have a single stand-out tight end. But they do have Colt Lyerla, who already has 54 yards and two touchdowns.
Not bad at all.
As for West Virginia, tight ends haven't figured much in the Mountaineers offense. Then again, with the WRs that the Mountaineers have, you can't really fault West Virginia for that.
Edge: Oregon
Overall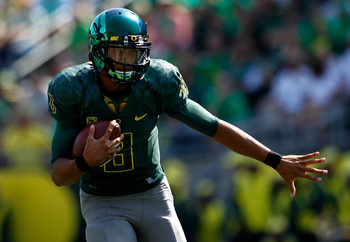 Jonathan Ferrey/Getty Images
There's no doubt that these are two of the most explosive offenses in the nation. Both of their quarterbacks are among the elite of college football, and look for both of these teams to torch just about any defense they run into.
To me, the difference between these two offenses is balance. Oregon can run all over you and overwhelm you with the pass. West Virginia, particularly with Shawne Alston struggling with injuries, seems a bit more one-dimensional to me.
Yes, that one dimension is fantastic with Geno Smith leading the way, but I think that if the Mountaineers can't get a bit more depth in the running game, they're going to pay for it at some point during the season.
Edge: Oregon
Keep Reading