"A road game against an overconfident Seahawks team? That's an easy win."—No one, ever
There are few things that I know for sure this NFL season. First, the Houston Texans will win the AFC South. You can stick a fork in that division right now.
Second, the Atlanta Falcons are going to be a very tough team to beat. I'm not willing to hand them the NFC South yet, just because I like the sneaky Buccaneers a little bit, but Matt Ryan is definitely on the right track.
Third, the Seahawks don't lose at home. They just don't.
I was amongst the few people who actually had the gall to predict a NFC West crown for Seattle this season. And I was amongst the many people who jumped from the Seahawks bandwagon following their Week 1 performance.
As soon as that pass slipped through Braylon Edwards' hands, my feet were on the ground and I was booking it for San Francisco to apologize to Jim Harbaugh, and ask for his forgiveness.
I even went so far as to guarantee a Seahawks loss last week, simply out of spite. How terribly foolish I looked. The Seahawks spanked Tony Romo and a bewildered Cowboys team up and down the field for 60 minutes. The 27-7 score line didn't even reflect the utter domination.
The scary thing is that Russell Wilson didn't even have to do anything! He threw for 151 yards. Granted, he didn't make any mistakes; he didn't throw any bad picks. But he didn't do anything great either.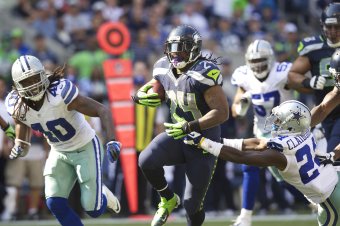 Stephen Brashear/Getty Images
It was all about the defense. DeMarco Murray was bottled up all day, accumulating just 44 yards. Tony Romo finished with 251 yards through the air, which is normally a decent outing. But consider that the Cowboys were behind the whole game, and Romo threw the ball 40 times. That's less than 6.3 yards per attempt. That's not a good thing.
Ultimately, the Seahawks dominated the day with Marshawn Lynch's punishing run style and a stalwart defense. Now they welcome Green Bay to their humble abode.
I'll be honest. As someone who chose the Seahawks to take the NFC West, as well as the Packers to finish second in the NFC North; I still circled this as a win for Green Bay.
Once again, I will go against my previous prediction.
The Packers have been less than stellar thus far. Obviously, losing your home opener is never a good sign. But even in their victory over Chicago, they weren't as dominant as we have become accustomed to.
One could argue that Jay Cutler and Brandon Marshall both had one of the worst games of their respective careers. In addition, Matt Forte left the game in the third quarter and never came back. The 2011 Packers would have been up 35-0 at halftime. The 2011 Packers would have sat their starters at the end of the game.
But these are the 2012 Packers, and something just seems a little off, doesn't it? Aaron Rodgers had an extremely run-of-the-mill kind of game. Cedric Benson was good, but not great. The defense was phenomenal, but like I said, Cutler and Marshall don't both play that poorly very often.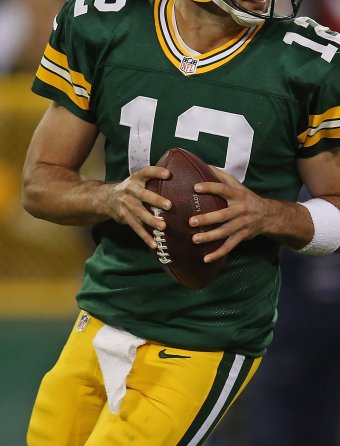 Jonathan Daniel/Getty Images
It was only 13-0 at halftime. And it was 13-3 going into the fourth quarter. The Bears stuck around, but eventually fell victim to the massive hole they had dug for themselves. The Packers picked up a much-needed victory.
Good thing too, because it would have been an awful shame for them to start 0-3.
Did you miss me, Seahawks bandwagon?
If Seattle can show that they are more like the Week 2 Seahawks than the Week 1 Seahawks, they will be able to keep the game close. They will be able to pound Lynch on the ground, and as long as Russell Wilson doesn't make big mistakes, they can put up points. The defense can stick with the best of them, and won't allow Rodgers to turn it into a shootout, something you definitely don't want for your rookie QB.
Seasons are defined by moments like these.
With the Seattle crowd fueling the biggest home field advantage in the NFL, the Seahawks take down the Packers 26-24.