St. Louis Rams vs Chicago Bears: Live Score, Analysis for NFL Week 3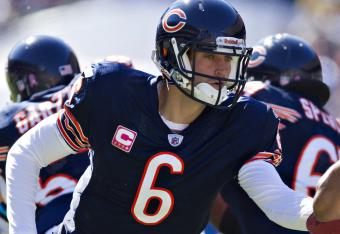 Wesley Hitt/Getty Images
The Rams are in Chicago to take on the bears at Soldier Field.
Keep it here for live updates and analysis throughout.
Score
Chicago Bears 23, St. Louis Rams 6
FINAL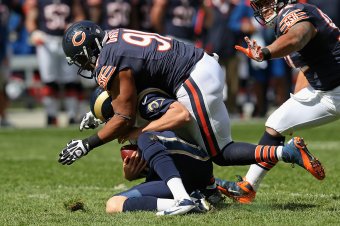 Jonathan Daniel/Getty Images
One positive for each unit...
Chicago Bear Defense
The defense created heavy pressure and limited the Rams to only 59 rushing yards while forcing two turnovers.
Chicago Bears Offense
The offense struggled at times, but Alshon Jeffery and Brandon Marshall create a great tandem, while Michael Bush is a serviceable insurance policy for Matt Forte.
St. Louis Rams Defense
Defense looked feisty and physical, even if they received no help whatsoever from their offense.
St. Louis Rams Offense
Sam Bradford isn't in a wheelchair.
Up Next
The Chicago Bears will look to improve their record to 3-1 when the travel to Dallas to take on Tony Romo and the Cowboys.
The St. Louis Rams will look to even their record at 2-2 as they return to St. Louis to take on NFC West rival Seattle Seahawks.
What If's
What if CB Janoris Jenkins didn't drop the sure pick-six in the first quarter?
What if WR Brandon Gibson didn't drop the deep ball that would've put the Rams inside the 10-yard-line in the first half?
What if the Bears defense didn't intercept the deflection and take it back for six points?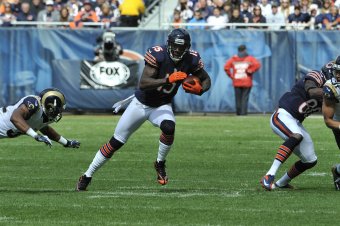 David Banks/Getty Images
Offensive Leaders
Chicago Bears
Jay Cutler: 17-for-31, 183 yards, 1 interception
Michael Bush: 18 carries, 55 yards, 1 touchdown
Brandon Marshall: 5 receptions, 71 yards
St. Louis Rams
Sam Bradford: 18-for-35, 152 yards, 2 interceptions
Steven Jackson: 11 carries, 29 yards
Danny Amendola: 5 receptions, 66 yards
Final Score
Chicago Bears 23, St. Louis Rams 6
In the next two games, St. Louis will face Brandon Mebane, Chris Clemons, Darnell Dockett and Calais Campbell.
Offensive line won't be getting a break anytime soon.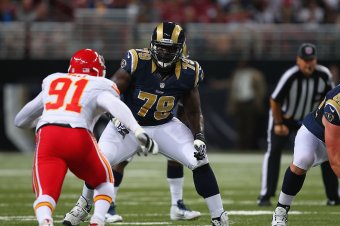 Dilip Vishwanat/Getty Images
Barry Richardon, a tackle for the Kansas City Chiefs who was hated by the fans for his awful play.
Wayne Hunter, a tackle for the New York Jets who was hated by the fans for his awful play.
As a weird science experiment, the two were put together on one team and are starting simultaneously.
The result: The Rams pathetic offensive line.
Does anyone believe for even a second that the Rams are about to march 92 yards downfield for a touchdown?
Didn't think so.
Sam Bradford and Jay Cutler are looking identical statistically.
Bradford: 16-for-31, 142 yards, one interception
Cutler: 15-for-29, 142 yards, one interception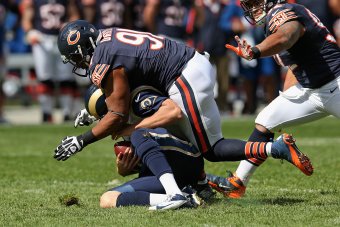 Jonathan Daniel/Getty Images
Danny Amendola is well-covered and gets out-muscled for the ball, causing a deflection that's intercepted and returned 45 yards for a Bears touchdown.
Brandon Gibson and Lance kendricks can't catch anything today. The line can't block. Sam Bradford can't get rid of the ball.
The Rams offense looks absolutely pitiful.
Right on cue, the Rams defense loosens up in the fourth quarter and gives up easy yards and big gains.
Limiting the Bears to a field-goal instead of a touchdown was huge, but the Rams need to tighten up for the rest of the quarter.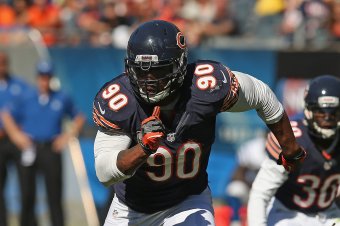 Jonathan Daniel/Getty Images
Julius Peppers flagged for unnecessary roughness on Rams RB Daryl Richardson, and it looked as though one Bears player threw a punch.
Still some chippy play on the field, but the officials have done a much better job maintaining control compared to last week against Washington.
A nine-yard loss on a sack, followed by a false start, and the St. Louis Rams continue to struggle on offense.
The sack was all on Sam Bradford. He had plenty of time, and even if no receivers were open he should have thrown it away.
Greg Zuerlein hits his second field-goal of the day and is 8-for-8 on the season. Zuerlein's two field-goals are the only points for the Rams, who currently trail the Bears 10-6.
The Rams offense has been very limited thanks to the Bears defensive line. St. Louis really needs a defensive touchdown if they want to win today.
John Lynch was dead on when he said the Bears secondary shouldn't get the credit for shutting down Danny Amendola and the Rams receivers.
All the credit goes to the Bears' pass-rush, as well as the Rams' banged up offensive line.
The Rams need a tight end on the left side to help out Wayne Hunter with Julius Peppers.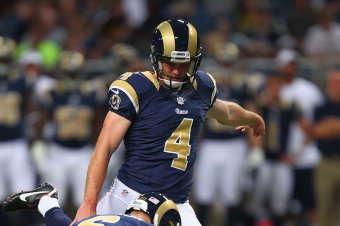 Dilip Vishwanat/Getty Images
Greg "The Leg" Zuerlein nails a 56-yarder to close out the half for the Rams. Zuerlein remains perfect on the year.
Should be the final drive of the first half, lets see what the Rams can do.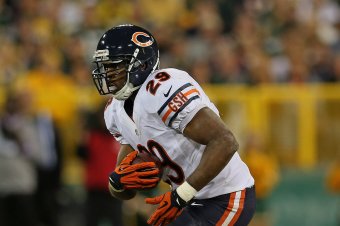 Jonathan Daniel/Getty Images
Brandon Marshall gets the ball on the goal-line, Michael Bush punches it in for another Bears score.
Rams defense having a tough time stopping the screen pass. Jeff Fisher needs to come up with a solution.
Defensive battle so far, as the Rams offense continues to struggle.
On the last drive, Steven Jackson was on the sidelines wearing a heated pad on the groin area. Apparently Jackson is fine, but he was just taking a series off in order to rest.
End of First Quarter
Rams have only eight total yards of offense, Bears have 41.
Rams time of possession is 5:43 compared to Chicago's 9:26.
Rams have one penalty, Chicago has four.
Brandon Gibson's drop makes in third-down, and the Bears answer back with yet another third-down sack.
End of first quarter.
WR Brandon Gibson drops a catchable ball that would've put the offense on the 10-yard-line.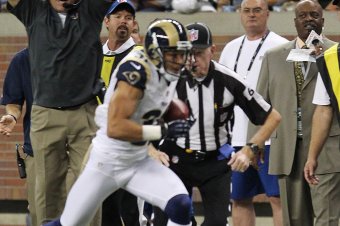 Dave Reginek/Getty Images
Cortland Finnegan intercepts Jay Cutler and makes a nice return, Finnegan fumbles the ball and it's picked up by Devin Hester, Hester fumbles and the Rams recover again.
Three turnovers on one play.
Quite the entertaining carnival ending to the first quarter. Play is under review, but it looks like Finnegan was down before he ever fumbled, which gives the Rams offense great field position.
DT Jermelle Cudjo stops Michael Bush on third-and-short, Bears go for it on fourth down and convert.
This article is
What is the duplicate article?
Why is this article offensive?
Where is this article plagiarized from?
Why is this article poorly edited?