FAU vs. Alabama: Live Scores, Analysis and Results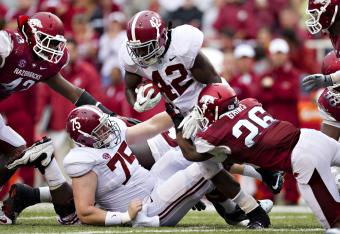 Wesley Hitt/Getty Images
Alabama 40, FAU 7—FINAL SCORE
Florida Atlantic took on reigning national champion Alabama in Tuscaloosa and came out better than anyone except Michigan in Week 1.
Will the Tide fare better than the Georgia Bulldogs?
Will they log a third shutout in as many weeks, or will the Owls expose the Tide's still-untested secondary as a vulnerability?
Stick around right here for live scores and analysis during the Tide's attempt to stay undefeated through September.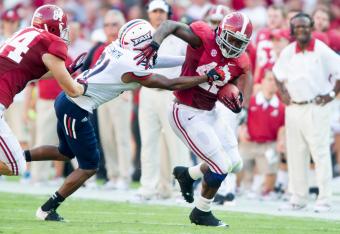 Alabama 40, FAU 7—FINAL SCORE
A.J. McCarron: 15/25 for 212 yards, 3 TD's and 0 INT's.
Eddie Lacy: 15 carries for 106 yards.
Kenny Bell: 1 reception for 85 yards and a TD.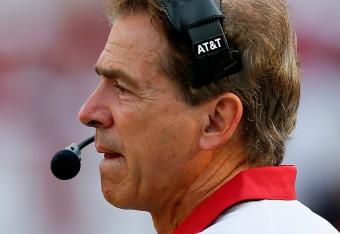 FAU 7, Alabama 40 with 2:49 left in the 4th
FAU turns Alabama's second-string defense into locker room fodder for Nick Saban.

Unsportsmanlike conduct called against Alabama's bench. First-and five for the Owls from the 11.
Saban is going to have an extra scholarship tomorrow. Don't ask questions about where the missing player is.
FAU enters the Alabama red zone. The shutout is in danger, and we're on the edge of our seats. FAU fans are on the edge of their seats for the opposite reason.
Which side has more churchgoers? We're about to find out.
Alabama just learned that FAU isn't ready for this game to be over yet. The Owls just reeled off a notable play and a big play back-to-back.
If the Tide isn't really careful, the Owls could ruin the shutout. Owls fans would love to see that.
Alabama 40, FAU 0 with 11:13 left in the 4th.
Alabama's second string just got bragging rights over the starters. FAU held Alabama to three field goals in a row before the first string's last touchdown.
The second string is now the only unit that is 100 percent from the red zone today.
The "walking boot' just put on Brandon Ivory is a good sign. He will not be out for long as far as the season is concerned.
Brandon Ivory is being helped off the field. With a 33-point lead, don't look for his return to the game today. They'll let him heal.
In the meantime, 'Bama stops FAU on third down for the ninth time today. The crowd is still chattering away.
After a 17-year championship drought, fans don't leave games when their team is winning...ever.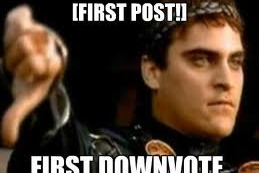 Alabama: F!rsT PunT!
Ely comes under center for Alabama. Let's see if he lasts longer than he did against Arkansas.
I wonder if Vegas has a line on that?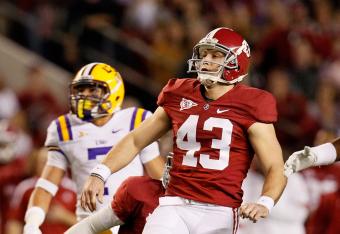 Alabama 33, FAU 0 with 8:26 left in the 3rd
Alabama's Cade Foster is true from 46 yards out.

McCarron is quietly building the foundation of a Heisman campaign with scrambles like that. Nobody's fooling themselves into thinking he'll earn it against the Sun Belt, but if you add stats like this to great in-conference performances...it could happen.
Of course, FAU's back-to-back tackles for loss may hinder that campaign.
We are back underway in Tuscaloosa, with the Tide leading the Owls 30-0. There is 12:46 left in the 3rd Qtr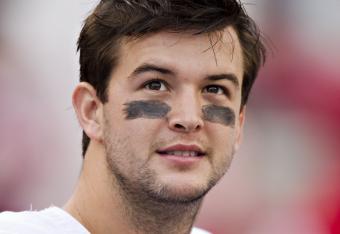 Alabama leads FAU 30-0 at HALFTIME
A.J. McCarron: 12/23 for 198 yards, 3 TD's and 0 INTs'
Florida Atlantic is putting up a great fight, and forced 'Bama to attempt field goals on three straight drives.
Alabama needs to clean up the game overall: catch passes, quit committing penalties and stop the offensive errors.
Alabama 30, FAU 0 with 0:08 left in the 2nd.
Alabama puts the first half on ice with another touchdown. Amari Cooper on the receiving end of that one.
The Owls defense should be smiling. Not like "John L. Smith" smiling, but really smiling. Holding the Tide to field goals on back-to-back-to-back drives is better than many top-tier schools would be able to do.
If Alabama didn't have Adam Griffith, FAU's punter might have gotten offered a Tide scholarship after his 50-plus yard punt average today.
Alabama 23, FAU 0 with 4:36 left in the 2nd

At least McCarron's targets have the decency to hang their heads after a dropped pass instead of pointing at the quarterback.
That makes me smile. Also, lifting their chin up right afterward is the perfect response.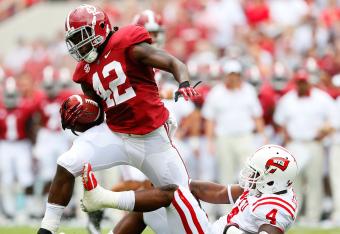 Aaaaaaand "Circle Button" rips off another big gain. I hope the Ohio State Buckeyes are watching this game. They could use the video after that terrible display against UAB today.
The crowd in Tuscaloosa is more into this game than the crowd last night during the Louisiana-Monroe game...when Monroe was leading a much closer margin than this.
Sometimes it's surprising how much we 'Bama fans are spoiled, isn't it?
Alabama 20, FAU 0 with 10:31 left in the 2nd
Florida Atlantic becomes the first team to hold Alabama to a field goal in the red zone in 2012. Small victories are starting to pile up for the Owls.
That's got to be my favorite moment in college football: The Million Dollar Band playing "Look Down" from Les Miserables when the opponent's quarterback gets sacked.
So funny!
Alabama 17, FAU 0 with 14:49 left in the 2nd
Again, how did this FAU secondary lose to Middle Tennessee? Forcing Alabama to try a 52-yard field goal is a huge accomplishment.
Good no-call by the ref. The defender got his head around before contacting the receiver. Looked different at full-speed.
Florida Atlantic just recovered the Tide's second lost fumble of the season. That's a win, but it also brought the noise from the crowd into the game.
They call that "two steps forward; one step back." Bringing the Tide crowd into the game almost never works out for the visitors.
This article is
What is the duplicate article?
Why is this article offensive?
Where is this article plagiarized from?
Why is this article poorly edited?

Alabama Crimson Tide Football: Like this team?