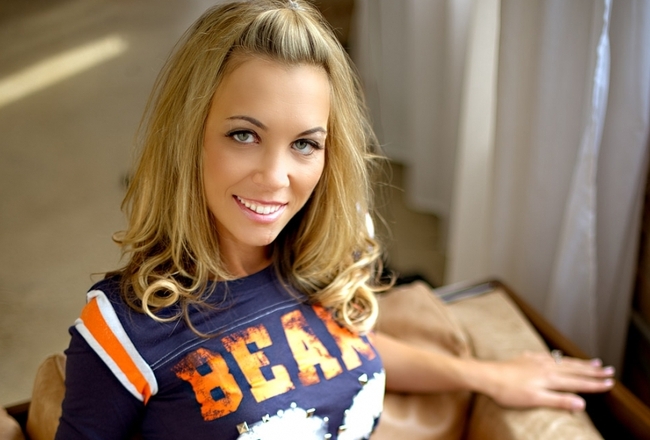 Image via melissadiep.net

Don't pretend that you hate it when women wear sports jerseys. Just don't. Every man loves a beautiful woman in a jersey. There is just something sexy about it.
Now there is a huge difference between a woman wearing a sports jersey as part of her attire, and a woman wearing nothing but a sports jersey. I just wanted to make sure we all had an understanding about it before the jump.
Since you are looking for something to do for a few minutes, why not enjoy the sights and sounds, except the sound is on mute, of beautiful women in jerseys. Enjoy.
25. Doutzen Kroes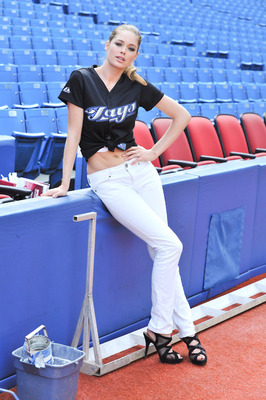 Image via redreidinghood.tumblr.com
Doutzen Kroes is from the Netherlands and is currently a Victoria's Secret supermodel.
How she became a Toronto Blue Jay fan is beyond me. If you know, feel free to object.
24.. Brooklyn Decker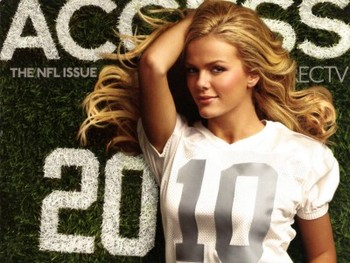 Image via celebritydesktopwallpapers.com
As I have said countless times before, Brooklyn Decker is amazing.
She is not only one of the sexiest WAGs ever, she is one of the hottest females ever to rock a No. 10 jersey.
23. San Diego "Super" Chargers
Image via humaniplex.com
Do you finally understand what I was talking about?
When a beautiful woman rocks a jersey and just about nothing else, it expands the definition of what is hot.
22. Marisa Miller and Oliva Munn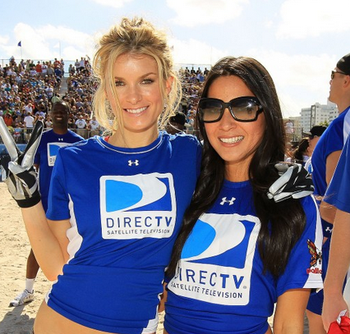 bustedcoverage.com
DIRECTV may not be an actual team, but these are jerseys, and they're being worn by two of the hottest former WAGs on the planet. Counts.
21. New York Jets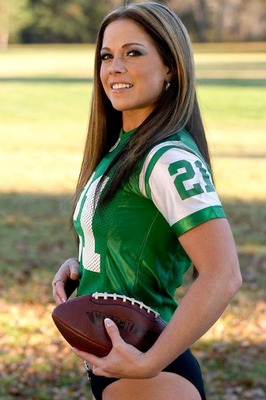 Image via ebaumsworld.com
I have played thousands of football pickup games on Sundays.
I have never run into a sexy female like this one wanting to play, too. I guess I was just in the wrong place.
20. Yes, I Want to Play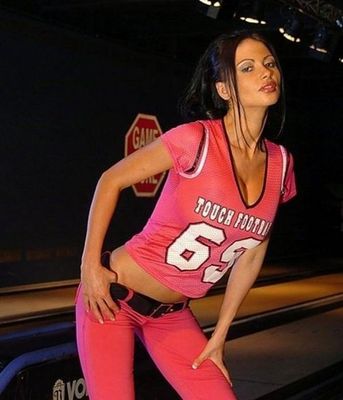 Image via linksgutter.com
This photo pretty much explains itself.
19. Miami Dolphins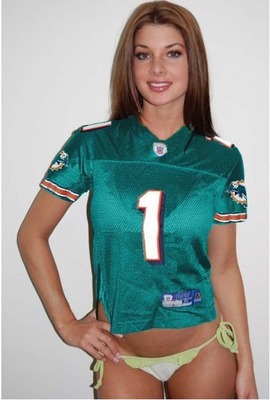 Image via ebaumsworld.com
If you have ever been to Miami, then you already know that the city played the lottery in life and won.
The beautiful women are everywhere. I am not even exaggerating.
18. The One and Only LT
Image via forkparty.com
This will be the first NFL season without a player nicknamed "LT" since the late '70s.
So it is safe to say, we might have another one coming into the league soon.
17. Kate Upton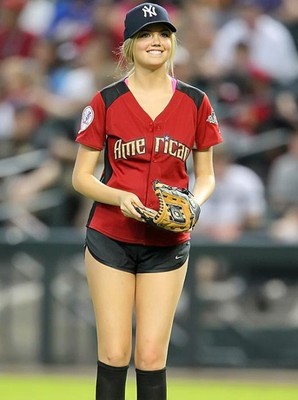 Image via liberallylean.com
Kate Upton is in love with herself. And that is not a bad thing.
Because she loves herself, she ends up dressing sexy and looking like how a beautiful woman should look.
16. The Super Bowl Champs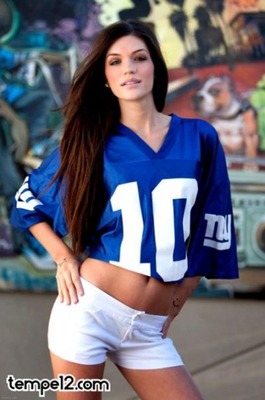 Image via ebaumsworld.com
Now is a good time, as any, to fan up and start showing your love for the New York Giants.
And if you don't want to cheer for them, it's OK. Just make sure you don't wait until next season before you start.
15. Tony Romo in Dallas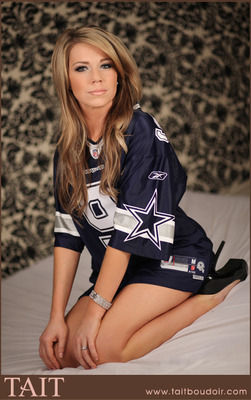 Image via taitboudoir.com
Why was Tony Romo handed the keys to the city of Dallas a few years ago? What has he done to earn the kind of following he has?
I am not knocking the guy, just asking a simple question about a man who has never won more than one playoff game in his entire career.
14. Holly Madison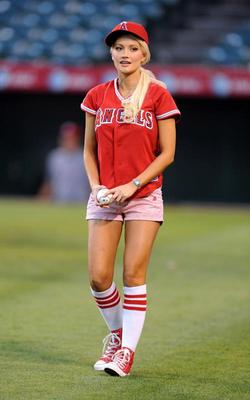 Image via celebrity-gossip.net
If Holly Madison was still looking for a man, I am available.
Just in case she reads my work and was curious, I am always free for Madison. Just a little food for thought.
13. Madison Welch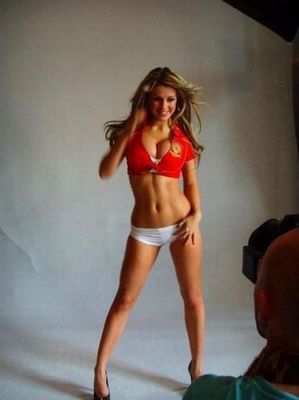 Image via izismile.com
Why do women even wear short shorts? It is a bigger version of the sexier lingerie style underwear.
That being said, Madison Welch is a striking example of why women still wear short shorts. It is just plain sexy.
12. More of the Chargers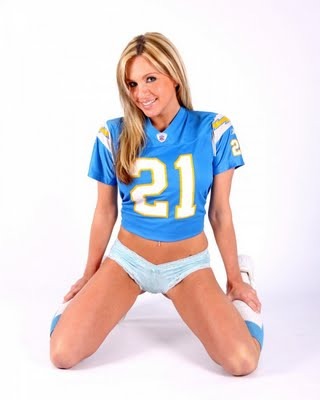 Image via thesportsunion.com
This could finally be the season where the San Diego Chargers put it all together and win a Super Bowl for the first time in their history.
All they have to do is find better ways to utilize fans in the stands. I think that could help distract the other team, right?
11. The Mystery Cowboy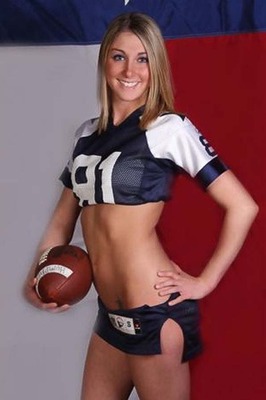 Image via ebaumsworld.com
Who is No. 81 for the Dallas Cowboys? I couldn't find it anywhere on their current roster. Who is this mystery man that this gorgeous model is supporting?
Oh wait, is that Terrell Owens' jersey? Yes, indeed.
10. Karen McDougal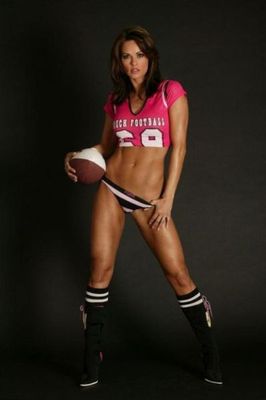 Image via izismile.com
From Playboy to football, Karen McDougal looks good in clothes, sweaters, parachute pants, jerseys, etc.
It hardly matters what she is wearing. As long as you have eyes, you can enjoy her.
9. South Carolina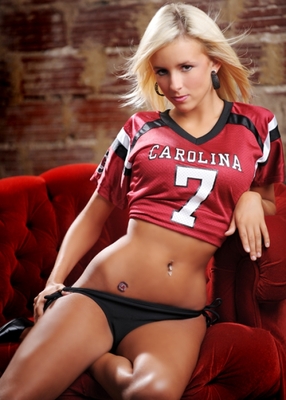 Image via tapiture.com
Can you imagine a world where the students of a particular university all looked like this? Nothing would ever get done.
Guys would sit around staring and slowly lose all memory.
8. Hillary Fisher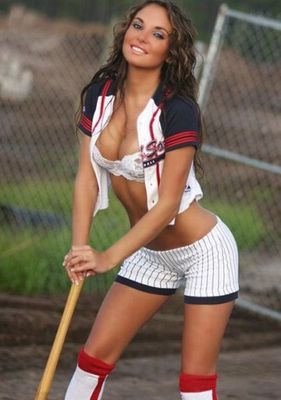 Image via izismile.com
Many people have asked me who this is. They see the beautiful woman popping out of her baseball jersey, and they all of a sudden want to know her name.
Well, it is Hillary Fisher, a Playboy playmate. You're welcome.
7. Amber Heard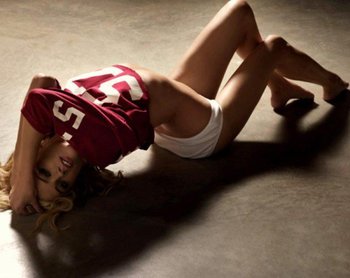 Image via media.nesn.com
A jersey is one of the only things that could possibly make the stunning Amber Heard even more stunning.
6. The Moss Girls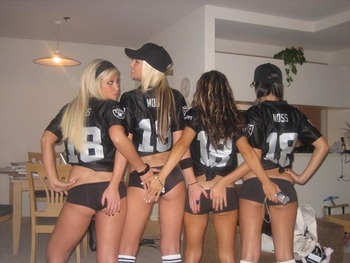 Image via forkparty.com
I am sure this group of women loved Randy Moss when he was in Oakland. But what about now that he is across the bay in San Francisco?
Do you think they still show the love? Or are they wearing McFadden jerseys? Does it matter?
5. Tiki Barber Is Missing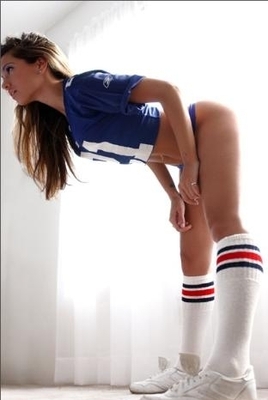 Image via tapiture.com
Let me tell you something about sports that you might not realize, these guys work really hard behind the scenes. They don't just wake up in the morning with the ability to play in the NFL. They have to work for it.
Women, on the other hand, especially ones like this beauty, work just as hard to maintain a physique that would make your jaw fall off.
4. Georgia Bulldogs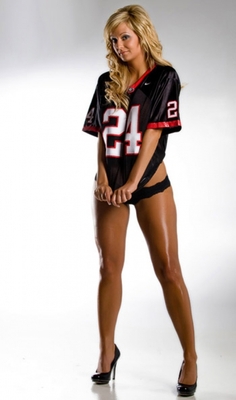 Image via tapiture.com
Jersey? Check.
Skimpy black lingerie? Check.
High heels? Check.
I was going to ask about one more thing, but I forgot the question.
3. Marion Barber Without the Hair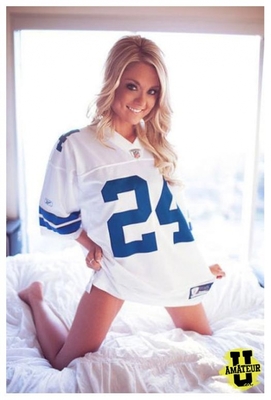 Image via tapiture.com
Just because Jessica Simpson wore a Tony Romo jersey, doesn't qualify her as being sexy in it.
This female, on the other hand, wins at everything.
2. Washington Redskins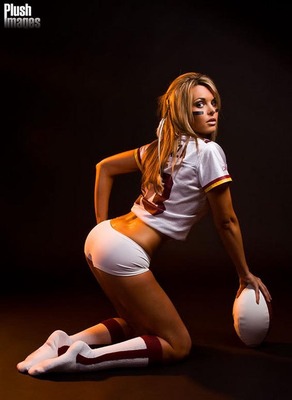 Image via forkparty.com
The Washington Redskins front office might want to consider hiring this babe for their next free-agent visits.
If I was looking to sign and she walked in the room, you wouldn't have to even ask.
1. Olivia Wilde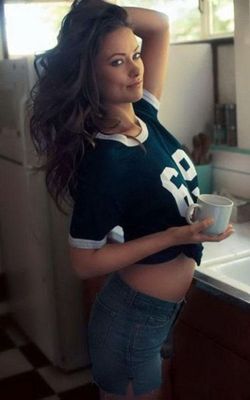 Image via izismile.com
Olivia Wilde was the reason men continued to watch House, three seasons after it became a bore fest.
She is the reason I watched "Alpha Dog," "Cowboys," "Aliens" and "Tron." She is the reason I do most things.
I need one more look.
There It Is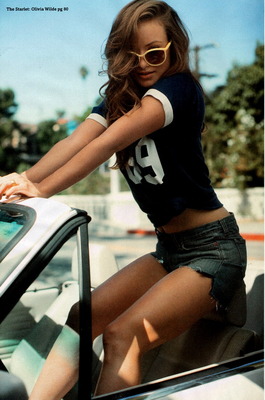 Image via ohnotheydidnt.livejournal.com
And there she is, one more time.
Isn't she truly amazing?
Keep Reading