1 Reason You Must Watch All 30 NBA Teams During the 2012-13 Season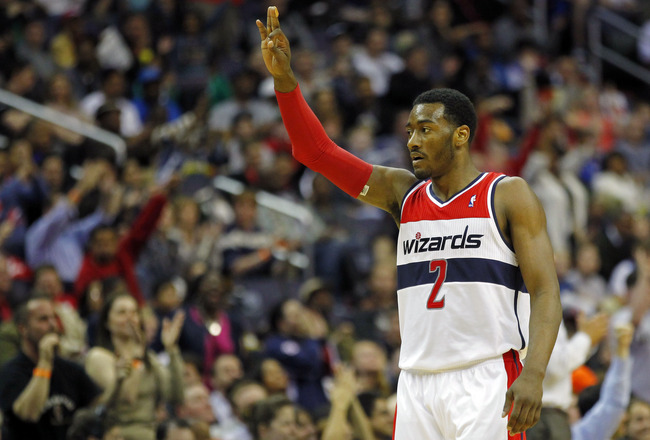 Geoff Burke-US PRESSWIRE
When the 2012-13 NBA season kicks off, don't just be content to watch your favorite team play. There's a solid reason for watching each and every one of The Association's 30 teams whenever possible.
Sometimes it's worth watching as depth chart situations unfold. Sometimes you want to see how a certain dynamic affects the team.
In other situations, you may want to focus on a single player and what he brings to the table. Honing in on one star can be just as enjoyable as watching the team as a whole.
I don't think I need to convince you why you should watch the Los Angeles Lakers, Miami Heat or Oklahoma City Thunder (although I'm going to do it anyway). It might take a little bit of prodding to push forth the Charlotte Bobcats or Orlando Magic, though.
Here's why you should make sure to catch all 30 teams in the league.
Atlanta Hawks: The Josh Smith Show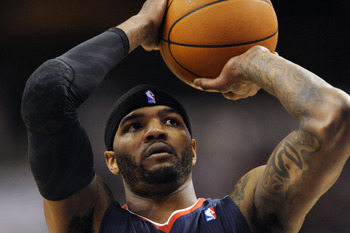 Howard Smith-US PRESSWIRE
The Atlanta Hawks are going to be an entertaining team to watch during the 2012-13 season thanks to the roster overhaul forced by Danny Ferry's arrival. Joe Johnson might have been a sensational shooting guard, but the "Iso Joe" offense wasn't exactly thrilling.
Now that Joe is gone, this team belongs to Josh Smith, for better or for worse. Al Horford might be the better player, but Smoove is the heart and soul of the Hawks. The ebbs and flows of his game will have more of an impact than any other player's.
For those looking to find a reason to watch the Hawks, this should be a terrific one.
Smith's athleticism and unpredictability makes him one of the NBA's more compelling athletes. Will he use his physical skills and drive to the basket, coupling his shot-blocking and defensive skills with an onslaught of offense? Will he simply be content to hoist up ineffective perimeter jumpers?
You never know what you're going to get when watching Smith, but the possibility for greatness is too much to pass up.
Boston Celtics: Rajon Rondo's Offensive Brilliance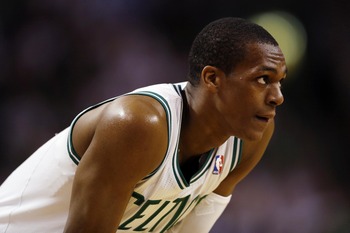 Greg M. Cooper-US PRESSWIRE
Rajon Rondo inspires more than just a division between those who love him and those who think he's tremendously overrated. If anything, it's a schism.
With Ray Allen leaving Beantown for the luster of South Beach and the Larry O'Brien Trophy, Rondo is going to have to step up even more on offense. That's a great thing for those of us who love watching offensive brilliance.
Even though Rondo isn't a great scorer—although his jumper looked vastly improved during the postseason—his wizardry with the ball and flair for the creative when generating dimes is too much to pass up.
Where else can you find a player who squeezes the rock through a microscopic hole with his weak hand on one play then misses an open layup on the next?
You can't, and that's what makes Rondo such a joy to watch.
Brooklyn Nets: Answers About Deron Williams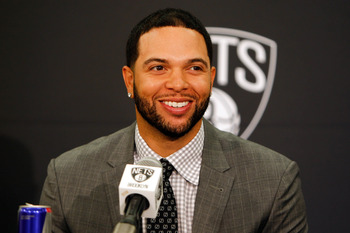 Debby Wong-US PRESSWIRE
Deron Williams finally has a bevy of talented scorers playing around him, so it will be interesting to see how one of the NBA's elite point guards responds to a previously unknown situation.
During his last few seasons with the Utah Jazz and his brief time with the New Jersey Nets, D-Will was forced to shoulder the offensive load. The onus was on him to be the leading scorer and still involve his teammates effectively, even when those teammates were below average.
This year, Williams doesn't have any more excuses if he fails to lead his team into the promised land that is the NBA postseason. He's working with Gerald Wallace (again), Joe Johnson and—hopefully—a healthy Brook Lopez. Plus, there's talent coming off the bench.
Will Williams be able to put aside his ego and accept a dip in scoring? Is he a player destined to put up empty stats on losing teams?
A lot will be revealed about one of the NBA's best floor generals during the 2012-13 season.
Charlotte Bobcats: Michael Kidd-Gilchrist's Development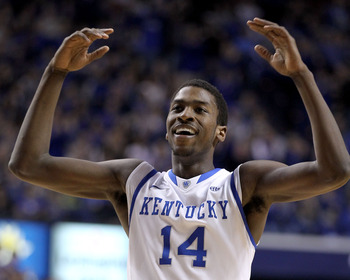 Andy Lyons/Getty Images
Believe it or not, there are actually reasons to watch the Charlotte Bobcats just one year removed from setting the NBA record for regular-season futility.
Leading those reasons is Michael Kidd-Gilchrist, the No. 2 pick in the 2012 NBA draft. After winning a championship with the Kentucky Wildcats, MKG is ready to take his talents to a much less successful team and attempt to make a positive impact.
Right now, the small forward is viewed as an energy player, a true winner who manages to help out his team in a bunch of small, underappreciated ways. His jumper needs a lot of work, and he's going to score the majority of his points in transition and off offensive rebounds.
Kidd-Gilchrist's desire to win will manifest itself in his play. You'll want to see this future star player during his rookie season, as he constantly strives to get better and help the Bobcats, you know, actually win double-digit games.
Chicago Bulls: The Ability to Replace Derrick Rose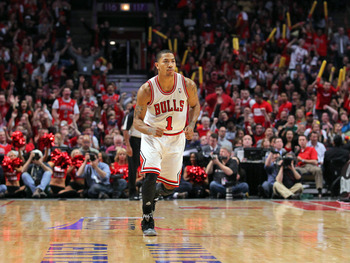 Dennis Wierzbicki-US PRESSWIRE
For the Chicago Bulls, it's all about Derrick Rose, even when he's not actually out on the hardcourt.
No one knows exactly when the former MVP will return to action after tearing his ACL during the first game of the playoffs, but the high-scoring point guard will be the No. 1 reason to watch the Bulls as soon as he returns.
Until that unknown date, the most intriguing aspect of the Bulls will be the roster's ability to replace its best player. Someone different is going to have to elevate his performance on a nightly basis if the Bulls hope to keep pace in the Eastern Conference.
Some nights, Kirk Hinrich will light it up from downtown. Other times, Nate Robinson or Marquis Teague will have to do the heavy lifting at point guard.
Chicago won't play a pretty brand of basketball during the 2012-13 season. Games will be hard-fought, low-scoring and gritty from tipoff until the final buzzer sounds. Don't expect a lot of glamour.
Just know that you'll see great performances from different players each time you turn on the television and see Tom Thibodeau pacing the sidelines.
Cleveland Cavaliers: Kyrie Irving's Ascent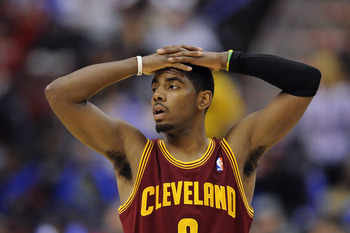 Howard Smith-US PRESSWIRE
Kyrie Irving has only played under a season of college basketball with the Duke Blue Devils and part of a lockout-shortened season at the professional level since leaving St. Patrick High School.
He's still only 20 years old and will not be able to legally consume the beverages his teammates probably enjoy until March.
Despite these facts, Irving is already an elite NBA point guard. Note that there is no "almost," "close to being" or "on his way to being." Irving is elite.
After easily winning Rookie of the Year during his first season with the Cleveland Cavaliers, what will Irving do as an encore?
If this play is any indication, the sky is the limit.
I'm going to be watching the Cavs because I want to see him reach up into the clouds.
Dallas Mavericks: Can O.J. Mayo Rebound?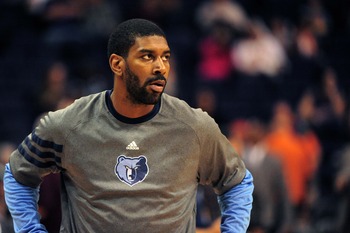 Kyle Terada-US PRESSWIRE
I'm not talking about whether or not O.J. Mayo can crash the boards and corral missed shots. Frankly, I don't really care whether or not the shooting guard can rebound at an above-average level during his fifth season in the NBA.
Instead, I'm concerned with Mayo's ability to rebound from two lackluster series in a row. Can he ketchup, I mean catch up, with the developmental course he was supposed to follow after two impressive seasons to open his career?
Mayo steadily declined during his last two seasons before signing on with Dirk Nowitzki and the Dallas Mavericks. He grew out of favor in Memphis, was relegated to the bench and decided he would shoot to his heart's content each time he entered the game.
The former USC Trojan was in dire need of a fresh start, but now he'll have to capitalize on the opportunity he received with the Mavs.
Denver Nuggets: JaVale "Pierre" McGee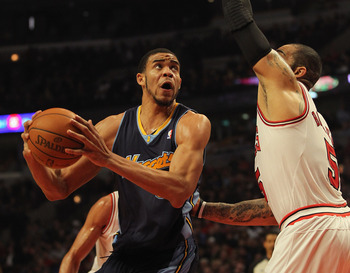 Jonathan Daniel/Getty Images
There are plenty of reasons to watch the Denver Nuggets during the 2012-13 season. After all, they're one of the deepest teams in the league and should establish themselves as true contenders in the Western Conference.
Maybe you want to see Ty Lawson blossom into a top-25 player, utilizing his ridiculous speed successfully night after night. Maybe you want to see Kenneth Faried continue to develop. Maybe you're looking forward to learning what type of impact Andre Iguodala will have.
For me, nothing is more intriguing than the expected growth of JaVale McGee.
When Hakeem Olajuwon says the following (via FOX 26 Sports) after training with the talented but frustrating center, I'm ready to watch:
"No question, I see him as another star," Olajuwon said in an interview with FOX 26 Sports. "That guy should dominate the league.

"He has tremendous talent. I give him all these moves and he can finish and he's already skilled. So now just show him how to use that skill to (get) to the next level."
McGee is more famous for his antics than his success on the basketball court right now. Will that change, or is he doomed to be basketball's version of a jester throughout his career?
Detroit Pistons: The Greg Monroe Simile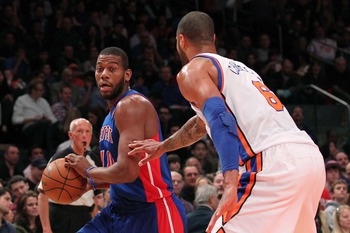 Anthony Gruppuso-US PRESSWIRE
Greg Monroe is just like Gates of the Arctic National Park & Preserve. I bet you never thought you'd read about a basketball player being compared to a U.S. National Park when you clicked on this article.
Gates of the Arctic is the northernmost park in the United States, and one of the most remote. It's also the second largest of the national parks.
To get there, you must first make it to Alaska and then charter another plane.
Nothing else is around it, and you're stuck there for at least a week or two once you arrive. Plus, you better be an experienced outdoorsman if you're going to visit, as the wildlife, terrain, weather, complete and utter lack of development and isolation can all be deadly.
So, how does this relate to Greg Monroe?
The whole northernmost thing doesn't make sense, but the second-biggest part does, since Monroe is a 6'11" center and one of the biggest—in a physical sense—stars in the league.
It's tough to watch Monroe play because the Detroit Pistons aren't on national television often. However, when you put in the effort, it's worth it, and you aren't going to change the channel until you've gotten your fill of Monroe.
Also, look at the Detroit roster. There really aren't many other intriguing players to watch besides Monroe, at least not until Andre Drummond and Brandon Knight develop a lot.
Finally, only true basketball fans can appreciate the brilliance of Monroe's game. Terrific passing by big men typically goes unnoticed by the average fan, and that's something that Monroe most assuredly brings to the table.
Golden State Warriors: Offense, Offense and More Offense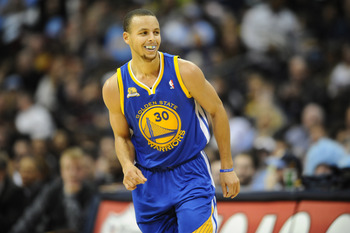 Ron Chenoy-US PRESSWIRE
If you're looking for a high-scoring team capable of exploding for well over 100 points in a single night, then look no further than the Golden State Warriors.
Between Stephen Curry, Klay Thompson, David Lee and Harrison Barnes, the Dubs have plenty of talented offensive players.
Curry and Thompson could both compete for the league lead in three-pointers made, provided they stay healthy. Barnes won't be too far behind, although his passing skills still need quite a bit of work.
As much as Mark Jackson might preach about the necessity of defense to Golden State's cause, offense will still be the biggest driver of this team's success.
Houston Rockets: Continuation of Linsanity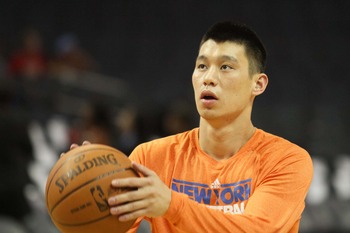 Jeremy Brevard-US PRESSWIRE
Even though there are plenty of intriguing players on the Houston Rockets roster—Royce White in particular—none can stand above Jeremy Lin.
After just a few great games promoted the craziness that was Linsanity, it's hard to imagine how much press he'll receive if he continues to dominate with the Houston Rockets. Yes, he'll receive attention even though he's no longer part of the media machine that is the New York Knicks franchise.
Lin looked too good to be just a flash in the pan, a one-hit wonder whose 15 minutes of fame are already expired. His pace slowed towards the end of his incredible run once teams gained more of a scouting report, but he still made a huge impact on the Knicks offense.
We have no idea how Lin will mesh with his teammates. We have no clue how he'll look after his injury. We have no knowledge of his exact role with the Rockets.
Yet we do know one thing: Lin will be must-watch television at the beginning of the season.
Indiana Pacers: So Much Paul George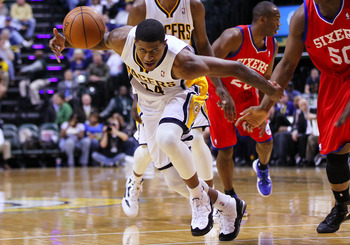 Michael Hickey-US PRESSWIRE
This is the season that Paul George truly breaks out and becomes one of the best shooting guards in the NBA. The only question is the extent to which he breaks out.
George averaged 12.1 points, 2.4 assists and 5.6 rebounds per game during the 2011-12 campaign with the Indiana Pacers, his second in The Association.
Yet he still averaged under 30 minutes per game and is set to play an even bigger role for one of the deeper teams in the Eastern Conference.
George is an insane athlete, and that manifests itself in his game quite often, whether he's pulling down rebounds or soaring above the defense for a thunderous dunk. Even if he doesn't dominate to the extent that I expect, he'll still provide plenty of highlights.
Either way, he'll be worth watching.
Los Angeles Clippers: Blake Griffin Dunks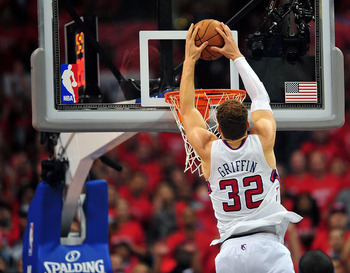 Gary A. Vasquez-US PRESSWIRE
Here I submit all the evidence you will ever need. Just click this link.
Look, I don't care how you feel about Blake Griffin right now. Call him overrated. Call him underrated. Say he's called overrated so often that he's now underrated.
If you want, say that the fact that he's called overrated so often that he's now underrated is underrated. You could even claim...well, you get the point.
What you can't deny is that despite the flops and the lack of well-roundedness on offense, Griffin is a joy to watch.
You just know that he's going to produce a highlight whenever you watch him. You don't know when it's going to happen, but you know that it is, especially with Chris Paul passing him the ball.
Los Angeles Lakers: Kobe Bryant's Struggle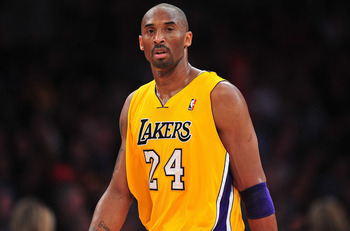 Gary A. Vasquez-US PRESSWIRE
I'm more excited to watch Kobe Bryant than any other player in the league during the 2012-13 season. That includes my Atlanta Hawks and all of the players I have man-crushes on.
Kobe has spent the last few seasons as the unquestioned leader of the Los Angeles Lakers. The Lakers were his team, and he had free rein to do as he pleased on offense. If he thought it was a good—or even decent—idea to loft up the ball in the general direction of the basket, then he was going to do so.
Now that Dwight Howard and Steve Nash are wearing purple and gold, Kobe is going to have to take a bit of a back seat.
The battle between his ego and his intelligence is going to be worth monitoring on a nightly basis. Kobe will still want to be the man in L.A., but it will be best for his team if he concedes to his new teammates more often than he would like.
Kobe's pride and competitive instincts made him into the living legend that he is today. However, don't discount his smarts on the basketball court.
Which will win out? If you think you know, then you're lying.
Memphis Grizzlies: The Return of Zach Randolph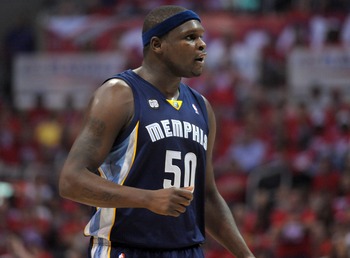 Kirby Lee-US PRESSWIRE
The Memphis Grizzlies were one of the better teams in the Western Conference last year, despite the prolonged absence of Zach Randolph.
How will a full year of Z-Bo affect things?
The mercurial big man is one of the best players at his position when healthy and motivated, but there might not be enough touches coming to satiate his thirst for scoring.
After he played in only 28 games during the 2011-12 season, Randolph's ability to mesh with his teammates will determine how successful the Grizz will be. As he's showed multiple times over the last year, he's definitely capable of making a positive impact.
The Grizzlies, to be perfectly honest, are one of the least intriguing playoff contenders. Z-Bo helps change that.
Miami Heat: LeBron James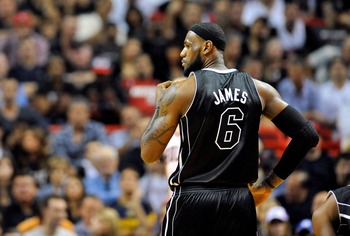 Brad Barr-US PRESSWIRE
Since I'm a massive sports fan, I've often been asked why I like sports so much. What joy could I possibly get out of watching people I don't know play what is essentially a glorified game?
It's a question that I've admittedly always struggled with, but not for a lack of reasons. There are simply too many, and it's tough to express most of them in words. They're more gut feelings than reasons, per se.
However, I've always had to come up with an answer, and it usually goes along these lines: I watch and follow professional sports because I enjoy seeing people do things that they're good at. I respect greatness, and I understand when I'm watching it, whether in the context of sports or not.
So, why did I choose to tell this personal anecdote on the Miami Heat slide? Now that answer should be more obvious.
No player in basketball currently personifies greatness more than LeBron James. The reigning MVP is very clearly the best player in the world, and you can't help but marvel as that greatness is displayed on the court.
Everything he does is impressive, and unless you're blinded by hatred, you have to at least enjoy watching him go to work. Enjoyment does not necessarily imply that you're rooting for him, though. I'll at least give you that.
Milwaukee Bucks: Backcourt Coexistence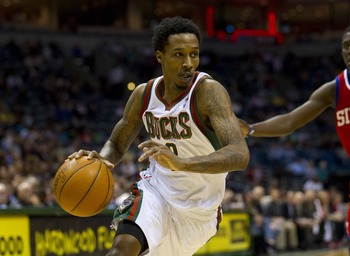 Jeff Hanisch-US PRESSWIRE
By themselves, Brandon Jennings and Monta Ellis are both incredibly entertaining to watch. Together, the potential is there for them to claim the unofficial "Most Entertaining Backcourt in the NBA" title.
However, there's also a chance that Jennings and Ellis don't work out at all as tension develops between the two. Both Jennings and Ellis love shooting the ball. I'm convinced it's why they wake up in the morning.
As long as they must share the court—and ball—with each other, neither will receive enough looks to be truly happy.
Will they be willing to make the sacrifice for the betterment of a team that will be on the fringe of playoff contention, or will the chemistry between them combust and force one of them out of Milwaukee?
Only time will tell.
Minnesota Timberwolves: The Return of Brandon Roy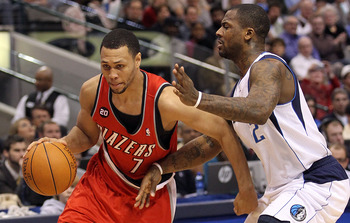 Ronald Martinez/Getty Images
With his smooth offensive game and killer instincts, Brandon Roy was one of my favorite players to watch when he was in his prime for the Portland Trail Blazers. I'm not going to lie: I was pretty bummed out when Roy decided to retire far earlier than he should have.
Now Roy is back, making his return from premature retirement, and absolutely no one knows how successful he'll be. It's a safe assumption that Roy won't be the All-Pro he was in Rip City, but he could still be a terrific shooting guard in a league without too many great players at that position.
However, there's also a chance that Roy is completely washed up and will only embarrass himself on the court.
The monumental discrepancy between Roy's floor and ceiling is the biggest reason to watch the Minnesota Timberwolves during the 2012-13 season. That's saying something, because there are plenty of reasons to tune into Minnesota's contests.
You've got Ricky Rubio's return from a torn ACL, Kevin Love's continued dominance and the expected rise of the team from the lottery to the playoffs.
Despite these many intriguing elements, Roy rises to the top.
New Orleans Hornets: Unibrows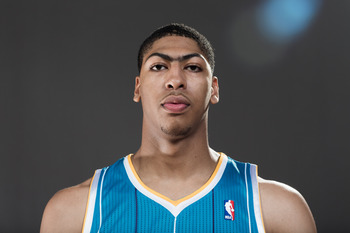 Nick Laham/Getty Images
How many fake unibrows will we see in the stands of the New Orleans Arena now that Anthony Davis has come to town? Will the number increase throughout the season, or will New Orleans Hornets fans quickly become jaded to the follicular forest on his lower forehead?
Better yet, how many fans will grow their own unibrows? Will all of New Orleans stop waxing/tweezing/plucking in between their eyebrows in honor of the most recent No. 1 pick?
I can't wait for cameras to pan around the arena.
New York Knicks: The Carmelo Anthony and Amar'e Stoudemire Duo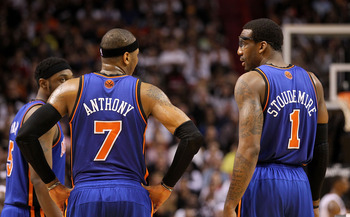 Mike Ehrmann/Getty Images
Try telling a New York Knicks fan that Carmelo Anthony and Amar'e Stoudemire don't work together because their playing styles just can't possibly mesh.
Make sure you don't do that in person though. I don't want to be responsible for any physical harm that may be inflicted upon my readers.
If you do so, you'll get a number of responses.
1. They haven't played together for long enough to form a true assessment.
2. They've actually been great together. (Adam's note: uhhhh...)
3. The lack of a true offseason has been detrimental.
They've had a full offseason now, and health isn't an issue. We'll get a definitive answer as to the merits of this dynamic duo by the end of the season.
Oklahoma City Thunder: Kevin Durant's Scoring Prowess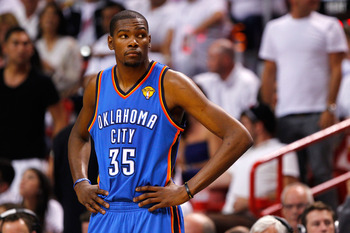 Mike Ehrmann/Getty Images
It's impossible to watch the Oklahoma City Thunder and not marvel at the scoring abilities of Kevin Durant.
Whether he's dropping in unblockable three-pointers or using his athleticism to embarrass defenders, Durant can light up the scoreboard in ways that should be just about unthinkable.
The three-time reigning scoring champion set a career-high of 51 points on Feb. 19 against the Denver Nuggets, but something tells me that he'll be topping that during the 2012-13 campaign. 60 points in a single game is not out of the question.
Durant was born to score the basketball, and you're missing out if you don't take every chance possible to watch him do exactly that.
Orlando Magic: Can Arron Afflalo Be a Franchise Player?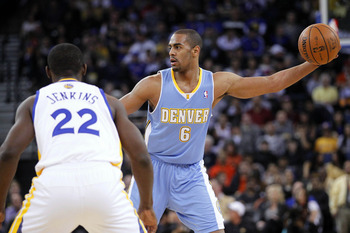 Cary Emondson-US PRESSWIRE
Do I really have to come up with a reason to watch the Orlando Magic during the 2012-13 season?
Seriously?
Fine.
After trading away Dwight Howard and receiving a number of undeveloped pieces, the Magic are now left without a true franchise player and have roster names that don't register in most households.
Arron Afflalo might have something to say about that, though. And therein lies the most intriguing aspect of Orlando's season.
The shooting guard has been a decent player for the Denver Nuggets in recent months, but he hasn't shown that he can be a player capable of carrying his team on a nightly basis.
Was this a result of the depth of the Denver Nuggets, or is it a testament to Afflalo's ceiling as a basketball player?
As he's now the best player in Orlando, we'll find out soon enough.
Philadelphia 76ers: Andrew Bynum Gets His Chance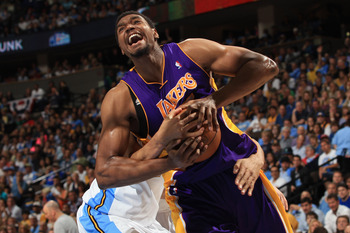 Doug Pensinger/Getty Images
Was Andrew Bynum's ascent up the ranks of the centers in the NBA a byproduct of Kobe Bryant's greatness, or is he really that good?
After watching Bynum go to work during his last season with the Los Angeles Lakers, it's hard not to fall into the latter camp. Bynum has the makings of the next star center and could potentially take Dwight Howard's crown by the time the 2013 playoffs roll around.
On the Philadelphia 76ers, Bynum will quickly become the top option on offense. No disrespect meant to Jrue Holiday, Evan Turner, Nick Young, Spencer Hawes and the rest of the Sixers, but Bynum has more talent than anyone else on the roster.
So, how will the mentally fragile center react to the fickle Philadelphia fans and the pressure that comes with being the team's go-to guy?
If things go well, Philly will be an Eastern Conference power for a long time. If it doesn't, Bynum might not be staying with the Sixers for too long.
Phoenix Suns: Goran Dragic Replacing Steve Nash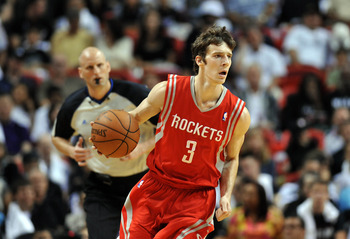 Steve Mitchell-US PRESSWIRE
It's never easy to replace a legend. Steve Nash is one of the most beloved players in the history of the Phoenix Suns franchise, even though he never brought a championship to the desert.
In addition to the love that was showered upon Nash by the fans in the Phoenix area, Nash showered them with greatness from the point guard position.
Now Nash has departed for the Los Angeles Lakers, and Goran Dragic is left in the unenviable position of replacing the floor general. Of all the new pieces in Phoenix, Dragic is going to be the one worth monitoring the most.
He has high upside at the point, as shown by his time in the starting lineup for the Houston Rockets. However, can he take the pressure of truly running the show as the Suns compete in the loaded Western Conference for one of the final playoff spots?
Dragic's playing style is entertaining enough by itself. The Nash factor makes him a must-watch.
Portland Trail Blazers: Damian Lillard's ROY Campaign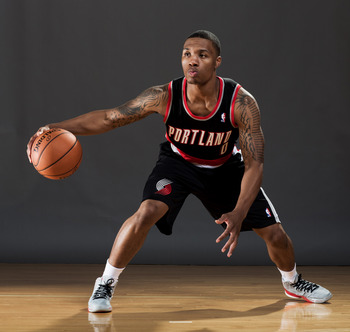 Nick Laham/Getty Images
Damian Lillard is set to take the reins at point guard for the Portland Trail Blazers, completing the difficult Weber State-to-NBA-starting-five transition in under a year.
Anthony Davis and Michael Kidd-Gilchrist may have more long-term potential, but Lillard is my pick to win Rookie of the Year. If he can increase his defensive skills, Lillard will have everything you look for in a first-year 1-guard.
His offensive game is almost too much fun to watch. He can hit shots from the perimeter, drive past defenders and dunk with surprising ease or involve his teammates respectably.
Portland will be a mediocre team, but Lillard is anything but mediocre.
Whenever the Blazers appear on national television, make sure you're sitting down on your couch or at your nearest sports bar. You'll want to jump on this bandwagon as soon as possible, or else it'll be too full before you get there.
Sacramento Kings: Unclogging of the Backcourt Logjam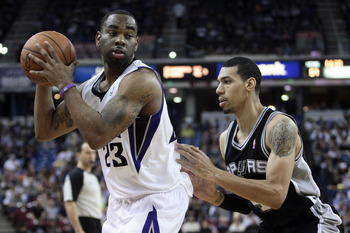 Kelley L Cox-US PRESSWIRE
The Sacramento Kings management apparently has a certain affinity for players capable of lining up at the two guard spots. Between Isaiah Thomas, Aaron Brooks, Tyreke Evans, Marcus Thornton, Jimmer Fredette and Francisco Garcia, there are far more players than available spots in the rotation.
Thomas proved last season that he definitely deserves playing time. Brooks is a former Most Improved Player and still an above-average point guard, despite a year elapsing without him playing in the NBA. Evans and Thornton are the best of the bunch, and Evans has been forced into the small forward spot to maximize the amount of talent on the court.
We'll probably never know if Jimmer can succeed in The Association because there's too much talent ahead of him on the depth chart for him to get a fair shake.
Some of these guards will continue to emerge, while others will be phased out and eventually moved away from Sacramento. Then again, the entire team might be moved away from Sacramento...
While it's entirely uncertain how the rotation will look throughout the season, one thing is for sure: Each and every one of the aforementioned players will be highly motivated and looking to make a significant impact in an effort to prove their worth.
San Antonio Spurs: Tim Duncan's Legacy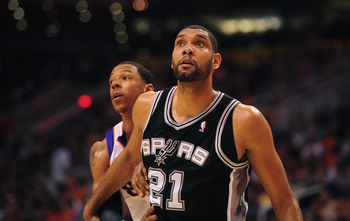 Mark J. Rebilas-US PRESSWIRE
The career of the greatest power forward of all time is slowly drawing to a close, one season at a time.
Tim Duncan has provided NBA fans with a number of indelible moments throughout his career. He's won championships, dominated games and played fundamental basketball for over a decade. It's not often you see a true master of a trade, but that's exactly what Duncan was during his prime with the San Antonio Spurs.
The window to watch Duncan play at an elite level is closing. His minutes are gradually declining, which is allowing his effectiveness to stay put, but he can't dominate a game from start to finish on a nightly basis any more.
Don't miss your chance to remember one of the true legends of basketball's post-Michael Jordan generation.
Unlike in years past, the Spurs actually play an exciting brand of basketball. They run and push the pace, trying to win with offense rather than just defense.
I promise they won't bore you.
Toronto Raptors: The Shooting Guard Battle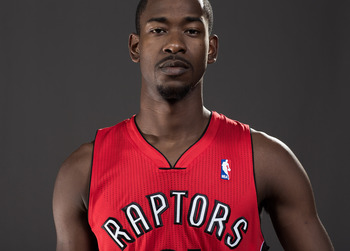 Nick Laham/Getty Images
Toronto Raptors fans may be held captive by the athleticism of DeMar DeRozan, failing to realize that he hasn't improved much recently and is scoring a lot of points because he takes a lot of shots.
That spell will be broken when Terrence Ross crosses over the border between Canada and the United States and dominates at shooting guard, forcing DeRozan to a small forward role or the bench.
Ross' athleticism is almost as tantalizing, but it isn't a false promise. The former Washington Husky has an effective spin move when he drives and is a true perimeter threat. He'll use his shot-creating abilities and silky smooth jumper quite often for the Raptors during his rookie season.
Once Ross is established, DeRozan will also become a better player. He'll no longer be forced to fill the perimeter void for Toronto and will be able to play to his strengths more often.
The Raptors may have reached for Ross in the draft at No. 8 because they might have been able to trade down and still land him, but they managed to win the services of one of the more underrated talents in the incoming rookie class.
Utah Jazz: An Underrated Duo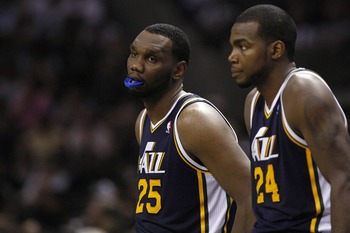 Soobum Im-US PRESSWIRE
Either spend a lot of time looking at this picture or tune into a few Utah Jazz games, because you won't be seeing this duo for too much longer.
Both Al Jefferson and Paul Millsap are set to become unrestricted free agents at the end of the 2012-13 season, and it's highly unlikely that both return to Salt Lake City for the friendly confines of EnergySolutions Arena. After all, the Jazz have Derrick Favors and Enes Kanter waiting in the wings.
It's a shame how few people have gotten to witness the underrated greatness of Jefferson and Millsap.
If we look at only qualified players, look at how high this duo ranks in combined PER (the sum of each player's PER):
1. LeBron James and Dwyane Wade: 57.2
2. Chris Paul and Blake Griffin: 50.6
3. Kevin Durant and Russell Westbrook: 49.3
4. Kevin Love and Nikola Pekovic: 46.9
5. Manu Ginobili and Tony Parker: 46.8
6. Dwight Howard and Ryan Anderson: 45.5
7. Andrew Bynum and Kobe Bryant: 45.0
8. Al Jefferson and Paul Millsap: 44.7
Not bad for a pair of players that not many casual NBA fans have watched outside of the playoffs.
Washington Wizards: The Development of John Wall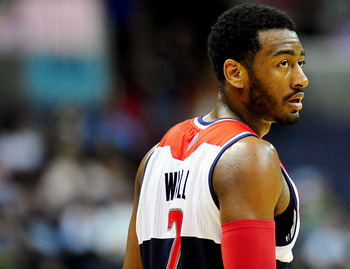 Evan Habeeb-US PRESSWIRE
John Wall has always had a lot of talent. No rational NBA fan can possibly deny that. There's a reason that he was drafted No. 1 overall in the 2010 NBA draft by the Washington Wizards.
Actually, there are a lot of reasons, and Wall is going to explain them all throughout his third campaign in The Association.
During his first two seasons of professional basketball, the former Kentucky Wildcat had a built-in excuse: The Wizards were terrible. Sorry, I'm not going to sugarcoat it.
Washington was a dysfunctional franchise filled with me-first players and not too much talent. Now, the brass has started to build a winning culture and surrounded Wall with talent.
Bradley Beal, even as a rookie, is a massive upgrade over Jordan Crawford. Jan Vesely is a de facto rookie now that he's healthy after a hip injury plagued him throughout his real rookie season. And, of course, the presences of Nene Hilario and Emeka Okafor only help.
This is still Wall's team, but he actually has a supporting cast that can, well, support him this year.
It's time for him to make good on his potential.
Keep Reading