Idaho State Bengals vs. Nebraska Cornhuskers: Live Scores, Analysis and Results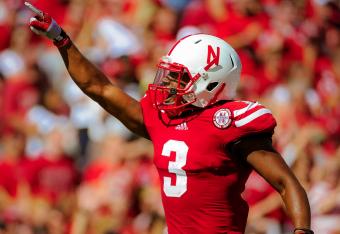 Eric Francis/Getty Images
FINAL -- Nebraska 73, Idaho State 7

Nebraska's Rex Burkhead scored with 11:41 left in the opening quarter and it was peddle to the metal from that point on for the Cornhuskers. Nebraska racked up 569 yards of total offense, 385 of that on the ground, in improving to 3-1 on the season.
Burkhead led the potent Nebraska rushing attack with 119 yards on 8 carries with two touchdowns.
Idaho State's lone score came midway through the fourth quarter with backup quarterback C.J. Reyes in the game. The Bengals are 1-2 on the season and have now lost 34 straight on the road.
Nebraska enters Big Ten play on Sept. 29 against Wisconsin while Idaho State goes back to FCS and Big Sky play with a game against Sacramento State.
Fourth Quarter, :41
Let the shouting begin and mark this game as over. Idaho State still running the offense until the final whistle, but the clock is about to run out and Nebraska goes to 3-1 on the season.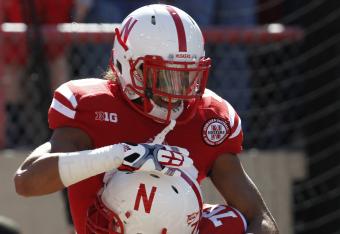 Fourth Quarter, 4:18
Opportunity squandered.
Idaho State had to settle for a field goal attempt from about 26 yards out and the kick is pushed wide left.
Fourth Quarter, 5:06
Following an Idaho State punt, Nebraska takes over on its own 11 and fumbles. Idaho State recovers. Cornhuskers have their third-string quarterback in the game.
Fourth Quarter, 7:45
Idaho State's sophomore running back Aaron Prier rips off the biggest rushing gain of the day for the Bengals. Bengals have the Cornhuskers right where they want them -- overconfident with a 66-point lead and less than 8 minutes left in the game.
Nebraska 73, Idaho State 7 -- Fourth Quarter, 8:11
Touchdown, Nebraska!
Freshman Imani Cross slashes through the hole in the line and then drags an Idaho State defensive back into the end zone from 20 yards out for the score.
Nebraska's subs still controlling the line of scrimmage, for the most part. Running backs still getting to the edge and forcing Idaho State's defensive backs to make the tackles. Don't be surprised if Idaho State's leading tacklers for the game are all in the secondary.
Nebraska now has more than 340 yards rushing the ball.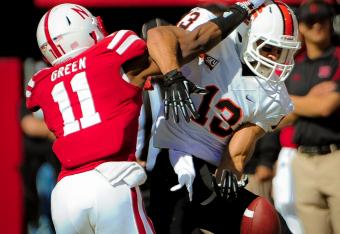 Nebraska 66, Idaho State 7 -- Fourth Quarter, 12:31
Touchdown, Idaho State!
Reyes hooks up with Luke Austin for the Bengals first points of the game. Reyes drove the Bengals 54 yards and threw a 28-yard strike to hit Austin in stride for the score. The Cornhusker defensive back was trailing Austin and never turned back to the pass.
Fourth Quarter, 14:54
Freshman Nebraska running back, Cross, fumbles to open the fourth quarter. Idaho State replaces quarterback Yost with punter Reyes. Reyes' comes out throwing and completes his first pass. Reyes is the backup QB.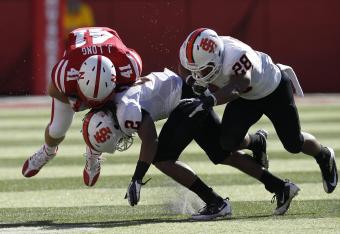 End of Third Quarter
Nebraska letting young players in the game, running the ball to consume the clock. Idaho State simply couldn't match the Cornhuskers' strength or size.
Game was just too fast for Idaho State.
Nebraska had a few players helped off the field but some have returned to action. With one quarter of play left, the Cornhuskers need to make wholesale changes, gain experience for other players and avoid injuries.
Third Quarter, 3:51
Scat, cat! Idaho State still trying to run the ball, but it is still not working well. Bengals' passing game not in sync at the moment, either. Reyes about to tag his eighth punt of the game.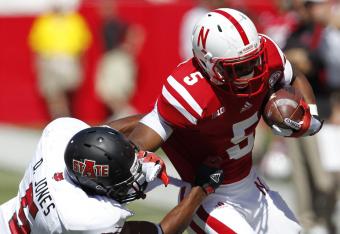 Nebraska 66, Idaho State 0 -- Third Quarter, 5:25
Touchdown, Nebraska!
Braylon Heard goes in from 26 yards out. Good blocking up front allowed Heard to scoot through the line, scoot to the outside and speed burst into the end zone. A nice little stutter step at the end of the run caused another missed tackle.
The game passed out of hand two quarters ago.
Third Quarter, 6:33
Idaho State's C.J. Reyes is getting a workout. The Bengal punter had put his foot to the ball seven times so far in the game. In case you were wondering, the NCAA record for punts by a team in a game is Texas Tech in 1939. Texas Tech punted the ball 39 times.
Third Quarter, 8:01
INJURY to Nebraska
Josh Mitchell down with a leg injury. Mitchell, a cornerback, walked off the field without a limp.
Third Quarter, 8:25
Coming in to Lincoln, Idaho State had 33 straight road losses. Quick guess -- that will probably advance to 34 straight.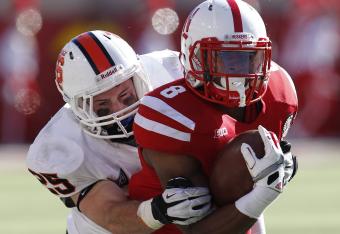 Nebraska 59, Idaho State 0 -- Third Quarter, 8:52
Touchdown, Nebraska!
Kellogg hooks up with wide receiver Steven Osborne for the score. Nebraska capitalized on a blocked Idaho State punt attempt to establish great field position and then it only took three plays to get to the end zone.
Third Quarter, 10:00

INJURY!
Senior safety Courntey Osbourne helped off on a blocked punt by Nebraska. He was limping, so a leg injury. Nebraska can't afford to lose any defensive players, especially not experience defensive backs.
Nebraska is starting to sub players on offense. Freshman Imani Cross and sophomore Braylon Heard getting carries.
Third Quarter, 11:28
Yost and receivers not on same page. A game like this leaves the Bengals coughing up fur balls and doesn't do a lot for the confidence on either side of the ball. Offensive line just pushed back and O lineman knock down their own quarterback.
Nebraska 52, Idaho State 0 -- Third Quarter, 12:19
Touchdown, Nebraska!
Idaho State's special team breaks down and Abdullah goes 80 yards on the punt return for the touchdown. Missed tackles and attempted arm tackles not getting it done. Abdullah picked his holes, blocking set up well and once Abdullah got through the first wave of would-be tacklers, Idaho State couldn't match his speed. A few Bengals had a shot at him inside the Idaho State 5-yard line but slowed up and let Abdullah into the end zone.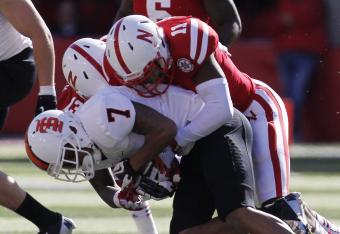 Third Quarter, 14:11
Yost, on the starting possession for Idaho State in the second half, hits 100 yards passing, but is sacked immediately after. Lineman for Idaho State gets schooled on the pass protection. Nebraska closing down on receivers, allowing few yards after the catch.
At the Half
Nebraska is throwing a balanced attack at Idaho State. The Cornhuskers have 183 rushing yards and 179 passing yards. The balance and control of the line of scrimmage is keeping the Bengal defense off balance.
Idaho State, in its game against Air Force, showed it was susceptible to allowing a lot of yards against the run. Nebraska is exploiting that.
On the offensive side of the ball, Idaho State's pass-heavy attack is responsible for the only positive yard the Bengals have in the game. Idaho State's running attack is -10 for the first half, while the passing game has 82 yards.
If Nebraska starts first-team players, don't expect them to be in the game long in the third quarter.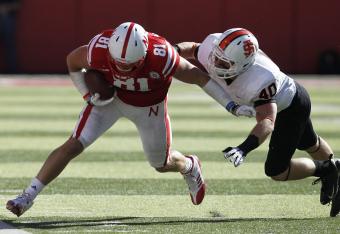 Halftime Stats
The statistics for the first half of the Idaho State-Nebraska game, according to ESPN
Total Offense -- Nebraska 362 yards, Idaho State 72 yards.
Passing leaders -- Nebraska: Martinez 9-of-13 for 165 yards and two touchdowns; Idaho State: Yost 11-of-23 for 82 yards and two interceptions.
Rushing leaders -- Nebraska: Burkhead with 8 carries for 119 yards and two touchdowns, Abdullah with 8 carries for 49 yards and one touchdown; Idaho State: Finney with 6 carries for 7 yards.
Receiving leaders -- Nebraska: Bell with 1 catch for 68 yards and a touchdown, Enunwa with one catch for 35 yards and a touchdown; Idaho State: Rumble with 5 catches for 40 yards, Richmond with 3 catches for 24 yards.
Time of possession -- Nebraska: 15:32, Idaho State: 14:38.
Turnovers -- Idaho State 3, Nebraska 1.
Halftime
Struggling is too mild a word for what the Idaho State offense is doing in Lincoln, but that is largely because of the Nebraska defense. Cornhuskers knew about the Bengal offensive shifts, and expected Yost to come out passing. The passing game has been shut down and Idaho State running backs have shown a lack of vision for finding holes when running the ball.
It would be hard to imagine a breakdown by Nebraska big enough to allow Idaho State back into this game.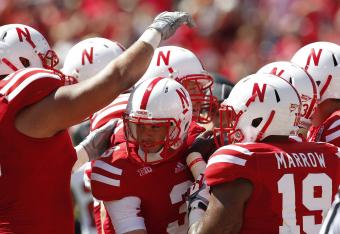 Nebraska 45, Idaho State 0 -- Second Quarter, :41
Palmer hits 36-yard field goal to extend the Cornhuskers' lead. Nebraska took a few passing shots toward the end zone but couldn't hook up so settled for the field goal.
Second Quarter, 3:41
Idaho State's frustration starting to show. Abdullah hit out of bounds. Abdullah bounces up from hit. Something like that might spark Nebraska into tacking another score on the board as a warning. Nebraska was running the ball, now Martinez is mixing in the pass.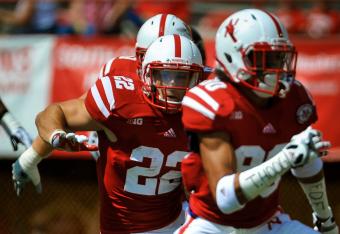 Second Quarter, 4:26
Idaho State crosses midfield, and Yost getting time to pass. Bengals inside the Nebraska 30, but that fizzles with an interception. Pass went inside, receiver went outside and Cornhuskers' Josh Mitchell got the gift of the interception. Promise turns to disappointment for Idaho State.
Second Quarter, 5:36
Pass interference against Nebraska on a long pass downfield. Yost mixing up short routes with stretching the defense.
INJURY to Nebraska's P.J. Smith. He walks off under his own power, but was holding his head. Probably a bell-ringer.
Idaho State threatening to cross midfield for first time in game.
This article is
What is the duplicate article?
Why is this article offensive?
Where is this article plagiarized from?
Why is this article poorly edited?

Nebraska Huskers Football: Like this team?