Temple vs. Penn State: Postgame Grades from the Nittany Lions' Win vs. the Owls
Rob Carr/Getty Images

Penn State didn't exactly slam the door shut at the end, but it held on to earn its second victory of the season and defeat the Temple Owls 24-14 in Happy Valley. Matt McGloin managed the game well at quarterback, throwing for a touchdown and rushing for two more as he topped 300 yards passing.
The defense didn't allow a touchdown until 90 seconds remained in the game. Here are the final grades at each position for the Penn State Nittany Lions.
Begin Slideshow

»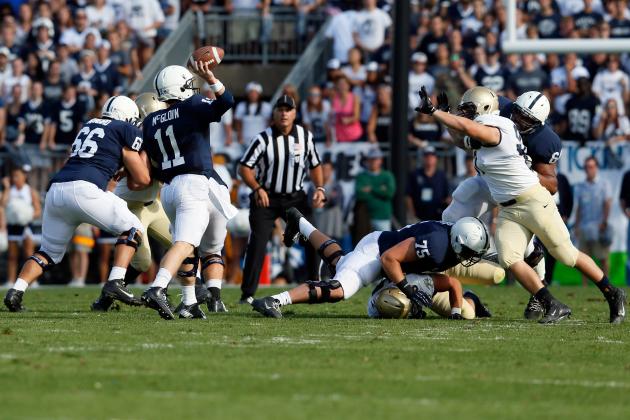 Rob Carr/Getty Images

Matt McGloin: B+
It was a pretty productive day overall for McGloin, who accounted for all three of the Nittany Lions' touchdowns. He finished the day 24-of-36 for 323 yards, 3 TD (2 rushing) and an interception. The pick came in the red zone, but bounced off the intended receiver's hands.
That makes back-to-back solid efforts for McGloin, although there are still a few throws getting away from him that he might not get back in Big Ten play.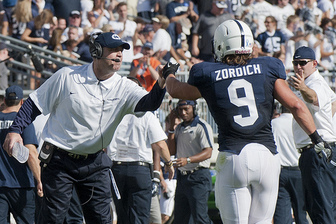 Overall unit: B+
With the Nittany Lions missing their top two backs, Zach Zwinak and Michael Zordich combined to rush for 169 yards on 33 carries and controlled the pace of the game with their punishing running attack.
Zordich came out of the game with a knee sprain in the fourth quarter and also landed hard on his back when attempting to hurdle a defender earlier in the game. As Penn State gets healthier in the backfield, this unit should continue to produce.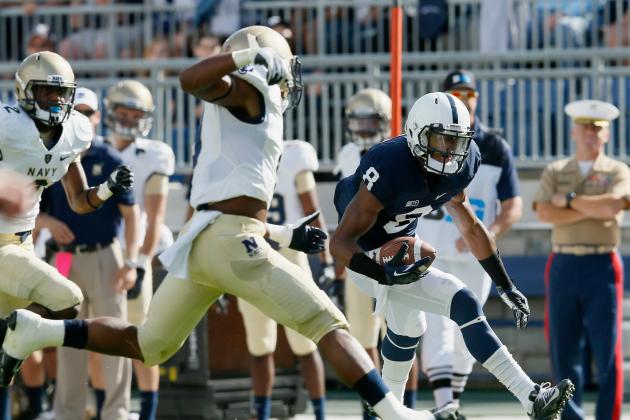 Rob Carr/Getty Images

Overall Unit: B
The future is bright at wide receiver in Happy Valley. Sophomore Allen Robinson's explosiveness was on full display Saturday afternoon against Temple, as he broke free for a 41-yard touchdown reception and a crucial conversion in the fourth quarter on 3rd & 15 to seal the victory.
What keeps this group from an "A" was a drop from Brandon Moseby-Felder that resulted in an interception inside the Temple 10-yard line. Otherwise, some nice plays were made in the passing game, which helped allow Penn State convert on 8-of-15 third down situations.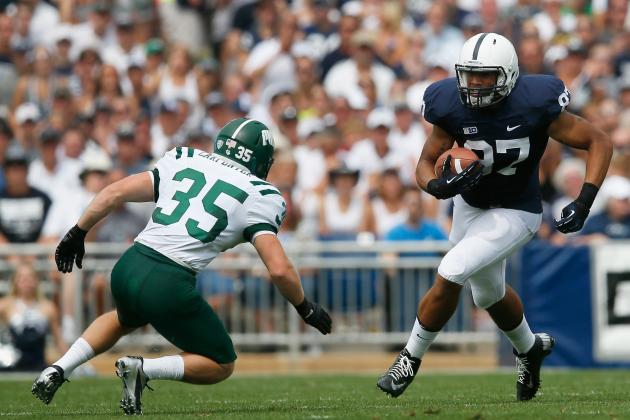 Rob Carr/Getty Images

Overall unit: B
Not only did the tight ends get the job done from a blocking standpoint, but they also contributed in the passing game.
The Nittany Lions' second leading receiver was tight end Kyle Carter, who reeled in five catches for 70 yards. Prior to Sam Ficken's field goal late in the fourth quarter, Garry Gilliam dropped a touchdown in the back of the end zone, preventing Penn State from stretching out its lead even more.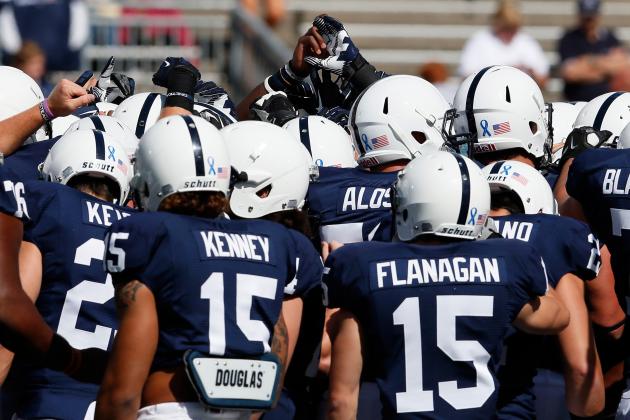 Rob Carr/Getty Images

Overall Unit: C
The big uglies up front opened up plenty of running space and protected Matt McGloin for the most part all day long, but penalties stalled multiple drives and prevented the Penn State offense from getting into a groove.
A holding call and a block in the back wiped out a couple of big gains and led to punts, so this very well could have been more than a ten point victory for the Nittany Lions. These penalties will be looked at next week and discipline will be a focal point in practice.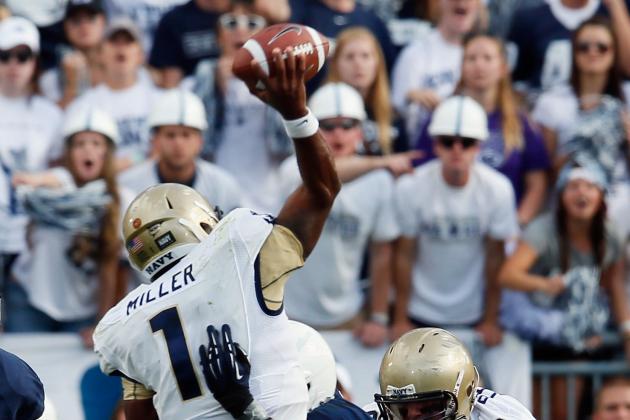 Rob Carr/Getty Images

Overall Unit: A-
The defensive line shut down the Temple running backs all day long and forced quarterback Chris Coyer to become the Owls' running game. While Coyer did have some success when he took off running, he didn't do enough damage to hurt the Nittany Lions.
Many times, the D-line forced Coyer to run for his life and forced a great push with its front four. This unit can be credited for forcing several three-and-outs on Saturday.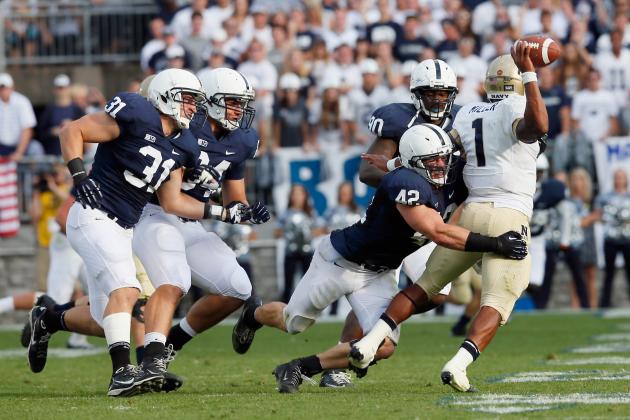 Rob Carr/Getty Images

Overall Unit: B+
Thanks to the persistence of the defensive line, the linebacker corps was free to roam as it pleased and aid the pass defense when Temple was forced into more throwing situations late in the game.
The linebackers were also instrumental in shutting down the rushing attack and didn't allow Coyer to have any explosive gains. When the defensive needed a stop, this unit buckled down and got the job done.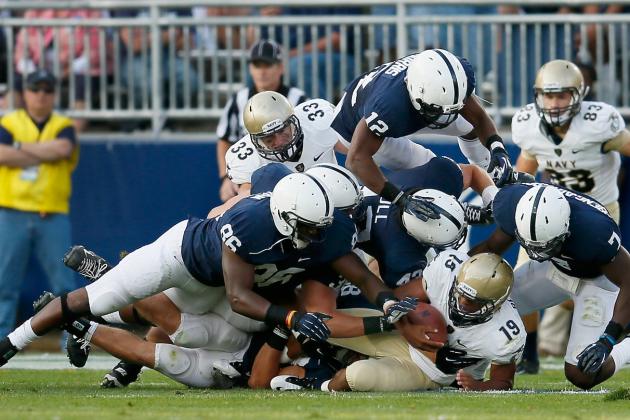 Rob Carr/Getty Images

Overall unit: C+
While Coyer only managed to complete 50 percent of his passes, many times his intended receivers came down with a case of the dropsies. Coyer also missed a few throws that many Big Ten quarterbacks aren't going to miss.
The final drive was a little concerning as Temple connected on two lengthy pass plays before punching it in for six. The score was meaningless, but it was still a letdown for the secondary. There is plenty of room for improvement moving forward with this unit.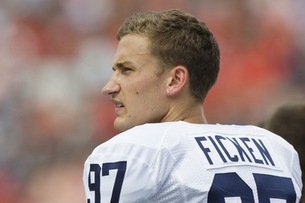 Overall Unit: D+
Surprisingly enough, kicker Sam Ficken is not the reason for this poor grade. Two personal foul penalties and some lousy punting are the culprit.
While Ficken knocked through a 20-yard field goal and converted all three of his extra points, Alex Butterworth averaged just 30.4 yards per punt that included a 15 yard shank in the fourth quarter.
A few years ago, these personal foul calls aren't made, but football has changed, so the players must adapt to these changes and let up near the sidelines.
The Nittany Lions also made a change at punt returner and benefited, scoring two first half touchdowns following strong punt returns from Jesse Della Valle.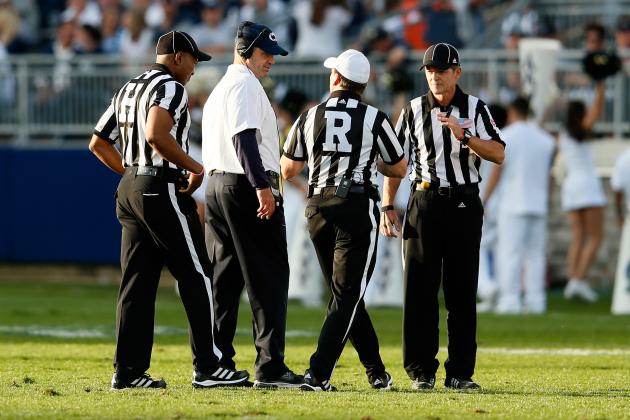 Rob Carr/Getty Images

Overall Unit: B+
The play-calling on the offensive side was solid from start to finish. A fake reverse worked to perfection and a screen call late in the fourth quarter allowed Penn State to convert on 3rd & 15 to keep the clocking rolling.
The coaches have to share some of the blame when it comes to the discipline issues and fundamentals. The Nittany Lions had nine penalties for 100 yards as well as a couple of crucial drops.
You can tell Bill O'Brien is still adjusting to the role of head coach (see: timeouts at the end of the first half), but his team took another big step in the right direction and could surprise some people in the Big Ten this season.