UFC 152: Power Ranking the Preliminary Card Fights
Photo by Josh Hedges/Zuffa LLC/Zuffa LLC via Getty Images
Long before the flyweight and light heavyweight championships are contested tonight, 14 fighters will put their heads in the guillotine of the undercard.
For these fighters, winning is not about fame and cementing a legacy—winning means job security and a future in the sport of mixed martial arts.
Because of this, the fighters on the preliminary card face arguably more pressure than their main event counterparts, so let us show a little respect by getting their bouts some publicity.
Log in to Facebook at 7 p.m. ET to catch the first bout, and then tune in to FX at 8 p.m. ET for the remainder of the preliminary card tonight.
In the meantime, let's rank these fights and determine which ones are bound to be studs and which will be relegated duds.
First up...
Begin Slideshow

»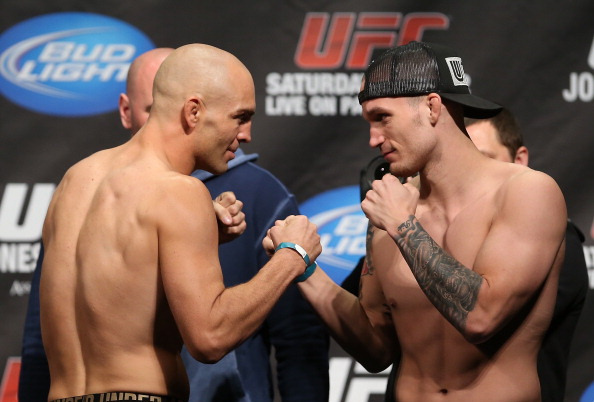 Photo by Josh Hedges/Zuffa LLC/Zuffa LLC via Getty Images
With all due respect to these two warriors, there is very little to be excited about in this clash of welterweight bottom-feeders.
The 24-year-old Benoist boasts some impressive submission victories on his resume, but he has yet to show that brilliance inside the UFC Octagon since his debut in September 2011.
Pierson, like Benoist, looked good outside the Octagon, with eight of his 11 victories coming via knockout. However, he has yet to finish an opponent under the UFC banner, and all signs point to this fight going the duration in lackluster fashion.
I still recommend tuning in because you never know what might happen, but if you do not have DVR and need to run to the grocery store, this fight is the time to go for it.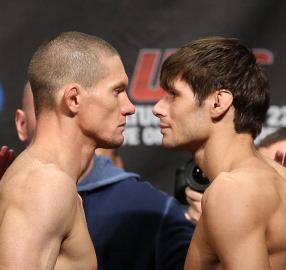 Photo by Josh Hedges/Zuffa LLC/Zuffa LLC via Getty Images
This fight might end up being pretty damn good, but the problem is that we do not really know what to expect from Baczynski.
After being eliminated from season 11 of The Ultimate Fighter, Baczynski was gifted one last opportunity to win inside the Octagon against Brad Tavares at "The Ultimate Fighter: Team Liddell vs. Team Ortiz" finale. He lost that fight via close decision and was subsequently released from the promotion.
Since that time, though, Baczynski has gone 5-0 in professional action, including a 3-0 record back inside the Octagon. I am not sure if he is reinvented or what exactly is going on, but he definitely seems to be a better fighter than he was during his first UFC stint.
Against Thoresen, Baczynski faces a tough test on the ground.
Of Thoresen's 17 career victories, 15 have come via submission, and the Norwegian is 1-0 inside the Octagon; that win came by—you guessed it—submission.
If Thoresen can get Baczynski to the ground, I expect him to win again via submission, but if Baczynski continues to be the powerful force of recent times, Thoresen will find himself on the wrong end of a unanimous decision victory.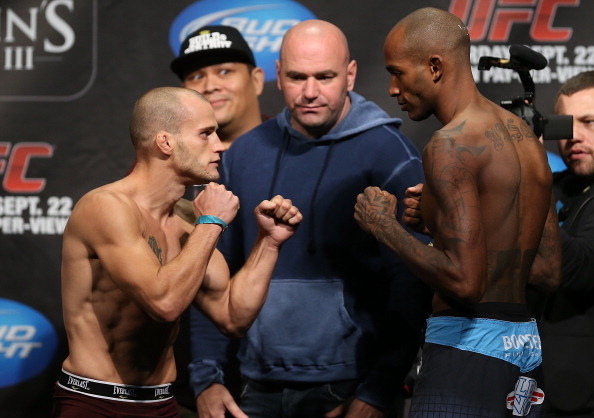 Photo by Josh Hedges/Zuffa LLC/Zuffa LLC via Getty Images
Coming off a "Fight of the Night" loss against Bryan Caraway at UFC 149, Mitch Gagnon needs a win under the UFC banner.
Walel Watson is the perfect man for the job. I am not trying to say Watson is an awful fighter, but I think Gagnon takes this fight rather easily.
Coming off one of the most lopsided losses in UFC history against T.J. Dillashaw at UFC Fight Night: Sanchez vs. Ellenberger, Watson (like Gagnon) is in desperate need of a victory.
When two guys need a win in the worst of ways, gambling ensues, and when Watson gambles against Gagnon, he will get caught.
A powerful bantamweight with impressive submission skills, Gagnon will take Watson to the ground early and often en route to a late-submission victory. Watson will struggle on the bottom (as we saw against Dillashaw), and Gagnon will put him there for the bout's duration.
It will not be pretty, but Gagnon will win in a moderately entertaining ground battle.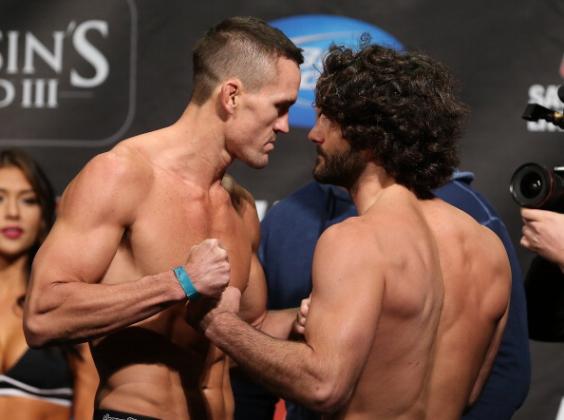 Photo by Josh Hedges/Zuffa LLC/Zuffa LLC via Getty Images
The night's first fight pits Australian Kyle Noke against welterweight gatekeeper Charlie Brenneman.
Noke, a former middleweight, makes his welterweight debut—and Brenneman is the perfect fighter to decide where he stands at 170 pounds.
A strong wrestler with great cardio and a hard-nosed determination, Brenneman is the working man's fighter, and he poses a stiff test for Noke. I expect Brenneman to take Noke to the canvas early, where he will face a worthy adversary in Noke's sly submission repertoire.
This should be a fun ground battle that's sure to satisfy the grappling fanatic, and for that, I see it as the night's first good preliminary bout.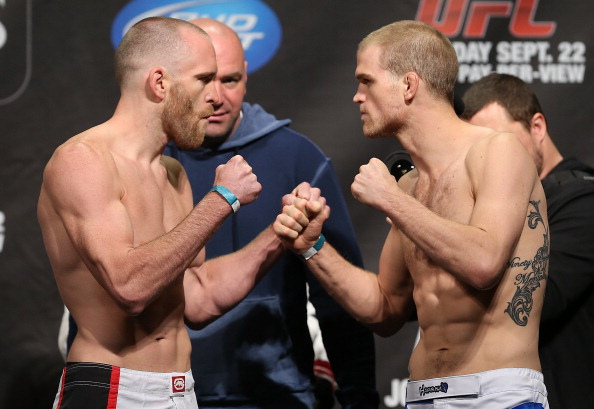 Photo by Josh Hedges/Zuffa LLC/Zuffa LLC via Getty Images
T.J. Grant vs. Evan Dunham is like the lightweight version of Kyle Noke vs. Charlie Brenneman, but with more skilled participants.
Grant, a former welterweight, will fight at lightweight for his third time—a division in which he is currently undefeated.
Dunham, on the other hand, will fight for his ninth time at lightweight inside the Octagon, where he possesses an impressive 6-2 record. Considering many felt his loss to Sean Sherk was in fact a victory, Dunham's record is more realistically 6.5-1.5.
Both Dunham and Grant are ground specialists, combining for 19 career submission victories. When this bout hits the canvas, expect to see some top-notch scrambles and transitions.
Dunham, however, figures to have the better standup in this fight, so if he does not like what he sees on the ground against Grant, look for him to try to keep it standing and pick Grant apart.
This is an intriguing bout, and I expect to see two very high-level grapplers put on a show for the fans.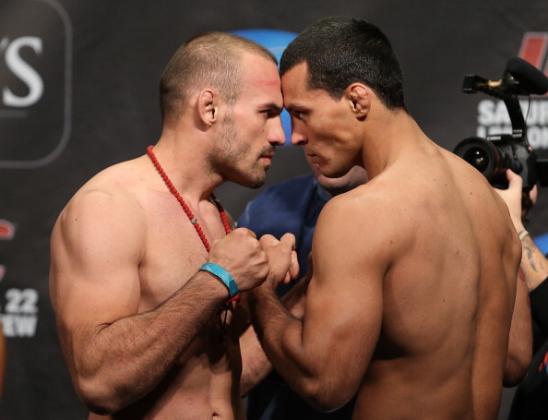 Photo by Josh Hedges/Zuffa LLC/Zuffa LLC via Getty Images
Brazilian jiu-jitsu expert Vinny Magalhaes returns to the UFC Octagon Saturday night—and the UFC brass punctured his floaties and threw him straight into the deep end as a welcome-back gift.
Facing Igor Pokrajac, Magalhaes will have all sorts of problems. Pokrajac hits hard, he has a seemingly unlimited gas tank and he is not afraid to take some punishment.
Basically, he is the anti-Vinny Magalhaes.
Since being cut from the UFC after back-to-back losses to Ryan Bader and Eliot Marshall, Magalhaes is an impressive 7-1, but it is still hard to forget the way he went down so easily against Bader.
Magalhaes, like many other ground-first fighters, does not like to get hit at all, and it will be interesting to see if he can take the pain Pokrajac has in store.
That said, the BJJ superstar is as dangerous as anyone on the mat, and Pokrajac faces a stern test should the fight end up on the ground.
Overall, this is an interesting matchup between two contrasting styles. Add in the fact that it is Magalhaes' long-awaited return to the Octagon, and we have the makings of an unforgettable matchup.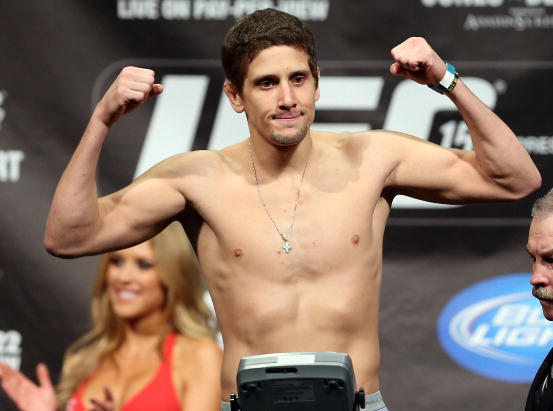 Photo by Josh Hedges/Zuffa LLC/Zuffa LLC via Getty Images
Do you know why I only put Jimy Hettes in this picture, whereas in the other slides I included both fighters?
The reason is simple: This fight is all about "The Kid." Brimage is merely a necessary component to his machine of destruction, a canvas upon which Hettes will paint his masterpiece.
This fight is the can't-miss preliminary contest not because it will be a closely contested fight—it is No. 1 because Hettes is going to look extraordinary.
A grappling sensation, Hettes will take Brimage down at will in spectacular fashion, and Brimage will have absolutely no answers for Hettes' throws, trips, passes and submission attempts.
I expect Hettes to look stellar in this bout, and the future of the featherweight division will be on a pedestal for all to observe Saturday night on FX.
Do not miss this fight, folks.