UFC 152 Fight Card: Final Breakdown for the Main Card Odds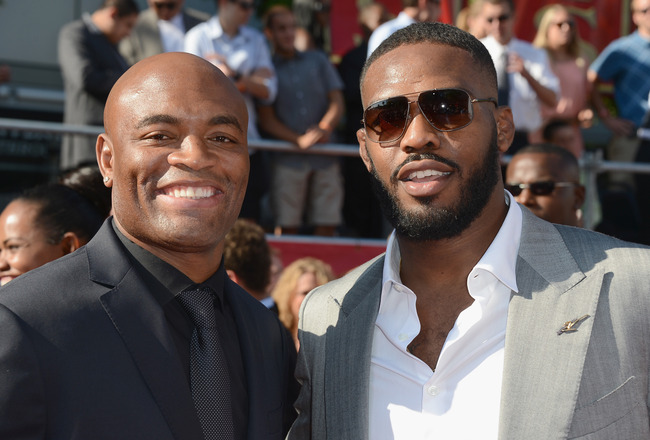 Frazer Harrison/Getty Images
Tonight, UFC 152 takes place in Toronto, Ontario, Canada, and two titles will be on the line as Jon "Bones" Jones will look to defend his title against Vitor "The Phenom" Belfort, and Joseph Benavidez and Demetrious Johnson will battle for the first ever UFC flyweight title.
Perhaps you're looking to make a little money on this card, but you're not sure what the odds are, and you don't know who to bet on.
Well, we've got you covered, so let's check out the final breakdown of the main card odds.
All lines are from Sportsbook.ag
Charles Oliveira vs. Cub Swanson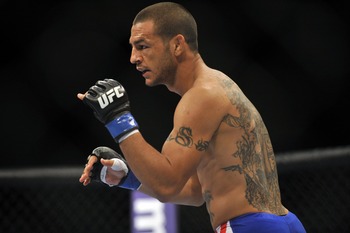 Joe Camporeale-US PRESSWIRE
The first fight on the pay-per-view is a featherweight matchup between former lightweight Charles Oliveira and Cub Swanson.
These two are well rounded fighters who are a threat to finish the fight anywhere it goes, but coming into the fight, Oliveira is the favorite.
Swanson is the more experienced of the two, but Oliveira has been more successful overall.
Charles Oliveira: -225
Cub Swanson: +175
Matt Hamill vs. Roger Hollett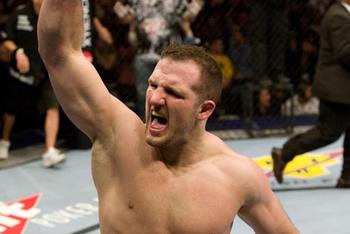 The second fight on the PPV is a light heavyweight matchup, featuring Matt Hamill's first fight since returning from retirement and the UFC debut of Roger Hollett.
Hamill has been out for more than a year, as he retired after suffering a TKO loss to Alexander Gustafsson at UFC 133.
Hollett's last fight was a decision win in Bellator, and he has won five straight counting that fight.
Matt Hamill: -340
Roger Hollett: +260
Michael Bisping vs. Brian Stann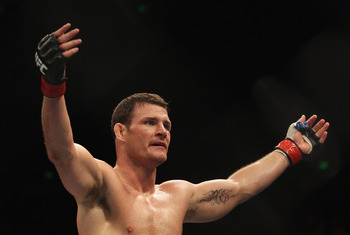 Mark Kolbe/Getty Images
The first major fight that fans are excited for is a middleweight matchup between Michael Bisping and Brian Stann.
Bisping is coming into the fight following a closely contested loss to Chael Sonnen at UFC on Fox 2. Prior to that, he had won four straight fights, with two straight finishes.
Stann comes into the fight after a first round knockout of Alessio Sakara. Prior to that, Stann had also lost to Chael Sonnen, although he lost by second round submission.
Brian Stann: +160
Michael Bisping: -200
Joseph Benavidez vs. Demetrious Johnson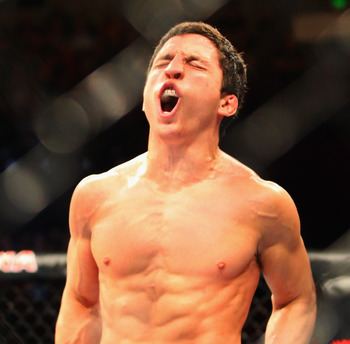 Mark Kolbe/Getty Images
The first of two title fights is a battle for the first ever UFC flyweight title between Demetrious Johnson and Joseph Benavidez.
Both are former title challengers at 135, and will once again be challenging for a title, just 10 pounds lighter.
Benavidez is coming into the fight after a bit of a long layoff, as he knocked out Yasuhiro Urushitani at UFC on FX 2.
Johnson comes into the fight following a unanimous decision victory over Ian McCall at UFC on FX 3, which came after they fought to a draw at UFC on FX 2.
Joseph Benavidez: -275
Demetrious Johnson: +215
Jon Jones vs. Vitor Belfort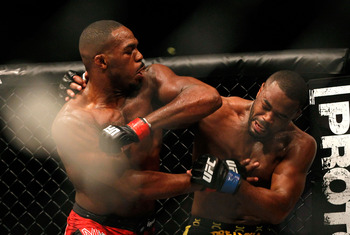 Kevin C. Cox/Getty Images
You've heard about how astronomical the odds are for this fight, and now you can see them. Jon Jones is a -825 favorite, which means he is ridiculously favored to win this fight.
Jones comes into the fight after a five round decision victory over Rashad Evans. Prior to that, he had beaten Lyoto Machida, Rampage Jackson, Shogun Rua and Ryan Bader.
Belfort comes into this fight following two straight wins at middleweight, against Yoshihiro Akiyama and Anthony Johnson.
Jon Jones: -825
Vitor Belfort: +525
Tim McTiernan is a Featured Columnist for Bleacher Report. For the latest news on everything MMA, follow him on Twitter @TimMcTiernan.
Keep Reading