LSU vs. Auburn: Post Game Grades and Player Analysis for Auburn's Loss to LSU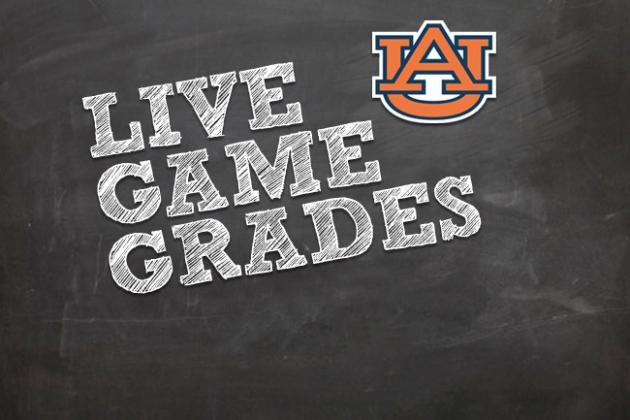 Auburn played its most complete game of the year, but LSU walked out of Jordan-Hare Stadium with a win on Saturday night by a score of 12-10.
After being told by the media all week about the massacre that LSU was going to put on Auburn, Tiger fans have to be somewhat pleased with what they saw on the field tonight.
Let's take a look at the position-by-position grades for Auburn in its loss to No. 2 LSU.
Begin Slideshow

»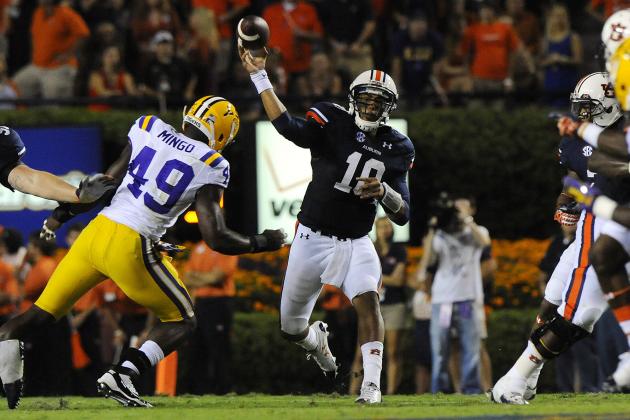 Photo via Todd Van Emst
Quarterbacks: B
Kiehl Frazier grew up a little tonight. He was a different quarterback than the one that took the field the first three weeks.
Scot Loeffler attempted to get him comfortable early in the game by giving him three straight passing attempts on the first route. He threw a beautiful pass to a wide-open Sammie Coates, but Coates let it go right through his hands.
Frazier ended the night 13 for 22 with two interceptions. The first interception came on a play that he should have simply thrown away. He was trying to make too much happen.
Frazier lofted a ball intended for Philip Lutzenkirchen, and an LSU defender came down with it.
Frazier must learn that a punt is not a bad play. If a play isn't there, do not force things. He must also make decisions faster.
We saw a little of true freshman Jonathan Wallace tonight. He was effective when he came in to run the Wildcat.
Auburn fans feel much better about their quarterback situation after tonight.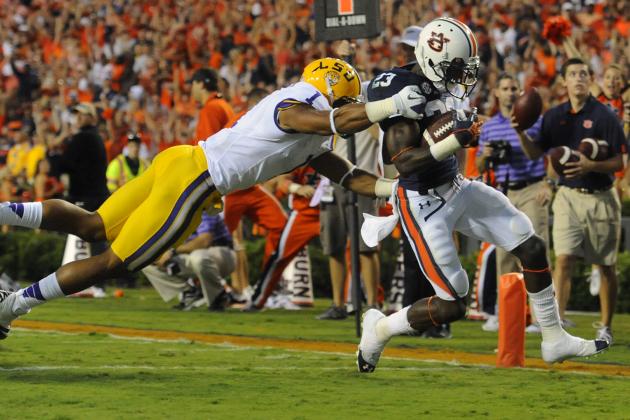 Photo via Todd Van Emst
Running Backs: C
It was tough times tonight for the Auburn running backs. LSU really displayed its speed at the linebacker and defensive end positions.
The stretch or sprint draw play that had been there the first three weeks was nowhere to be found tonight.
The Auburn running backs must learn to run North and South. Running East to West will not work against defenses with LSU's skill level.
The running game improved in the second half, as Jay Prosch and the offensive line opened up holes a little better.
Tre Mason led the running backs tonight with 54 yards on nine attempts. Onterio McCaleb scored a touchdown and added 24 yards on 11 carries.
Mike Blakely did not see the field tonight.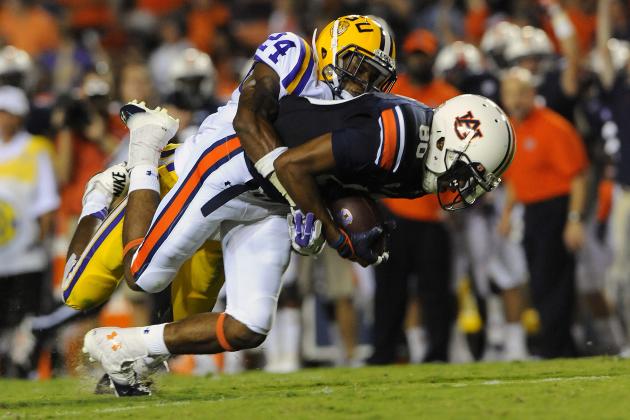 Photo via Todd Van Emst
Wide Receivers: B
Kiehl Frazier and the offense found their passing attack tonight. Frazier was not able to distribute the ball to many people tonight. The only two receivers to catch passes were Emory Blake and Quan Bray.
Blake had four catches for 56 yards and Bray had two catches for 10 yards.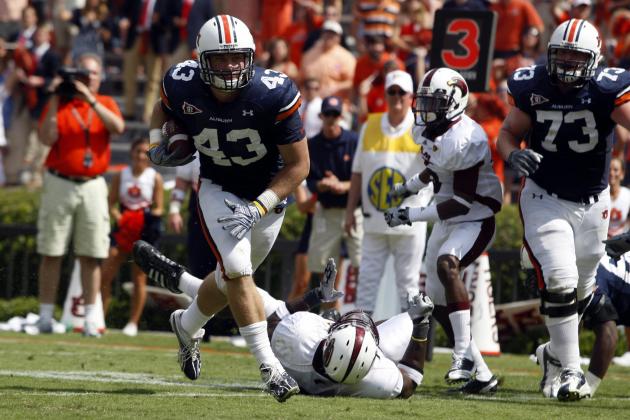 John Reed-US PRESSWIRE

Tight Ends: A
Philip Lutzenkirchen finally got more involved in the passing game tonight. The first three games were full of overthrows to Lutzenkirchen. Lutzenkirchen must become more involved in the offensive attack for Auburn to have success.
Lutzenkirchen had a good game blocking as well. In the second half, his blocks were able to spring the running backs for some extra yards.
Lutzenkirchen ended the night with five catches for 29 yards.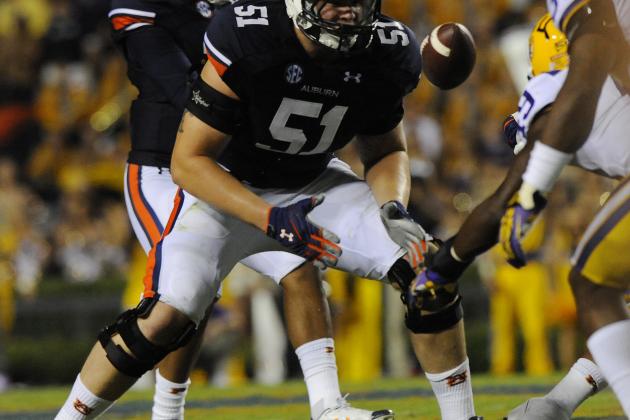 Photo via Todd Van Emst
Offensive Line: C
This young offensive line showed its potential tonight, going toe to toe with one of the best defensive lines in the country.
Patrick Miller was inserted into the starting lineup tonight, and he may have earned himself a start against Arkansas on October 6.
For the most part, the offensive line gave quarterback Kiehl Frazier plenty of time to progress through his reads and make throws.
The offensive linemen were not able to open up holes in the running game as much as Auburn would have liked. Without a North and South running game, it will be hard for Auburn to put points on the board.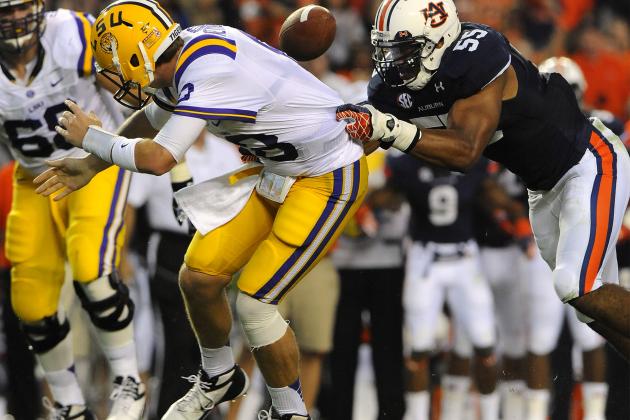 Photo via Todd Van Emst
Defensive Line: A
Auburn finally got the play it needed from the interior portion of its defensive line.
After being run right through in the opening quarter, Gabe Wright and the rest of the defensive linemen began to get good penetration against the LSU offensive line. This slowed down the LSU rushing attack.
Corey Lemonier put excellent pressure on LSU quarterback Zach Mettenberger. He had Auburn's only two sacks on the night. He also forced a fumble.
Gabe Wright's name doesn't show up much in the box score, but his name was called a lot. He batted down a pass and also assisted in sacking Mettenberger.
Dee Ford was also very active; he led all defensive linemen with six tackles.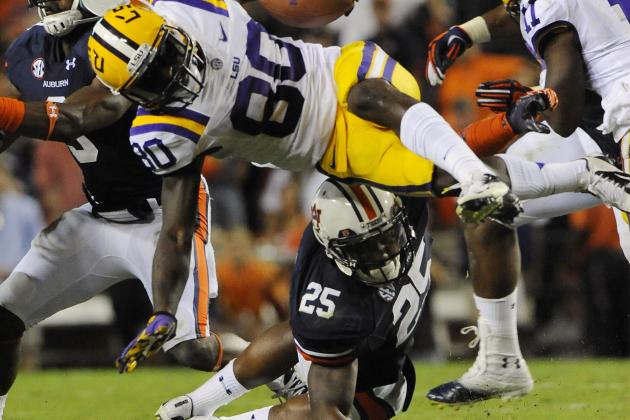 Photo via Todd Van Emst
Linebackers: B
The linebackers did better tonight against LSU, a run-first team.
The linebackers filled running lanes admirably and played a big part in holding LSU to under 200 yards rushing for the first time all season.
Middle linebacker Jake Holland still has an issue with missed tackles. Holland had a sure sack of Zach Mettenberger, but instead of breaking down and making the tackle, he slid right off of the LSU quarterback.
Having said that, Holland led the linebackers in tackles tonight. He had two solo and eight assisted tackles.
Once again, Daren Bates had a solid game. He was right behind Holland in tackles with nine.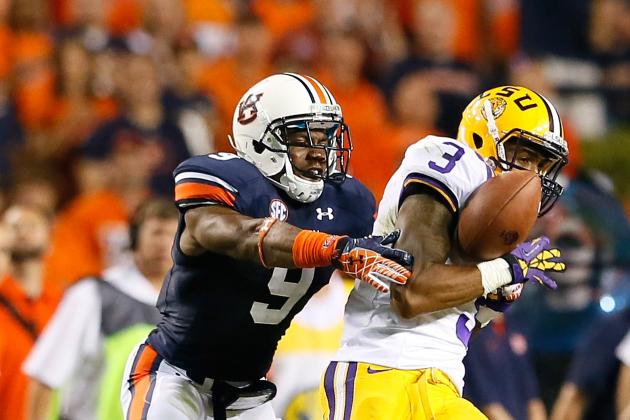 Kevin C. Cox/Getty Images

Defensive Backs: A
After being hard on the defensive backs for the first three weeks, they have earned praise tonight.
Tackling was much better against LSU's great play-makers than it has been in previous weeks.
Nothing got over the secondary's head, and we finally saw the defensive backs play the ball correctly while it was in the air.
It was encouraging to see freshman Joshua Holsey get some action in the secondary and come up big at the end of the fourth quarter when LSU tested him on a deep pass.
Demetruce McNeal once again led Auburn in tackling. He had 11 tackles on the night, including one that went for a loss.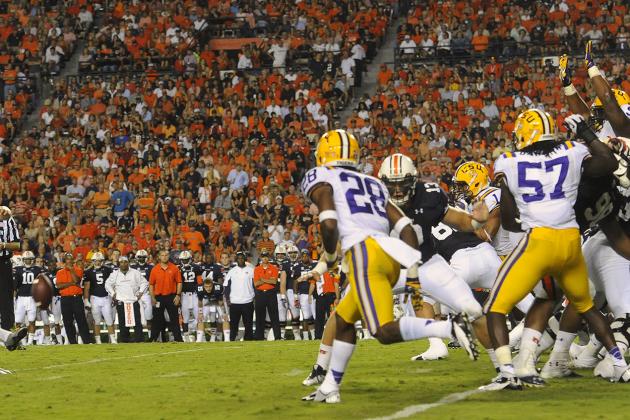 Photo via Todd Van Emst
Special Teams: C
For both teams, special teams was a mess tonight, and for Auburn, it was the difference in a win or a loss.
After a big third down stop by the Auburn defense, LSU punted to Quan Bray. Apparently, Bray took his eyes off of the ball and fumbled the catch. That led to an LSU field goal and an LSU lead that Auburn would never be able to overcome.
On the bright side, the kickoff return team once again did a great job. Onterio McCalebb nearly broke one, but Russell Sheperd brought him down near the 50-yard line.
Steven Clark had a couple of punts deep in Auburn territory that flipped the field position for Auburn. He had seven punts on the night. They averaged 41 yards. He also placed two inside LSU's 20-yard line.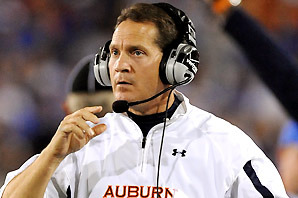 Coaching: C
Auburn showed up ready to play tonight, and that is a credit to Gene Chizik and staff. Nationally, according to media, Auburn should not have even showed up to play tonight. Great job by Chizik and staff to have the team ready.
As far as game management goes, Gene Chizik probably wishes he attempted the 4th-and-5 with under five minutes to play. The defense was worn down and tired. Hindsight is 20/20 but when you are trying to pull off the upset, there are chances you have to take. That was one of them.
Most Auburn fans are probably scratching their head over the times that freshman Jonathan Wallace was used. Kiehl Frazier was in the middle of his best game of the year and you take him out and lose his rhythym? Doesn't make sense from this seat.
Auburn could have used an additional timeout when they got the ball back with 39 seconds left. Instead, a timeout was lost during an injury timeout. Not very good management of the game from Chizik at that point in the game.