Missouri vs. South Carolina: Live Scores, Analysis and Results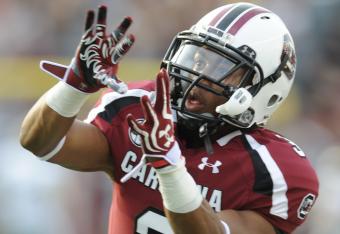 Mary Ann Chastain/Getty Images
South Carolina 31, Missouri 10, Final
Almost from the opening kickoff, the South Carolina Gamecocks took it to the Missouri Tigers hard.
South Carolina made it look easy against Missouri, and improved to 4-0 overall, and 2-0 in the SEC while Missouri drops to 2-2, 0-2.
Connor Shaw was easily the player of the game, going 20-of-21 for 249 yards and 2 TDs. After missing on his first pass of the day, Shaw completed his next 20 passes, and may now begin to see his name amongst the Heisman candidates of 2012.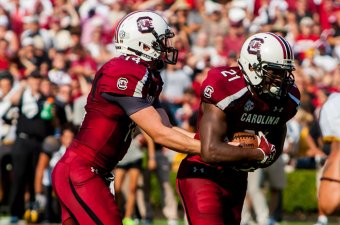 Jeff Blake-US PRESSWIRE
South Carolina defeats Missouri, 31-10.
There's no doubt now that South Carolina is clearly in a position to make a run for the SEC-East title in 2012.
Missouri, on the other hand, clearly has a way to go before it can be a contender against what the SEC has to offer.
James Franklin never looked comfortable, and some questionable calls by the Mizzou coaching staff derailed any chance the Tigers had.
The game was effectively decided before halftime, as it was apparent that Missouri could put up little more than token resistance down the stretch.
Thanks for sticking with us during our live blog of Missouri at South Carolina.
Final Score: South Carolina 31,Missouri 10.
That's going to wrap it up for our live blog. We'll have some final thoughts in a few moments...
Missouri finally gets in the end zone!
South Carolina 31, Missouri 10.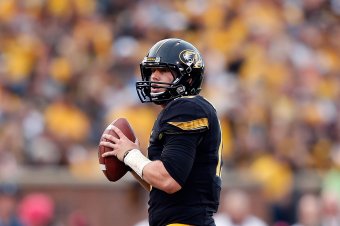 Jamie Squire/Getty Images
Missouri's Corvin Berkstresser looking solid in relief.
Maybe a budding quarterback controversy at Mizzou?
Missouri's backups now finding some of their team's best success of the day—against the South Carolina reserves.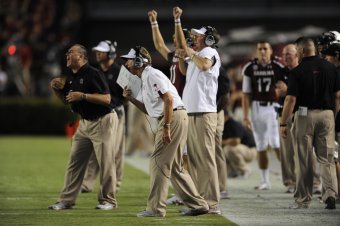 Mary Ann Chastain/Getty Images
South Carolina adds a field goal, making the score 31-3, SC.
South Carolina's offensive starters begin to come out of the game.
Easily, the player of the game is Connor Sahw. But don't forget that Marcus Lattimore made a huge contribution, and took so much pressure off of Shaw to allow him to have the day he had.
Shaw having a career day. H'es now 20-of-21 for 249 yards and 2 TDs.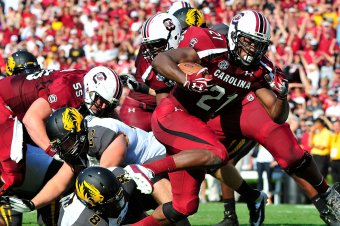 Grant Halverson/Getty Images
Lattimore just having his way with the Tigers defense.
Nothing huge, but when you give up four to six yards every time he touches the ball, that's a quick way to make sure you don't stand a chance.
Missouri is now 2-for-11 on third down conversions.
Ouch.
Franklin and his receivers seem comfortable with the quick slant.
So why hasn't Mizzou been running that all day long?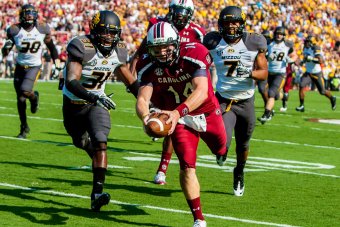 Jeff Blake-US PRESSWIRE
You want to know why Mizzou isn't even close to winning this game?
James Franklin: 5-of-10, for 72 yards. Connor Shaw: 19-of-20 for 239 yards and 2 TDs.
Pretty simple.
That's the end of the third quarter, and South Carolina is in complete control.
Missouri has yet to score a fourth-quarter point all season long.
With Mizzou putting a drive together, getting into South Carolina territory, Pinkell opts to punt on 4th-and-5.
Is that a surrender?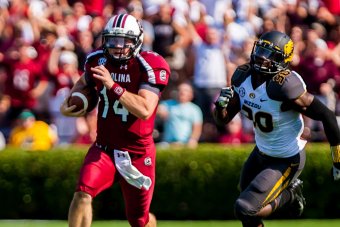 Jeff Blake-US PRESSWIRE
Connor Shaw: 19-of-20 for 239 and 2 TDs.
Statement? Yes. SEC-East contender? Definitely. Heisman candidate? Why not!
Touchdown, Gamecocks! South Carolina extends its lead, 28-3.
Connor Shaw, now with 19 straight pass completions.
South Carolina really taking it to Missouri. Fourth down conversion by Lattimore, bursting up-field, putting the Gamecocks in the redzone yet again.
A score here can effectively end the game.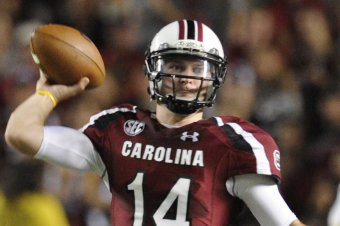 Mary Ann Chastain/Getty Images
Connor Shaw has now hit 17 consecutive passes.
His only incompletion of the day came on his first pass back in the first quarter.
Wow. Missouri absolutely cannot crack the South Carolina defense.
South Carolina is just too big, too strong, too fast for Missouri today. Three-and-out for the Tigers. Again.
Missouri takes the ball from South Carolina!
Could this be the spark?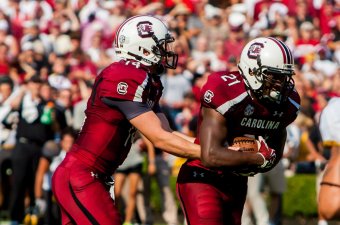 Jeff Blake-US PRESSWIRE
Marcus Lattimore, the epitome of balance: 51 yards rushing, 51 yards receiving.
South Carolina is absolutely picking apart the Missouri defense.
This game is on the verge of becoming very, very ugly for the Tigers.
...and three-and-out won't cut it.
Third quarter underway.
Mizzou needs a big drive to start the quarter if the Tigers want to climb back into this thing.
Dak Dillon-US PRESSWIRE
Based on the first half, Missouri looks completely overmatched.
South Carolina has been fired up since the game began, and the Tigers have no answer for the Gamecocks, particularly on defense.
Mizzou's typically quick offense has been slowed by the Gamecocks defensive attack, and Gary Pinkell's squad can't seem to adjust.
Pinkell said he doesn't plan on making a change at quarterback, but with the way James Franklin is performing (5-of-10 for 51 yards), can we believe him?
This article is
What is the duplicate article?
Why is this article offensive?
Where is this article plagiarized from?
Why is this article poorly edited?