Maryland vs. West Virginia: Live Score, Analysis and Results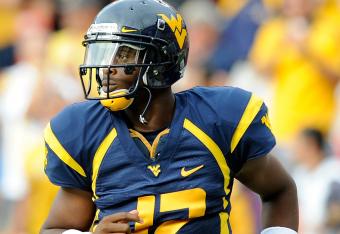 Patrick McDermott/Getty Images
West Virginia picked up its seventh straight win against Maryland with a 31-21 victory at Mountaineer Field today.

The Mountaineers offense looked pretty sloppy, but they got the big plays from QB Geno Smith and WR Tavon Austin when they needed them.

Smith completed 30 of his 43 passes for 338 yards and threw three touchdowns—all of them to Austin, who finished with 13 catches for 170 yards.

Maryland deserves credit for coming in prepared for a battle. However, this game was really about West Virginia's struggles.

Dana Holgorsen and the rest of the coaching staff have a lot of work to do this week, because Big 12 play officially kicks off next Saturday against Baylor.
Here's a look at what we learned from West Virginia's win over Maryland.
Stay tuned for my wrap up article about the 10 lessons we learned from today's game.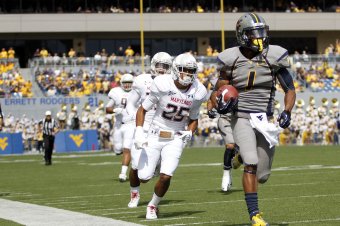 Justin K. Aller/Getty Images
And that'll do it.
Final Score Update: West Virginia 31, Maryland 21.
The postgame show featuring Eddie George and Joey Harrington is coming up, which means it's time to find the remote post haste.
I guess I'll have to ask it in capital letters, WHY IS SHAWNE ALSTON NOT IN THE GAME RIGHT NOW?
Hills throws a deep pass for an interception over the middle.
Why in the world would Wes Tonkery catch the ball instead of knocking it down?
That's almost a 50-yard swing in field position. Basically that's just a punt from Maryland.
Killer mistake by Perry Hills right there.
Scramble outside of the pocket and throw an incompletion. Don't get called for an intentional grounding and lose 13 yards.
4th and 21.
I wonder what the Terrapins will draw up for this one.
3rd and 8 for Maryland, but this is two down territory, so you have to watch our for a short pass or even an inside run.
That West Virginia drive should have been all about Shawne Alston pounding it inside and eating up clock.
Instead, the Mountaineers decided to throw it twice, have Andrew Buie lose two yards on a poorly designed run and eat up just 1:23 of the clock.
Not exactly the best drive of the Dana Holgorsen era.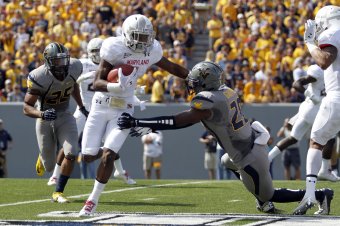 Justin K. Aller/Getty Images
Score Update: West Virginia 31, Maryland 21.
Stefon Diggs just faked out seven West Virginia defenders, straightened out his facemask mid-run and went into the end zone untouched on an insane 56-yard touchdown catch.
No need for ball control right now. That drive lasted just two plays and 53 seconds.
Diggs is now averaging 37 yards per catch today.
I've been very impressed by former Notre Dame RB Darius Walker's sideline-reporting skills today.
I can't say I'm as impressed by Eric Crouch's color commentary, though.
Crouch is no Matt Millen, but he's still got a lot to learn.
There's the third Geno Smith to Tavon Austin passing touchdown of the afternoon.
Score Update: West Virginia 31, Maryland 14. Middle of the 4th Quarter
Austin now has 11 catches for 175 yards and three touchdowns. He's had no trouble embarrassing the Terrapins secondary.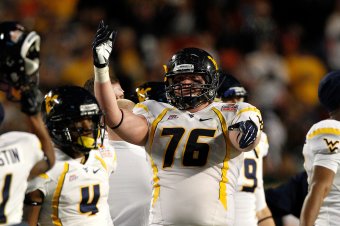 J. Meric/Getty Images
And just as I say that, right tackle Pat Eger gets called for holding.
Eger earned himself a trip to the sideline and a nice verbal reaming from coach Dana Holgorsen for that 10-yard penalty.
Geno Smith is starting to look like he's getting into a rhythm on this drive.
West Virginia's offensive line has really stepped up on this drive and kept Smith safe.
Darwin Cook causes a key turnover, knocking the ball out of Marcus Leak's hands after that big catch.
Cook certainly knows how to make key momentum-shifting plays.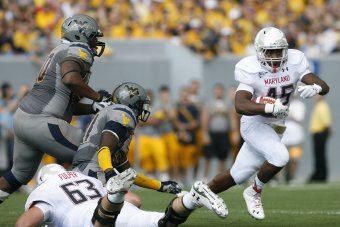 Charles LeClaire-US PRESSWIRE
Brandon Ross has been Maryland's bell cow back in this game.
Ross has 16 caries. Albert Reid and Wes Brown have a combined six touches.
Justus Pickett has no rushes but he has caught four passes.
That's the end of a scoreless third quarter.
Score Update: West Virginia 24, Maryland 14
That's the first scoreless quarter that West Virginia has experienced this season.
The Maryland defense deserves a lot of credit, but the Mountaineers aren't exactly looking stellar.
Is there something wrong with Shawne Alston that we don't know about?
That was Andrew Buie's ninth carry of the game.
Alston's got zero touches so far.
West Virginia hasn't been able to run inside at all, so I don't why the coaches wouldn't try to pound it inside the tackles with the big, powerful 5'11'', 235-pound senior.
Right now, with 2:47 to go in the third quarter, Maryland is leading West Virginia in total yardage.
The Terrapins have 246 yards. The Mountaineers have 233 yards.
Nobody could have predicted that.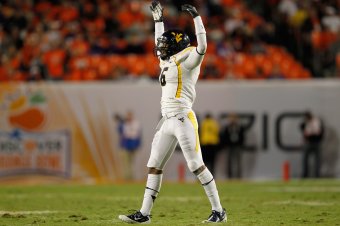 Streeter Lecka/Getty Images
CB Pat Miller makes up for it with a huge sack on that outside blitz, though.
Miller's definitely had a few miscues in this game, but that was a huge play.
Once again missed tackles and bad angles come back to hurt West Virginia's defense on that third down.
You simply can't give up the outside like that.
That's inexcusable.
Maryland TE Matt Furstenburg looks like he definitely has an NFL future.
Furstenburg's big, strong, he moves well and he always seems to catch any ball that's thrown his way.
West Virginia's offensive line gave up just one sack in the first two games of the season.
Today, the Mountaineers have given up two sacks and they've let Maryland get pressure on Geno Smith all game long.
That's obviously concerning.
This is a veteran group that was supposed to be one of the strongest front-fives in the country this season, but they're certainly not playing like it today.
It's rare to see Stefon Diggs misplay a punt.
That's about a 10-yard loss in field position right there.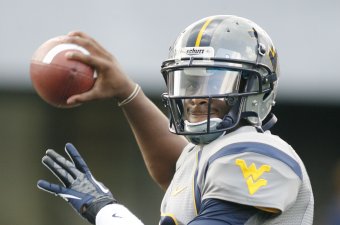 Charles LeClaire-US PRESSWIRE
Halftime Score Update: West Virginia 24, Maryland 14
The Terrapins dominated in time of possession, holding the ball for 18:13 in the first half.
The Mountaineers just barely managed to outproduce Maryland with 213 total yards, compared to the Terrapins' 212 total yards.
You have to give credit to Randy Edsall's young squad, because the visitors certainly didn't back down from the tough challenge.
It should be interesting to see if Maryland can keep the heat on in the second half, or if the Mountaineers will eventually pull away for a comfortable win.
Maryland can't capitalize, though, as kicker Brad Craddock pushes a 42-yard field goal wide right.
This article is
What is the duplicate article?
Why is this article offensive?
Where is this article plagiarized from?
Why is this article poorly edited?

WVU Football: Like this team?